I used to have a Rising Storm a good while back now, and I do as many other car's I had regret selling it. Time has passed and I have got my self a NIB Rising Storm but I haven't had the hart to break the seal and build the car. A new chance came along when one showed up on a local trading site for a very cheap price, i knew I had to get it. Another story is that I had to threaten with a police case over the seller since he didn't send the car to me and didn't answer mail. That said the car showed up and I started the project.
The project is to rebuild the car and add some of the hop-ups I had back in the days and I guess some more will be done. In the end I hope I have a car that I can use as a runner and not only a shelf-queen.
Here is how it looked when I got it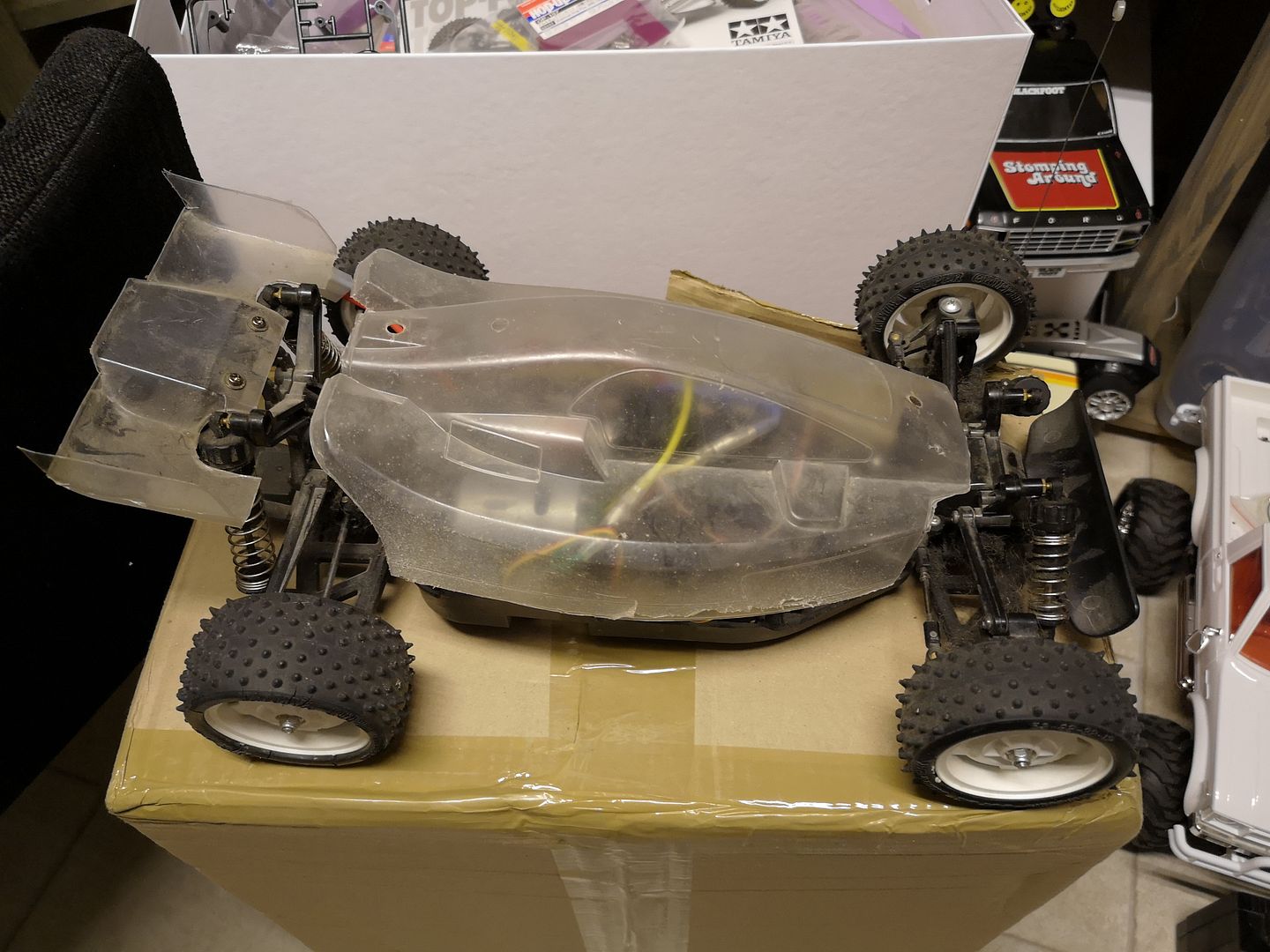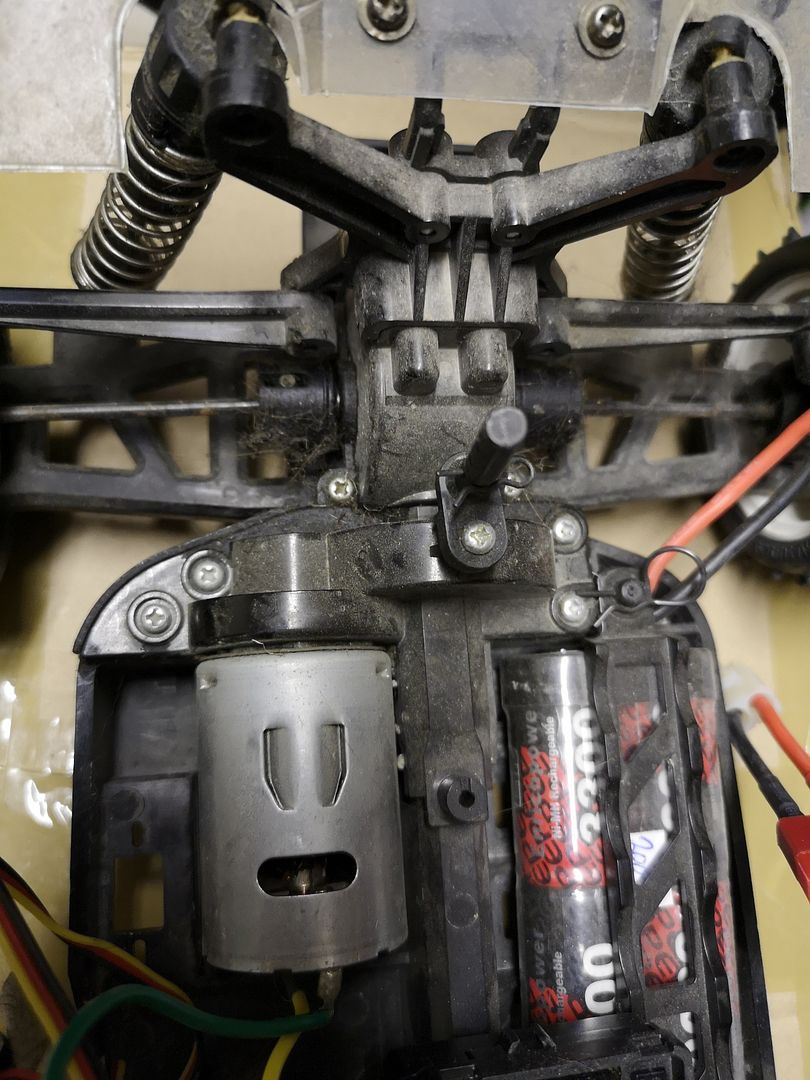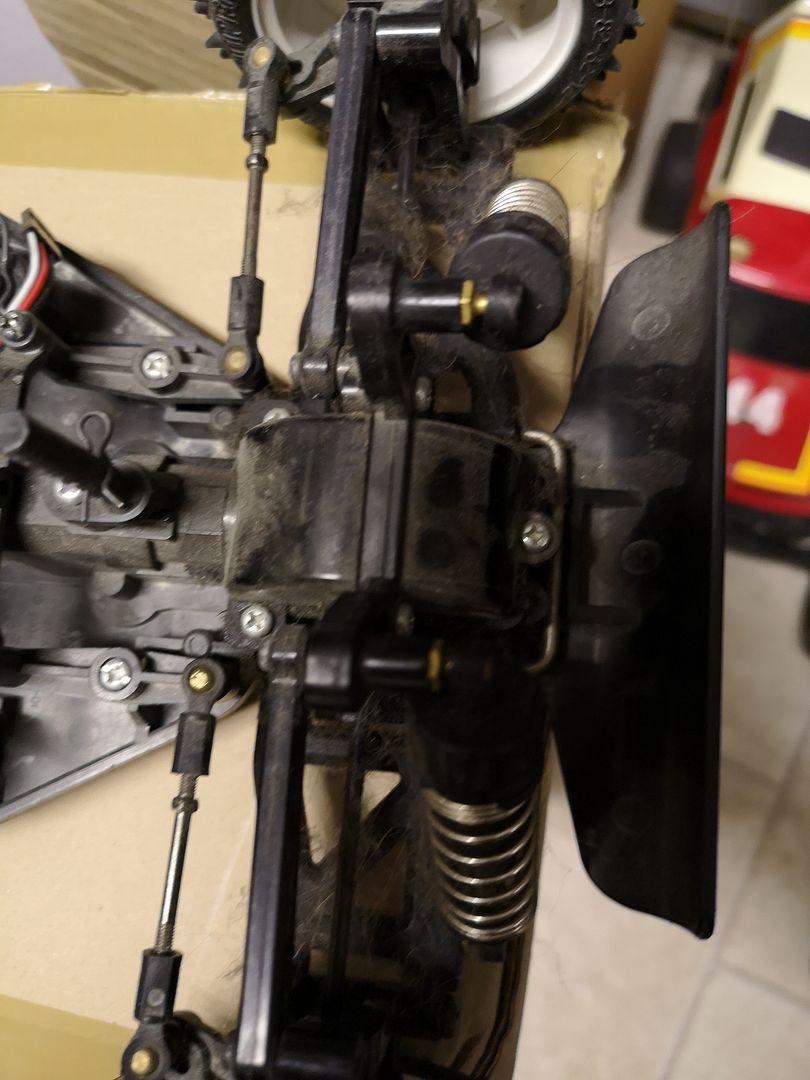 Then I started taking it apart for the rebuild.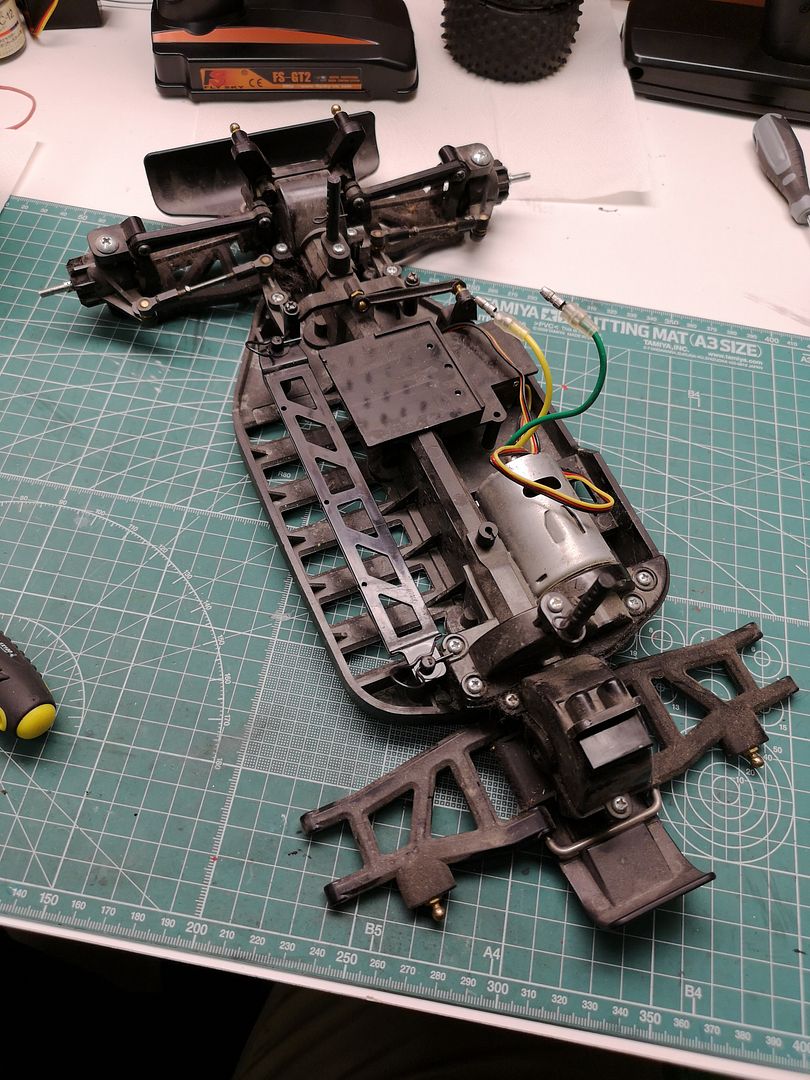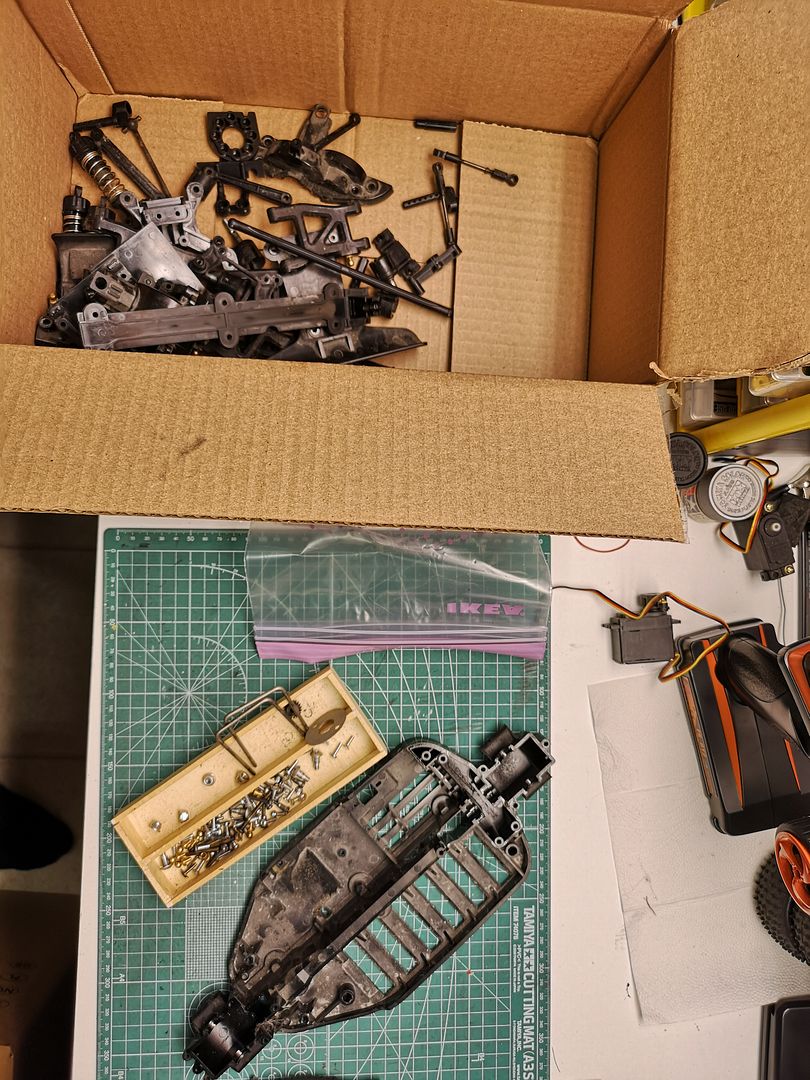 And as always, the way to start before you get a good look on the parts is to give em a good bath.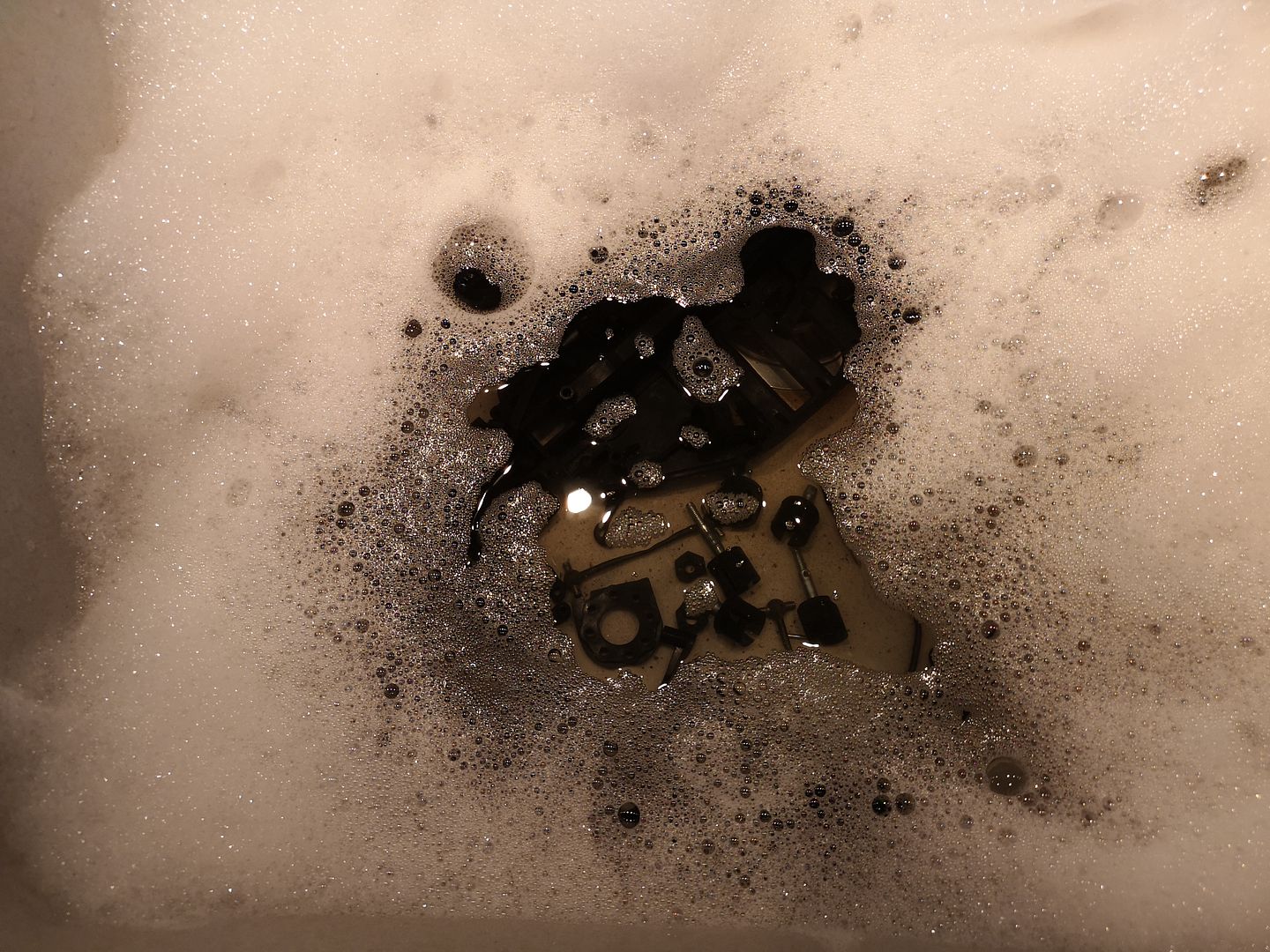 I have ordered quite a few hop-up parts for the car, and most of them has arrived from all over the world.
The hop-up parts are:
Tuning Steering Connection for Tamiya DF-02 DF02 Chassis
Aluminium 4Kugellager
Tamiya Aluminium Steering Link 4WD 1:10 RC Cars Buggy Off Road #53865
Double Metal Rubber Sealed Ball Bearing (BLUE) For Tamiya DF-02 / DF02 Chassis
Tamiya Dust Cover For Adjuster 2WD 4WD 1:10 RC Cars Buggy Touring Truck #53980
Tamiya RC Model 3x50mm Hard Turnbuckle Shaft (2pcs) 53944
Tamiya 53942 3x42mm Hard Turnbuckle Shaft Rod(2pcs) Set OP942
Tamiya 53666 OP666 TT-01 Metal Motor Mount SB
Tamiya DF-02 Graphite Rear Skid Plate (Square STG-15R)
Tamiya DF-02 Graphite Front damper tower (Square STG-163)
Tamiya DF-02 Graphite Rear damper tower (Square STG-164)
GRAPHITE MAIN SHAFT ALLOY CONNECT FOR TAMIYA DF-02 DF02
Tamiya 53787 RC DF-02 Aluminum King Pins (Blue)
Tamiya 53790 RC Cup Joint For Universal Shaft Set (TT01/DF02/TT02/M05/M06) OP790
Tamiya 53791 OP791 DF-02 Universal Shaft Assembly
Tamiya 53788 OP788 DF-02 turn buckle set 4950344537884
---

A little bit more done today. Here is an overview picture of parts that I plan to use in this build, as mention before.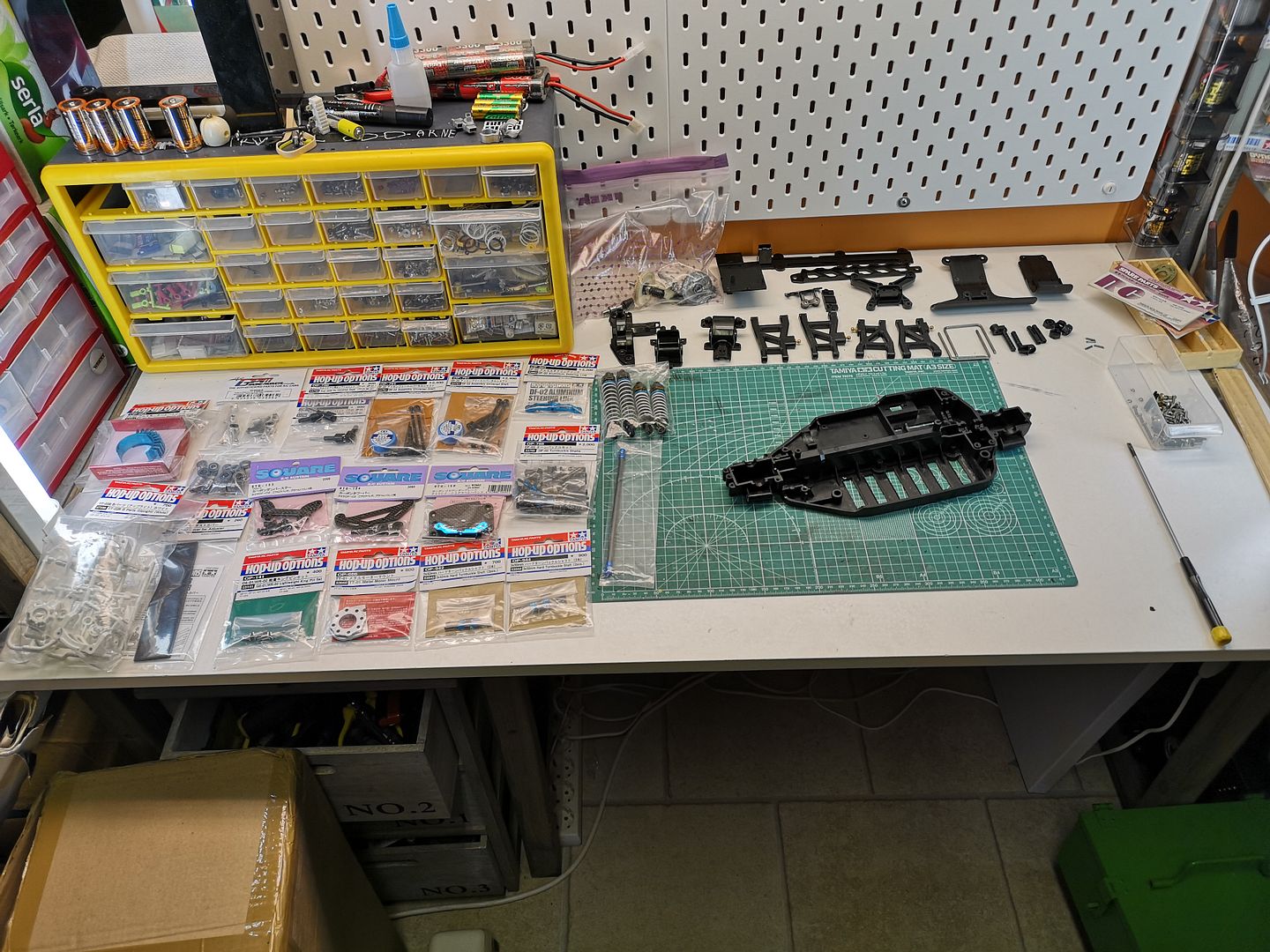 I noticed that there were some small rocks stuck in the chassis.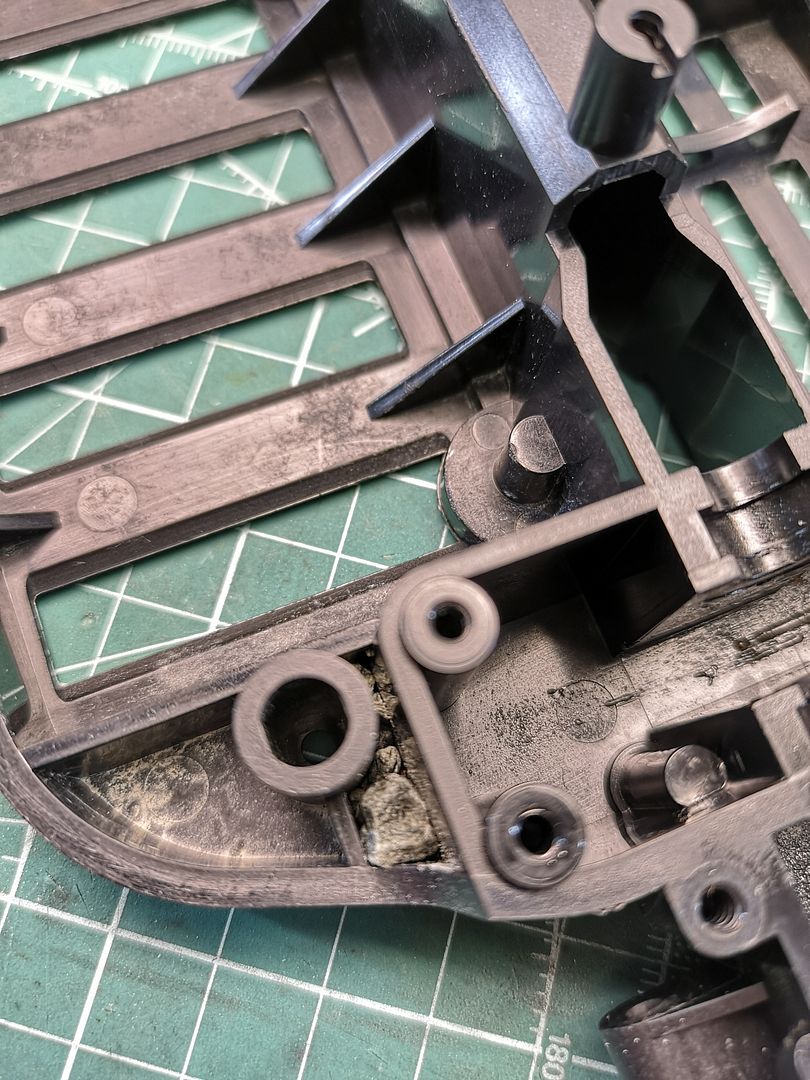 When I got em out I was a little supriced how much that really was there.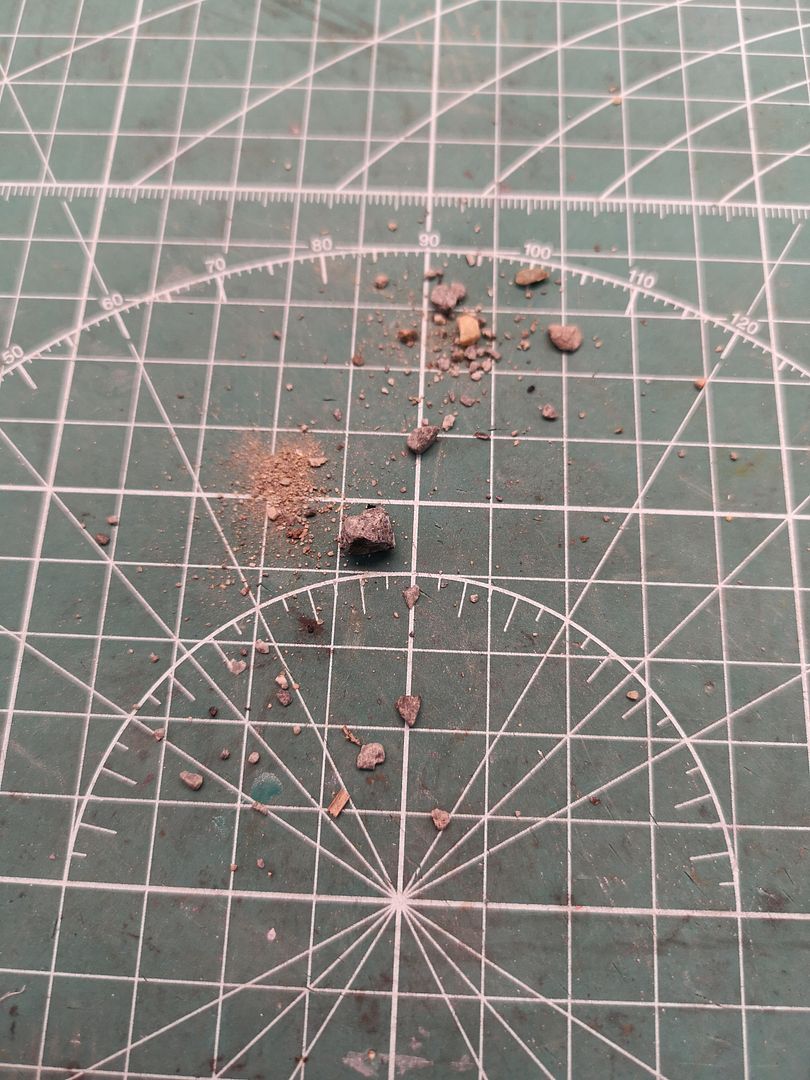 The next thing I did, was to dye the gears, since I already had them apart.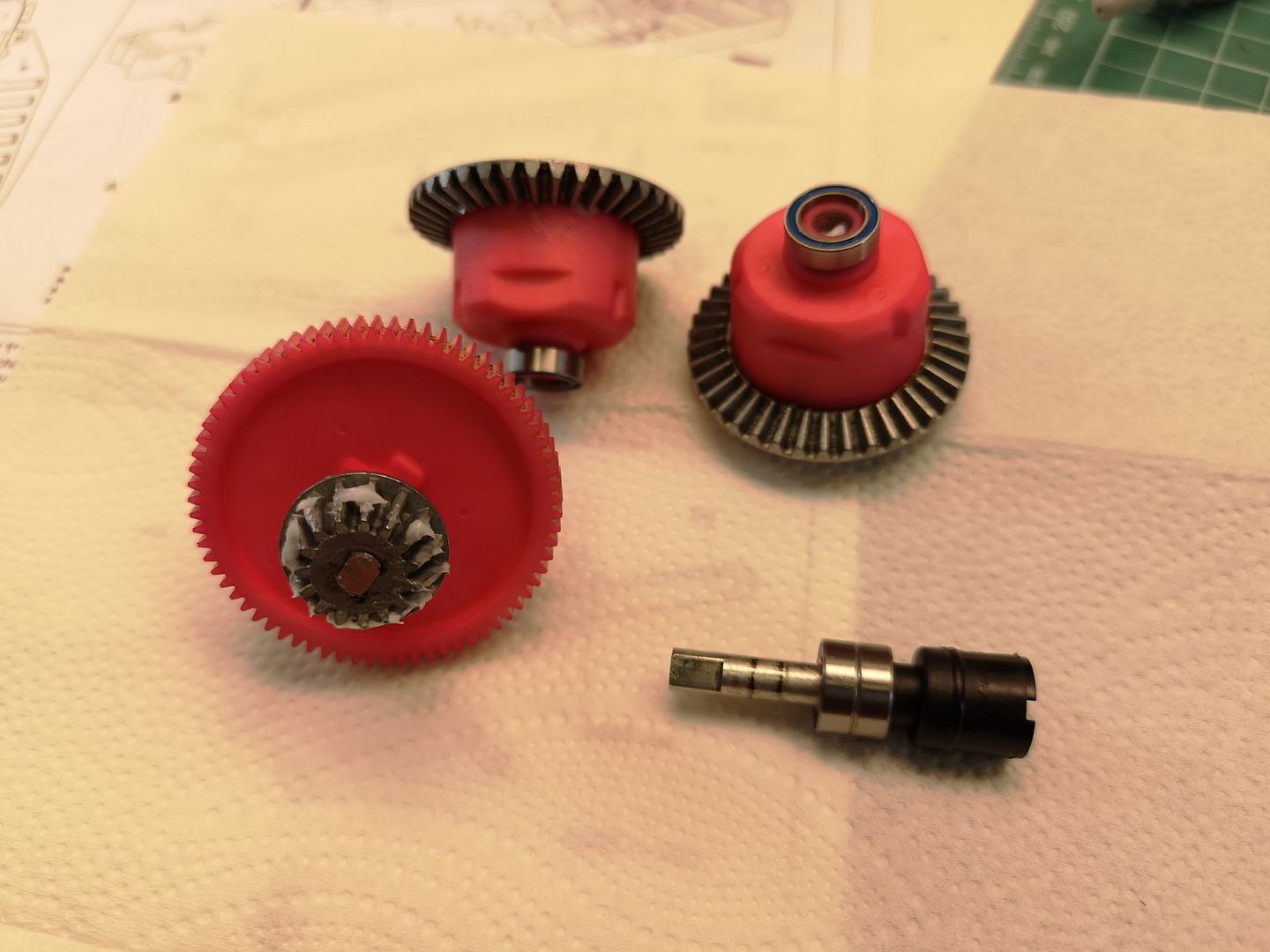 And I mounted them, with new ball bearings.
And then the center drive shaft was to be mounted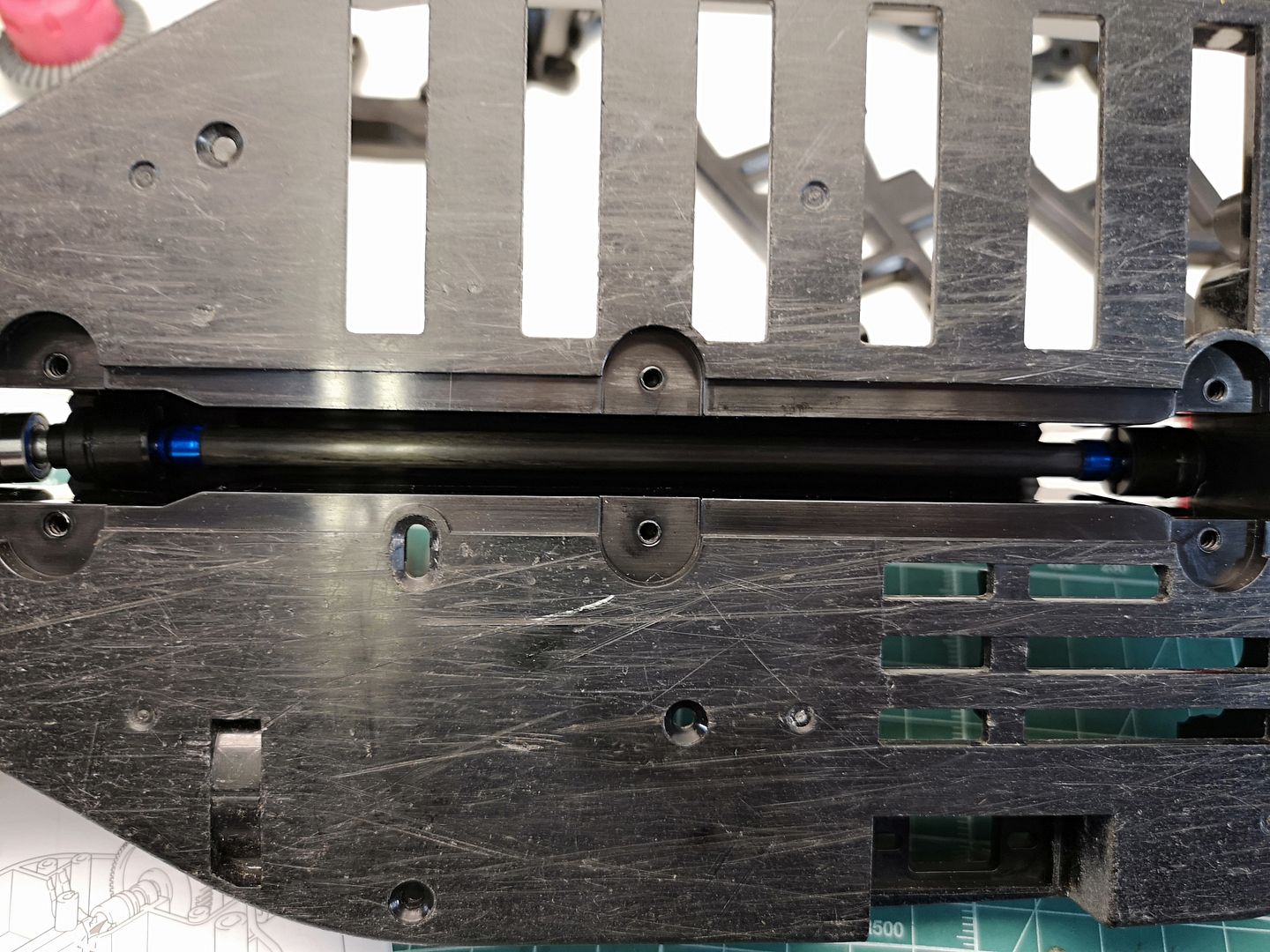 Next thing is the rear damper tower. I used the original one, but added the square carbon fiber part
And I mounted the upper rods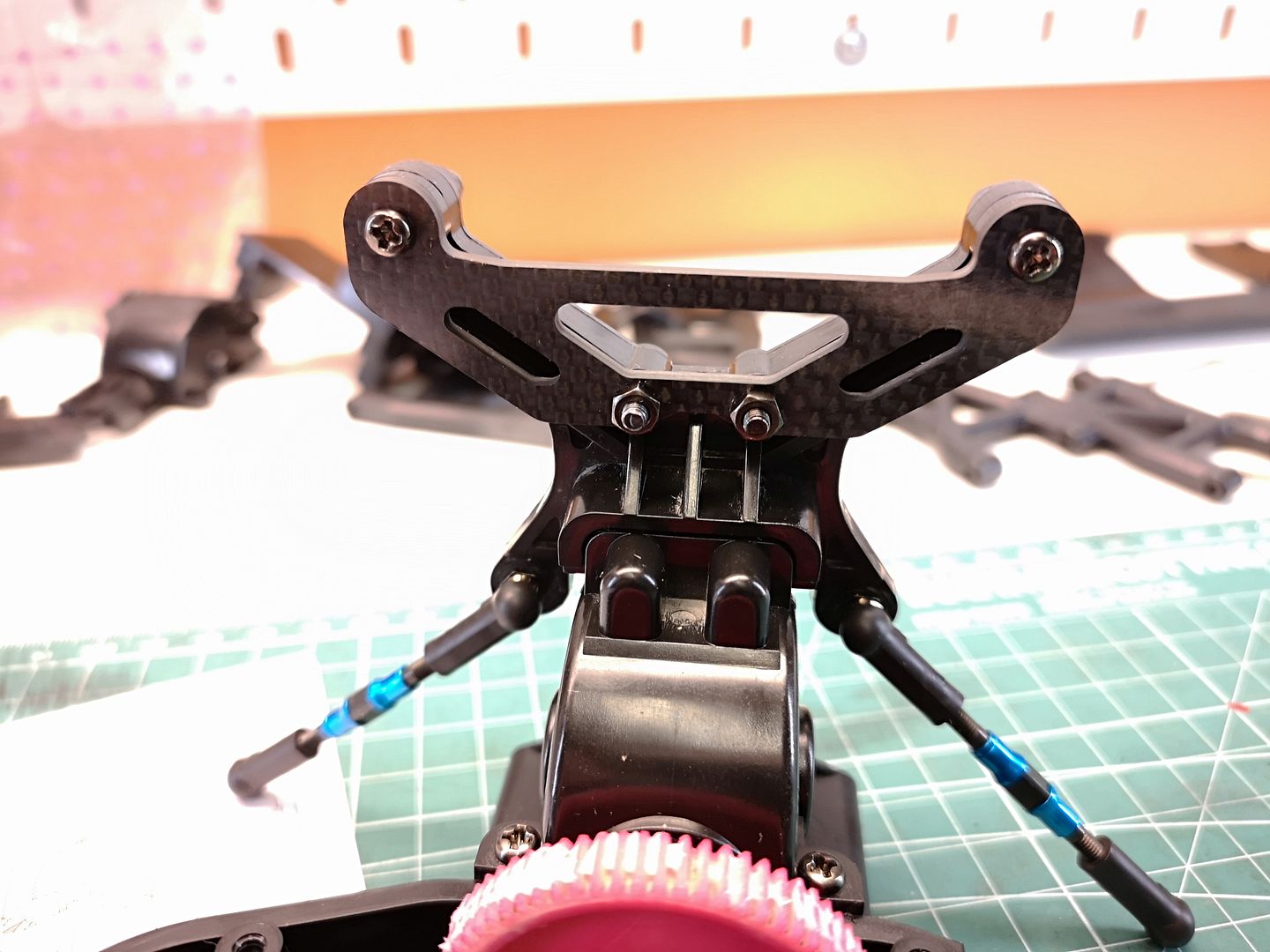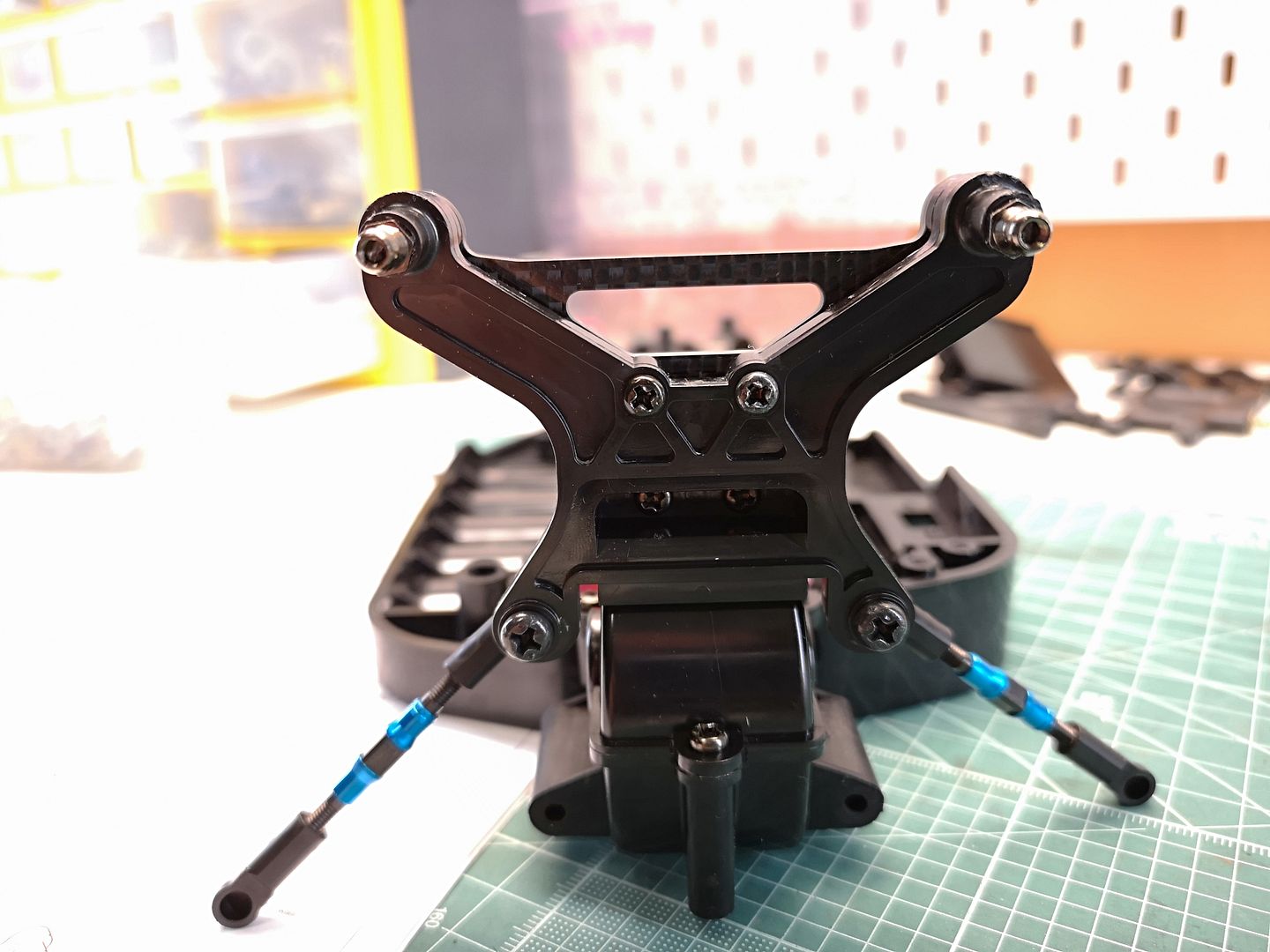 I will also try to use only black screws, but I'm not sure if I have enough of them.
---

Did the front gear housing and damper tower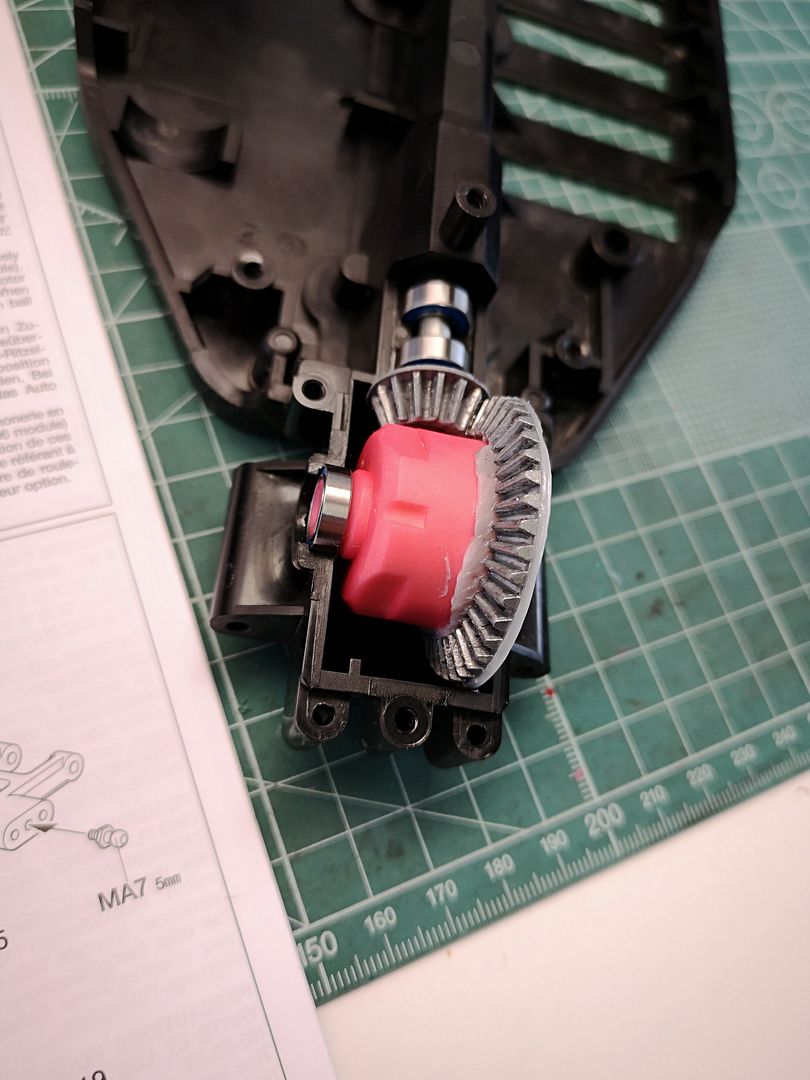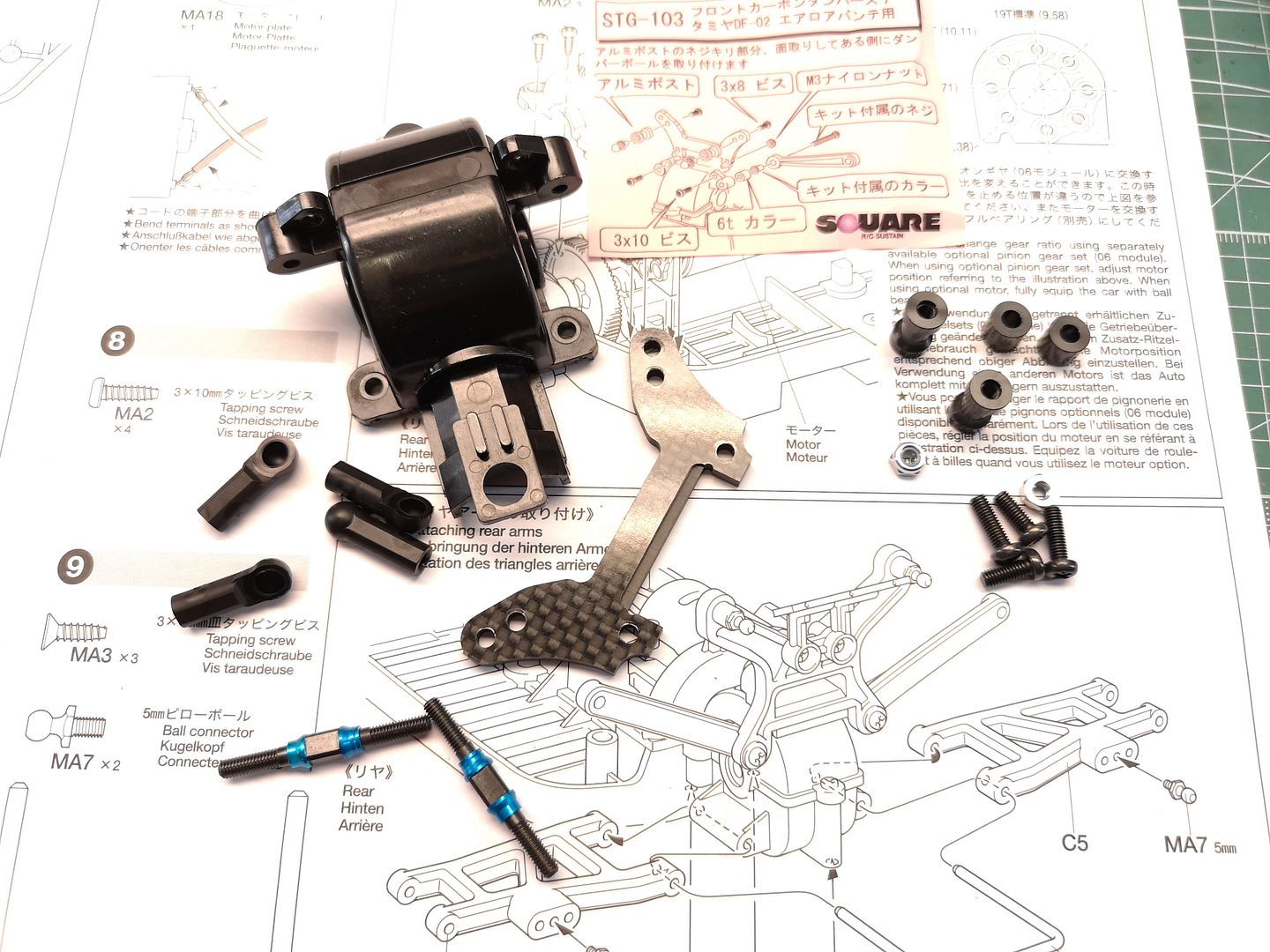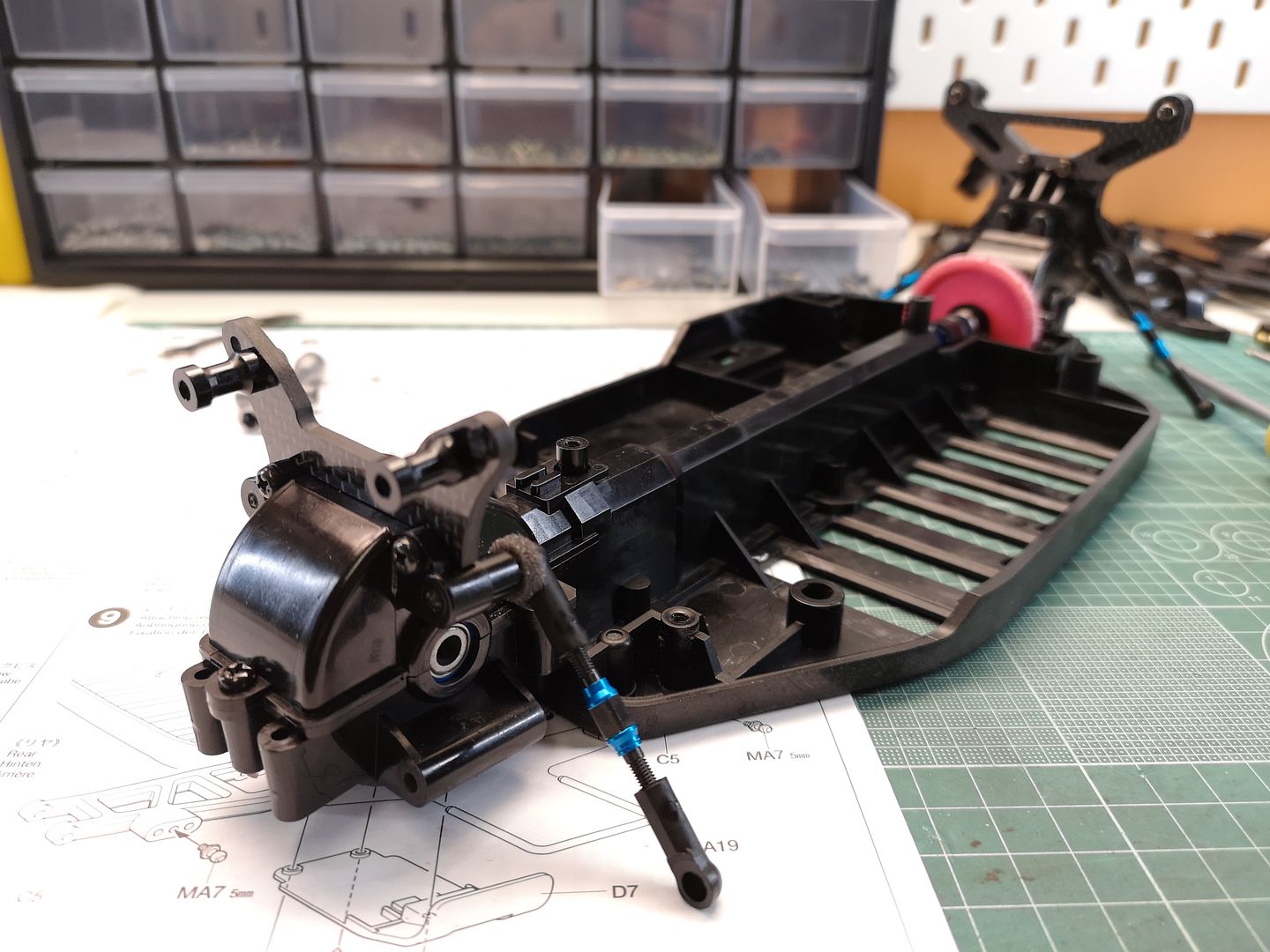 Then I mounted the motor. I decided to use the same motor type I had in my first Rising Storm.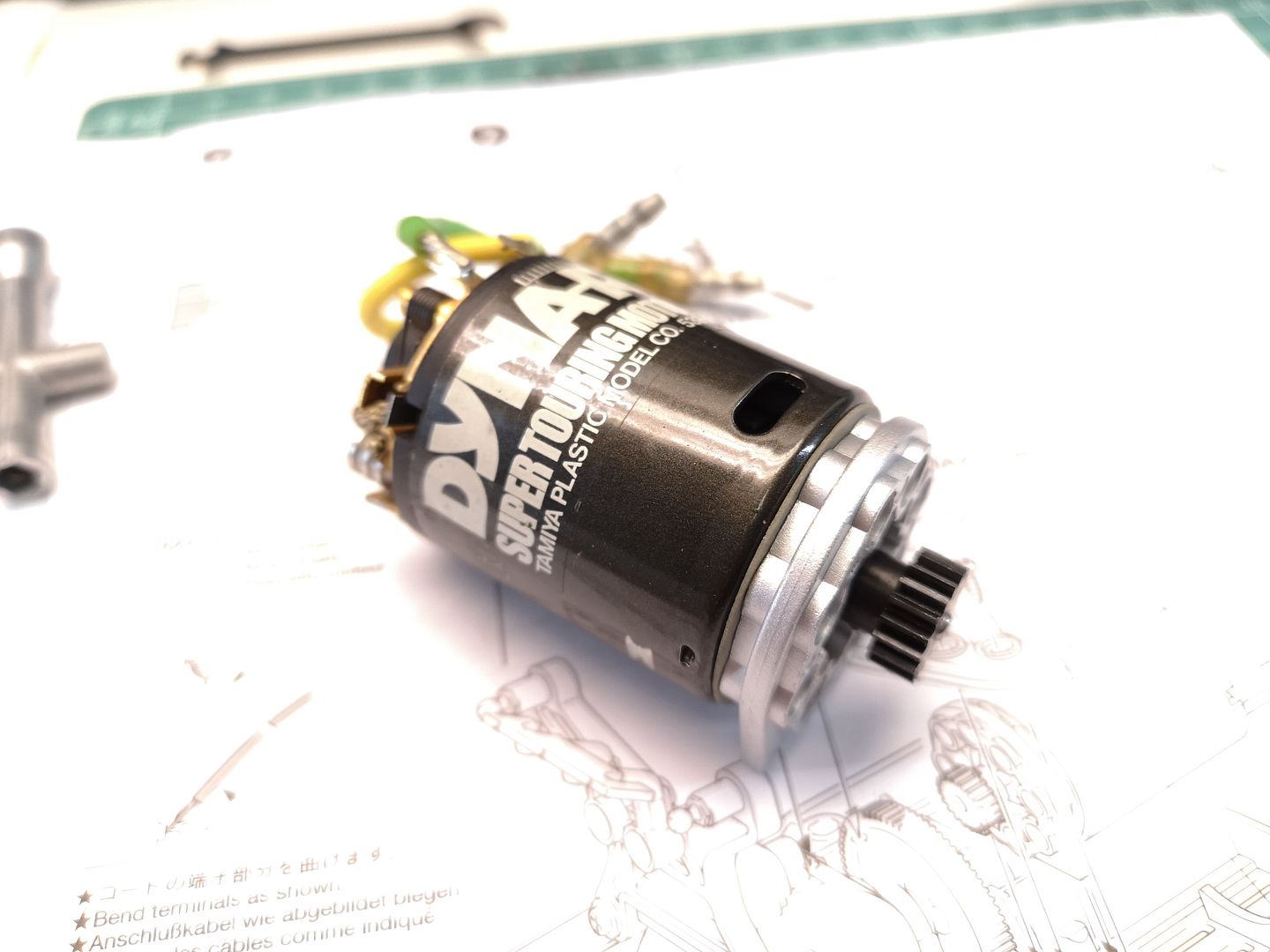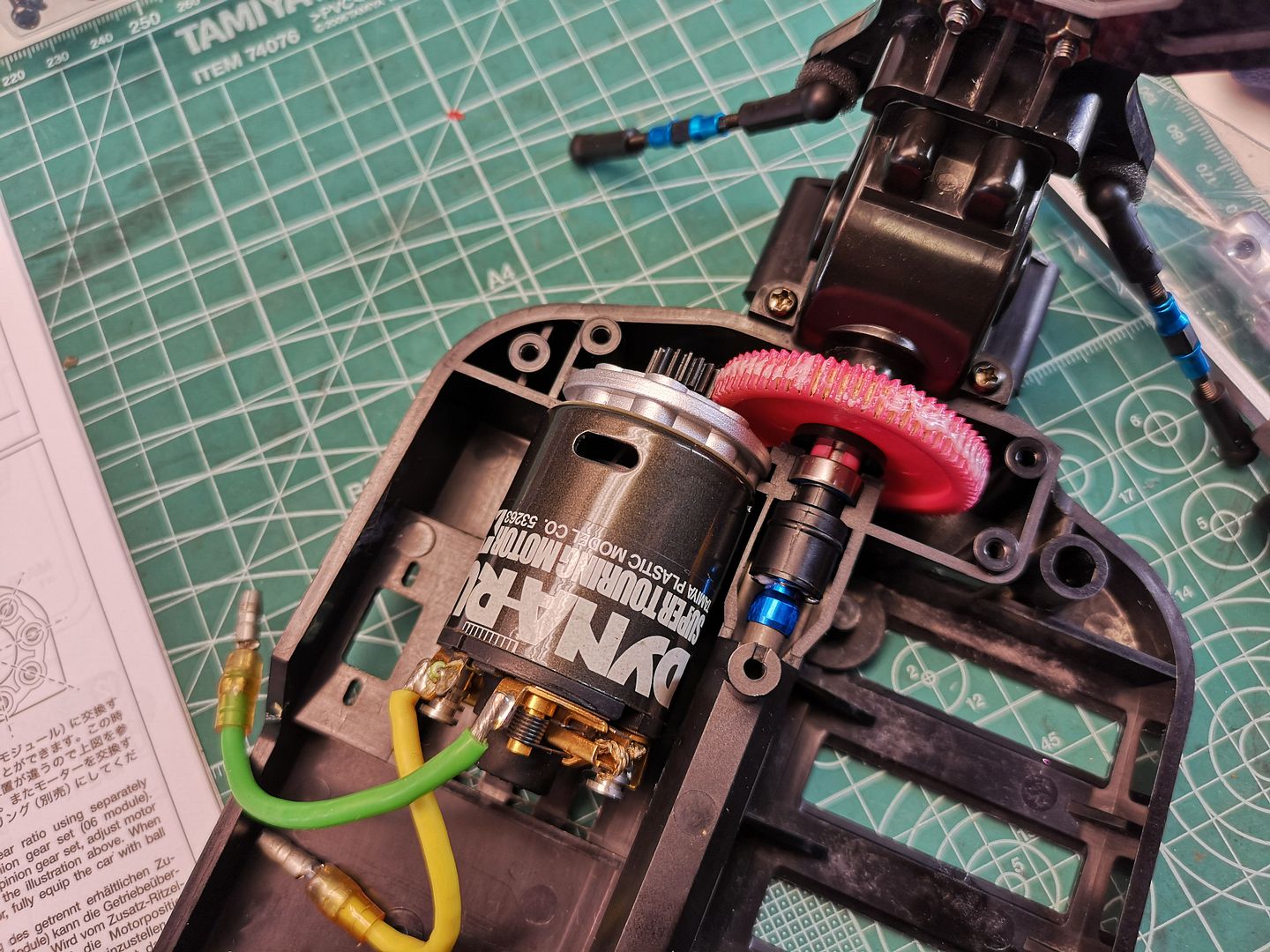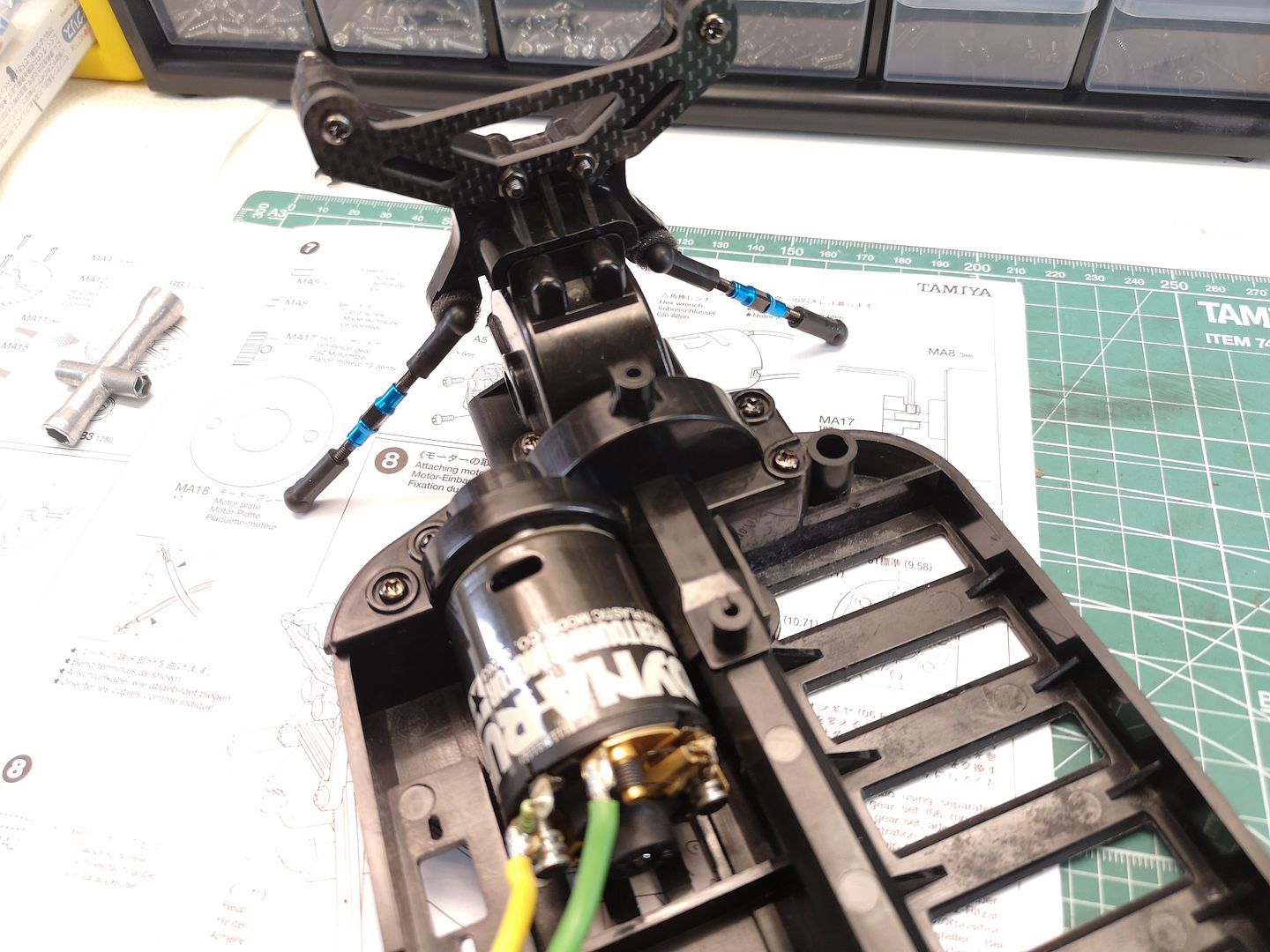 After mounting the motor I noticed that the motor could be moved a little bit, it's not a 100% tight fit.
I tried with the original plastic mount also but it to was like this. So my question is, is it supposed to be like this or do I have to get new parts? 
---

I continued to finish the rear suspension. I was planing to make an lexan cover for the carbonfiber part, but I think I have to get a heat gun to be able to make a good one.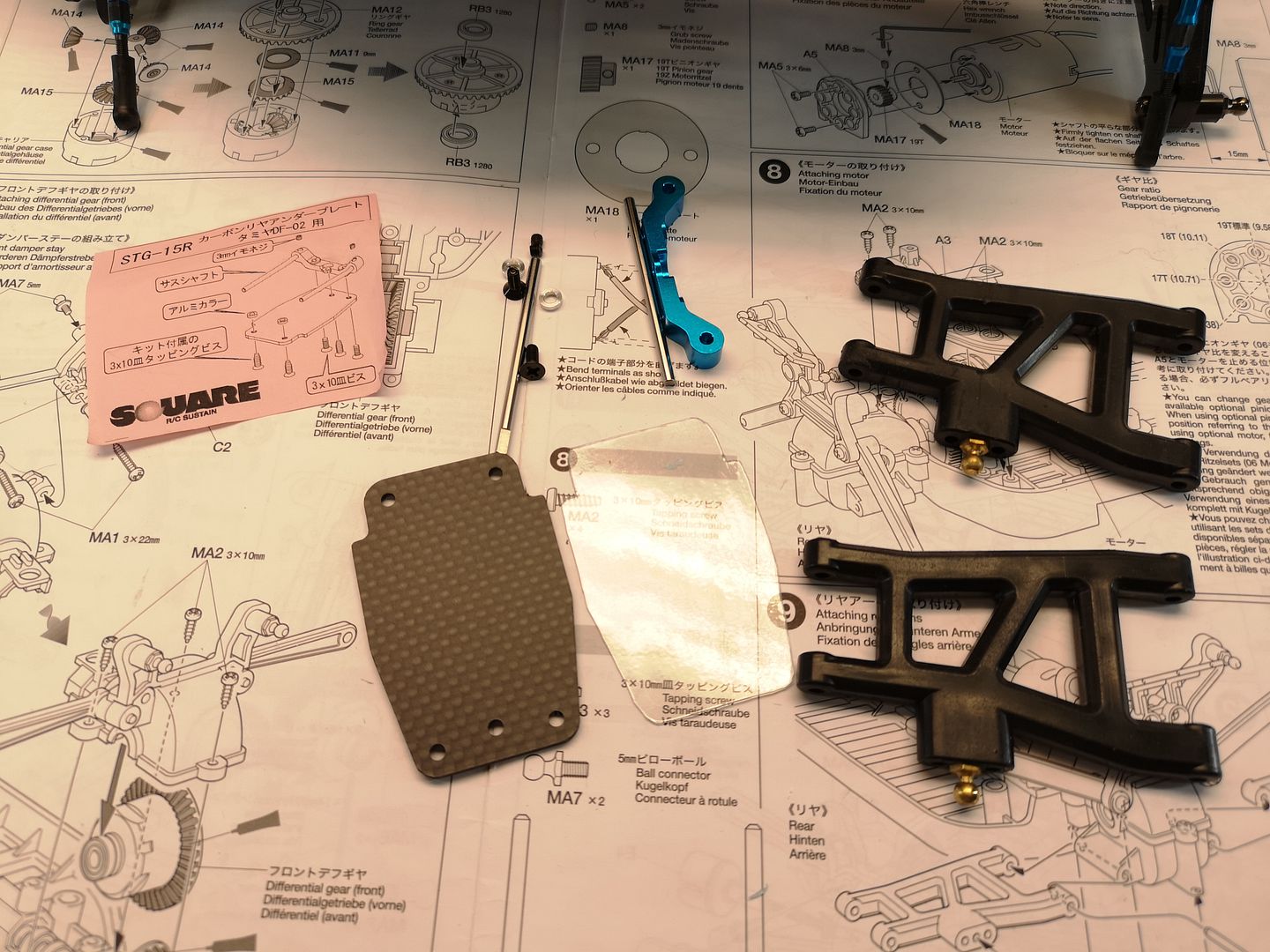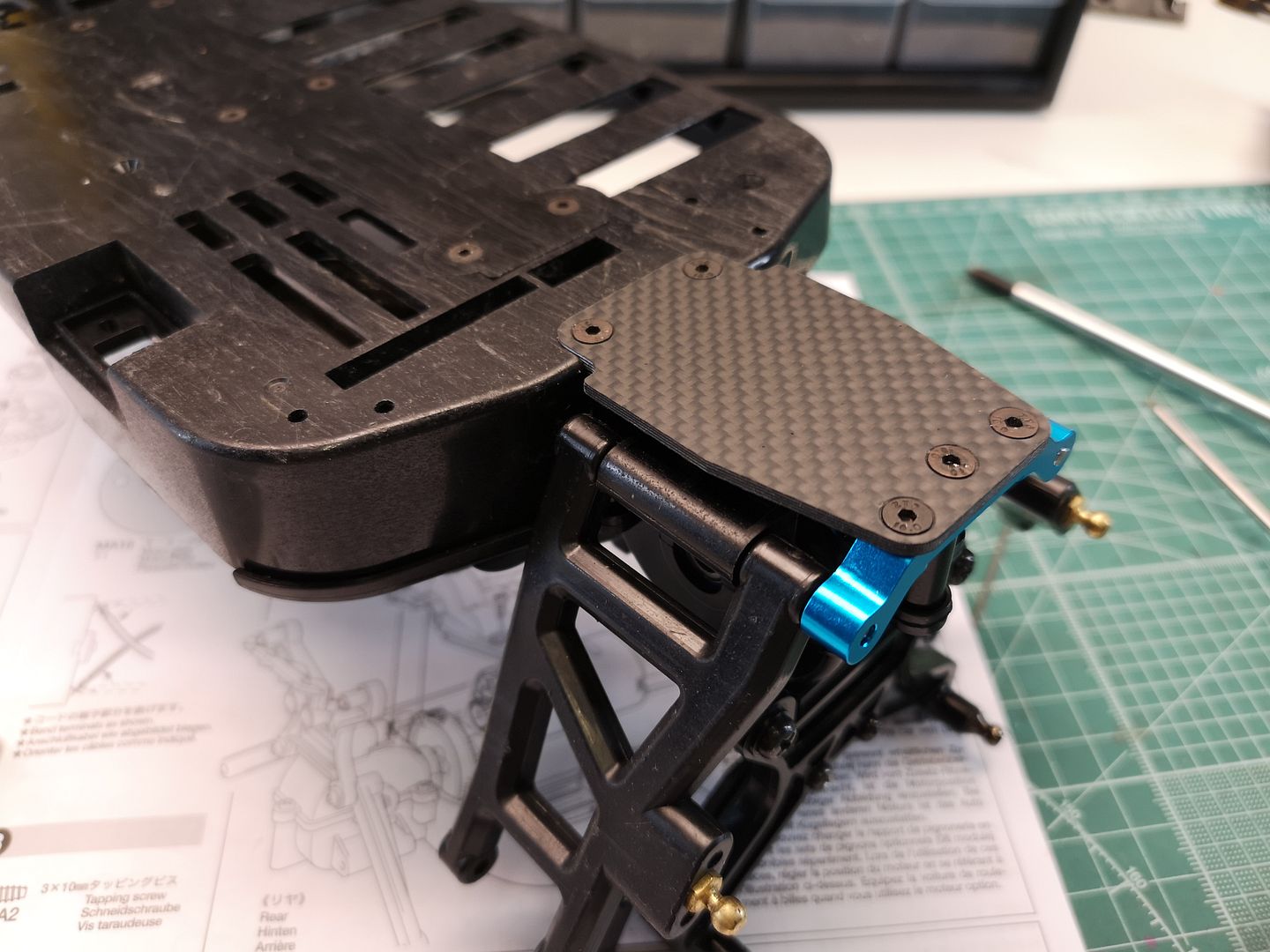 The carbon Fibre plate is 1 mm higher that the chassis, so might look into that later.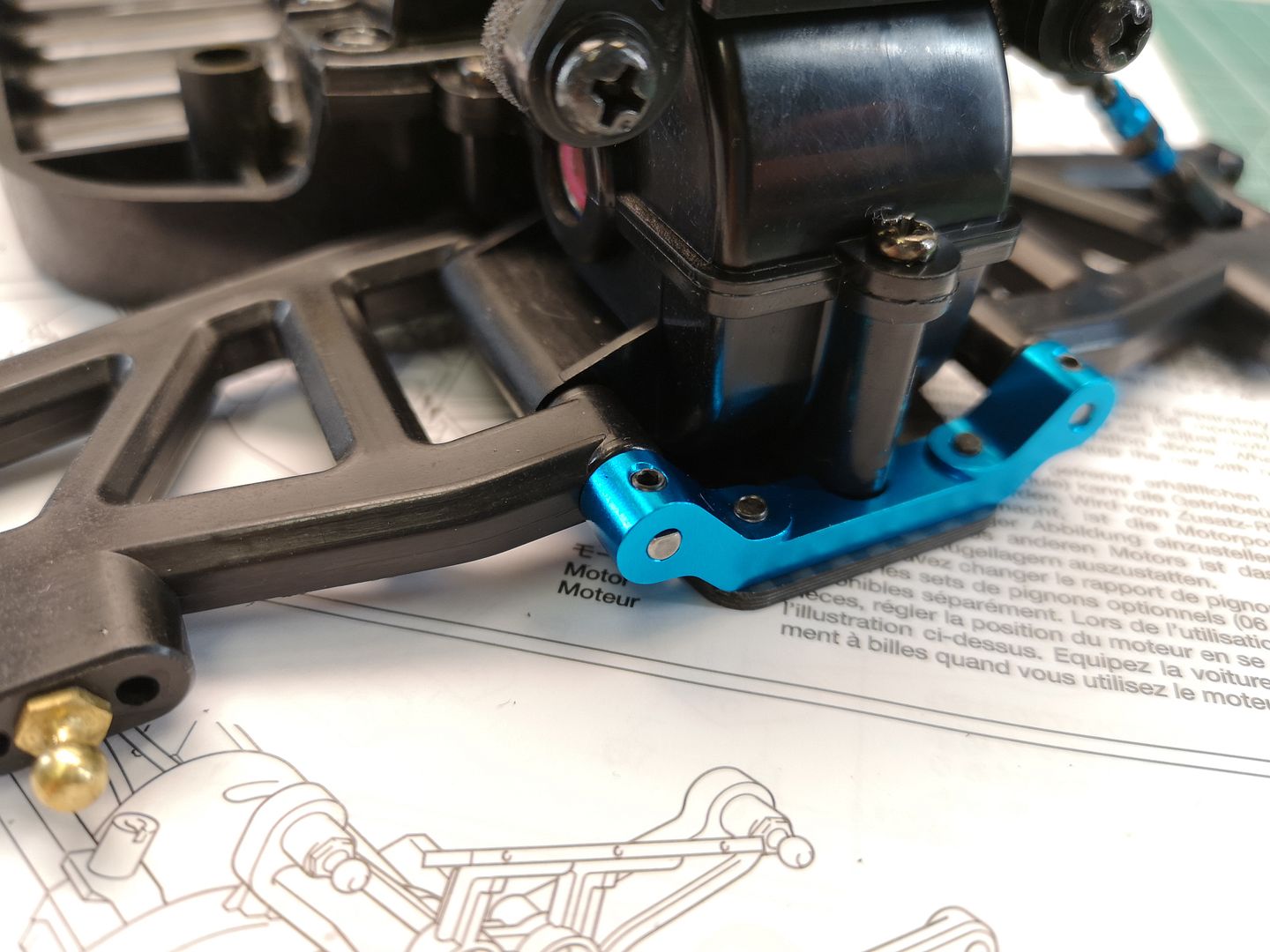 Updated to the better driveshafts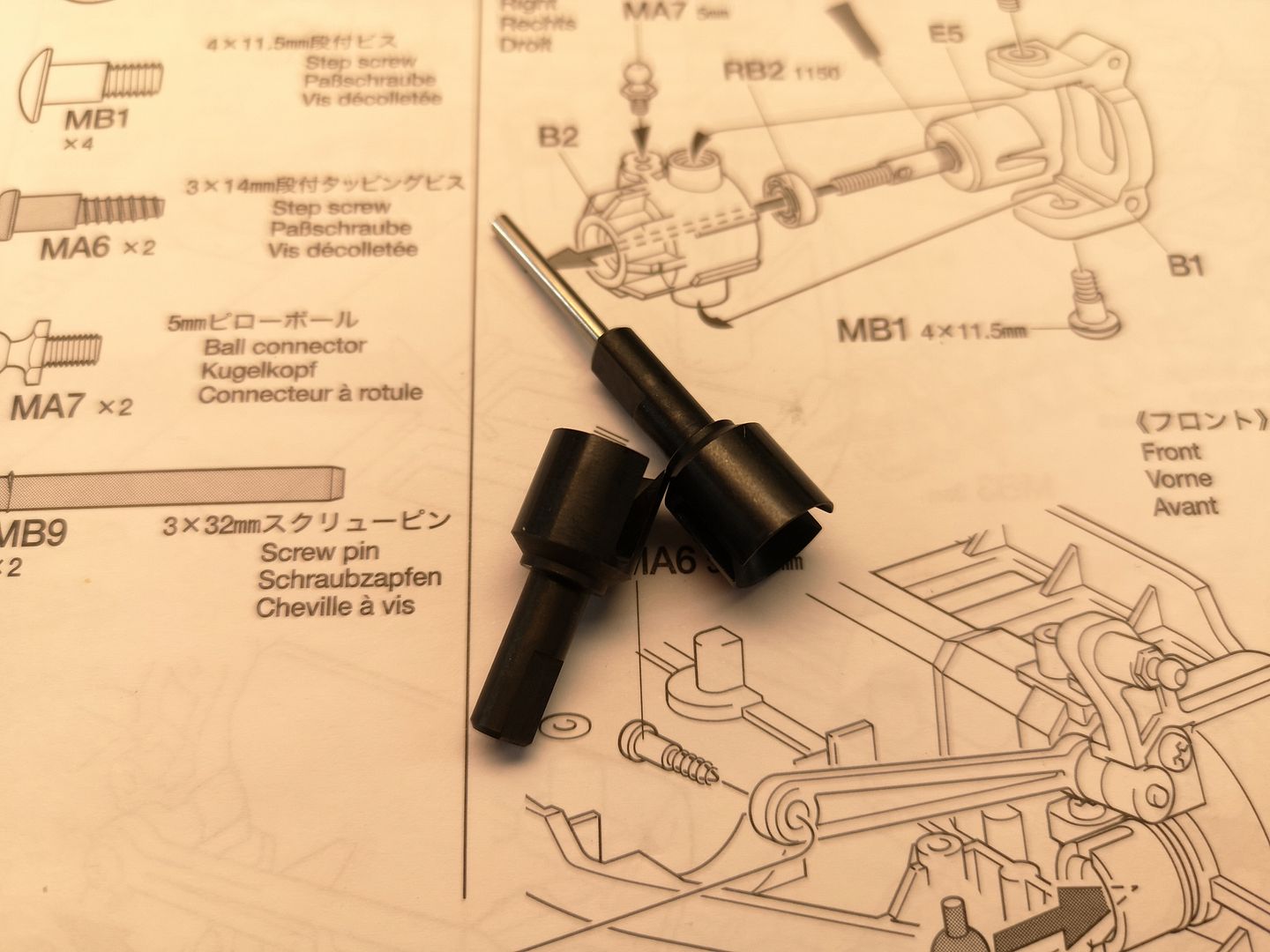 Just missing the shocks now, hope I get the parts soon that I need to mount em.
Then it's the front suspension turn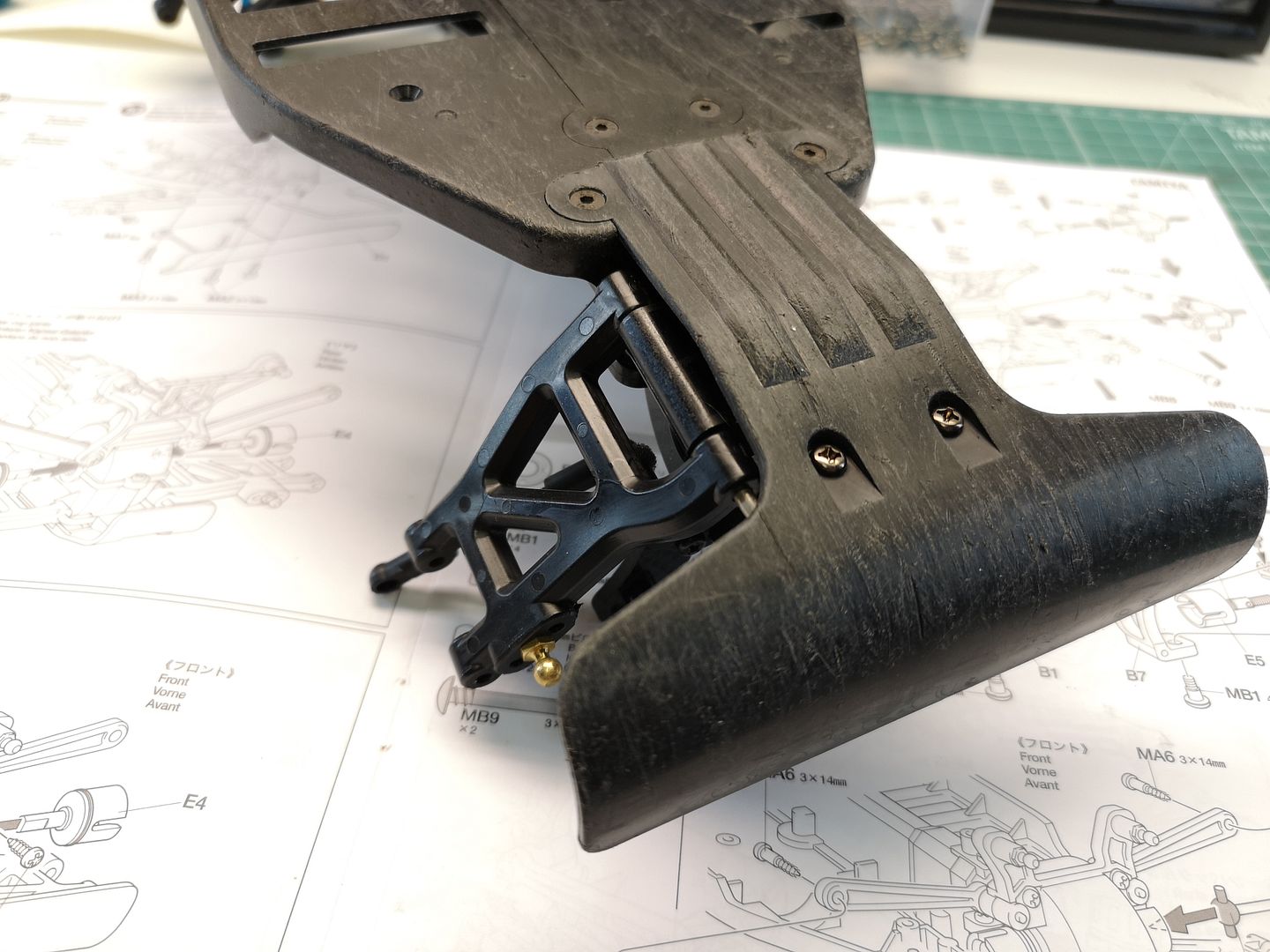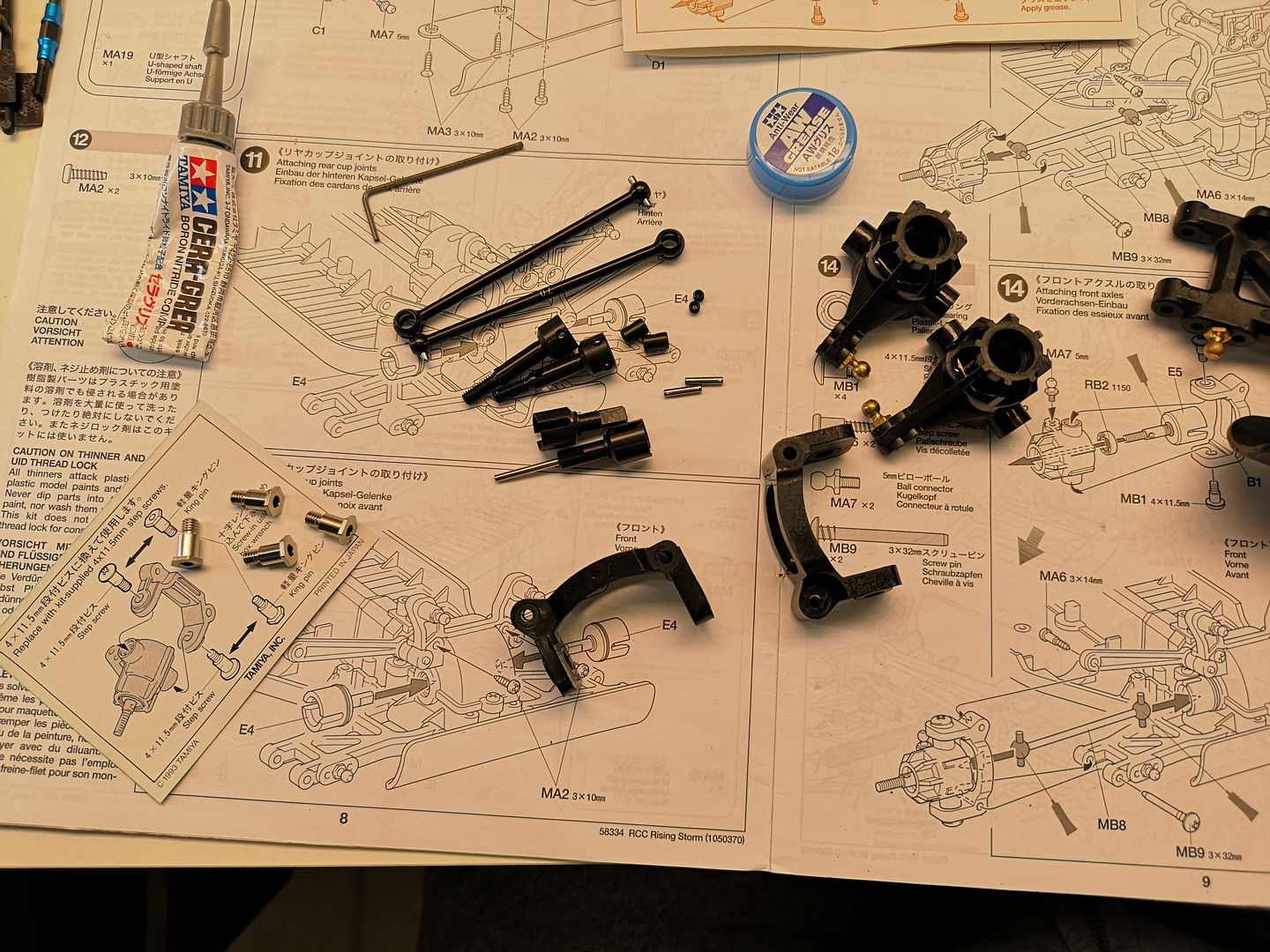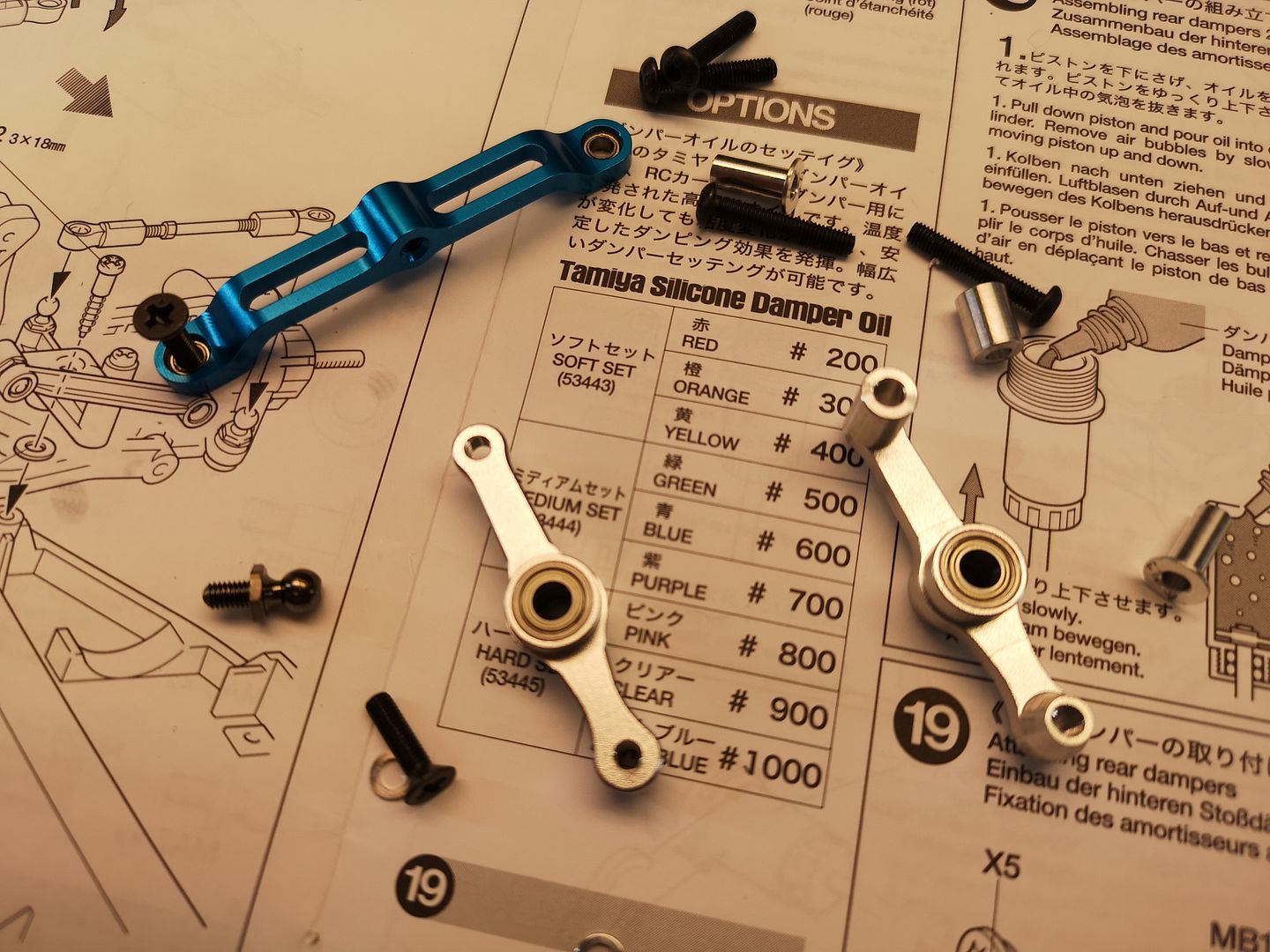 ---

Now I have mounted the electronics, and done the things I can do to finish the car without the missing parts.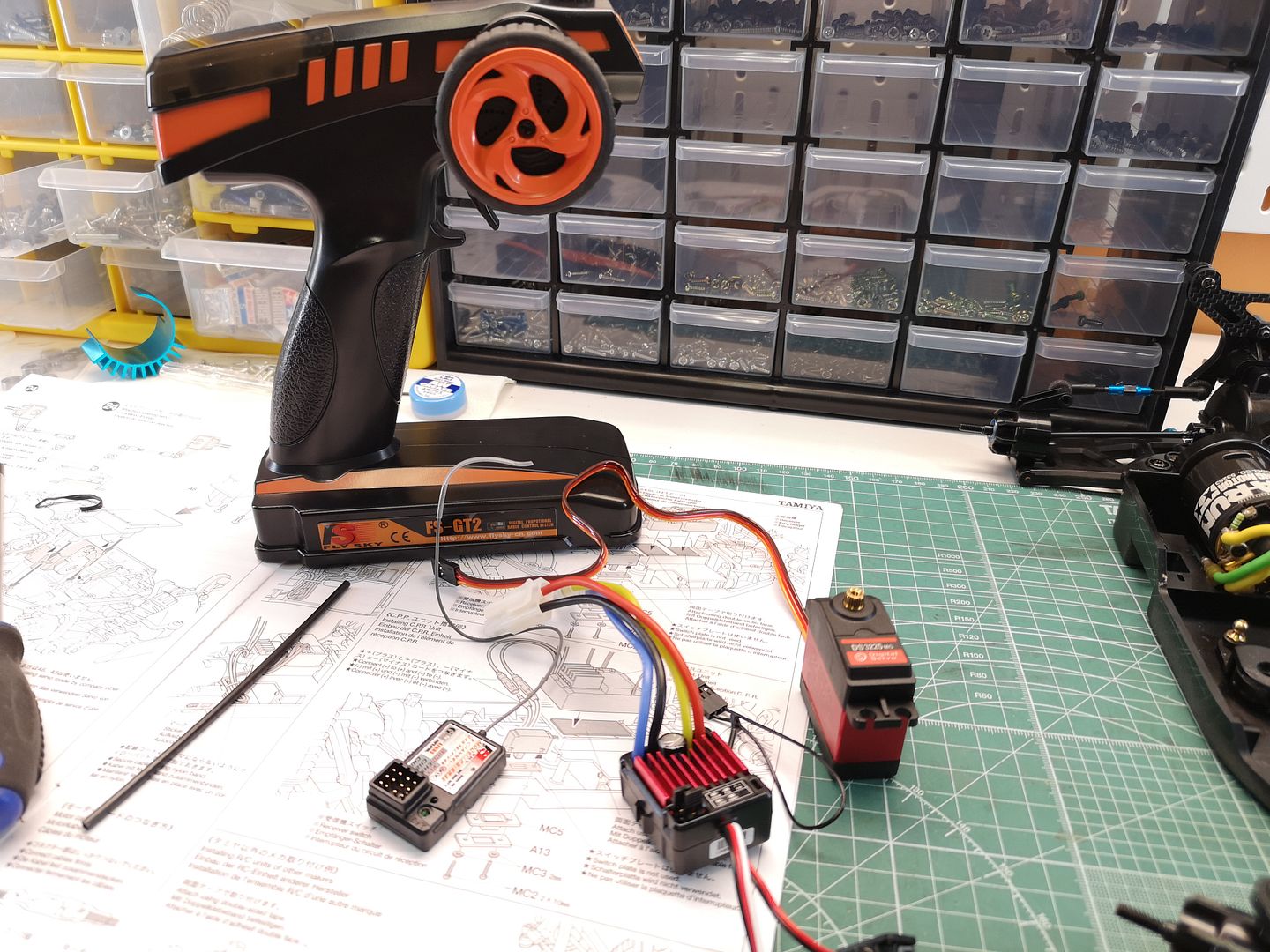 I went for the cheap solution when it comes to the electronics, because it works more than good enough for me.
Just missing the part for mounting the antenna, but not sure if I'm gonna use it anyway.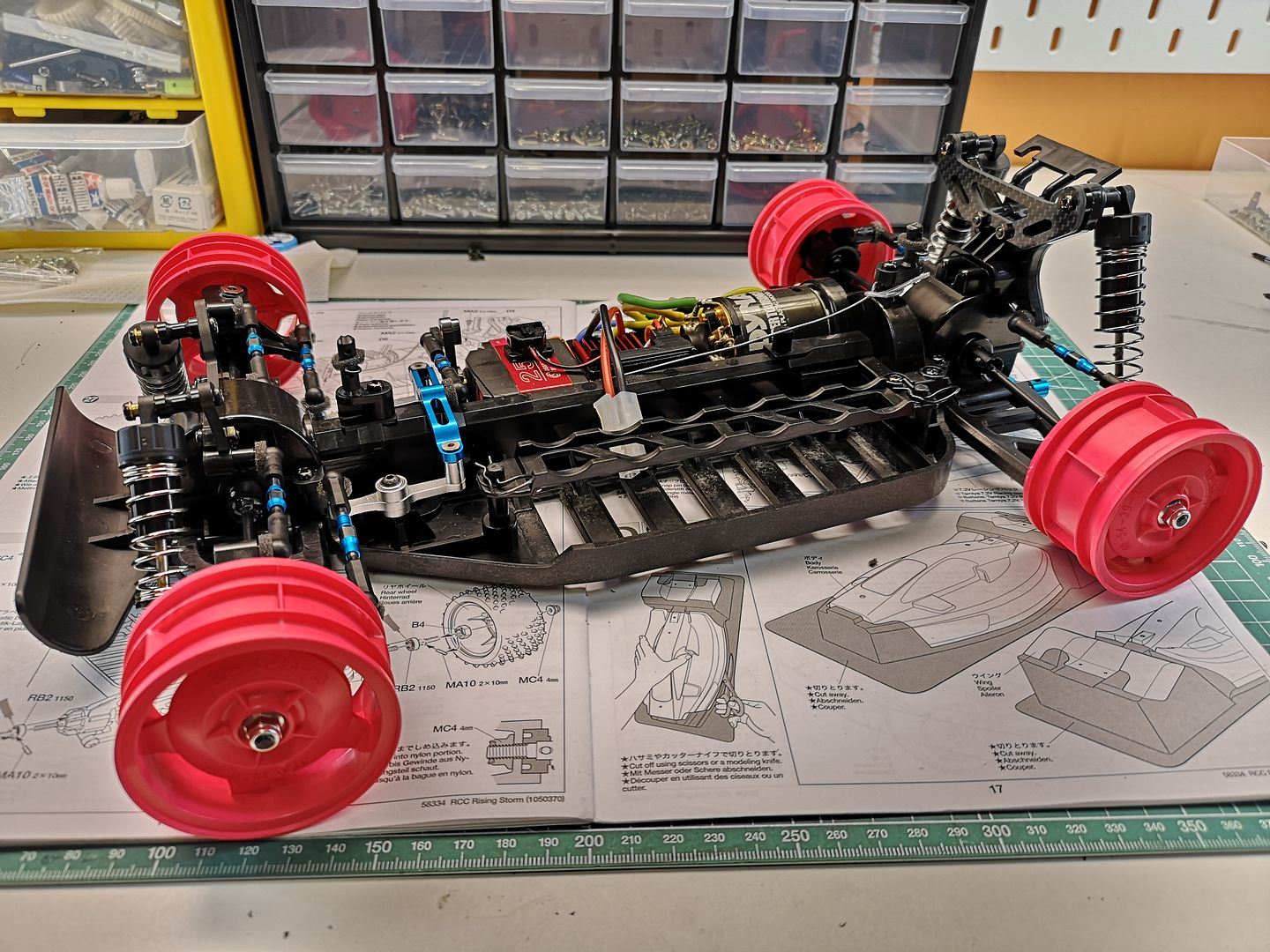 So far so good, I just mounted the original dampers, while I'm waiting for the parts for the TRF dampers.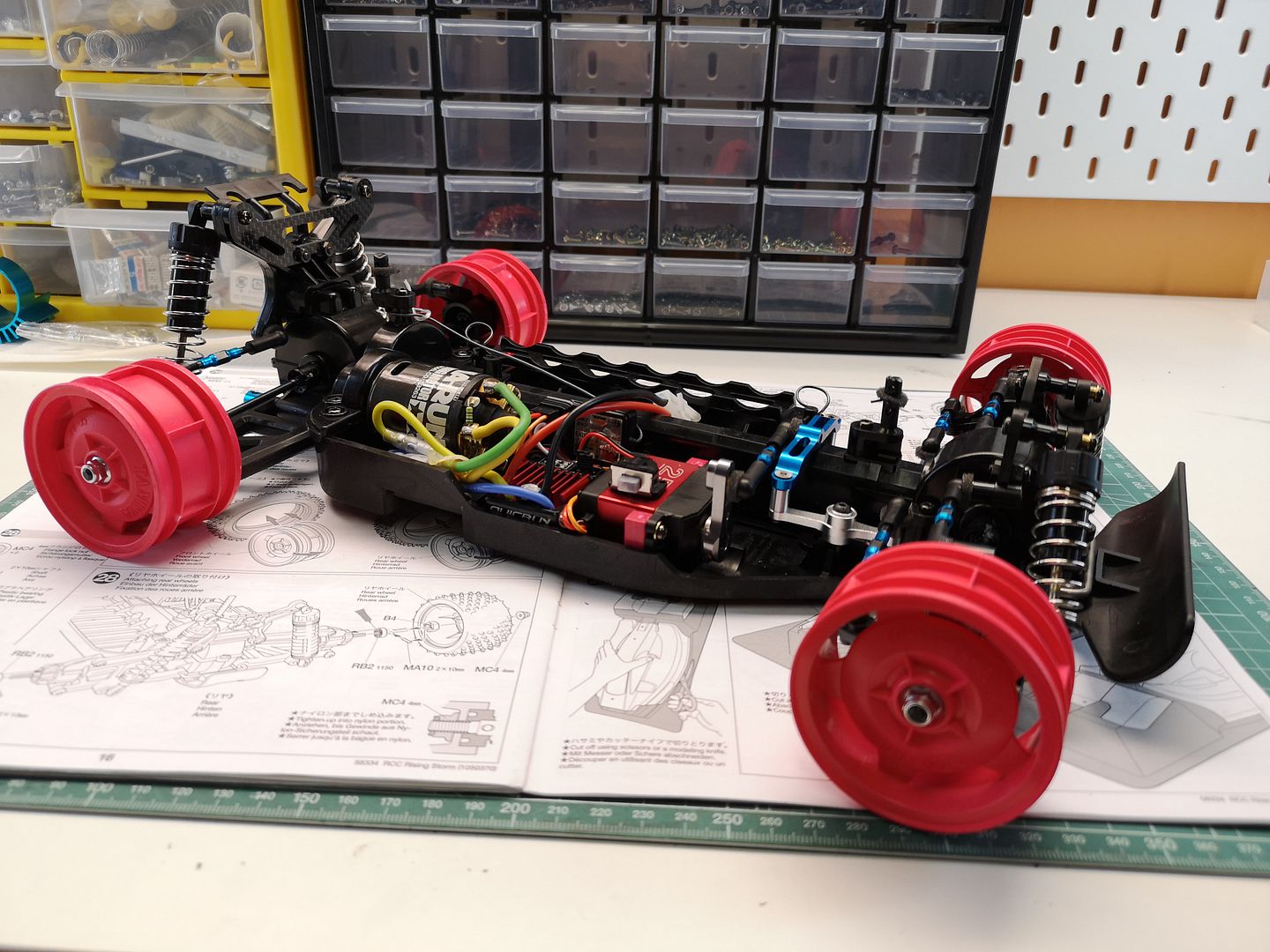 Since I got the electronics mounted I could test the drivetrain. I can't say that I'm very happy with it, the motor is wobbeling as metion before, and the whole drivetrain makes allot of sound. I will try the tip I got with epoxy glue where the motor mount is, and grease the motor mount so it's not glued to the chassis. Also there is allot of backlash in the suspesnsion, so I think I have to buy some spacers and try to get it more tight.
---

I have found some tires to use. These came with a Top-Force I bought, but are unused and still soft so they should be ok. I also did tyre lettering in pink, I might do a second layer.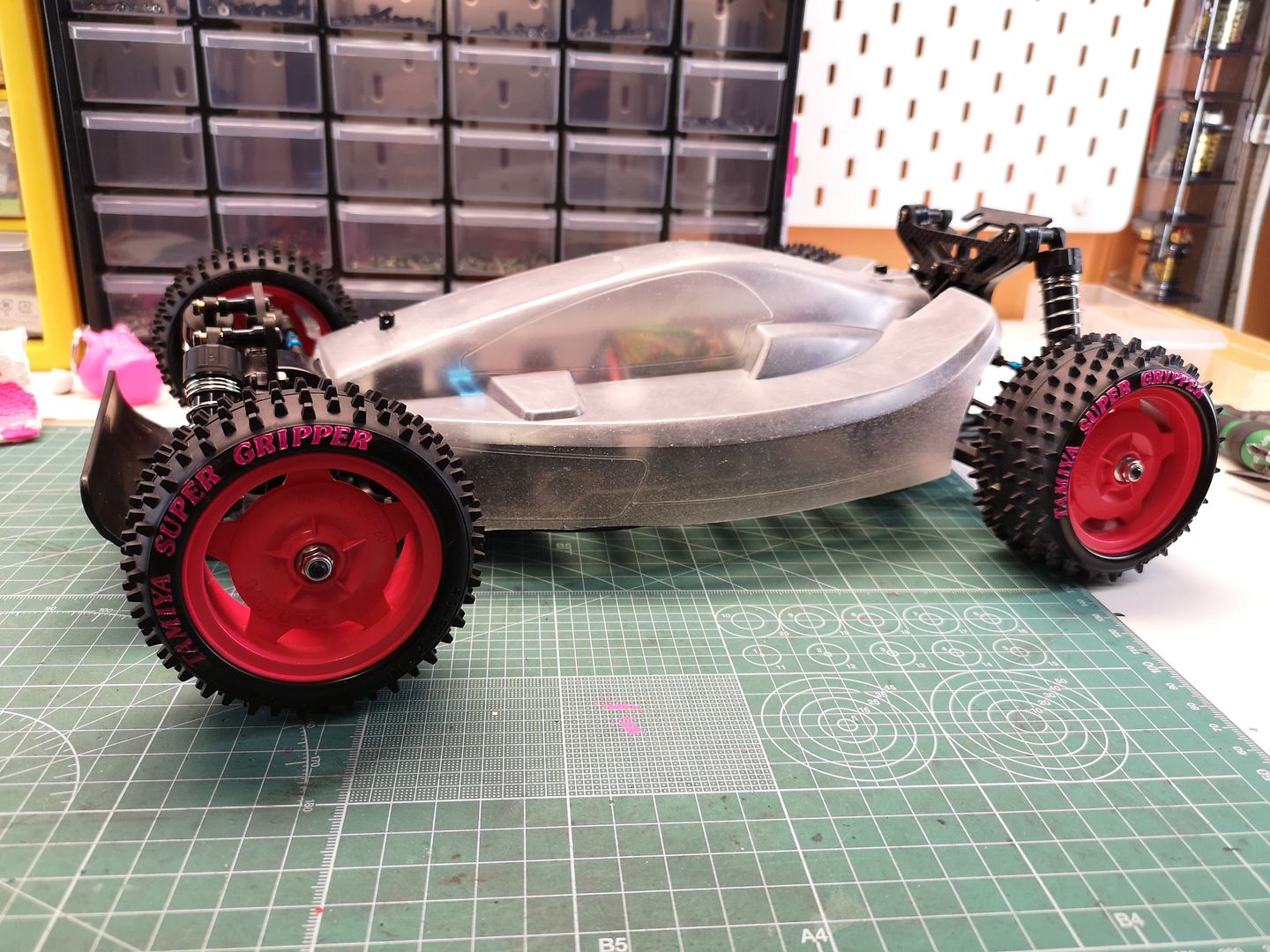 The mailman brought me a new part, the square front stiffneer. I'm not sure how much it helps, but it looks nice and since I had it on my first Rising Storm I just had to have it.
Not being any good in Japanese, I at first thought that I couldn't use the alu steering arms, so I started to mount the original ones, until I realized that the kit did supply parts so it should be possible to use alu steering arms 😋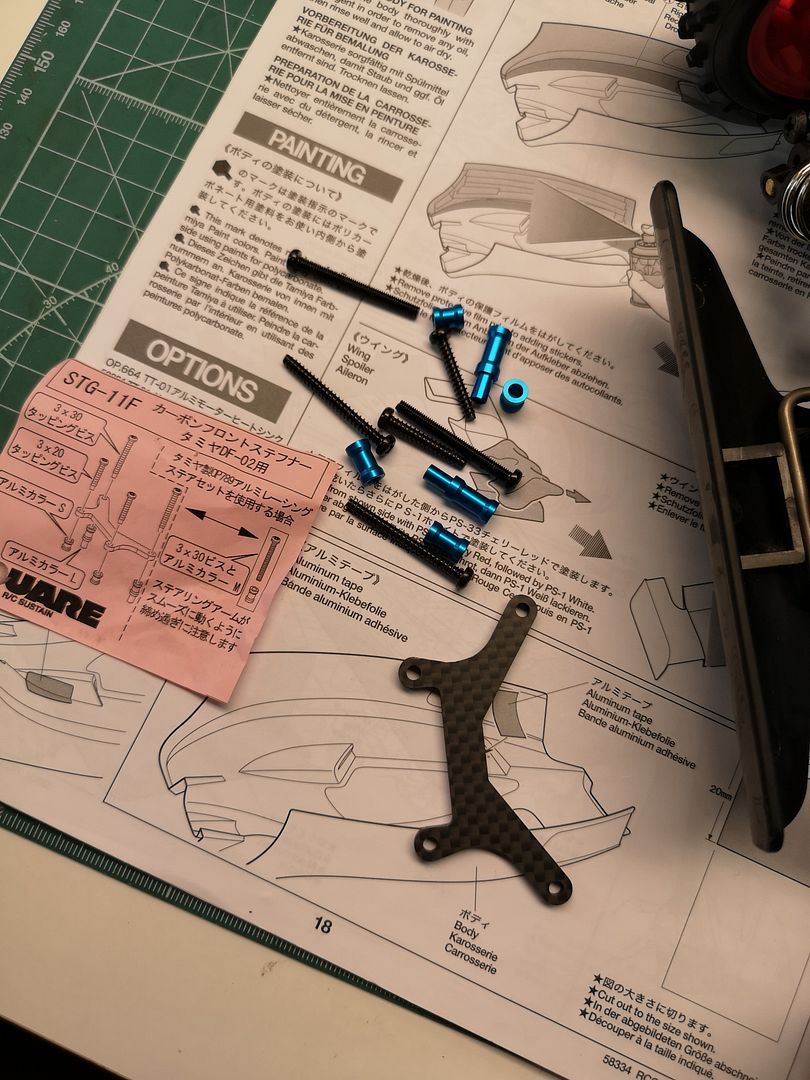 It do really look nice finished mounted.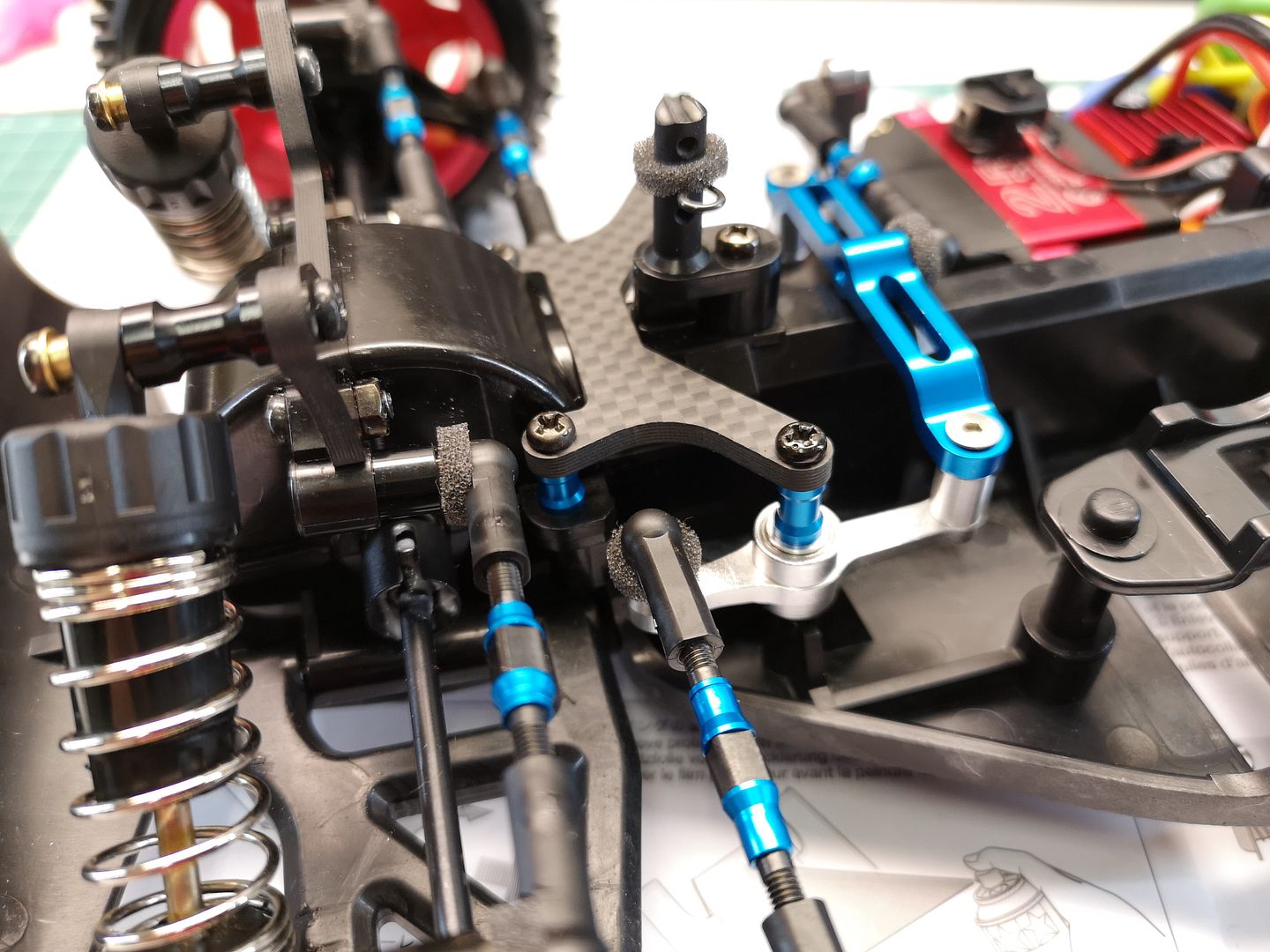 I also started masking the shell, because I want to try to paint it still if it's snow outside. I want to see how it goes. if it goes ok, this means that I could paint other ones as well. When you see the state of the shell you understand why I could try this. It has been used without any paint on, the paint film is still on so it might be ok, but it does look really bad.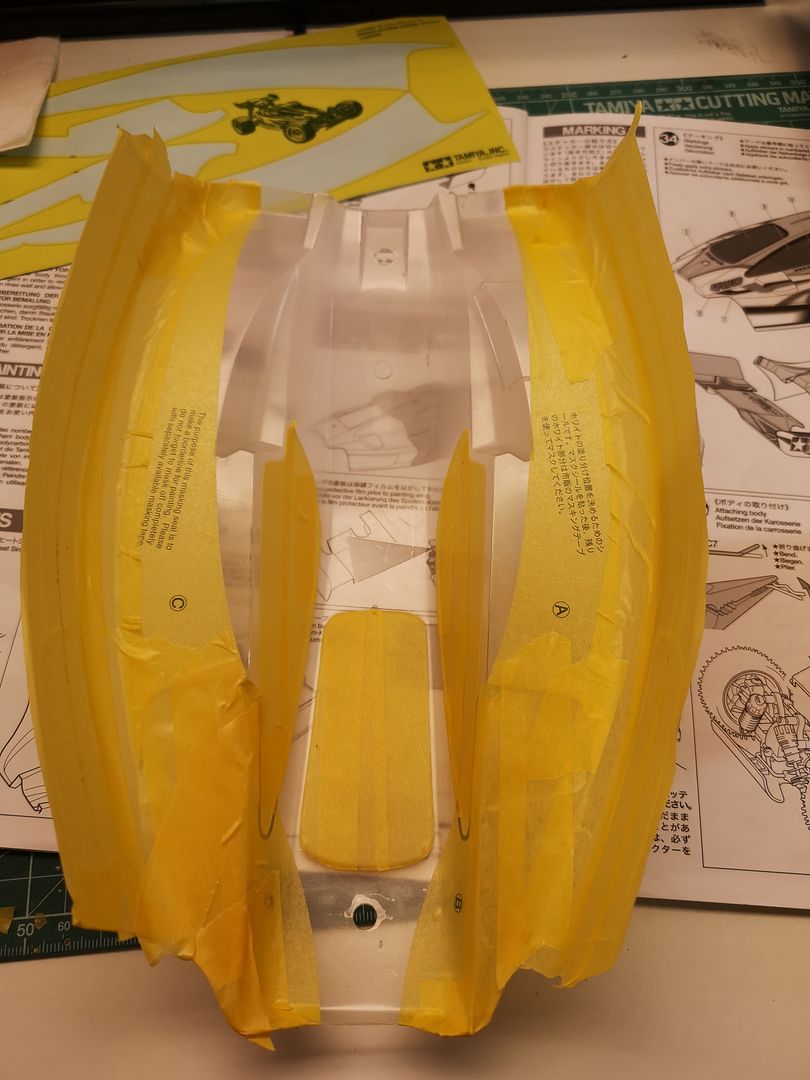 Today I got some help or should I say the opposite, Luna just wanted to play with all the stuff on the bench until she calmed down.
---

Got the parts I need for mounting the dampers today.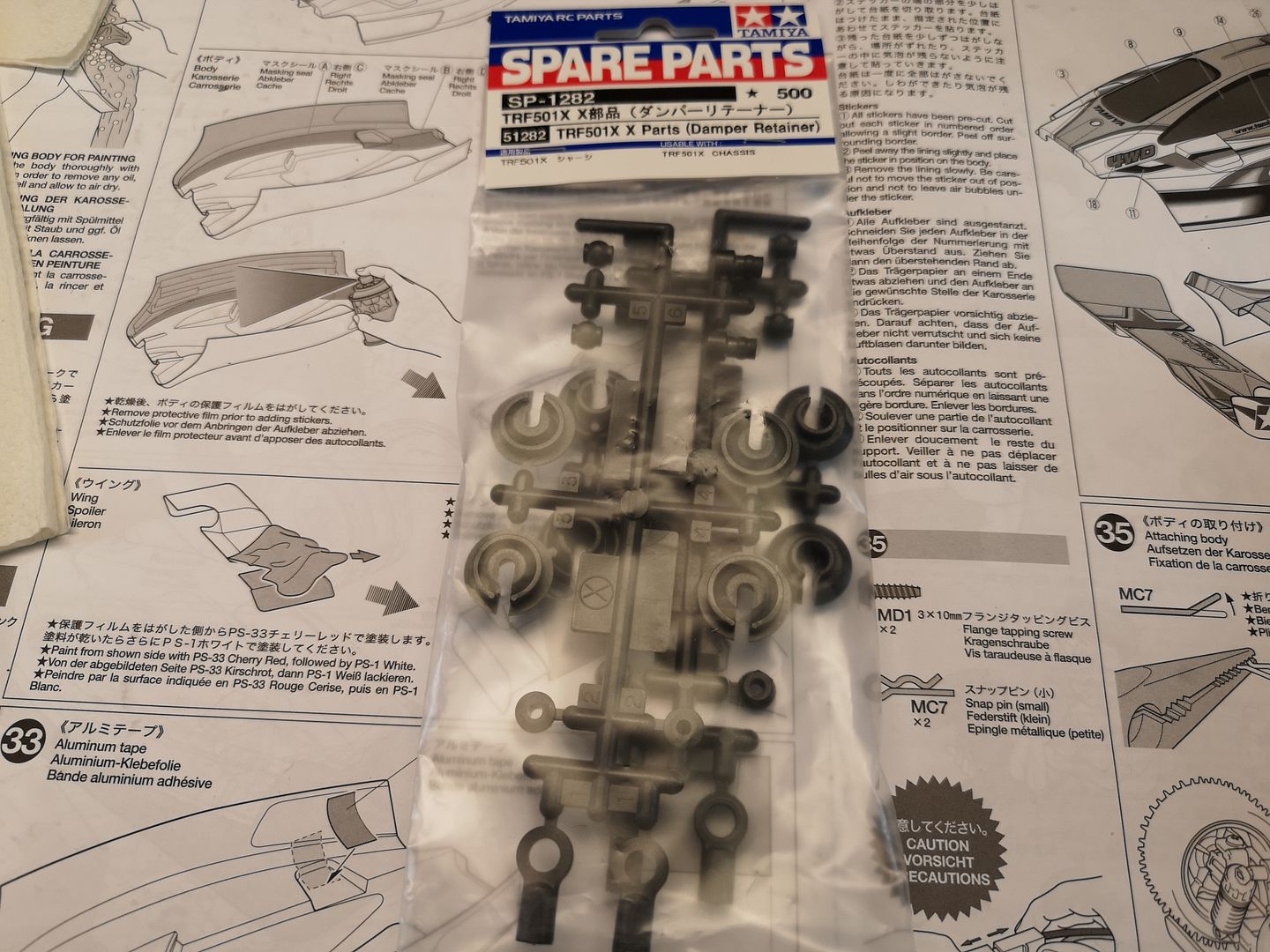 The dampers I'm gonna use is a little bit longer than originals, but I don't think that is gonna be a problem.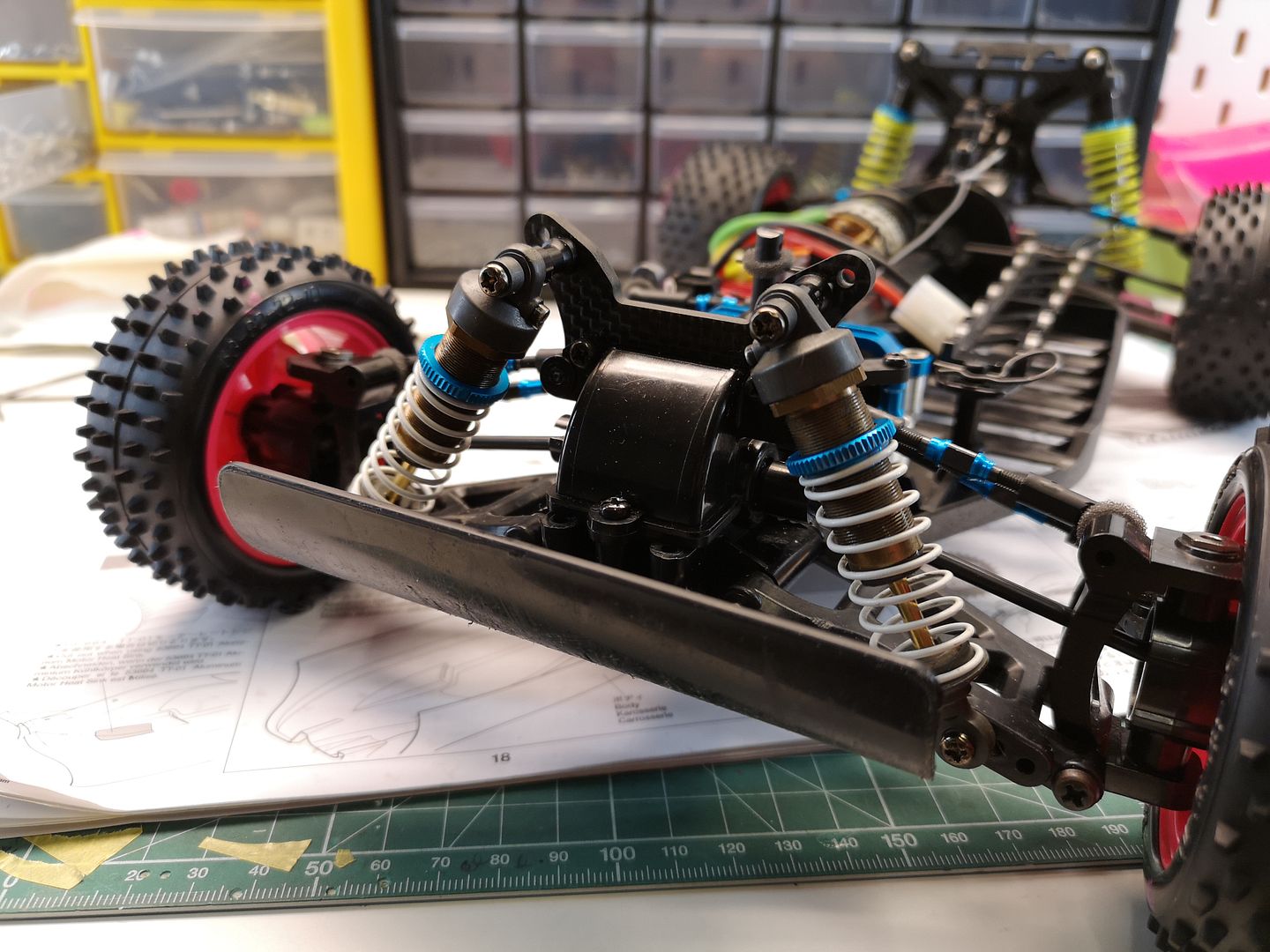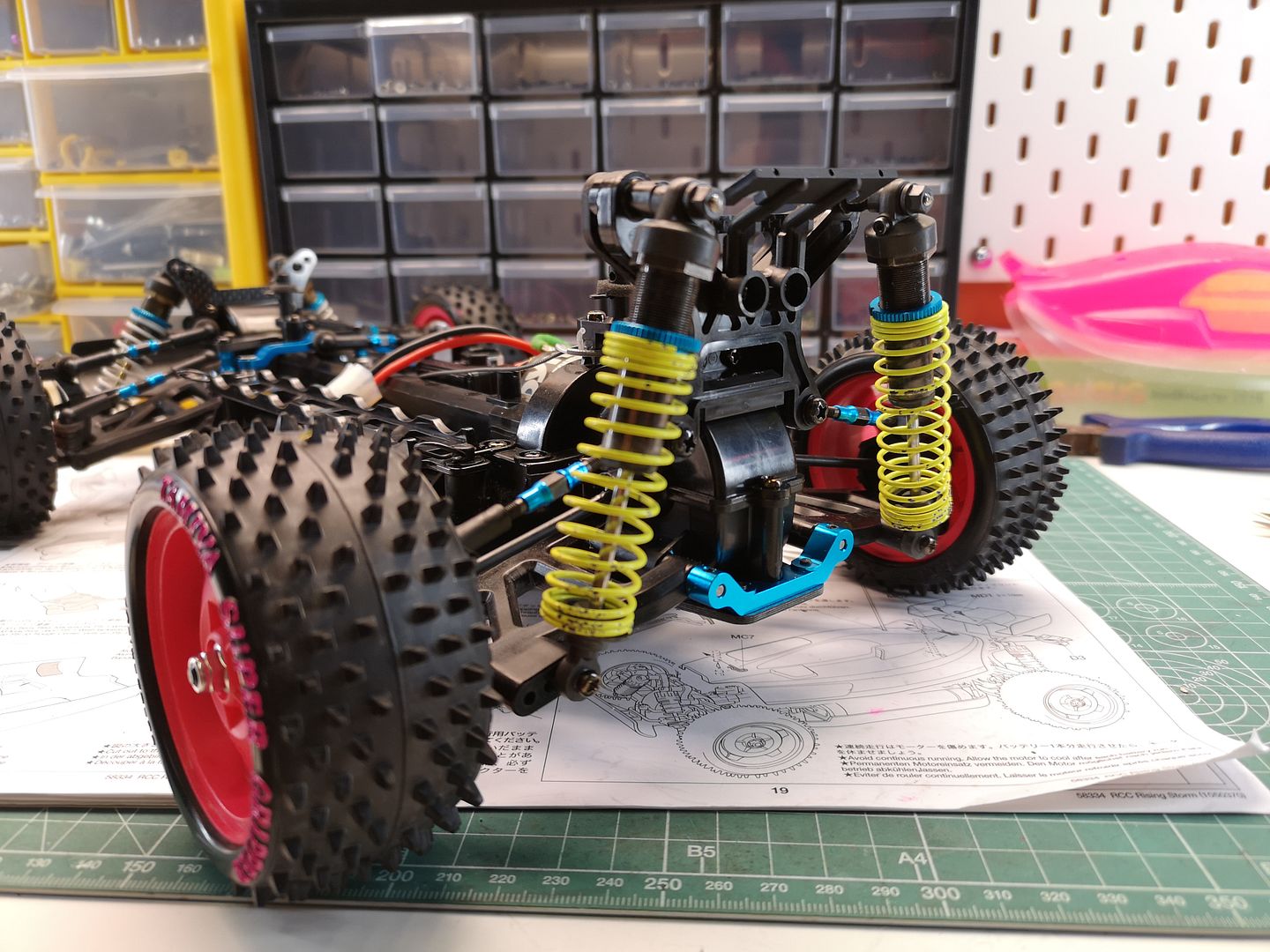 So when it comes to setup of the dampers I'm kind of lost. Should them be harder at the back than the front or about the same? Also any suggestion on what oil to use front and rear are welcome. Anyone have (link to) a tutorial?
---

As I mention in an earlier post I would paint the body and wing, just to see if it's possible to do since it's winther. I don't know if it was the cold or the fact that I was using flurocent pink paint that made it so hard to get the paint layed down in bends on the body. Maybe I did a bad job in cleaning it before paint? But it's possible to paint as long as you have a warm place to let the paint dry. Because of the smell that was a problem for me, until I remembered that we have a fan sucking warm air out of our booth.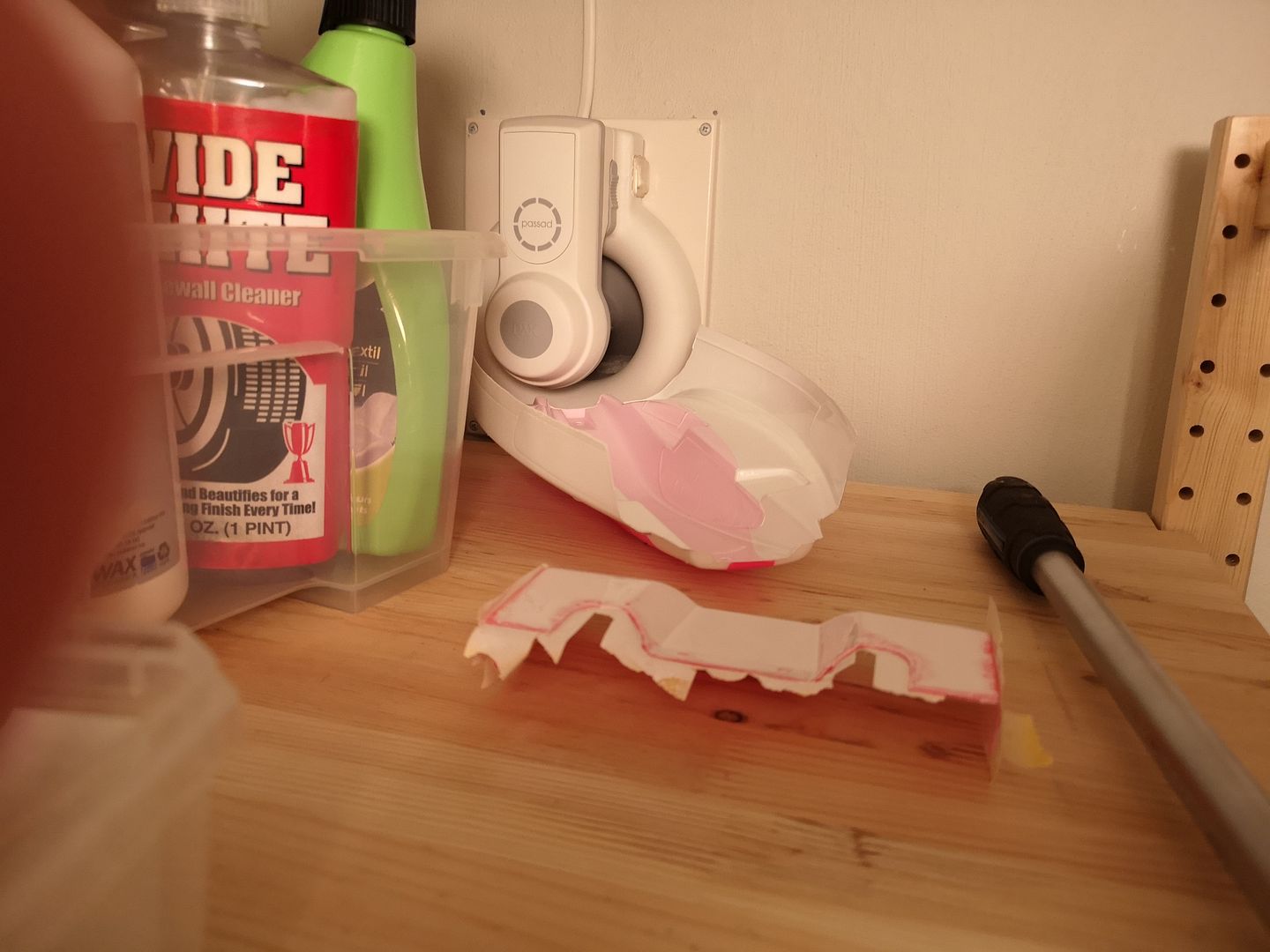 I didn't read the manual and i didn't think at all when I painted the wing, since the cover plastic was underneath the wing i sprayed the pink colour on top of the wing 😛 So the rear wing I will have to fix/get a new one sometime. I might do that with the body also because I'm not 100% pleased with it.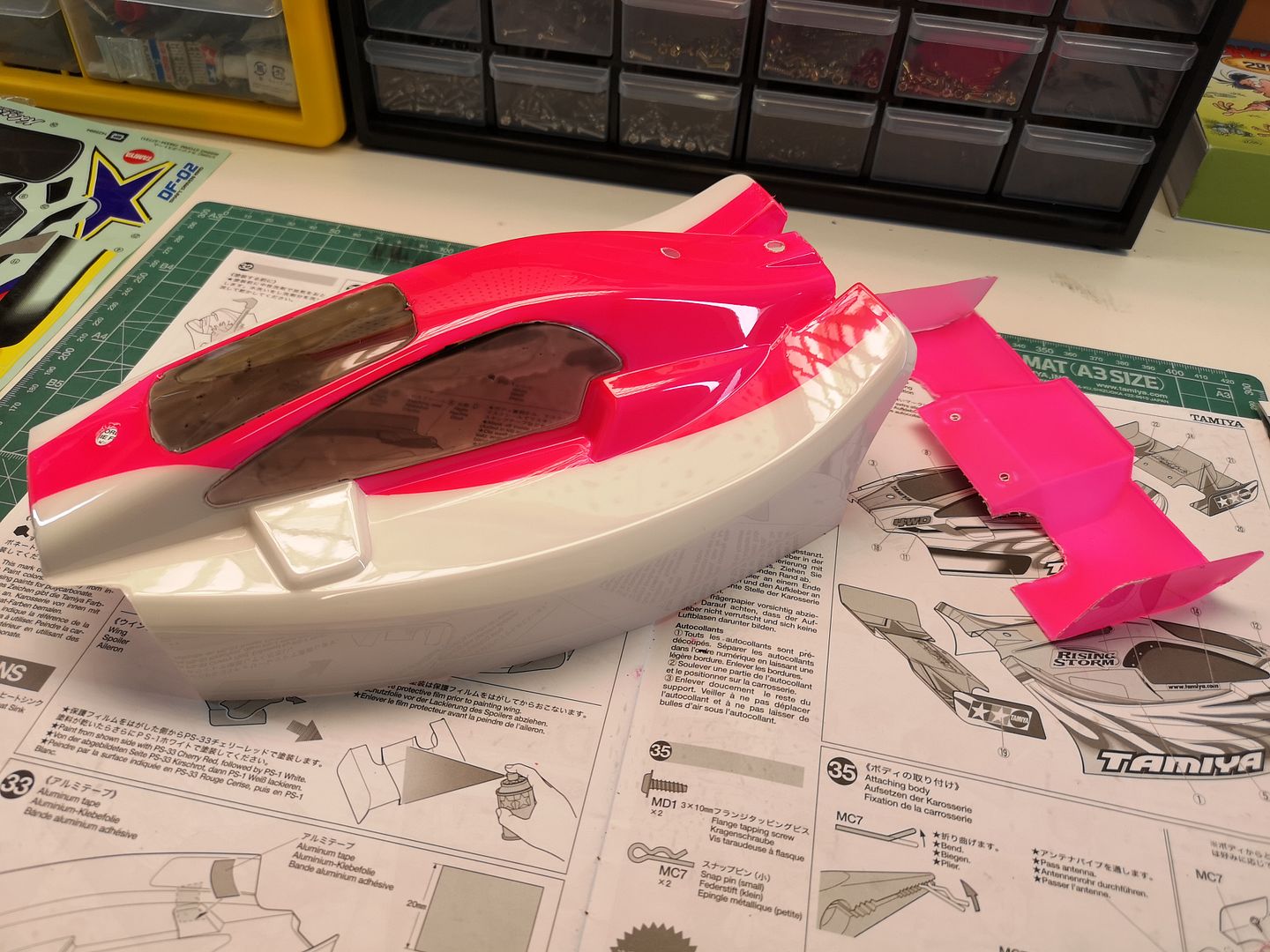 But it do looks nice with all the stickers applied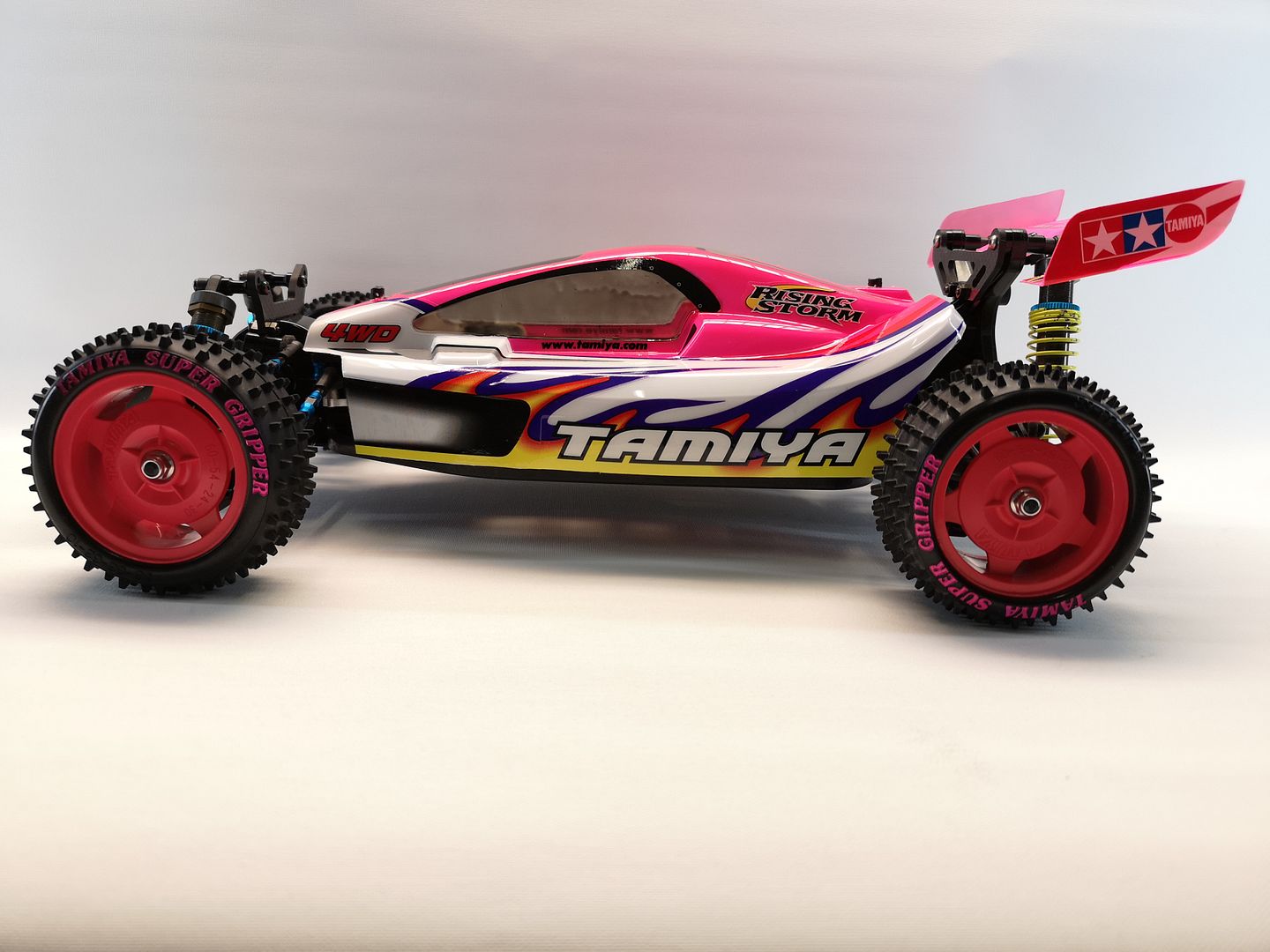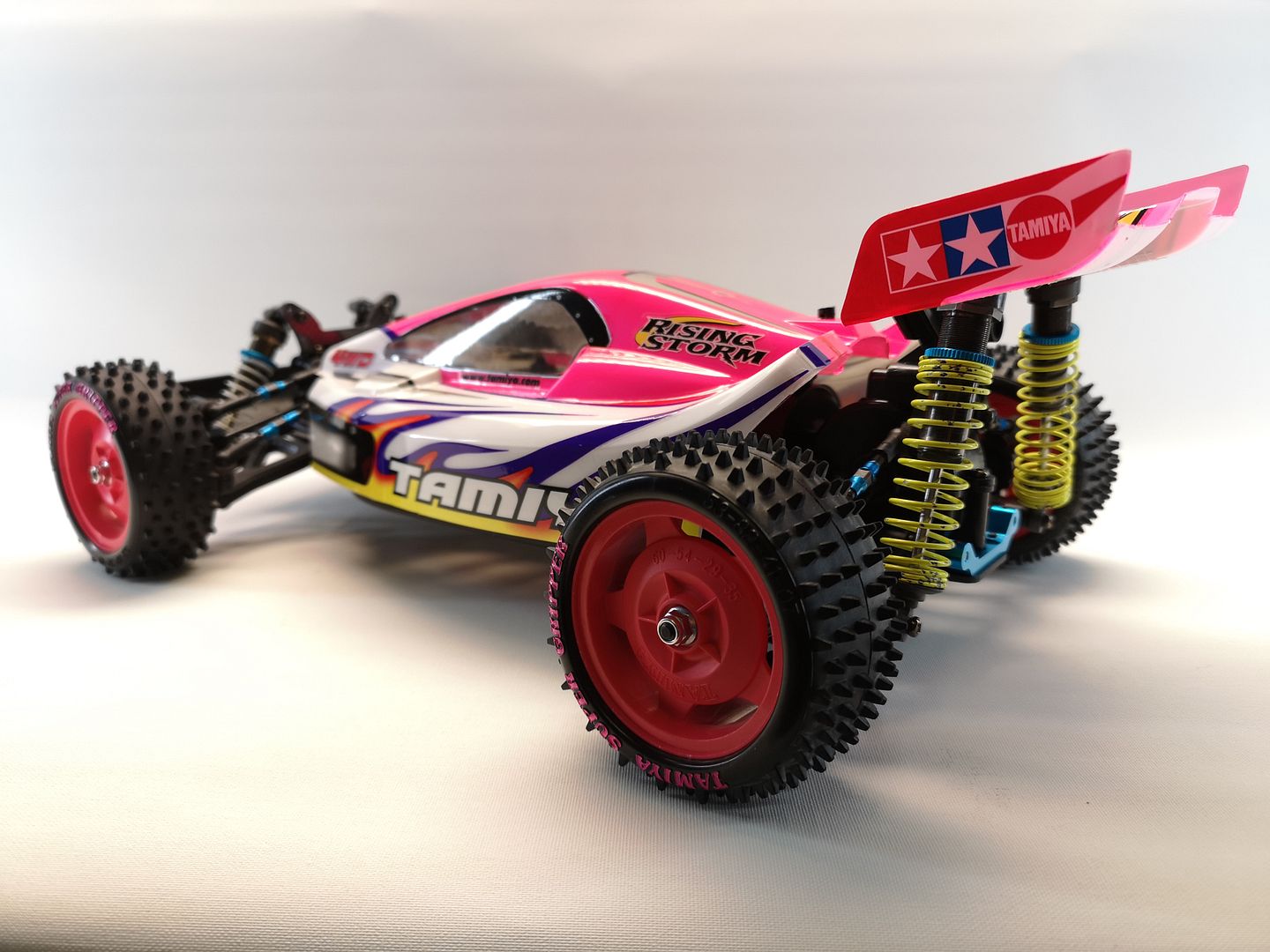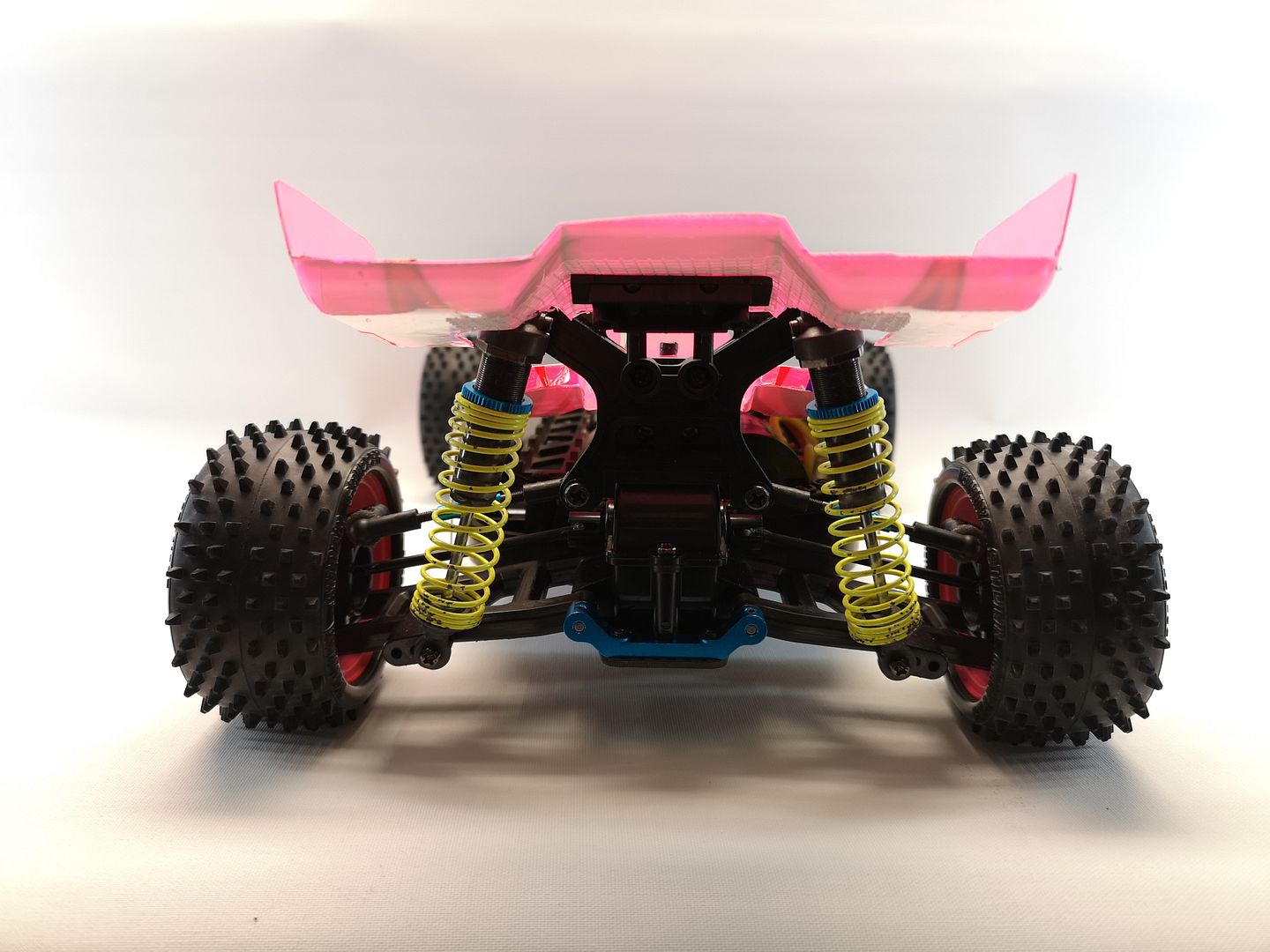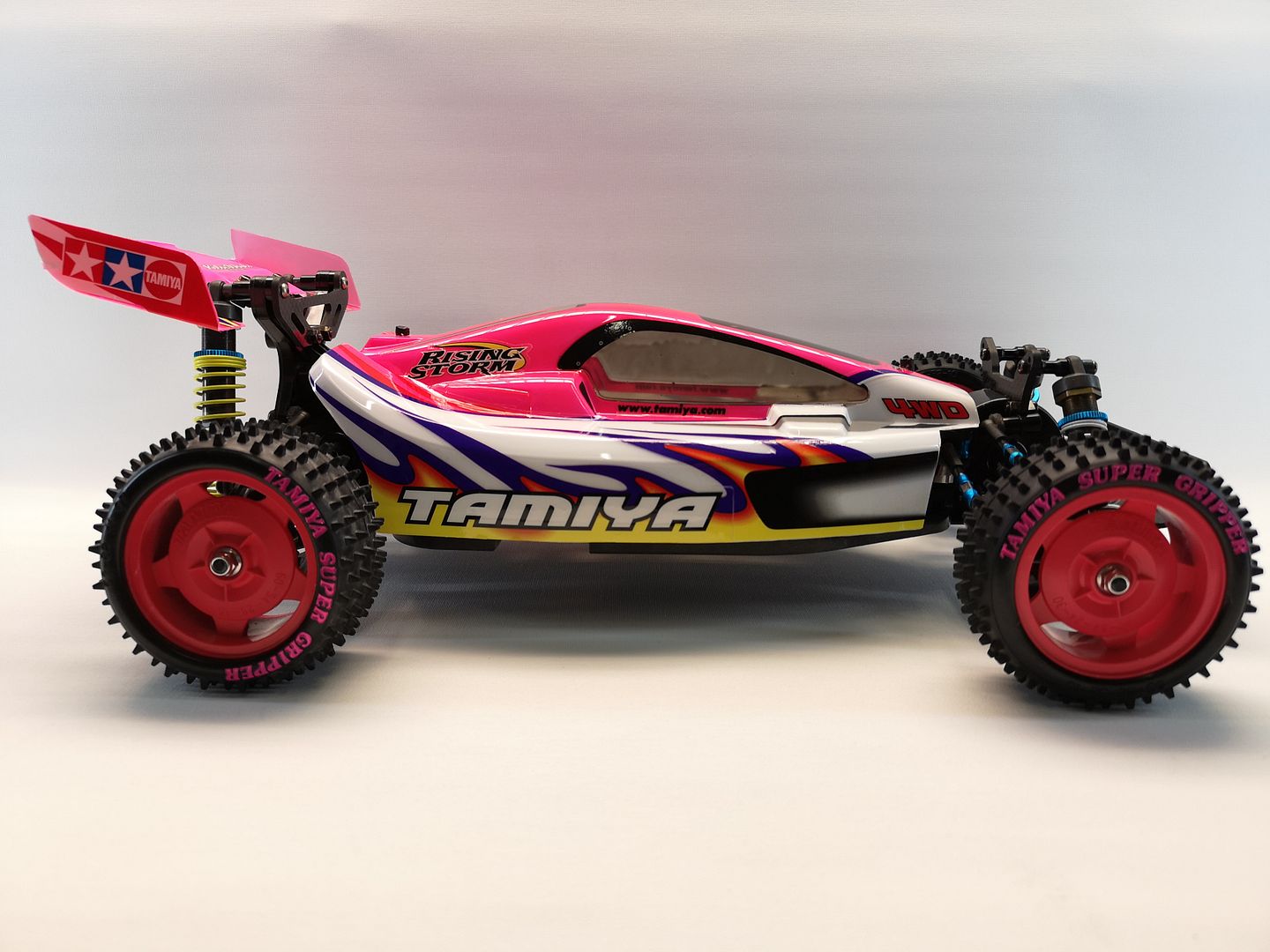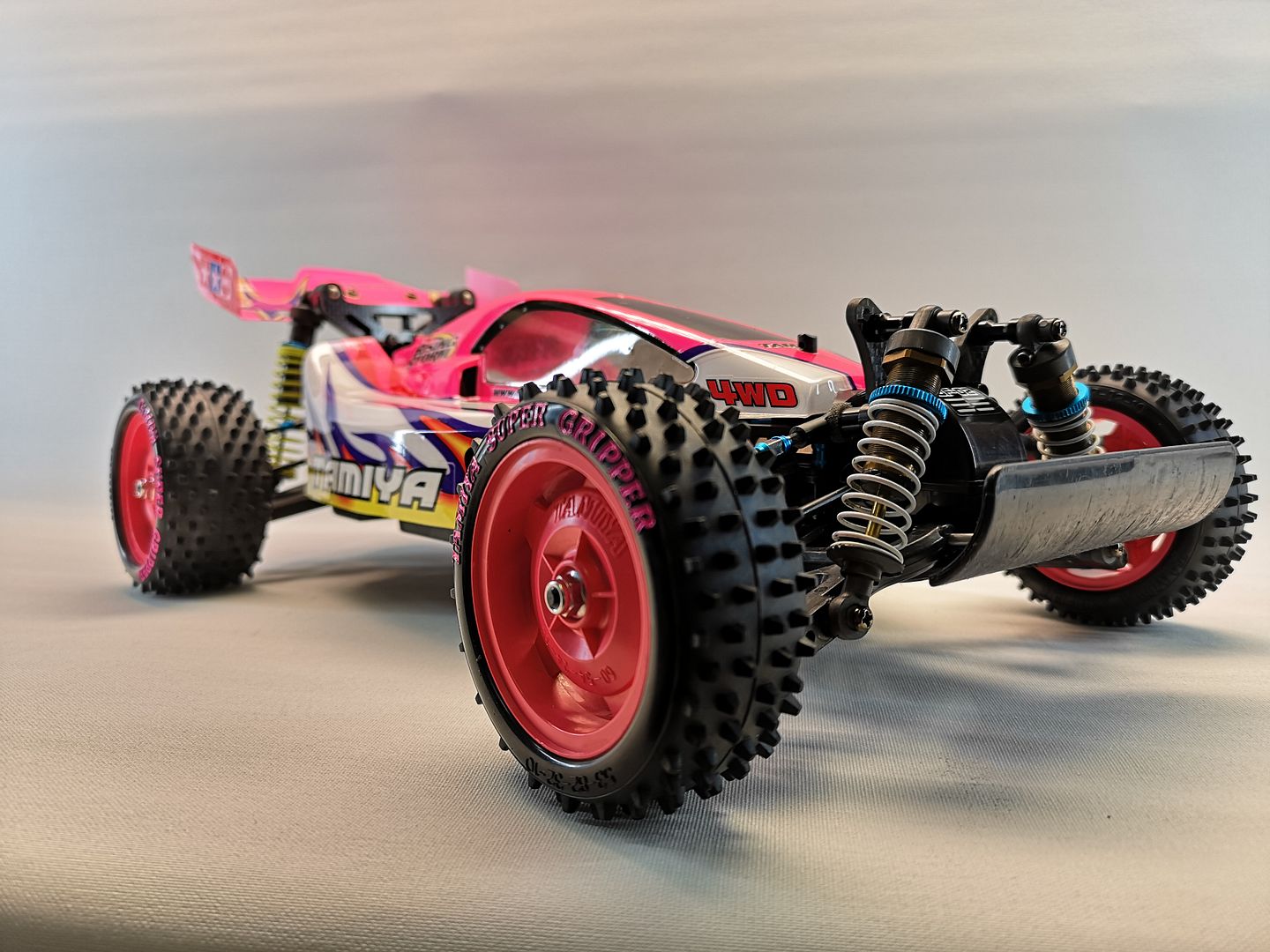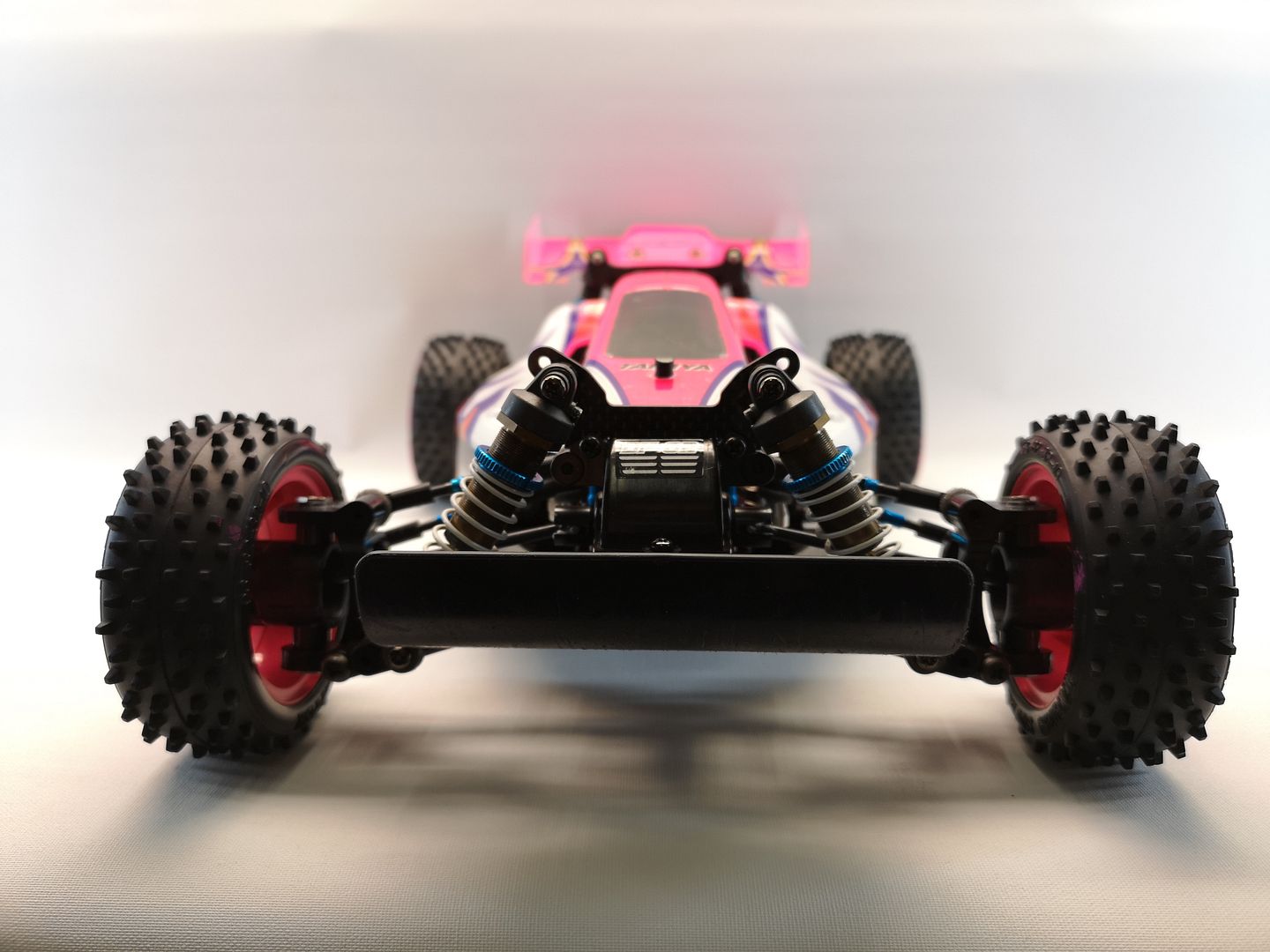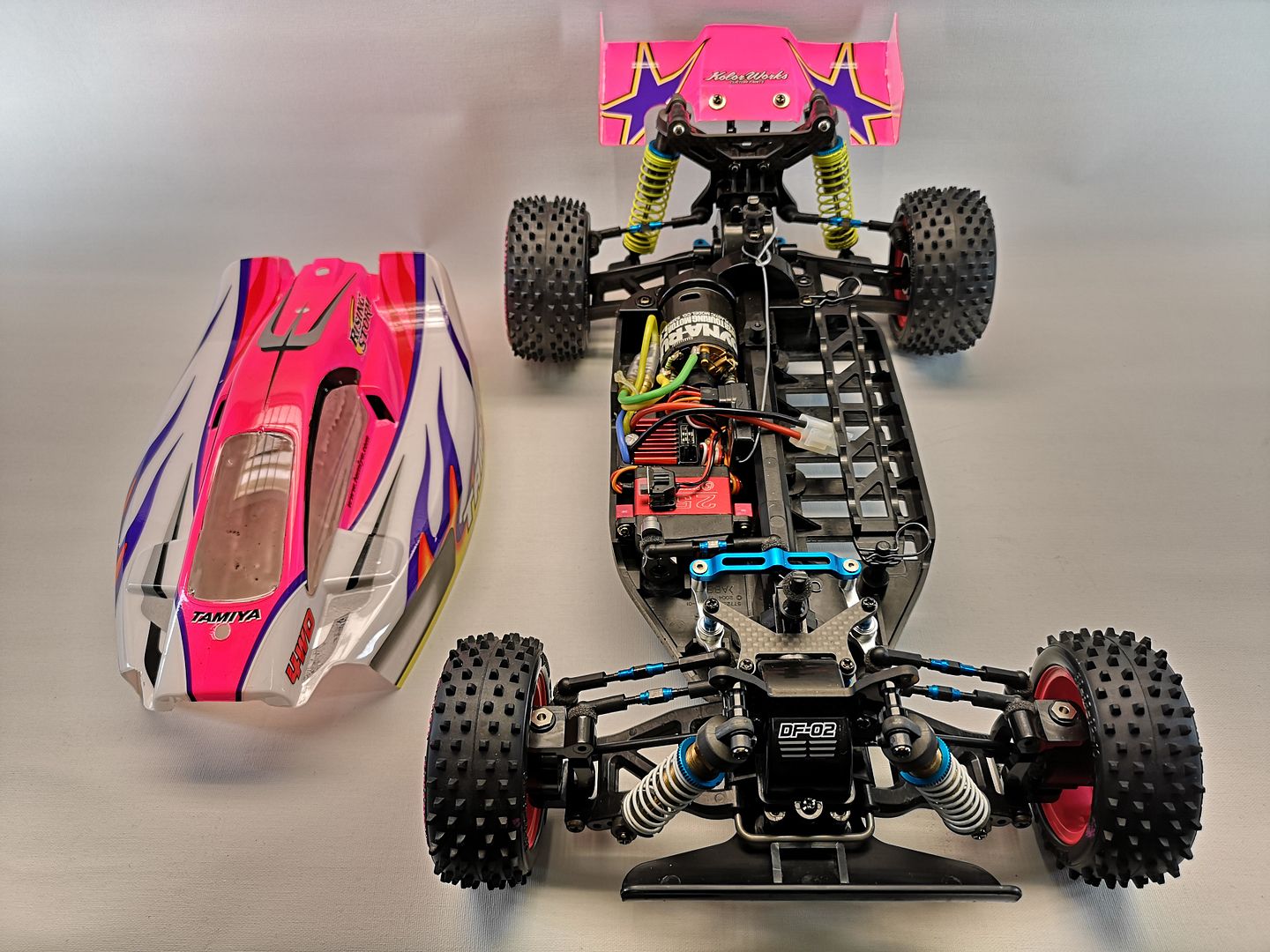 Here is a link to my first Rising Storm, which I have tried to replicate (except the color ) https://www.tamiyaclub.com/showroom_model.asp?cid=114148