In this build thread I'm gonna build a Terra Conqueror with orange and black chassis. I think I have most of the parts I need to complete this build, so next step will be to go through my parts and see what I got.
Stay tuned, next update coming soon.
---
I went through my wheels and tires box and my DF-01 with family box and found quite a few of the parts I need for this build. I will have to order a front damper tower, but I think that's about it.
I allready have a finished painted body and wing, but I think I have to see if I can clean it up a bit.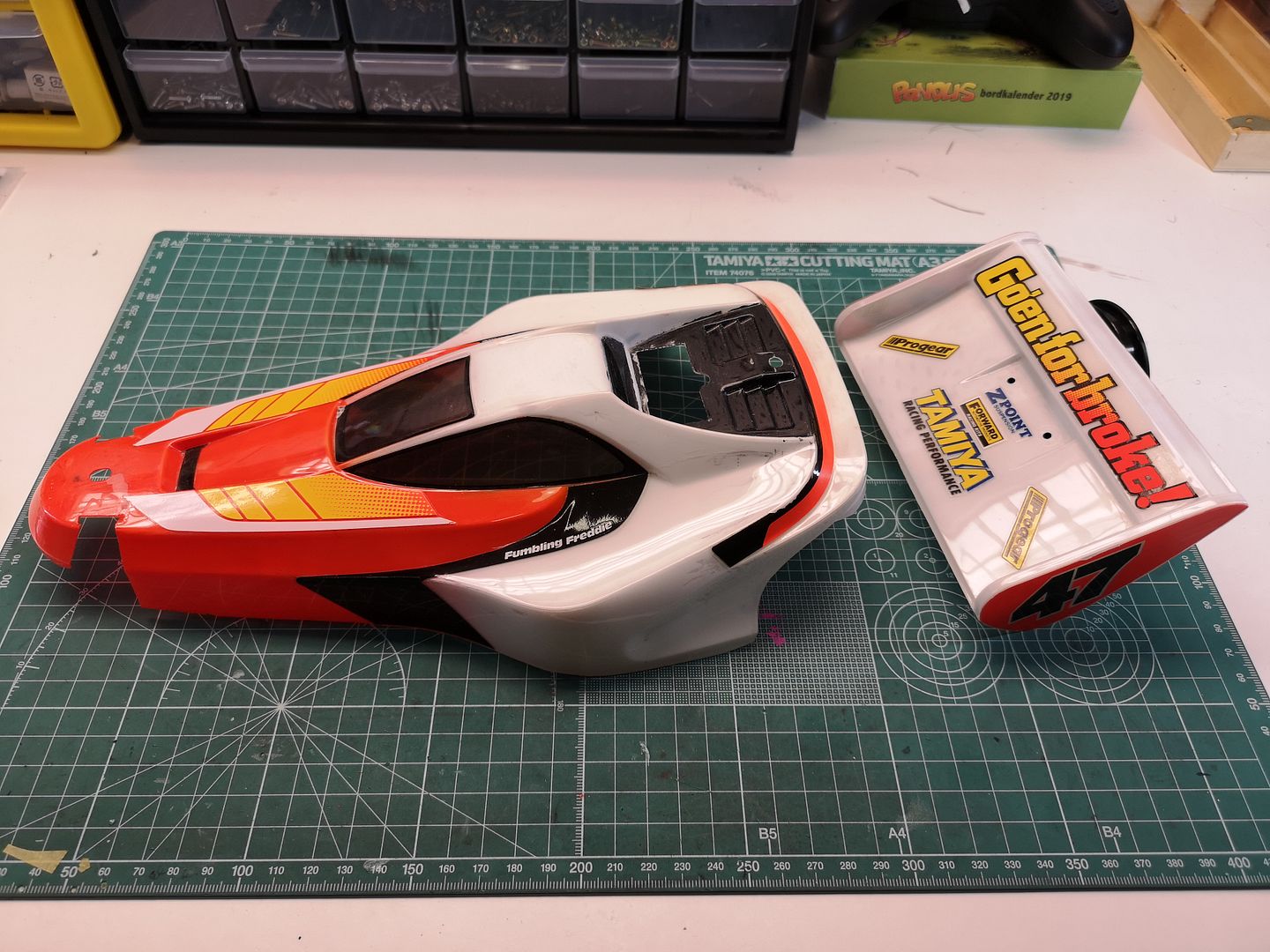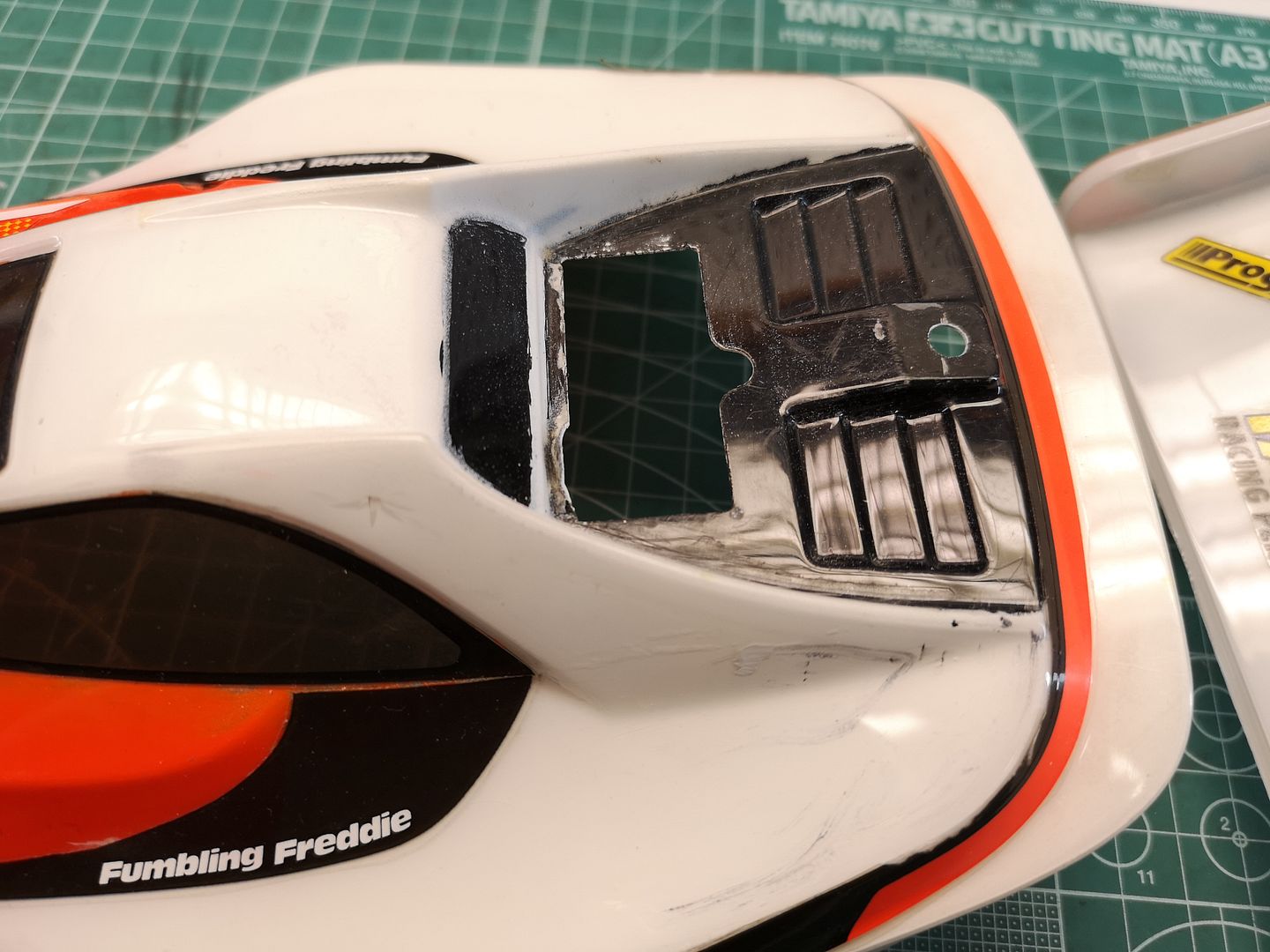 I also got these that I will use.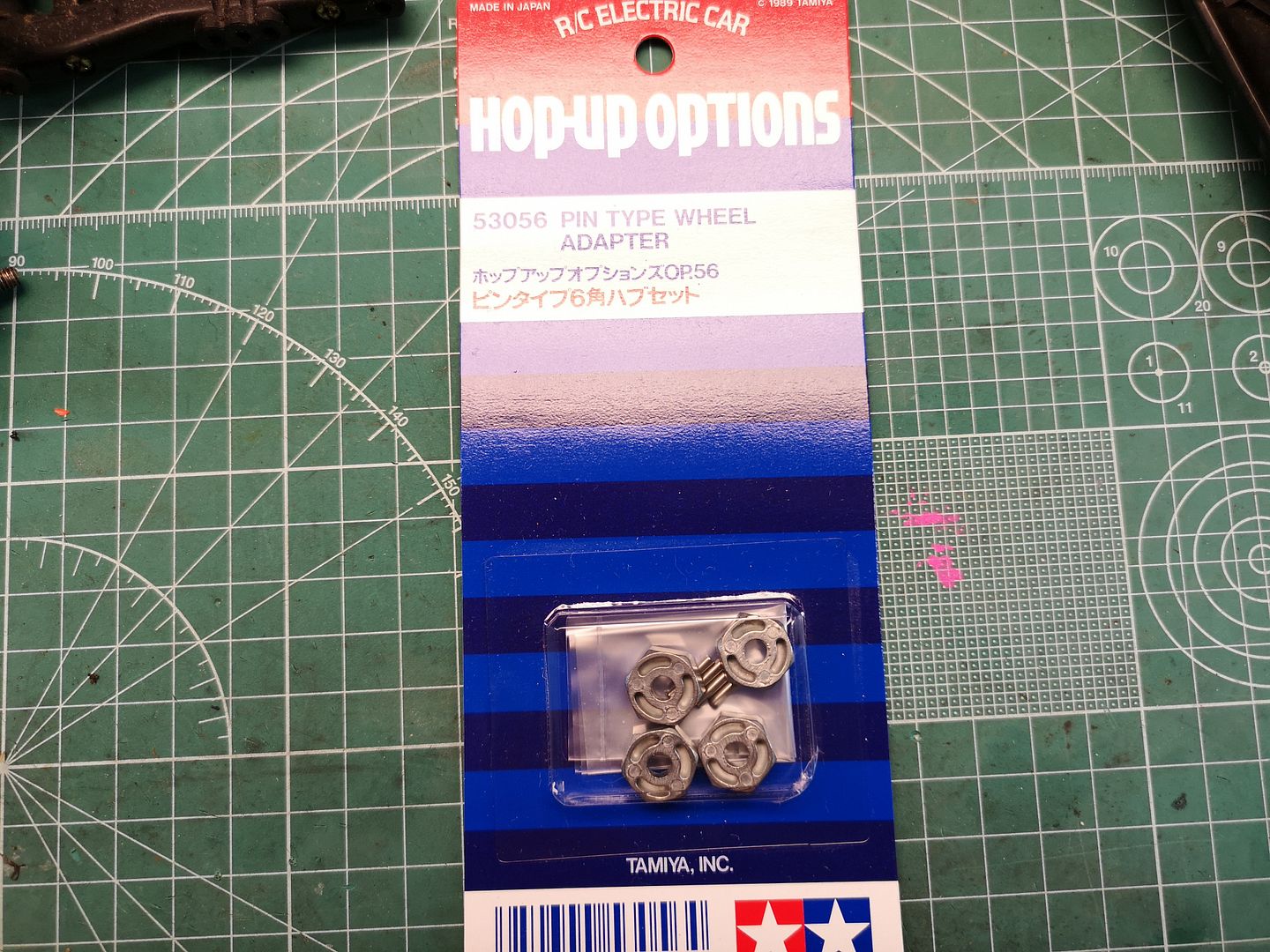 I then started to strip down the front and rear gearboxes. To my surprise it seems like there have been some upgrades done. Come to think of it these are from the car my childhood friend upgraded from a Manta Ray to a Top-Force. So that could explain it.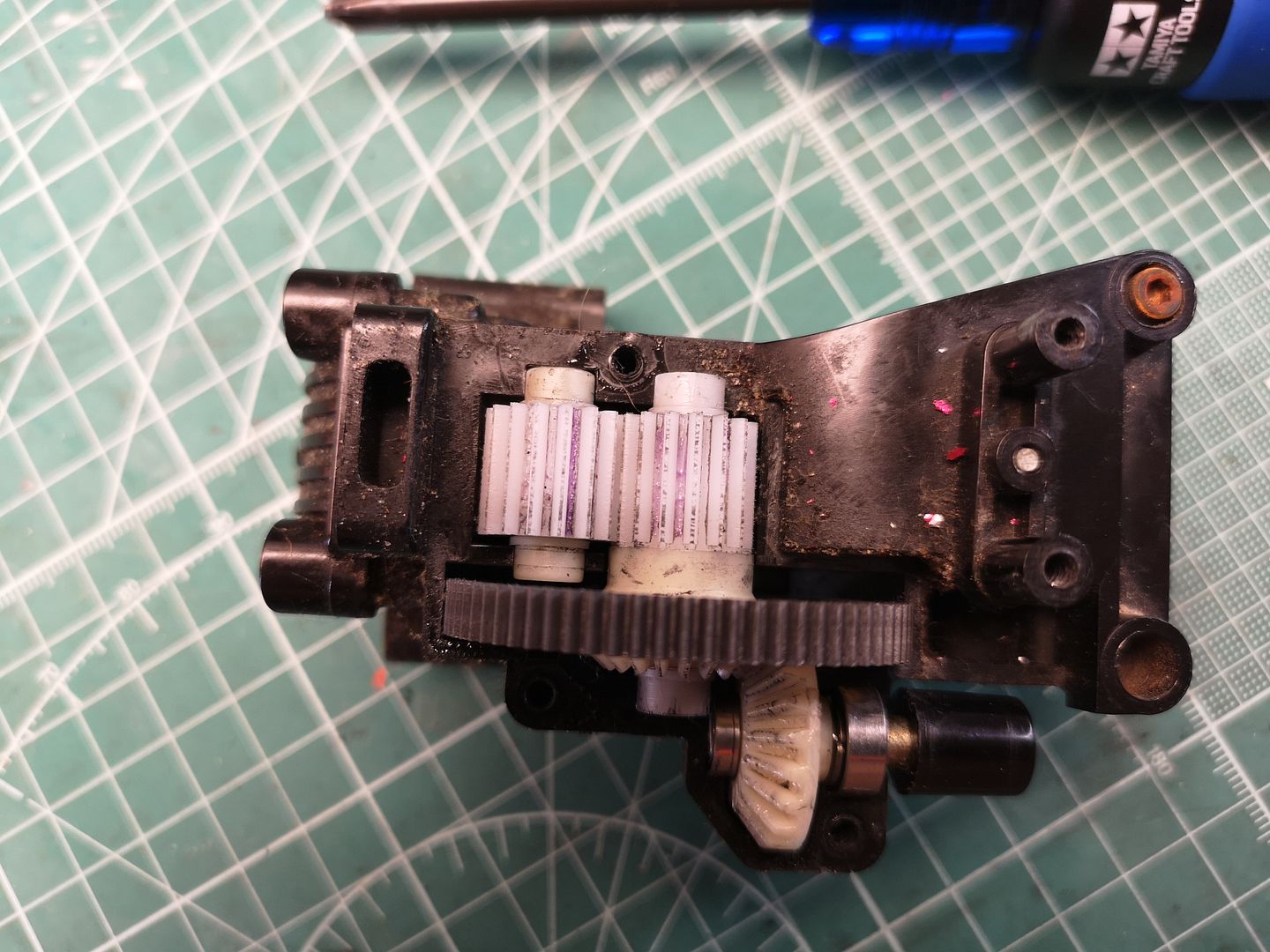 It also have been upgraded with ball-bearing the ones of the good stuff.
The tires was pretty worn out, so I decided to take em of the wheel to change them and to wash the wheel. Unfortunately 2 of the tires have been glued to the wheels. That said I think the wheels will clean up quite well so they can be used.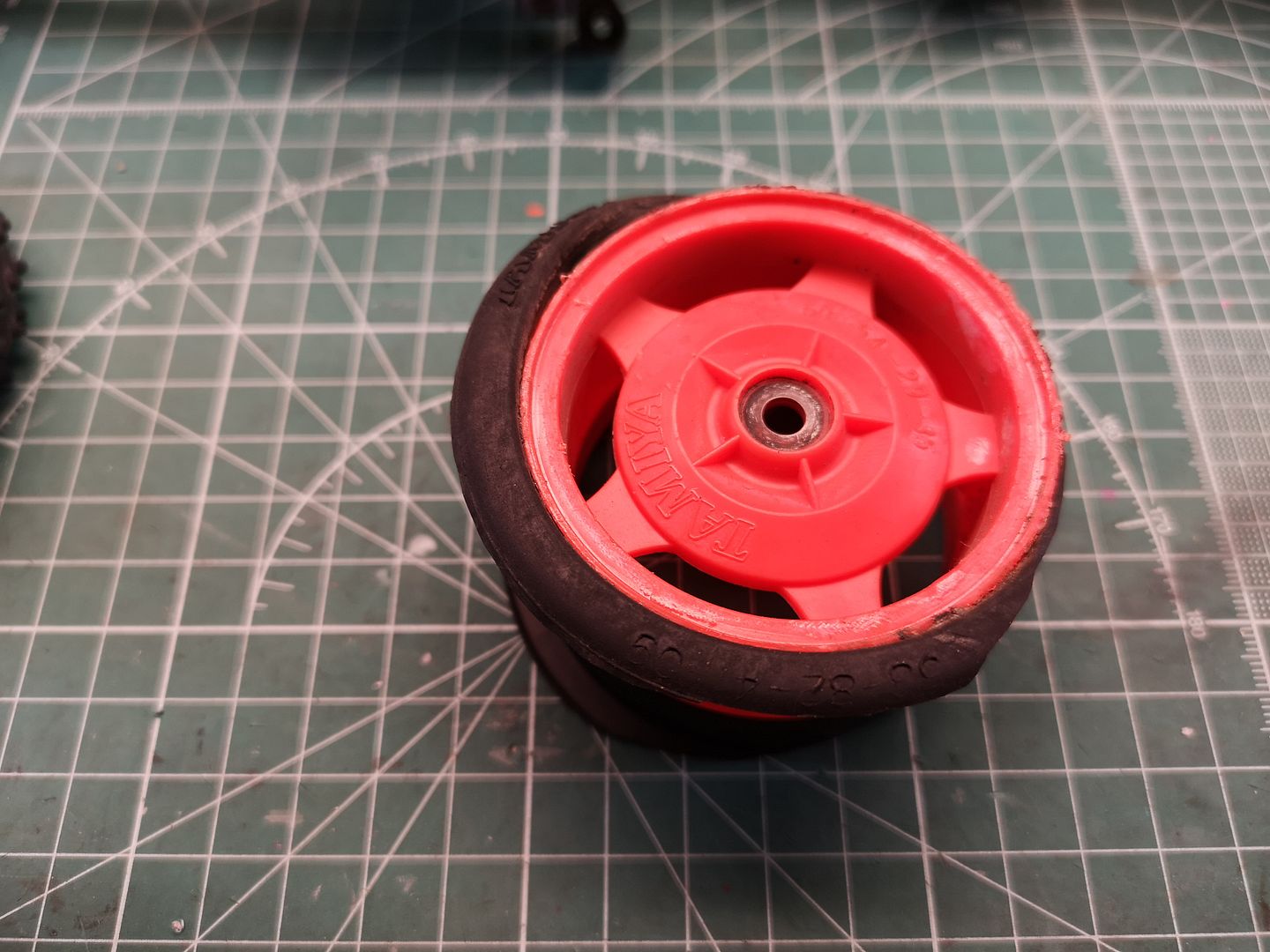 Now I will wash the parts that I will be using in this build and I will order the front damper tower. I can mention that I have already ordered rit tangerine dye to use on the white parts.
---
I got the tangerine orange dye to use for the white parts. I must say that I'm not to happy about the result, so I might give it another try, if I decide to not use the other set with white parts for another project.
Here you can see the color difference, But it might not be that visual once mounted on the car.
Mounted the orange parts on the dampers. Not that sure what I think about this, but have to assamble the car and see, how it looks.
This one way diff was in the donor car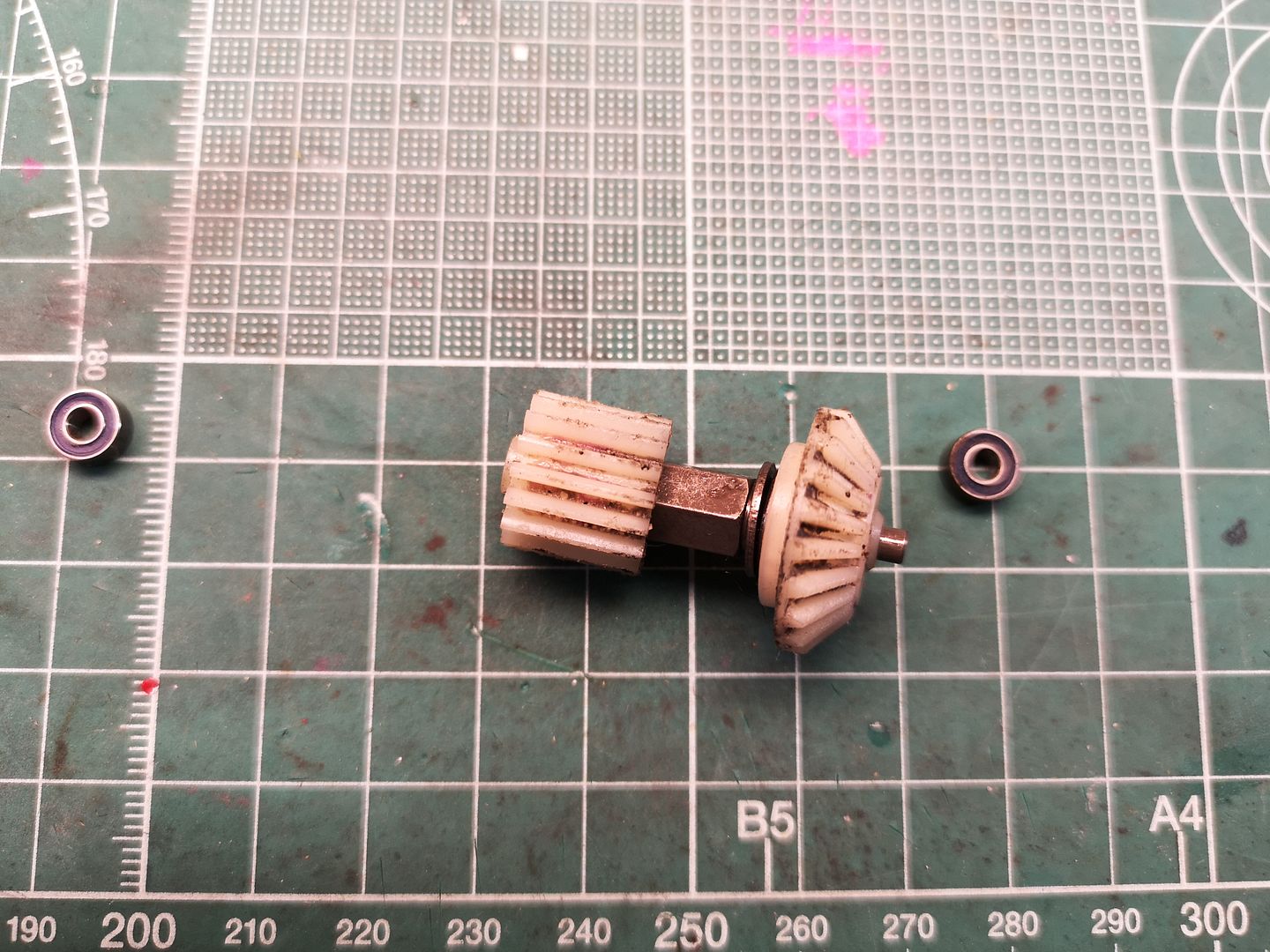 Change this so i can use the better driveshaft
Front gearbox anf steering mounted
Found these in my Top-Force box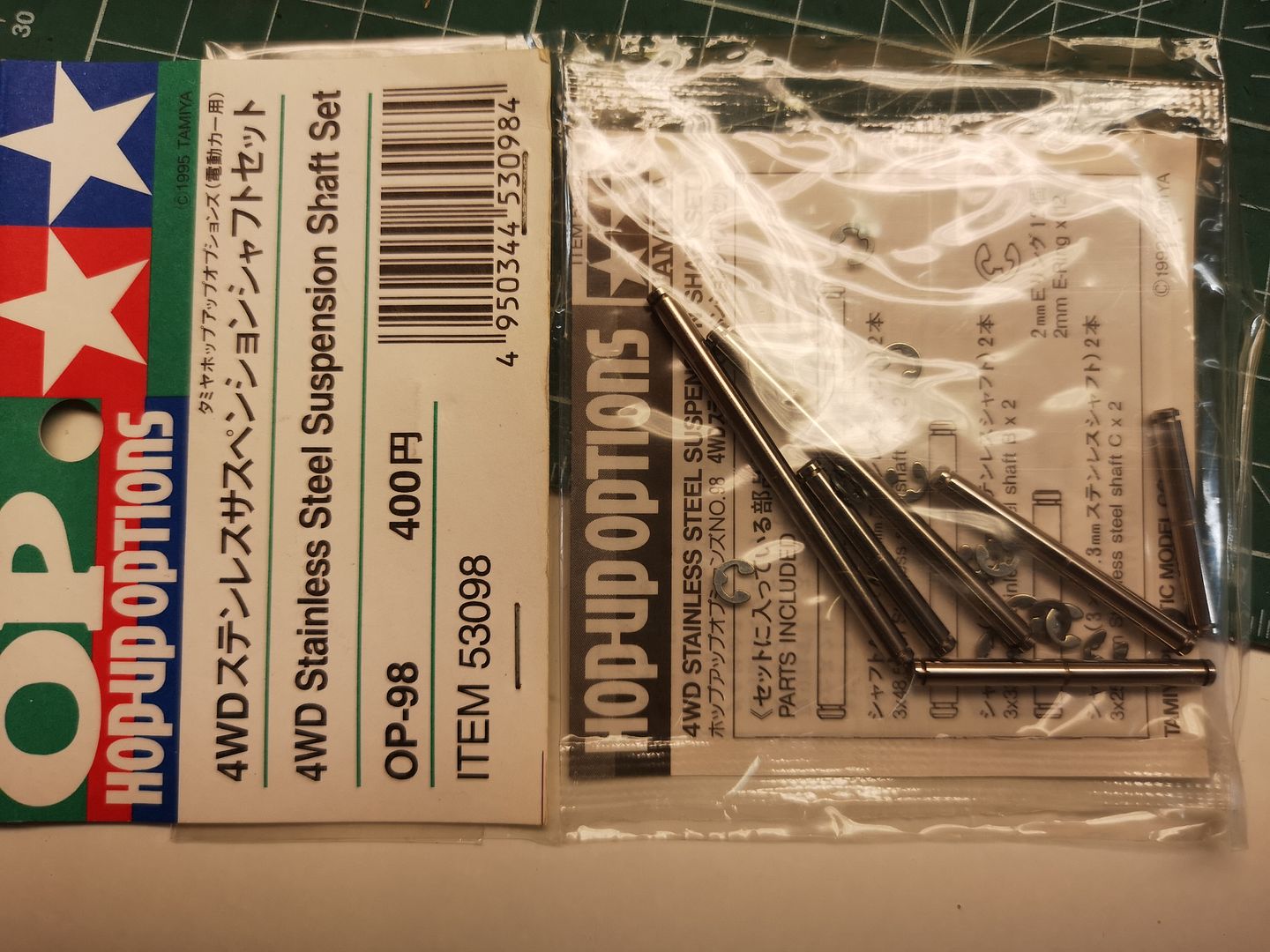 I think this will be a very cool chassis, by the look of it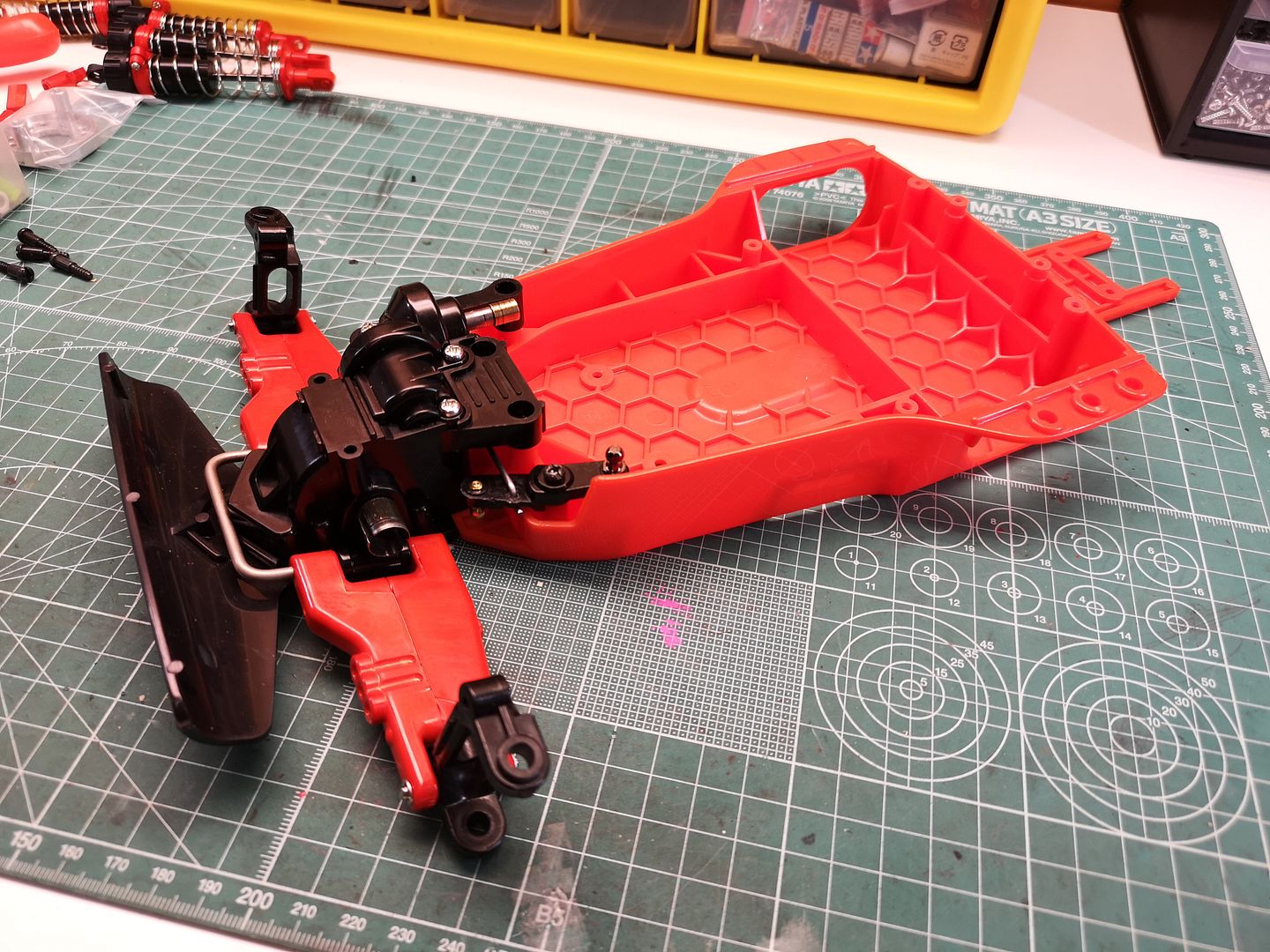 ---
Next up I wanted to make the home made mount for the upper deck. First I thought I could use any upper deck for the chassis tub, I didn't know there was a difference. it's the bottom one I must use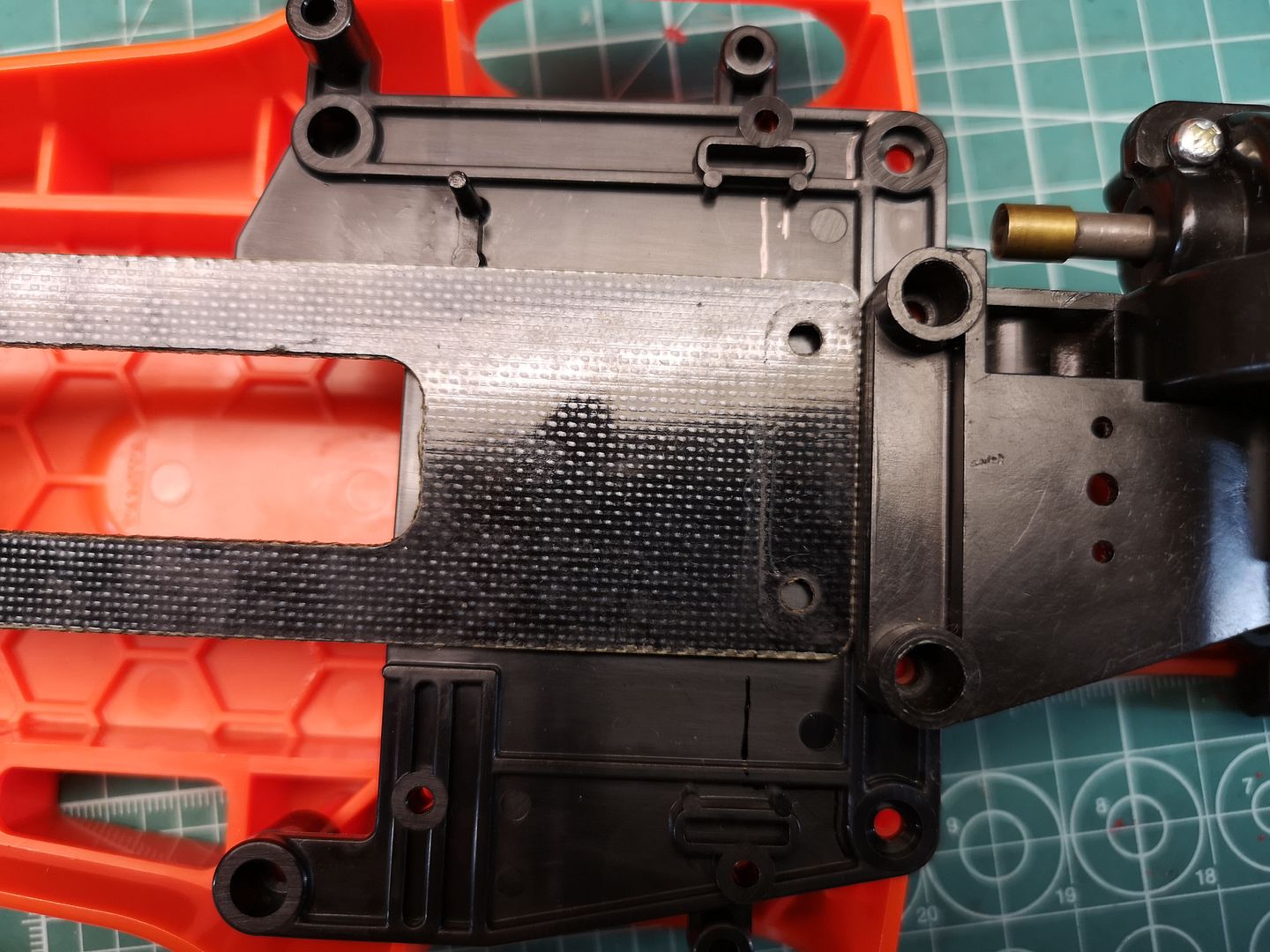 Not 100% straight but good enough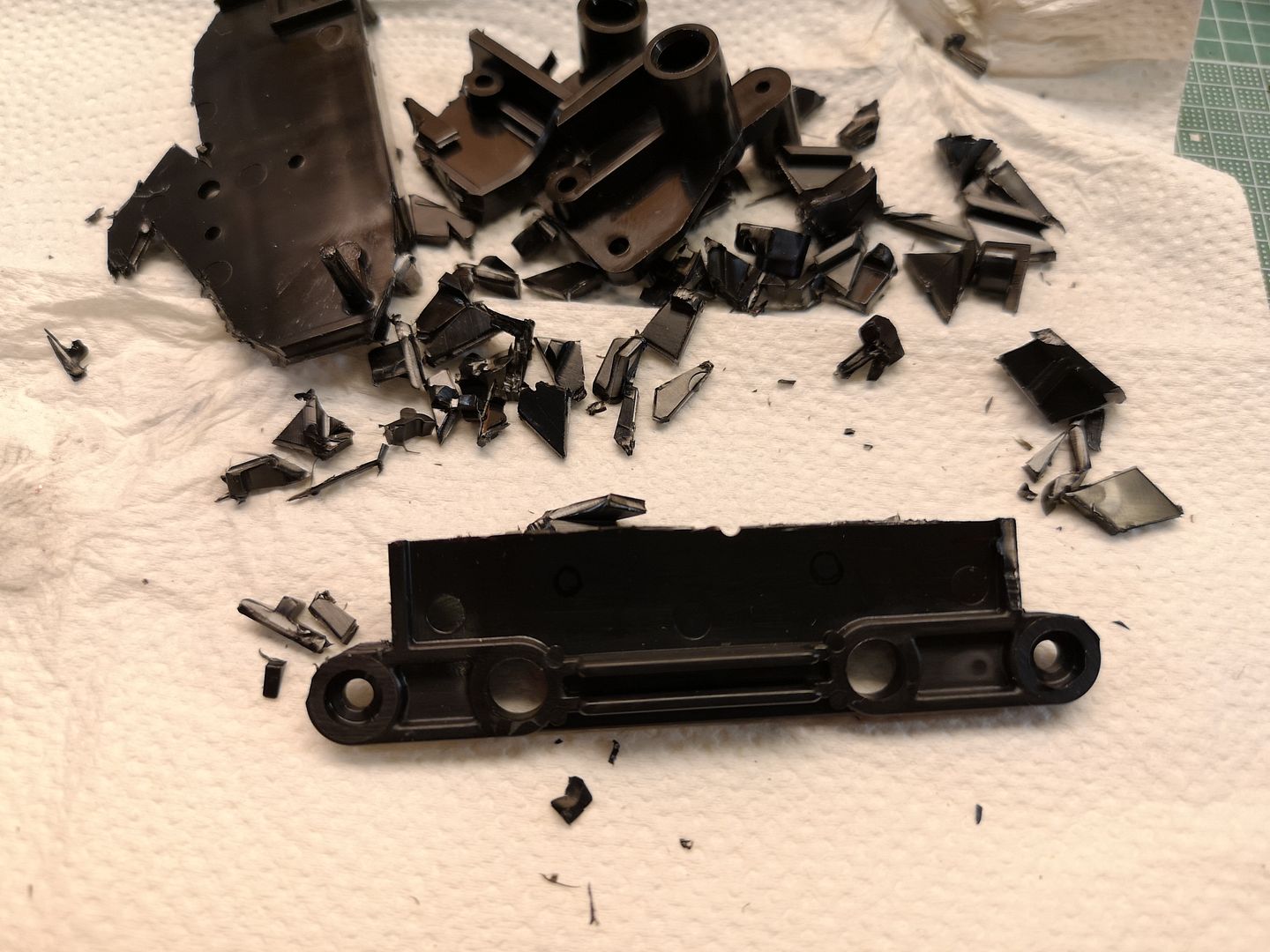 Then it's time to strengthen the mount a little with some carbon fiber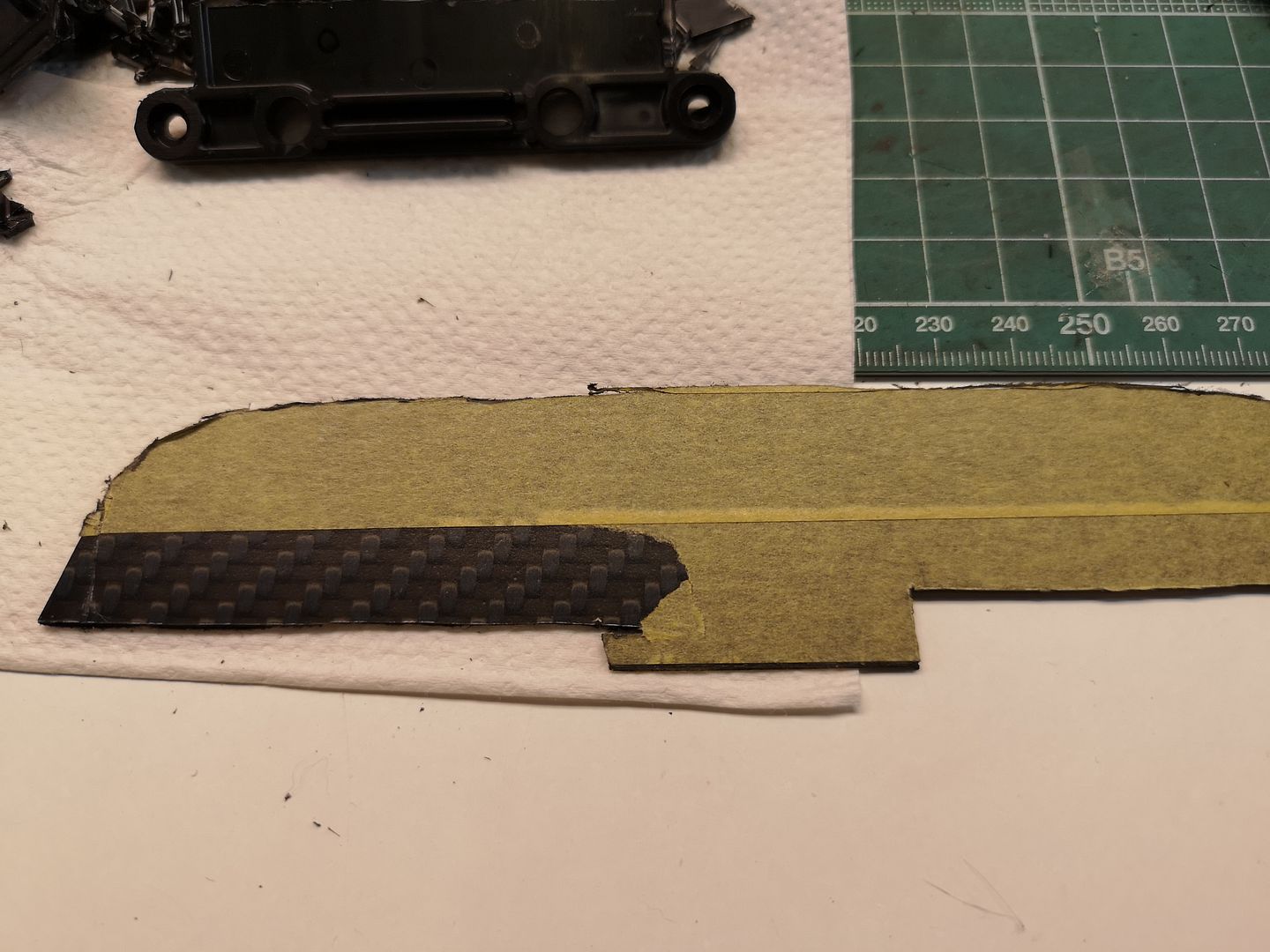 For this I just used a sharp knife, since I was doing this after bedtime for my kids, I thought using the dremmel was not such a good idea 🙂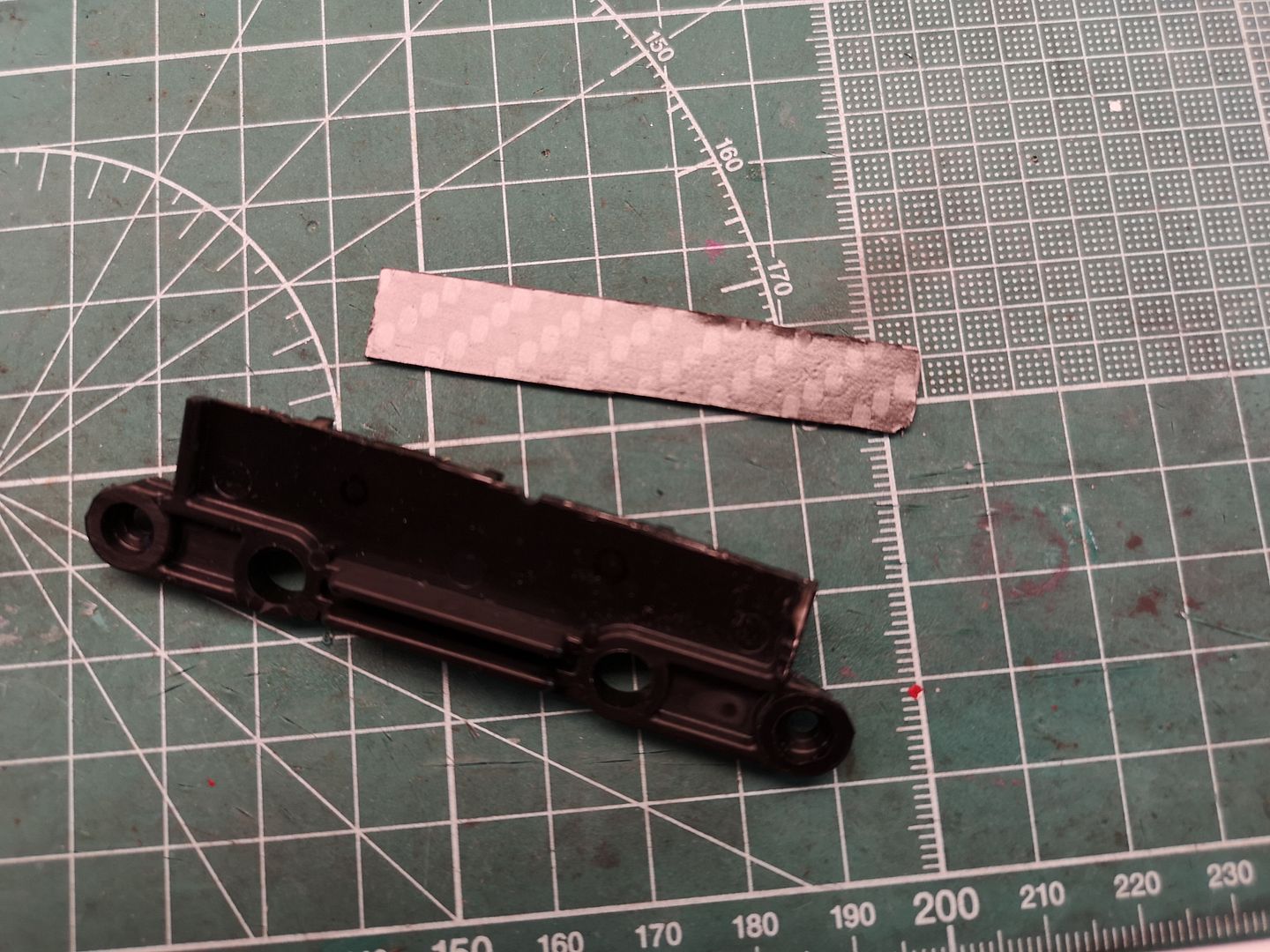 Glued, using Gorilla quick glue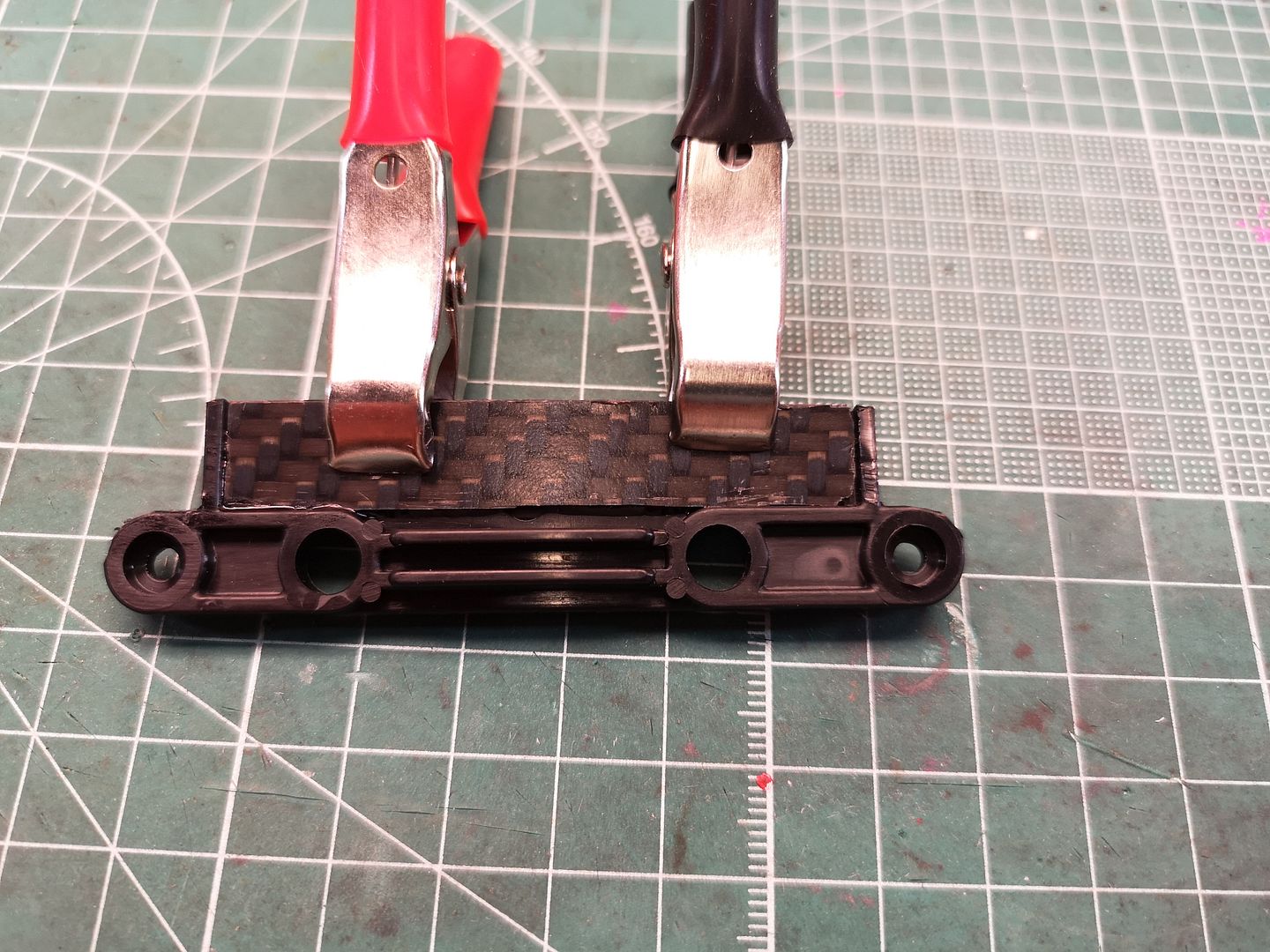 Since I'm not using the standard upperdeck the on/off switch holder can be trimmed a bit
In order to hold the rear part properly down I need to take another part from the original upper deck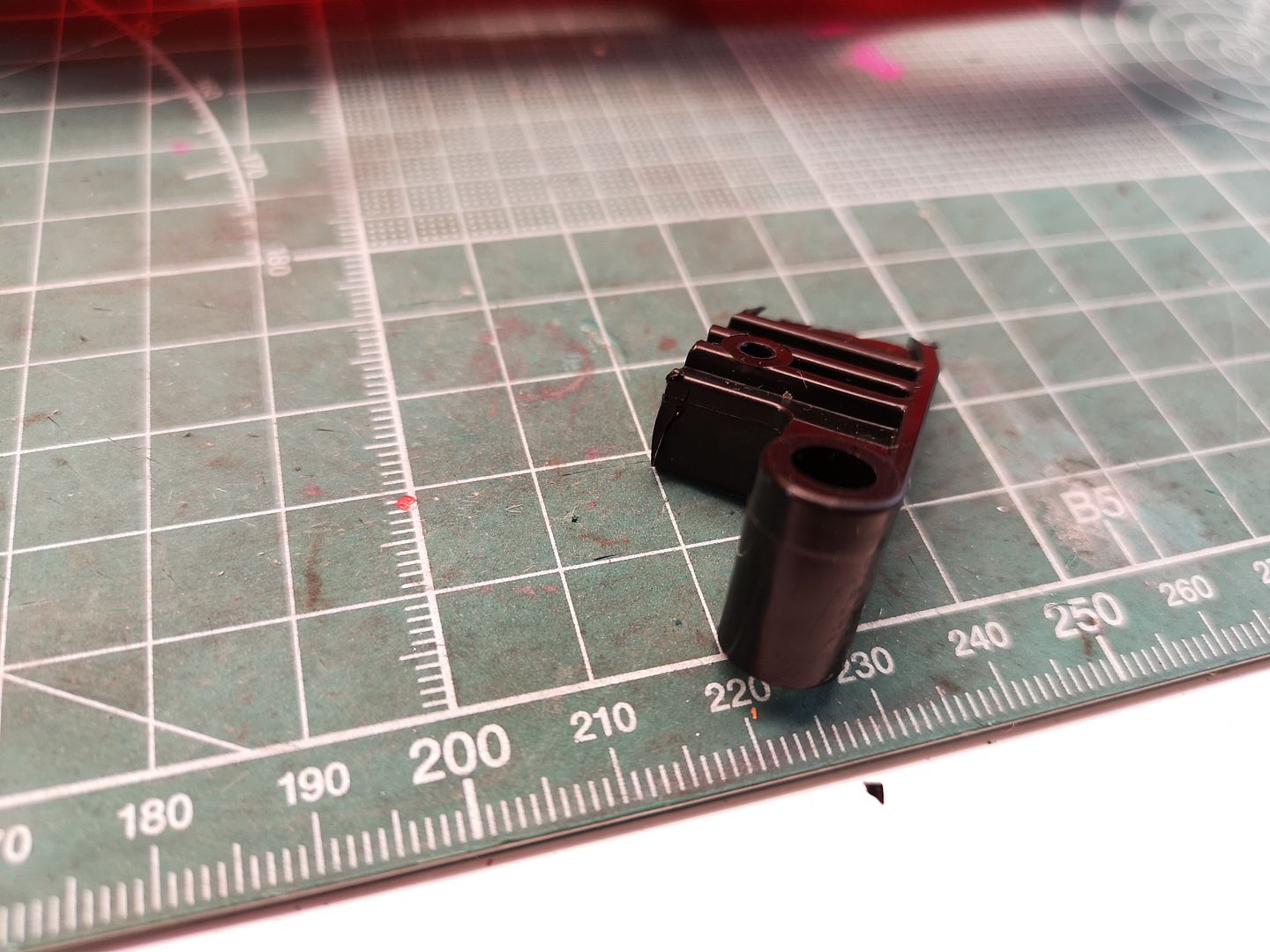 A look on how far I have gotten
I see now that I have forgotten to take pictures of assembling the rear gearbox 😛
---
This is going to be a long update as I got some time to finish the chassis.
So first I started with the rear transmission. Ok so I had already built it form parts not looking to bad, but of course it will never be like new parts. That said I then decided to use the new parts I got today instead. On such a nice chassis you can't have parts looking like this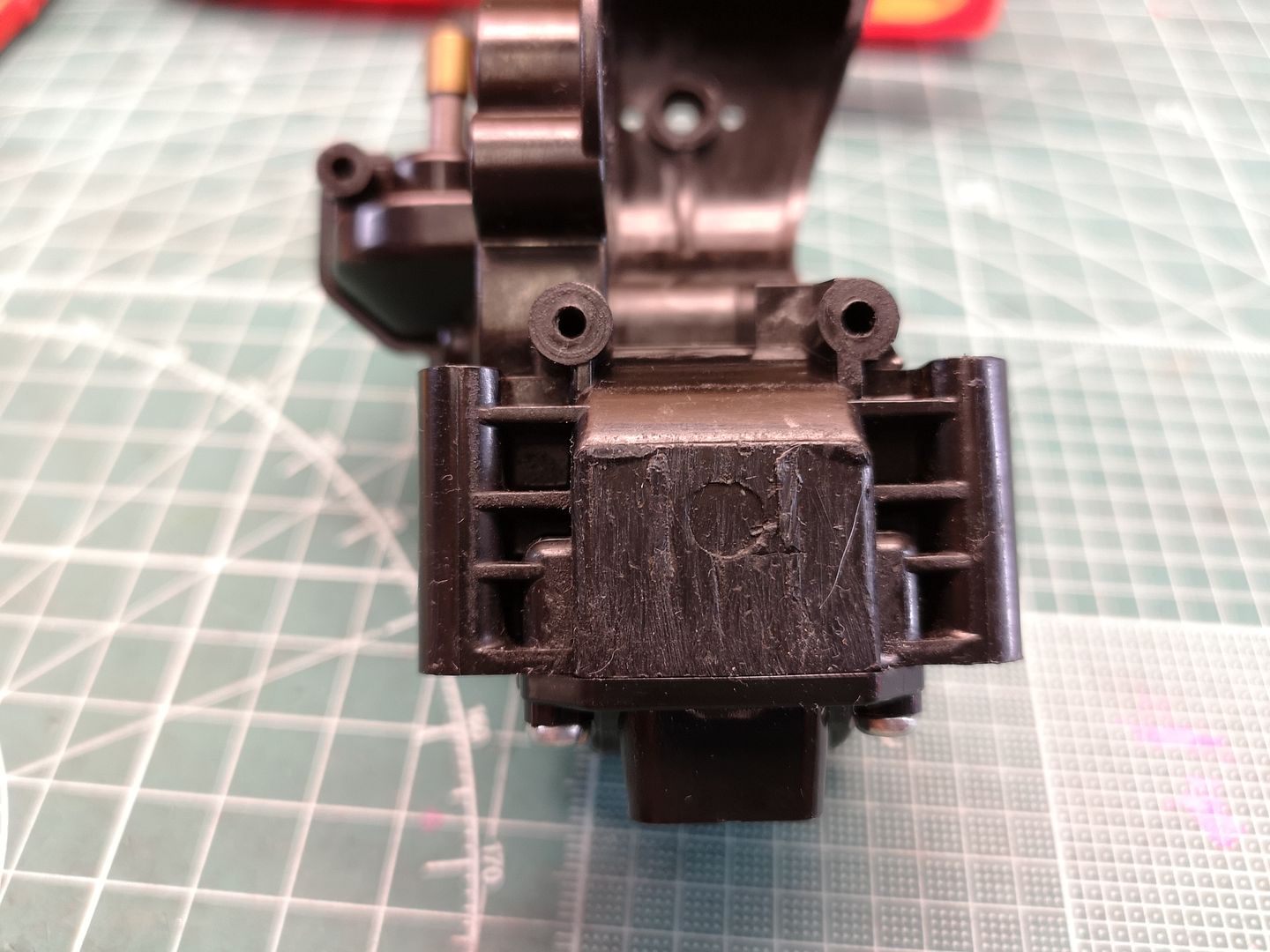 As you can see, I used the old gears. If you see carefully you will notice that some of the parts are much more white than the others. This aftermarket parts from RW Racing in elrin or nylon. That is one reason I decided to use the old gears.
Done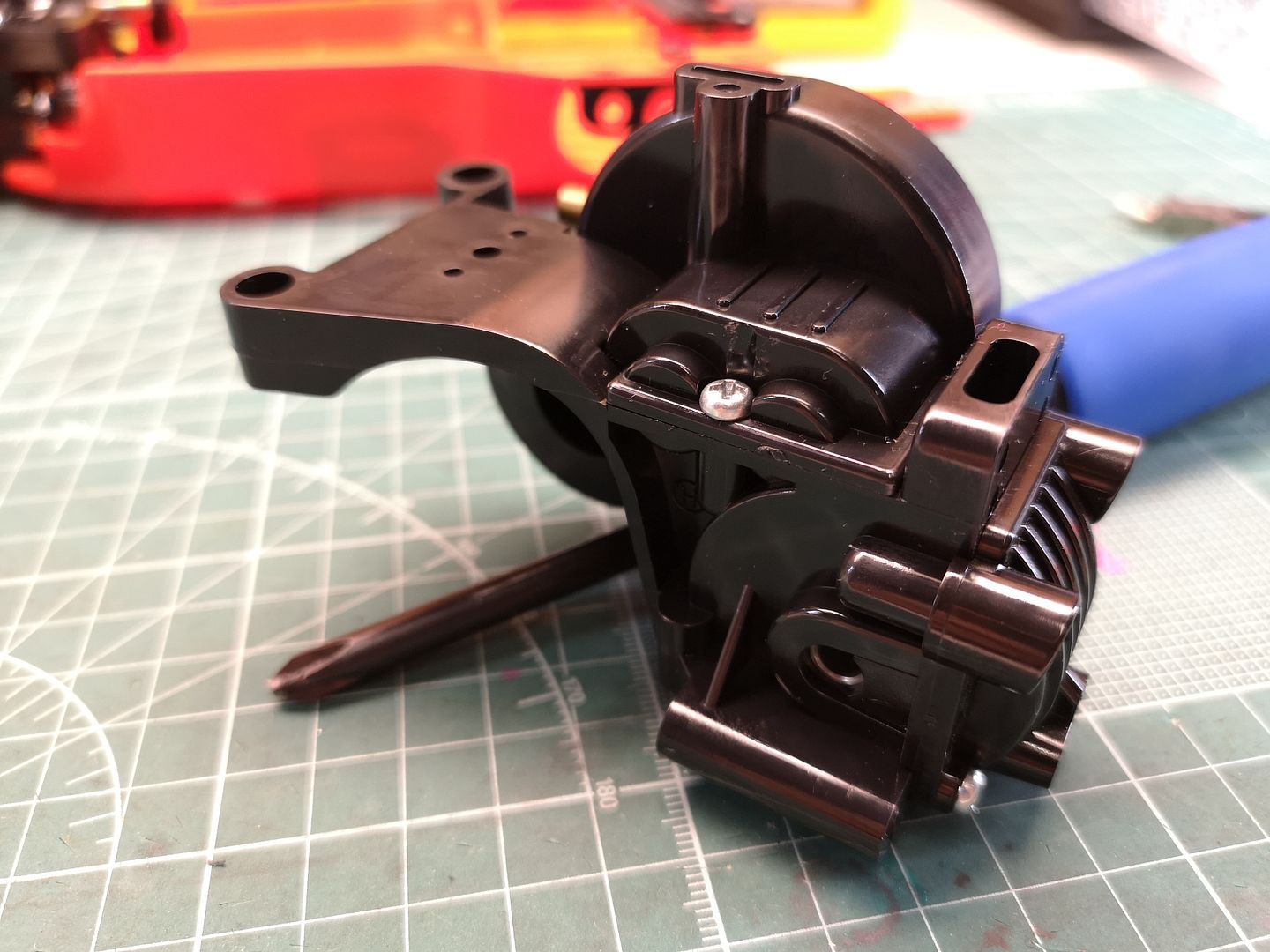 Putting the rear arms together
And mounting the to the transmission box
Next is the knuckles, but first the original ball bearings needs to be cleaned. I'm just using regular paper to do so, since they are sealed.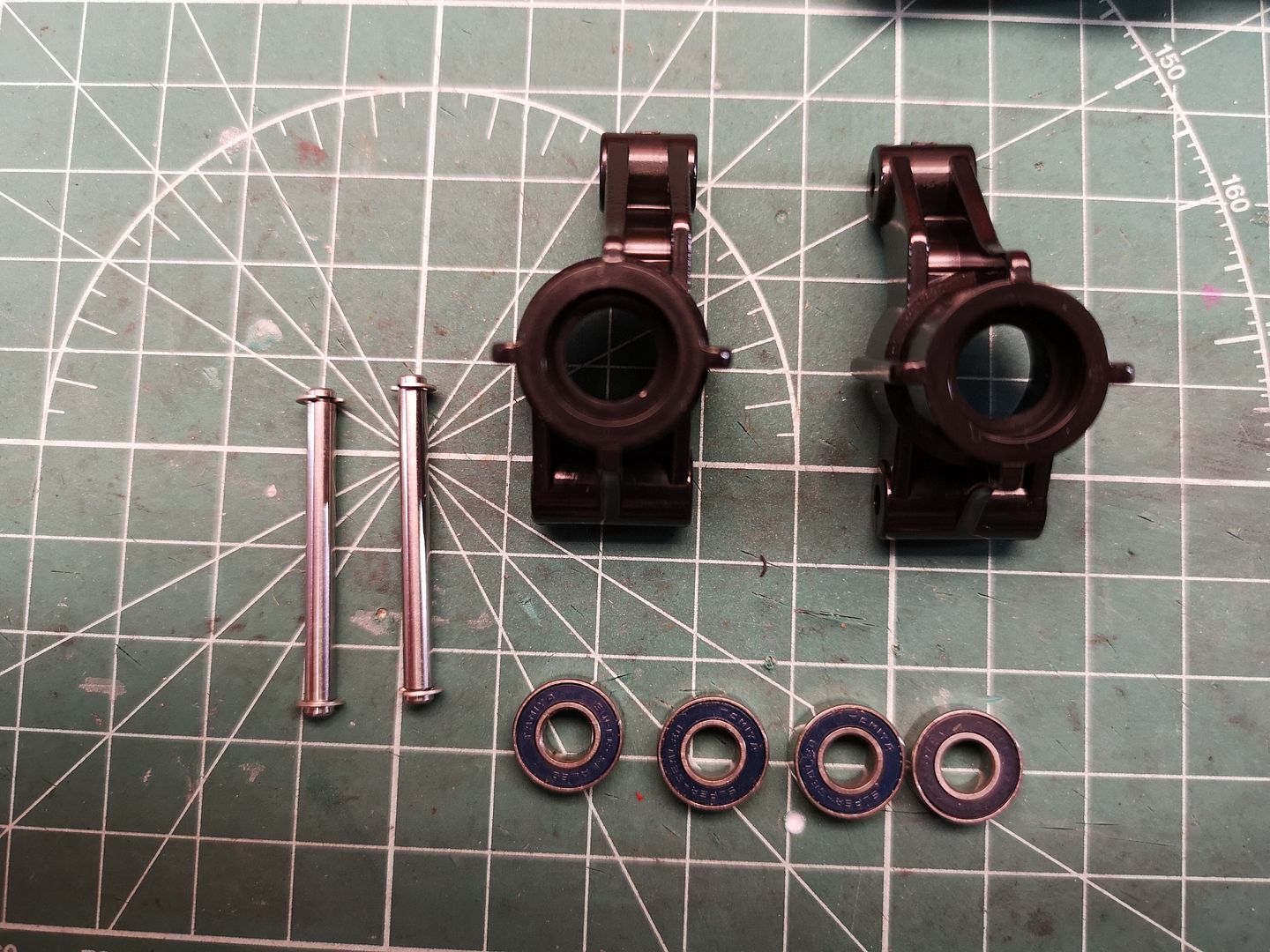 Then the drive shafts. Lucky me, I found these in my parts box.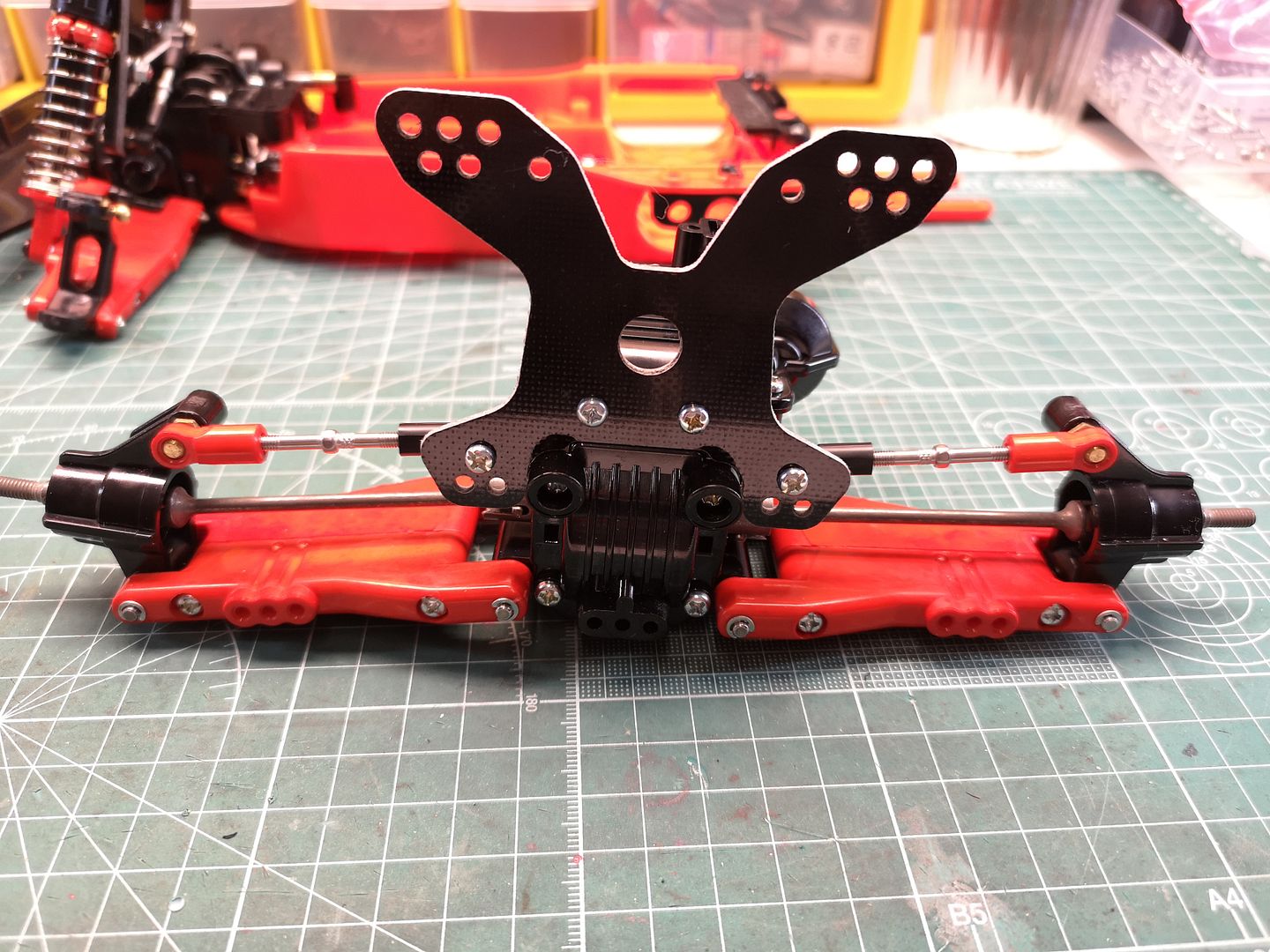 Then the dampers could be mounted. I run into a little challenge here since I didn't have the original parts needed to mount the shocks to the damper tower. So after a look to see what I could find, I found enough and it don't look that bad.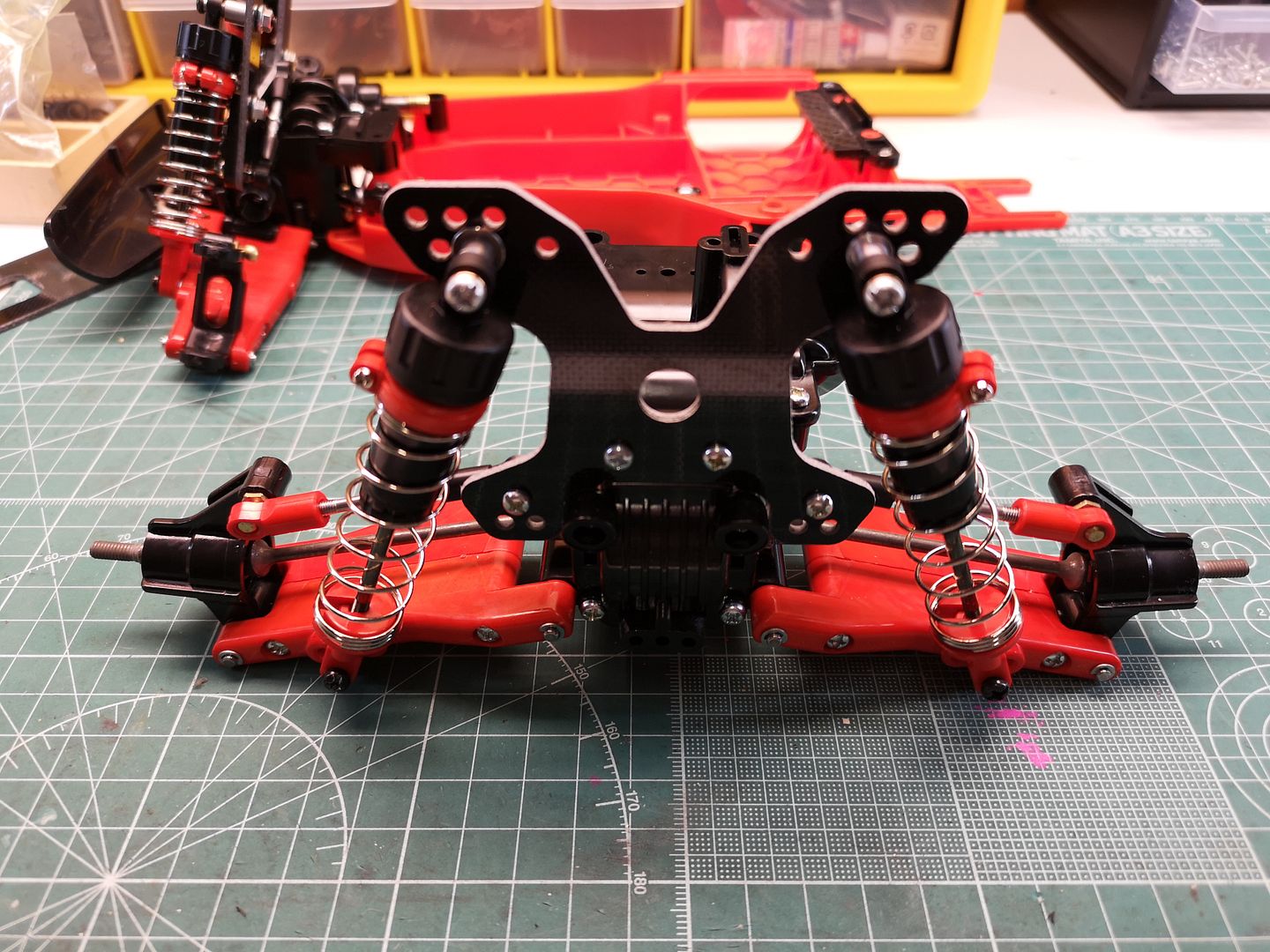 Time to mount the motor also. And since I'm trying to be true to the black and orange theme a black Dyna Tech will do the job.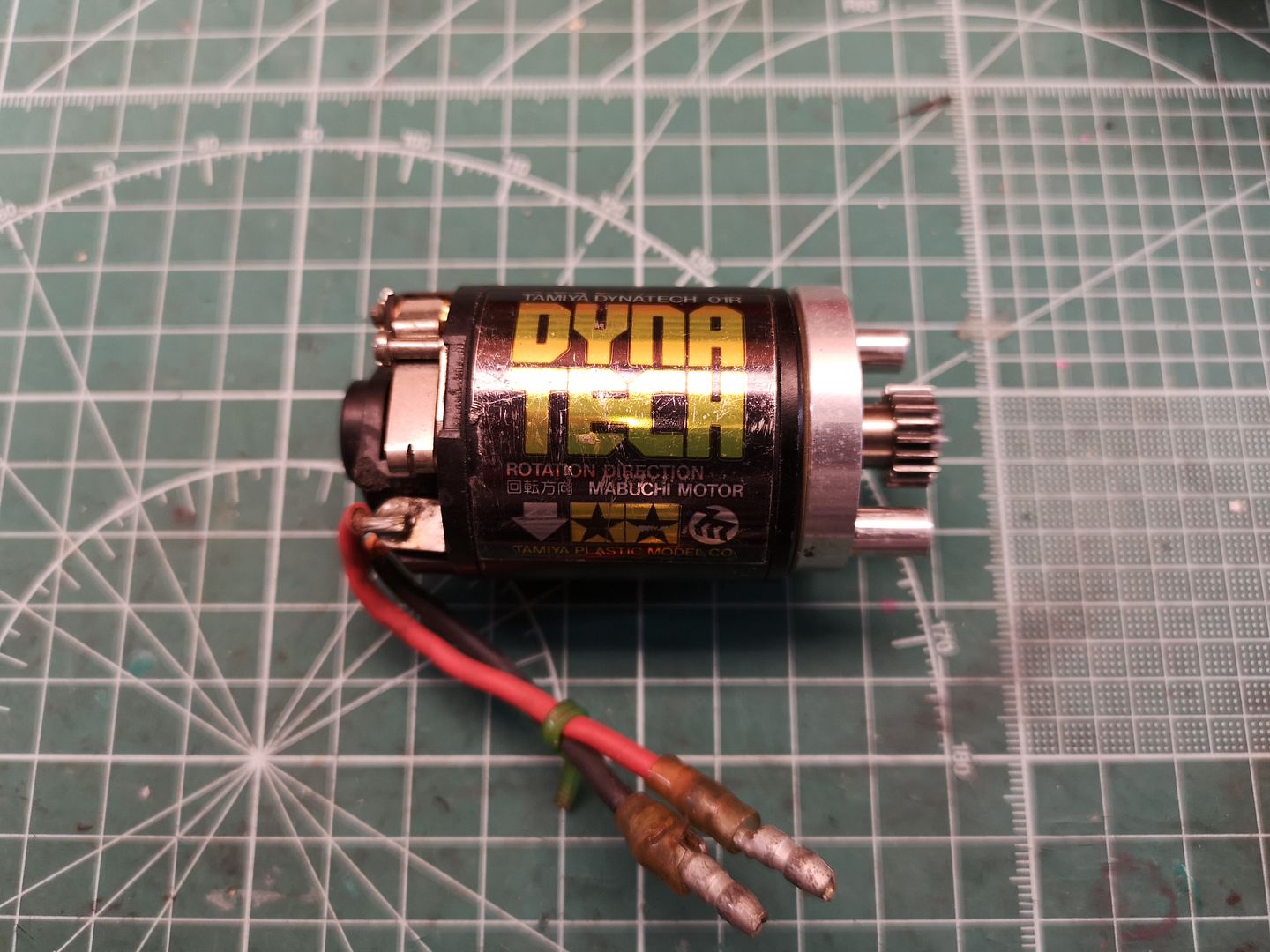 Before I can mount the rear transmission m suspension to the chassis I need to mount a servo and the upper deck.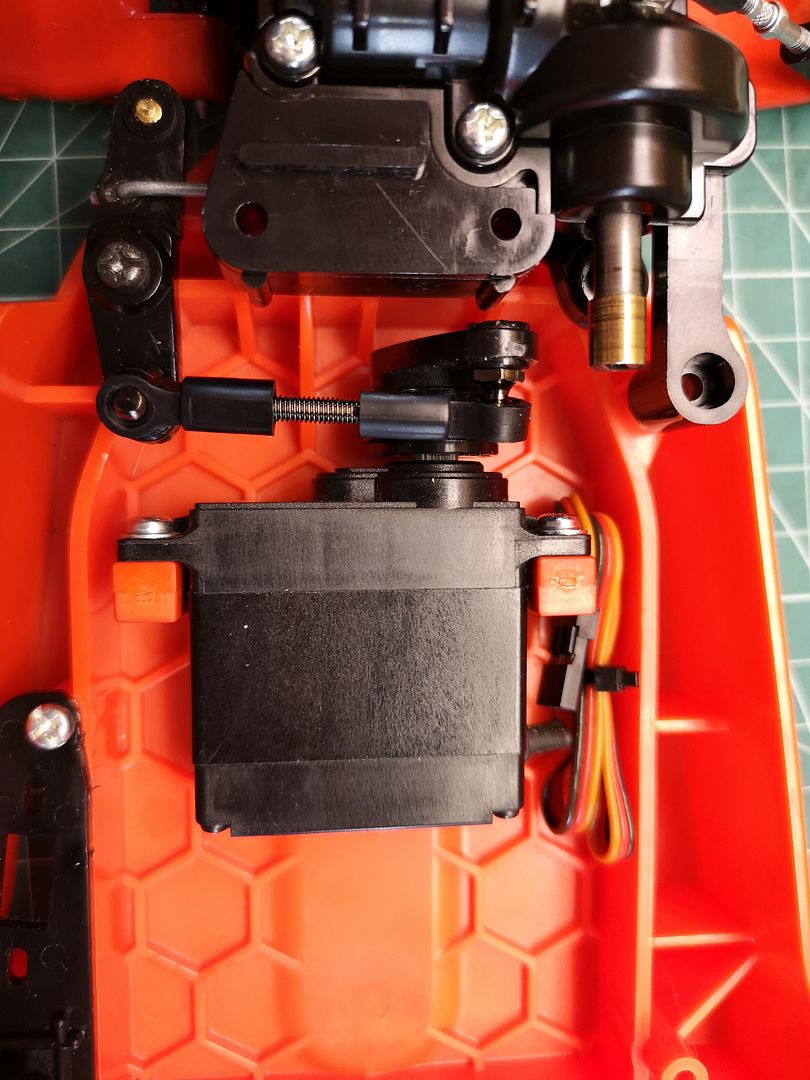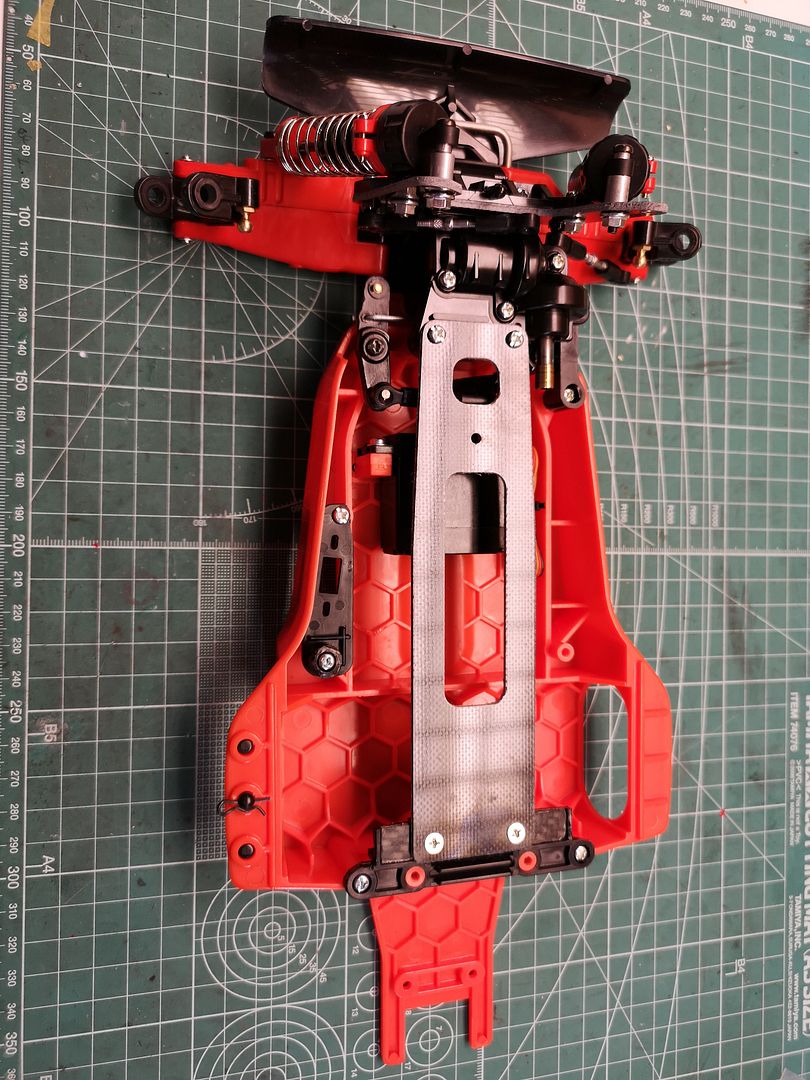 To use for main drive shaft I went with the tgx carbon fiber one
Then I mounted the rear transmission / suspension to the tub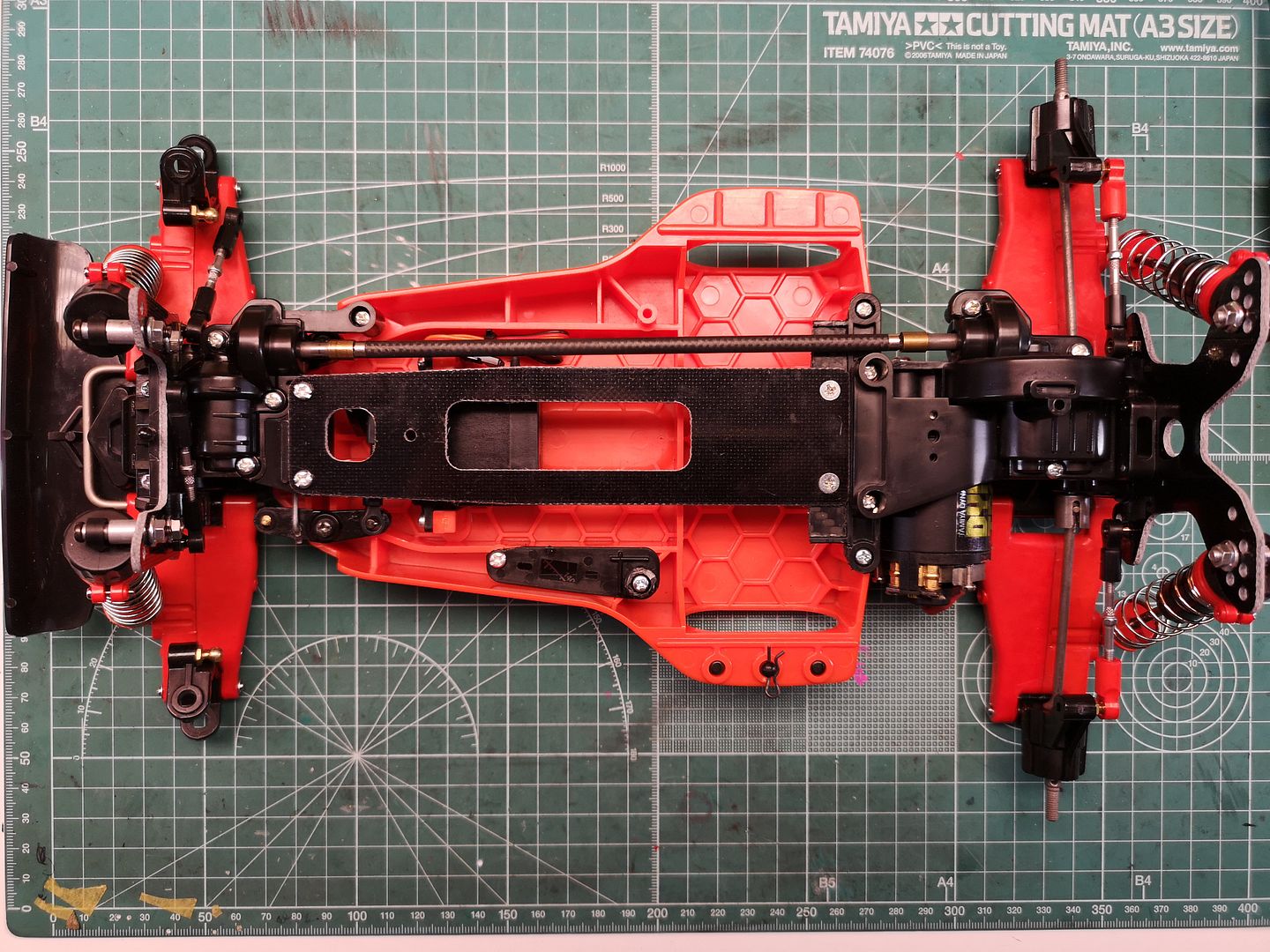 I then went on to the front to finish the suspension.
On to the wheels and tires. The wheels needed some work to get the old glue and rubber of, but I managed in the end to get em ok. I also found the tires from my Top-Force Black Special build, that I had forgot that I had.
After the wheels and tires had been mounted I went on with mounting the wing holder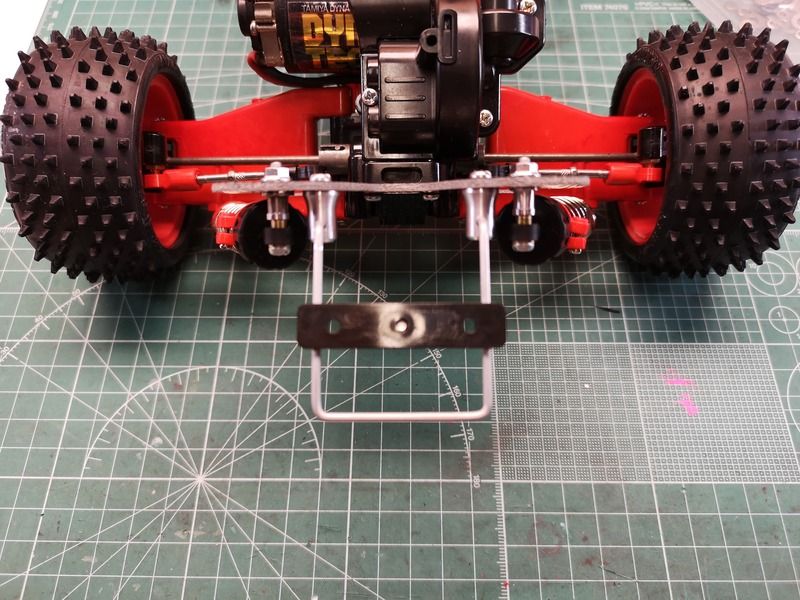 Then the chassis is done for now, I can only hope that I one day find more orange parts that I can use on it.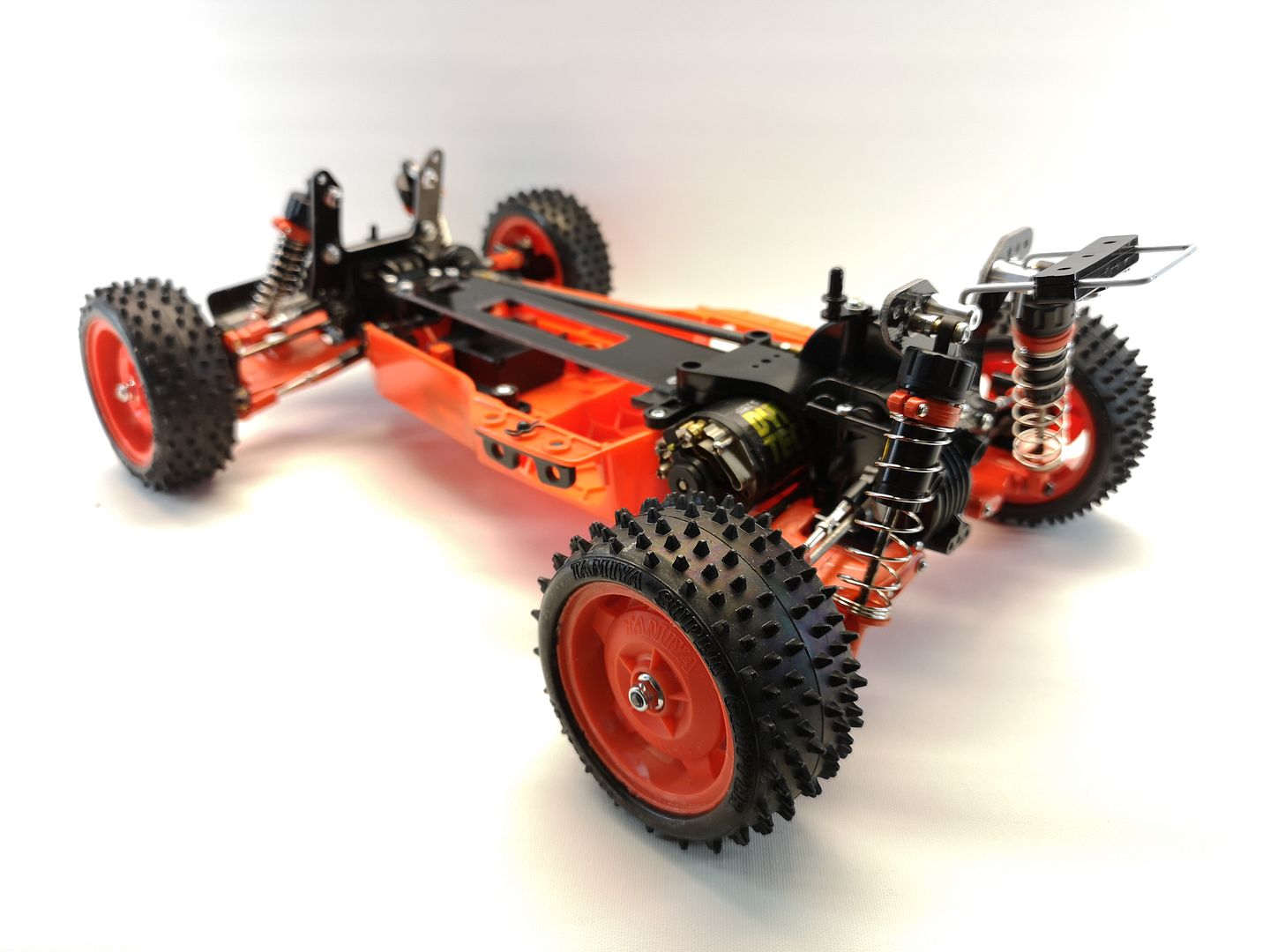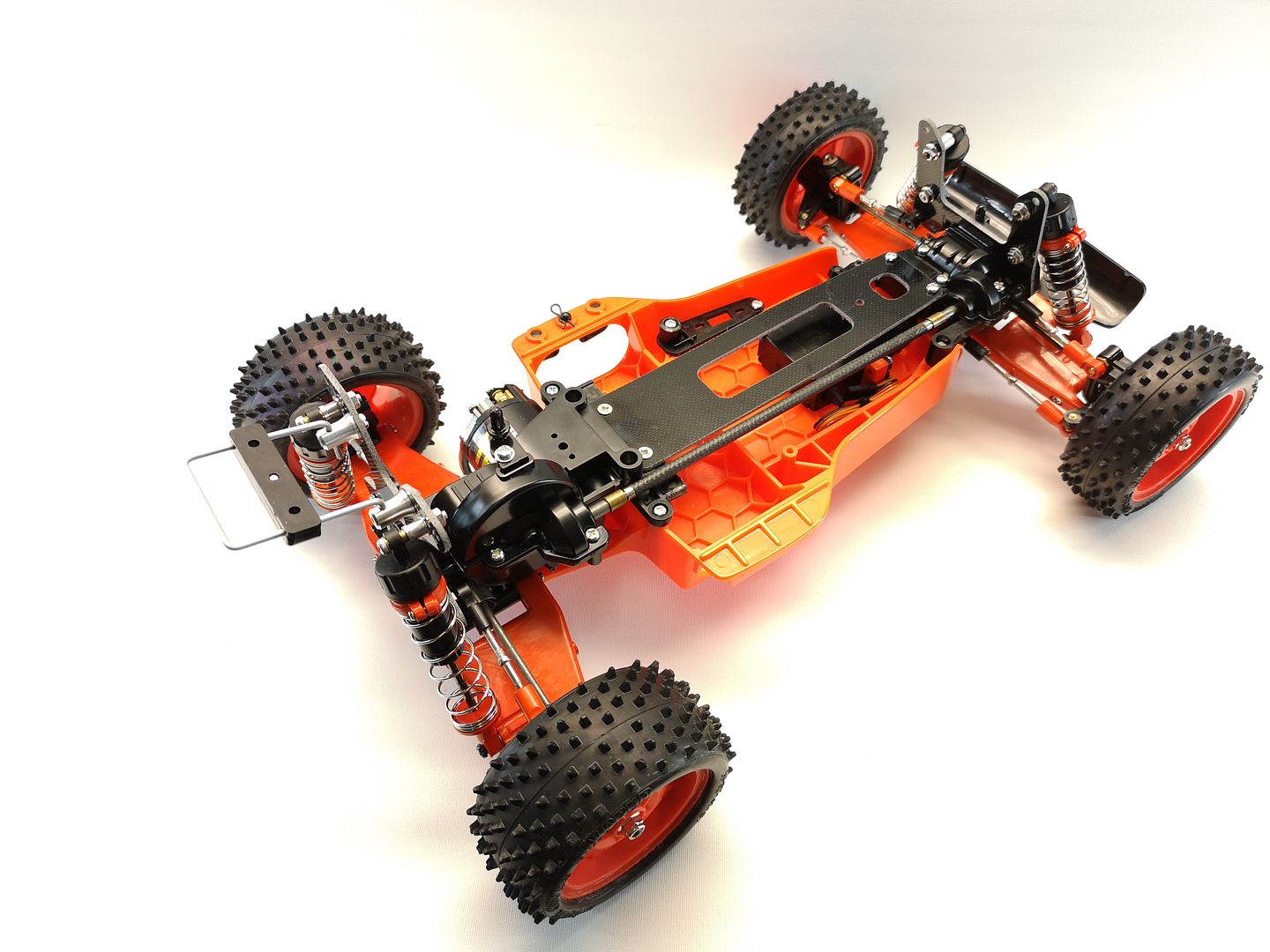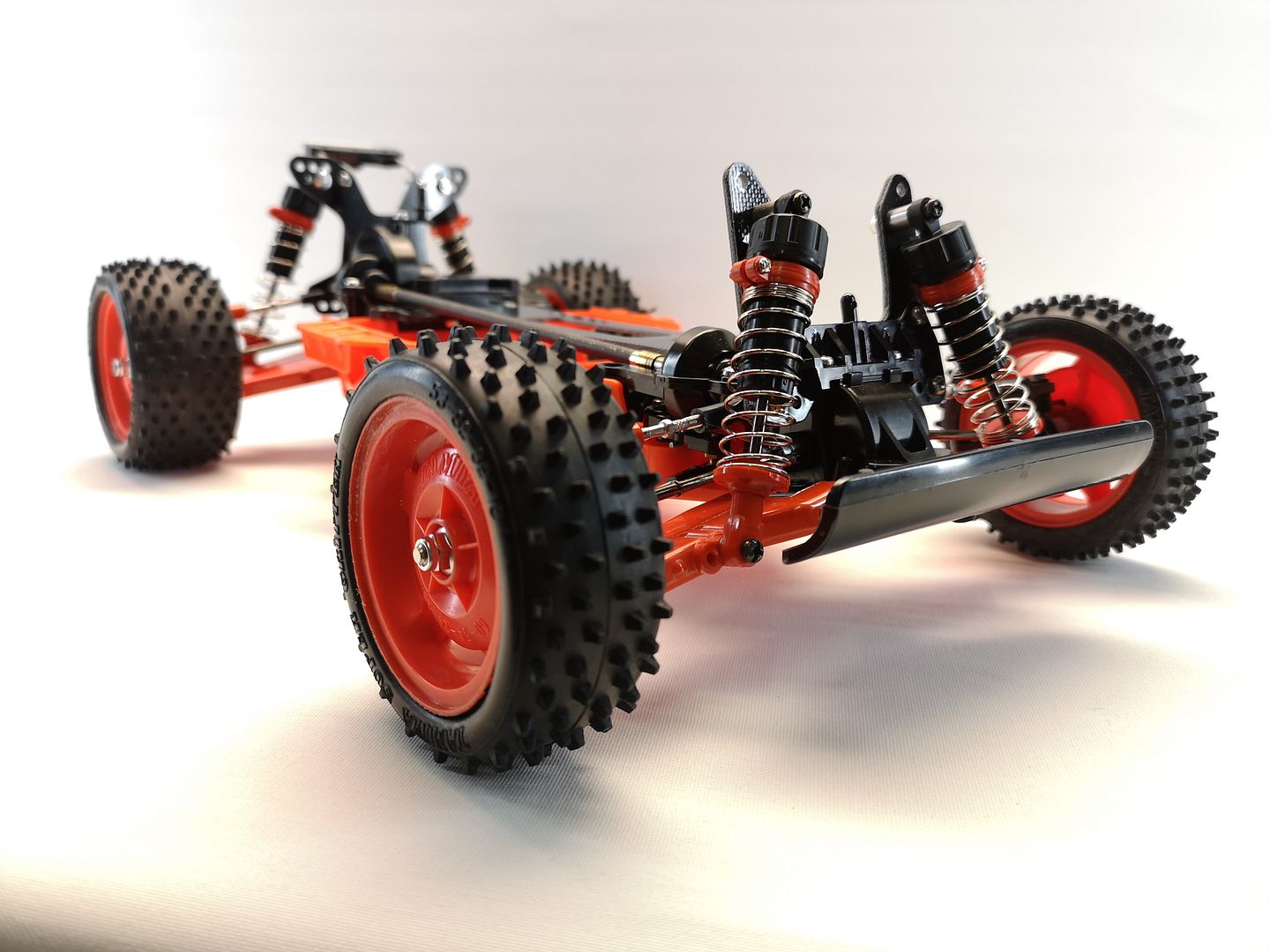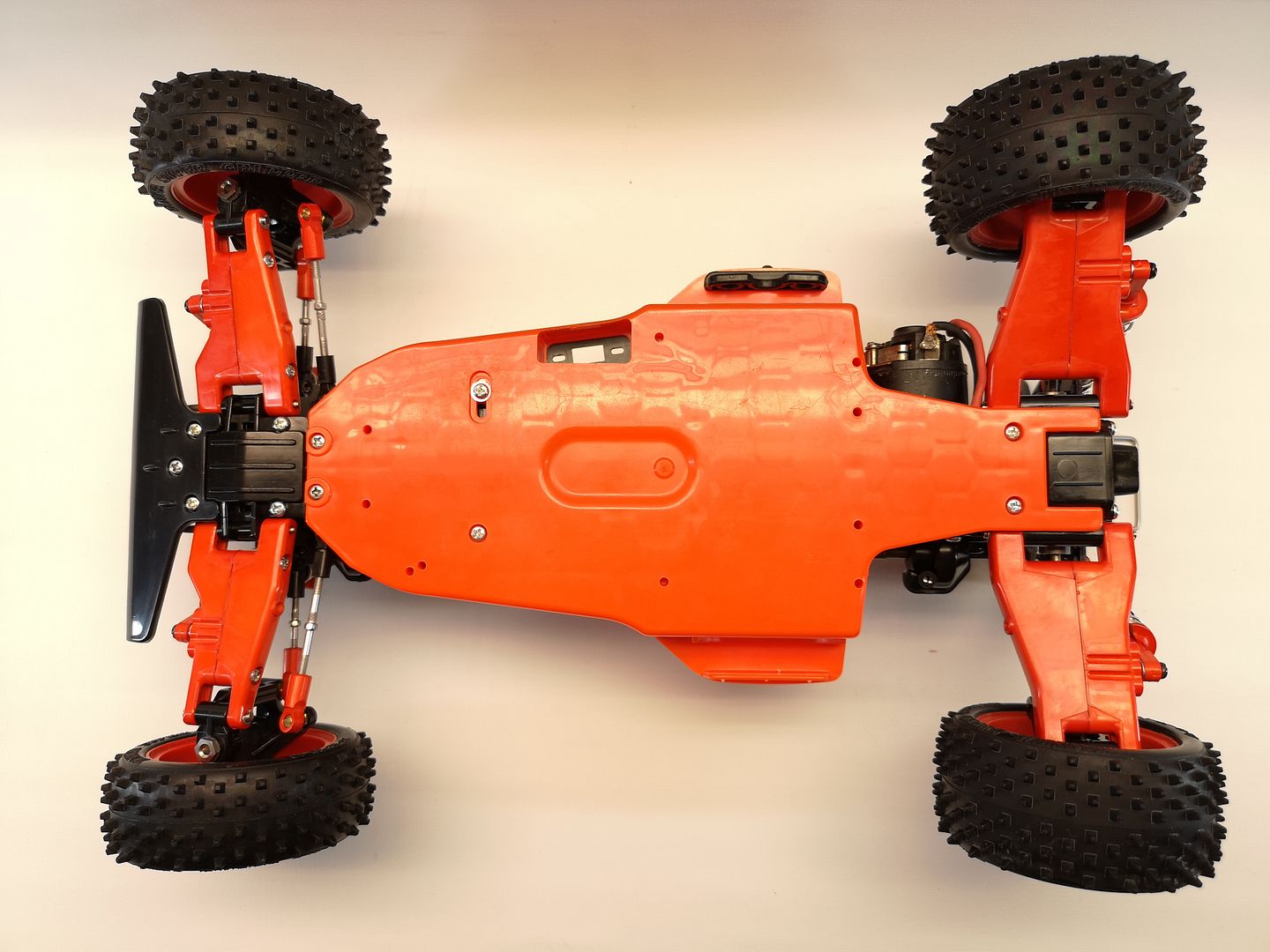 Then some pictures with the body. But seeing this body I really think it doesn't do justice for this chassis so I will make a new one that is mint.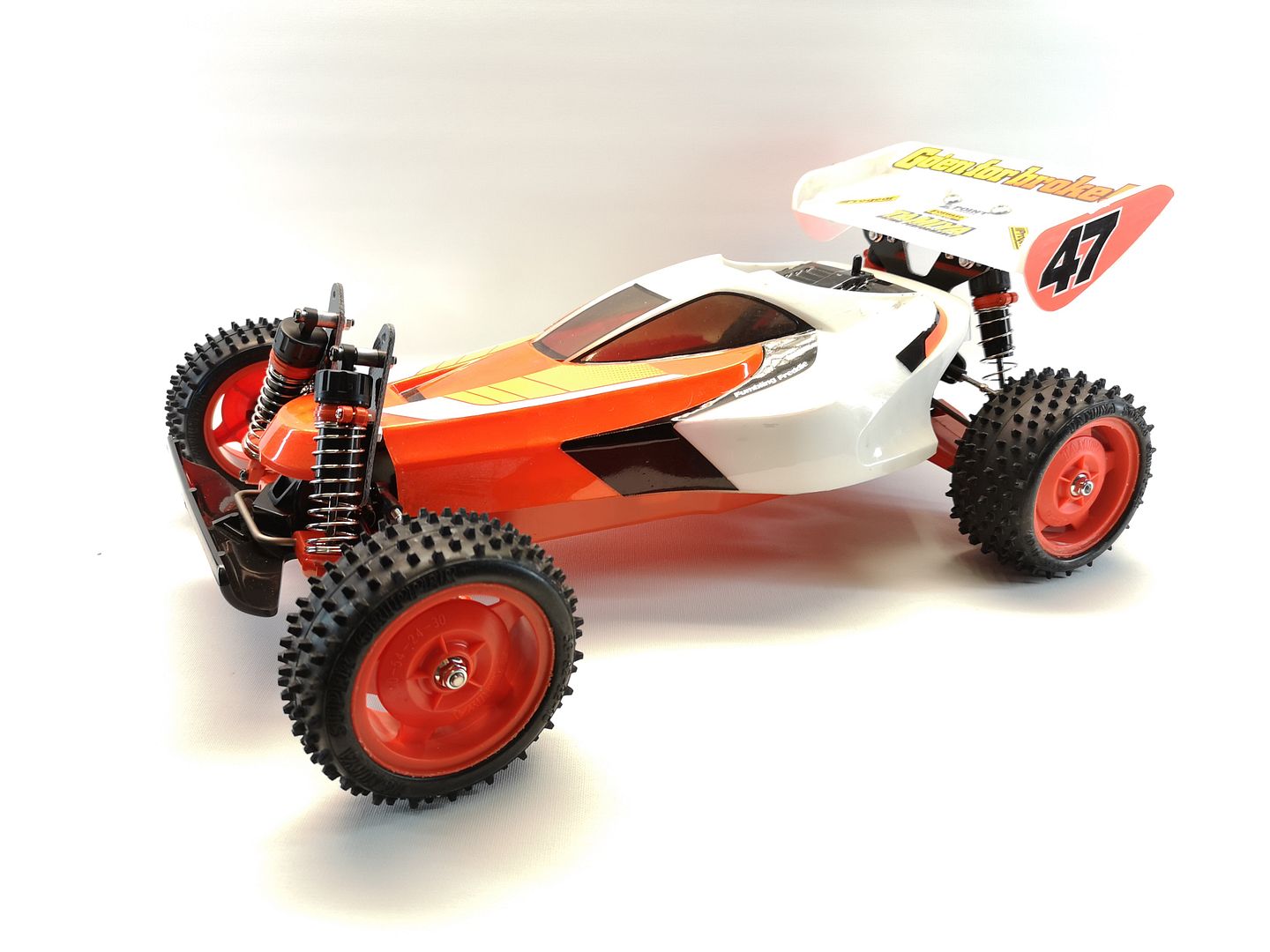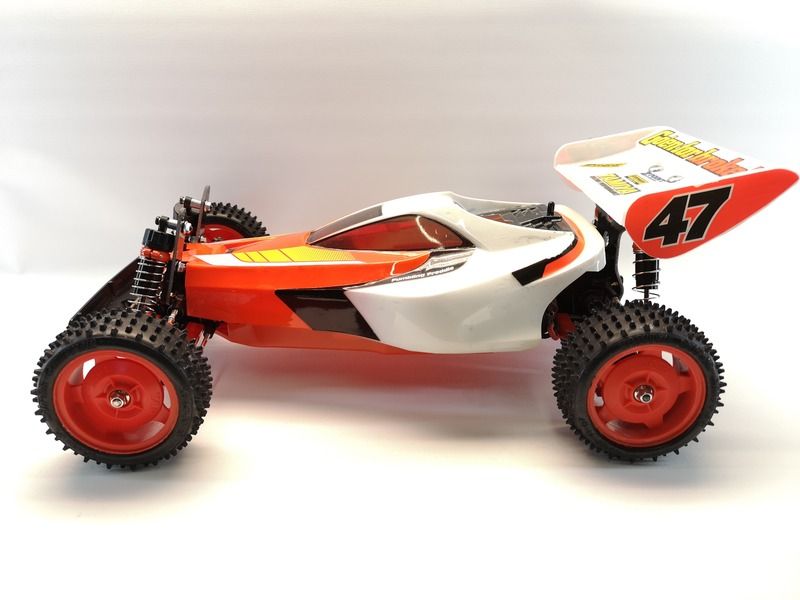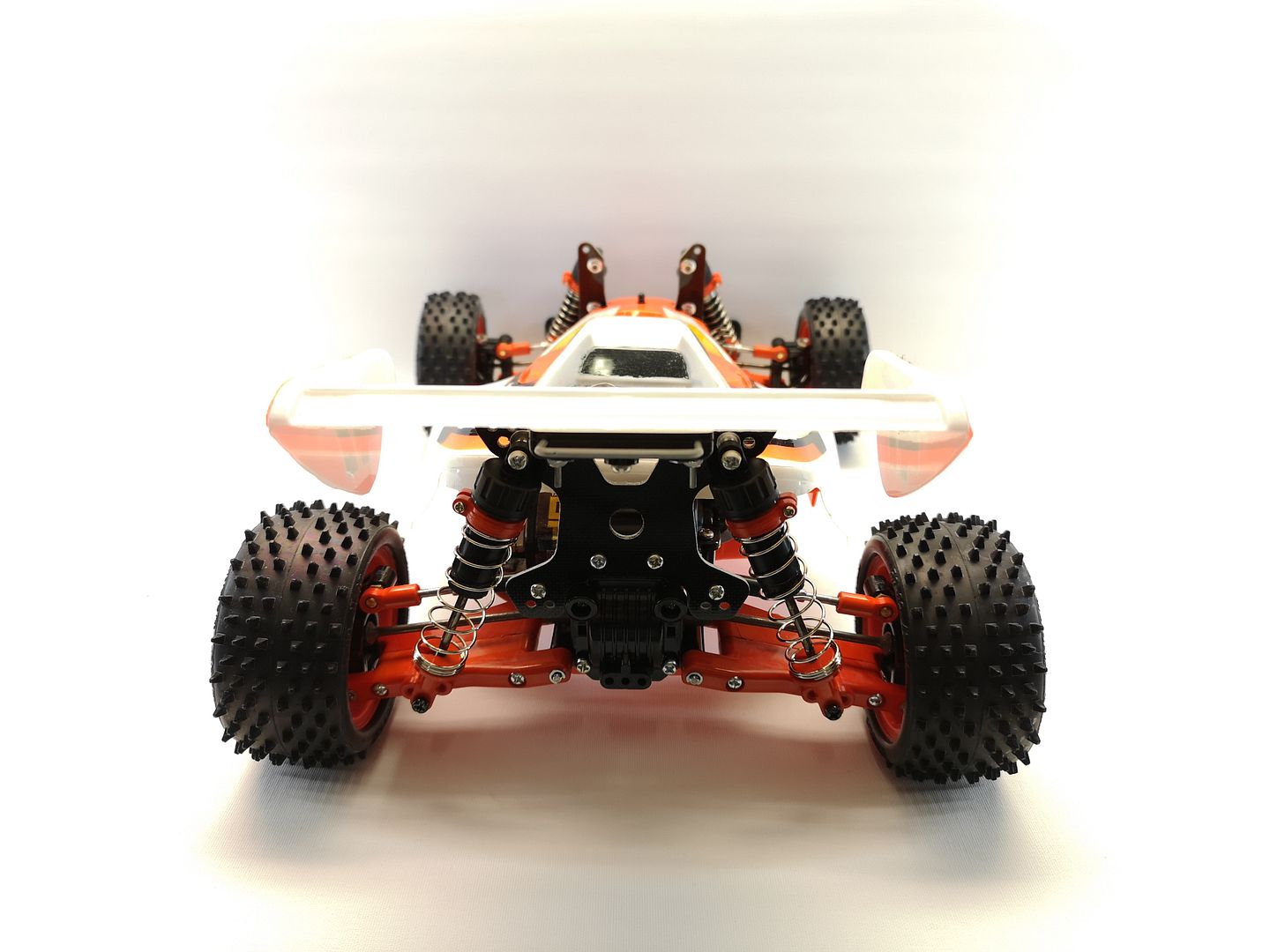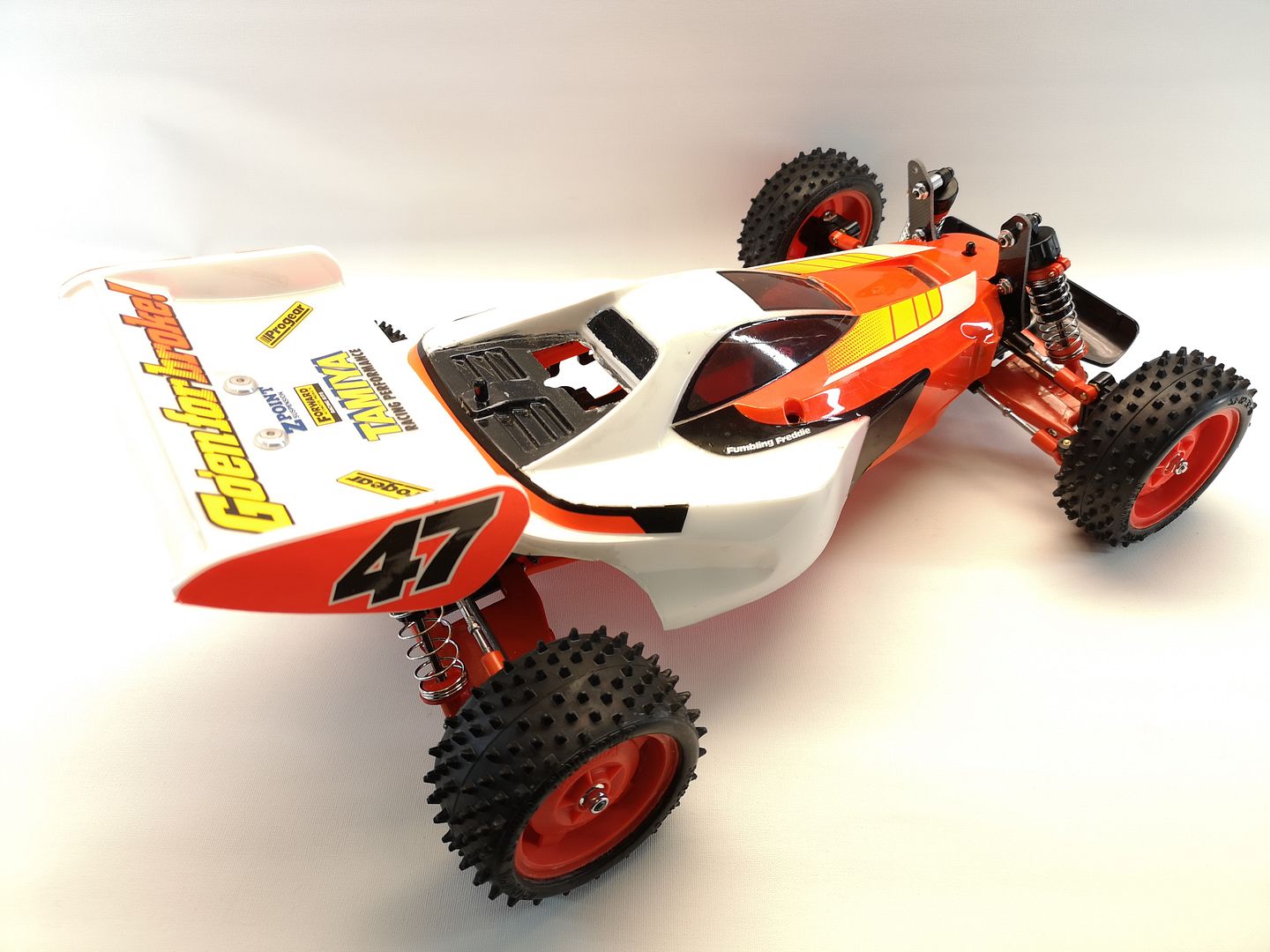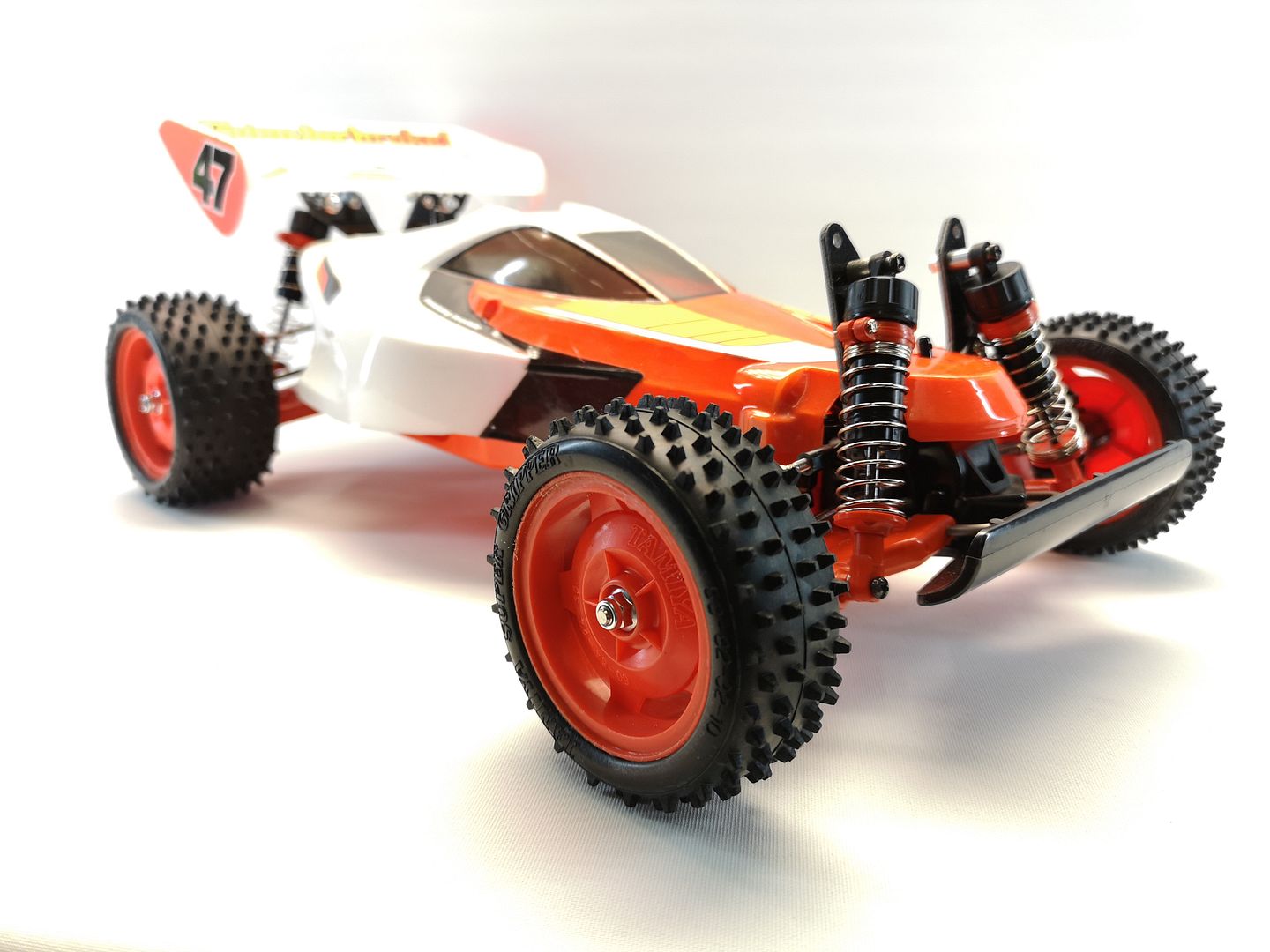 So that's it, at least for now. I like the orange chassis very much and I think this is the minimum with orange that Tamiya should have had in the kit.
Hope you like it just as much as me, and that I have inspired you to build one your self.