Ok, so why did I get this car, here's the thing. I recently bought a used DF-03 MS and the car just fell apart due to bad plastic I would say. Trying to get a new one, but I couldn't find one to an reasonable price, but I did find the TT-02B MS and thought It would be a good replacement. I have chosen to call this project "White Edge Edition" since I'm going to use the white TT-02 chassis instead, where it's possible.
Here is the extra hop-up parts I'm going to use:

Tamiya OP-1875 (54875) TT-02 Oil Gear Differential Unit X 2
Tamiya OP-1477 (54477) Gearbox Joint for Universal Shaft (TT-02) X 2
Tamiya OP-1558 (54558) TT-02 Aluminum Motor Mount
Tamiya OP-1820 (54820) TT-02B Stainless Steel Shaft & Support Bridge
Tamiya OP-1752 (54752) TT02 Steering Upgrade Parts
Tamiya OP-1754 (54754) TT-02B Carbon Damper Stays (Front & Rear)
Tamiya OP-1500 (54500) TT-02 High Speed Gear Set (68T)
Tamiya OP-791 (53791) DF-02 Assembly Universal Shaft X 2
Tamiya OP-926 (53926) DF-03 Aluminum Damper Set
Tamiya 54186 4WD Buggy Dual Block Tires K (62/35,Rear)
Tamiya 54185 Dual Block Tires K (Front 62/25)
Tamiya 47336 White TT-02 D Parts (Motor Mount)
Tamiya 47338 White TT-02B B Parts (Upright)
Tamiya TT-02 White 51527 A-Pieces Steering Knuckle Wheel Hubs
Tamiya TT-02 White 51530 D-parts Battery Holder
Square STD-252 Titanium Screws for TT-02
Eagle Racing Alu Servo Mount for Tamiya TT02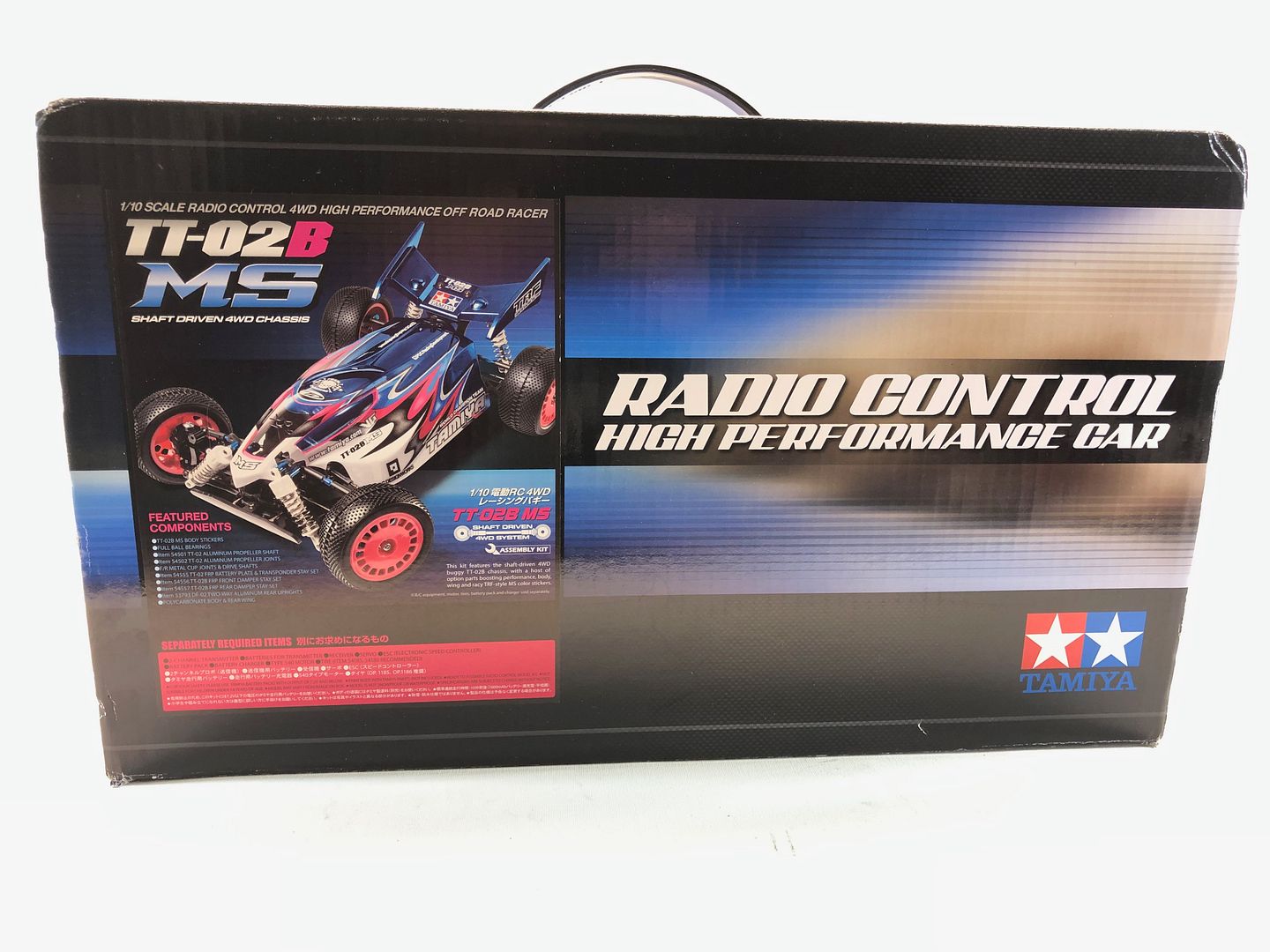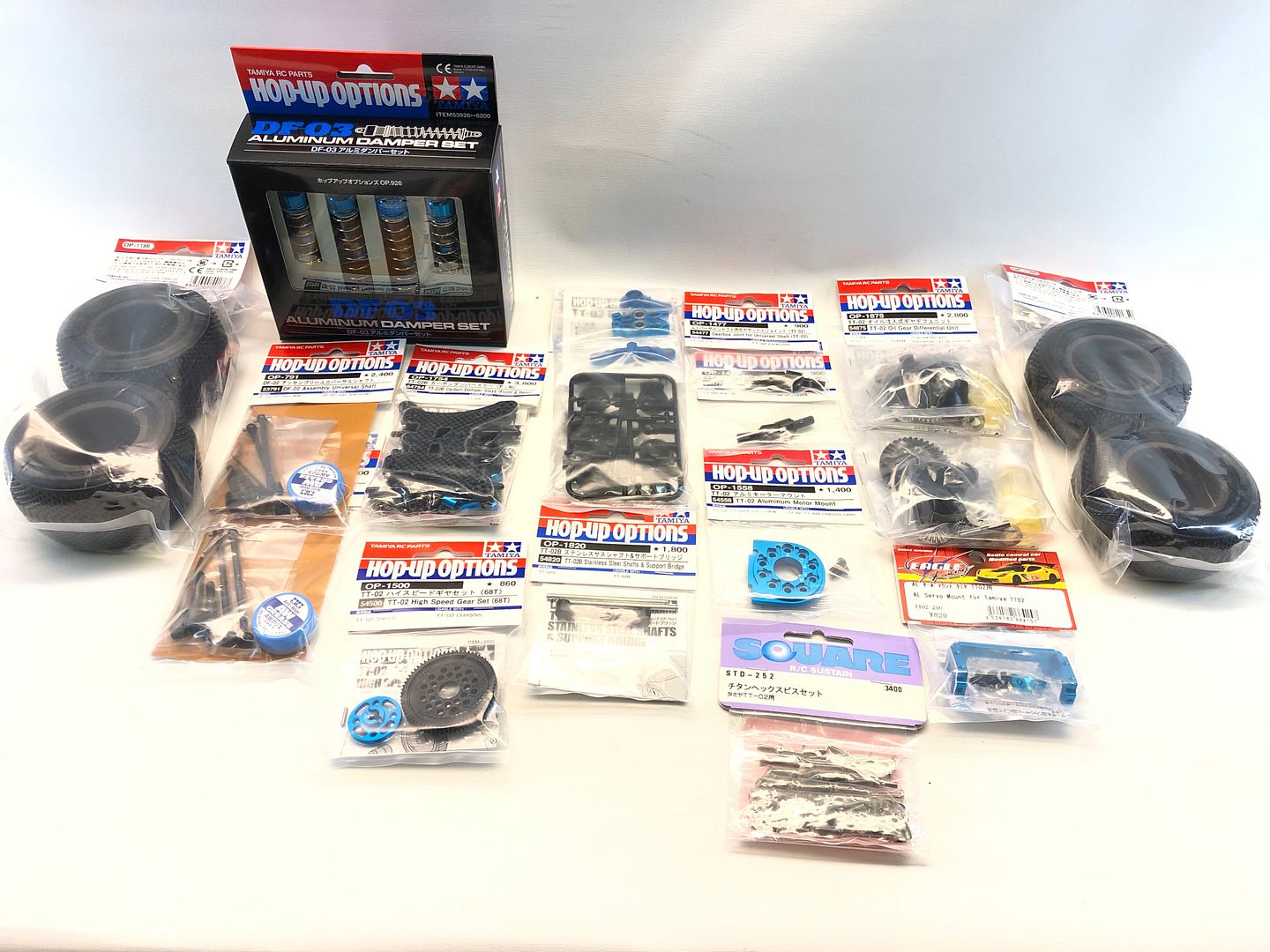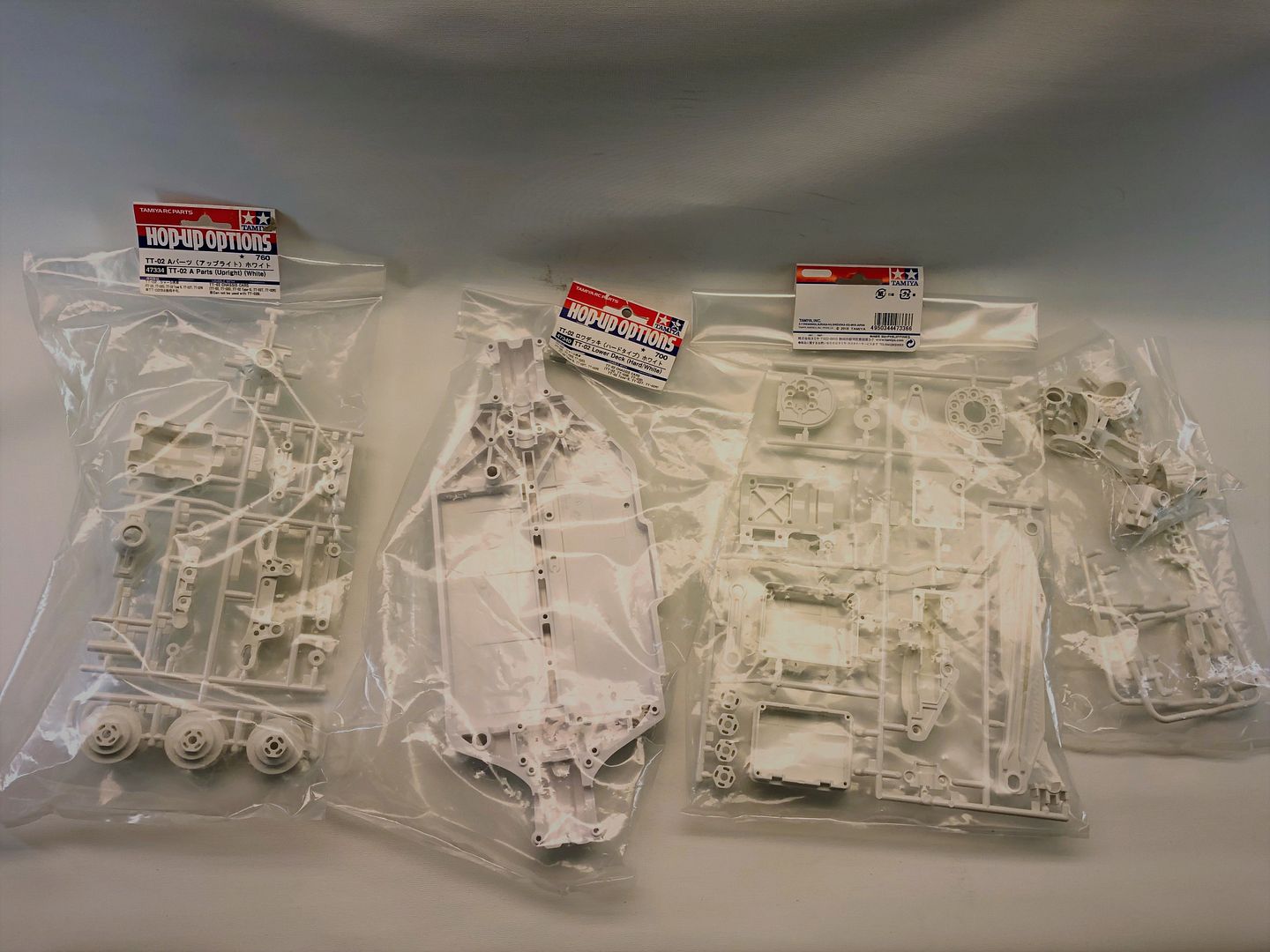 As always I think this will be a long term project, so not sure when I get to start on it or when it will be done.
I also have a special twist on this build, but I will save it once the car is ready to be revealed, so stay tuned.
---

Finally I found some time to start this project. I have cleaned my workbench and I thought now is the time to get started. I got all the parts now, but still waiting for motor and esc but hopefully they will show up soon.
Again here is some pictures of the box and the content.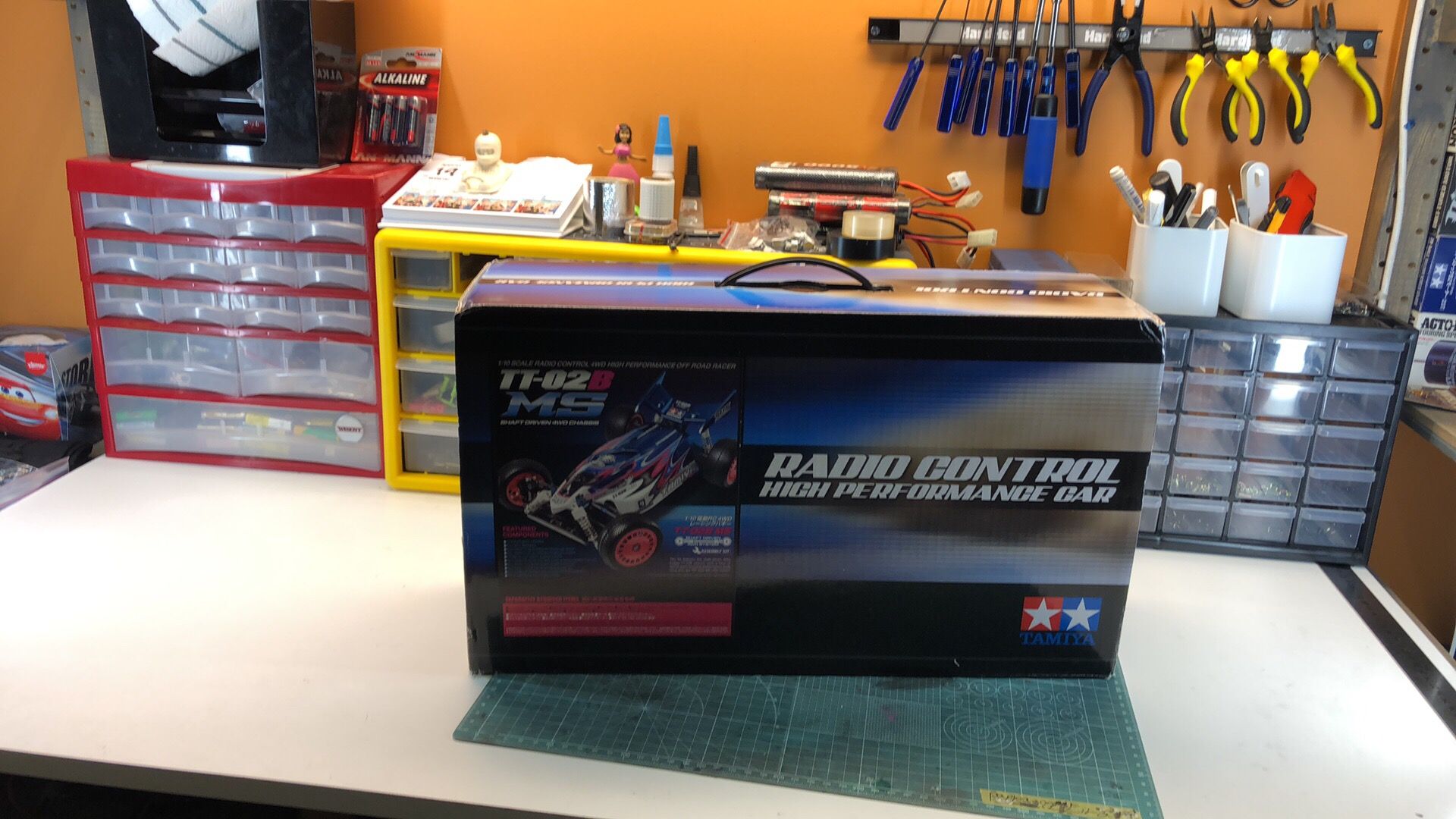 Pretty full kit box since I have put all the hop-ups in it.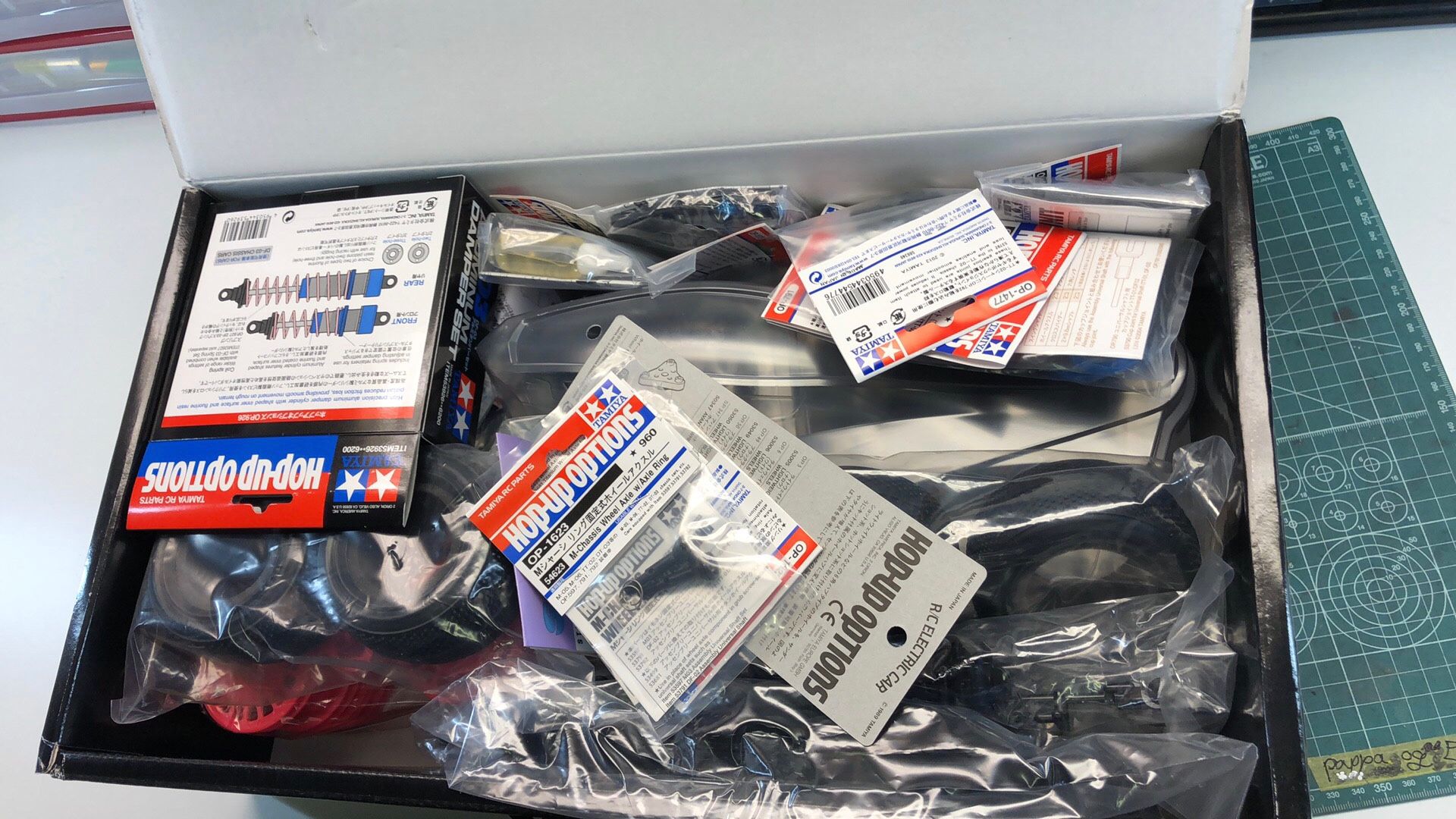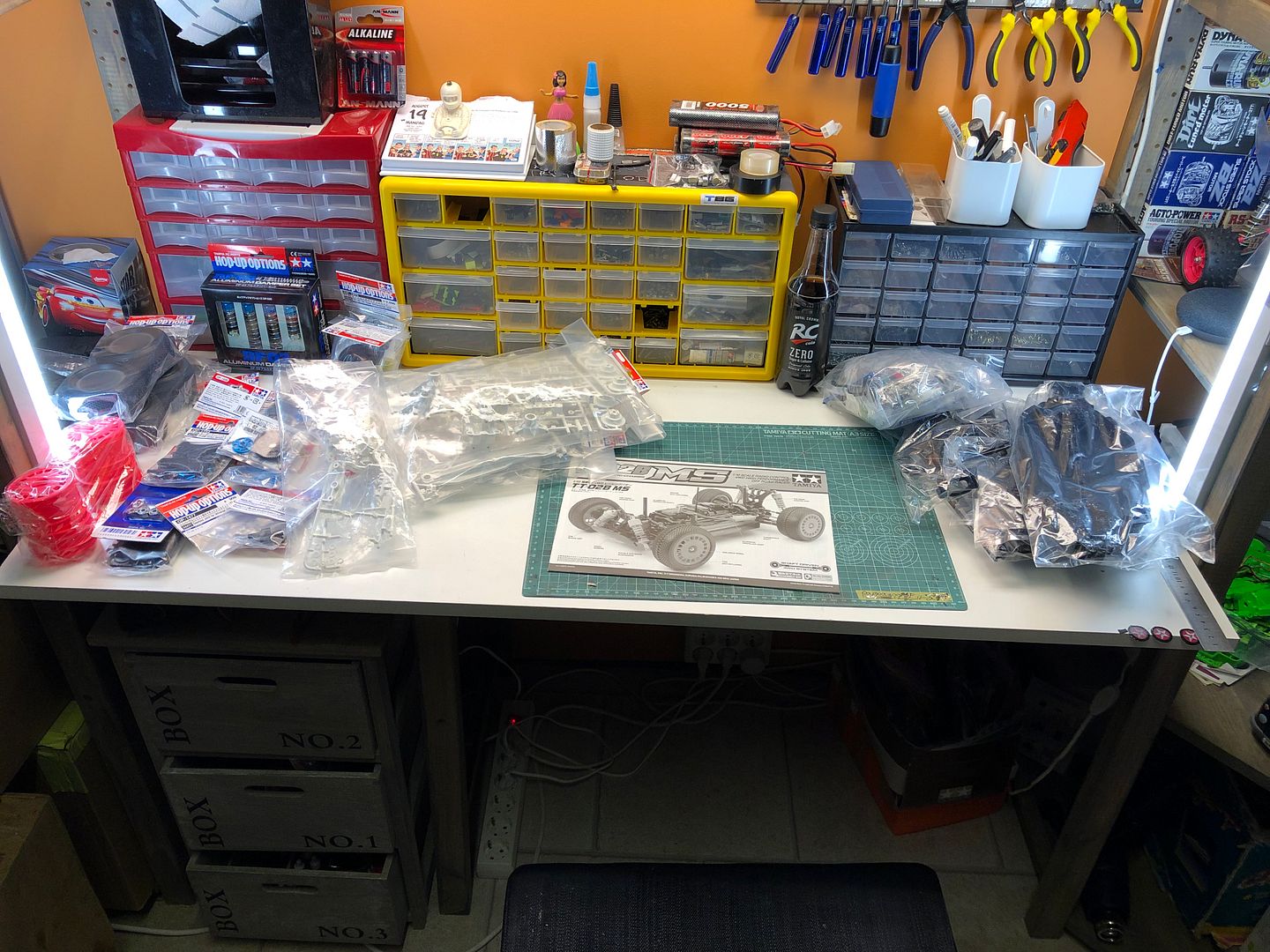 Well enough of this let's get the build started.
Allready in step one I have to find a hop-ups that I have bought, the high speed gear.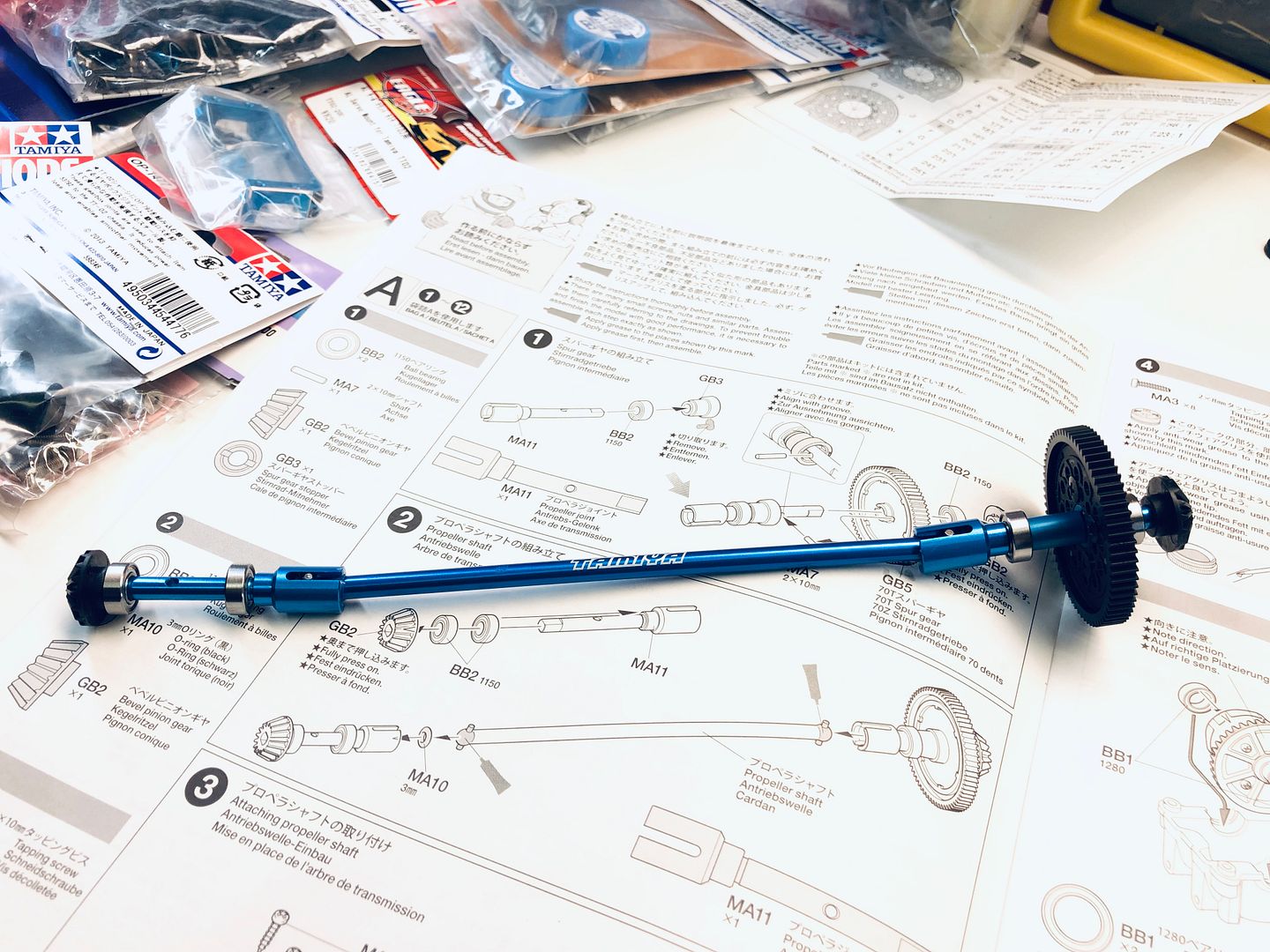 I do really like how this is turning out to be.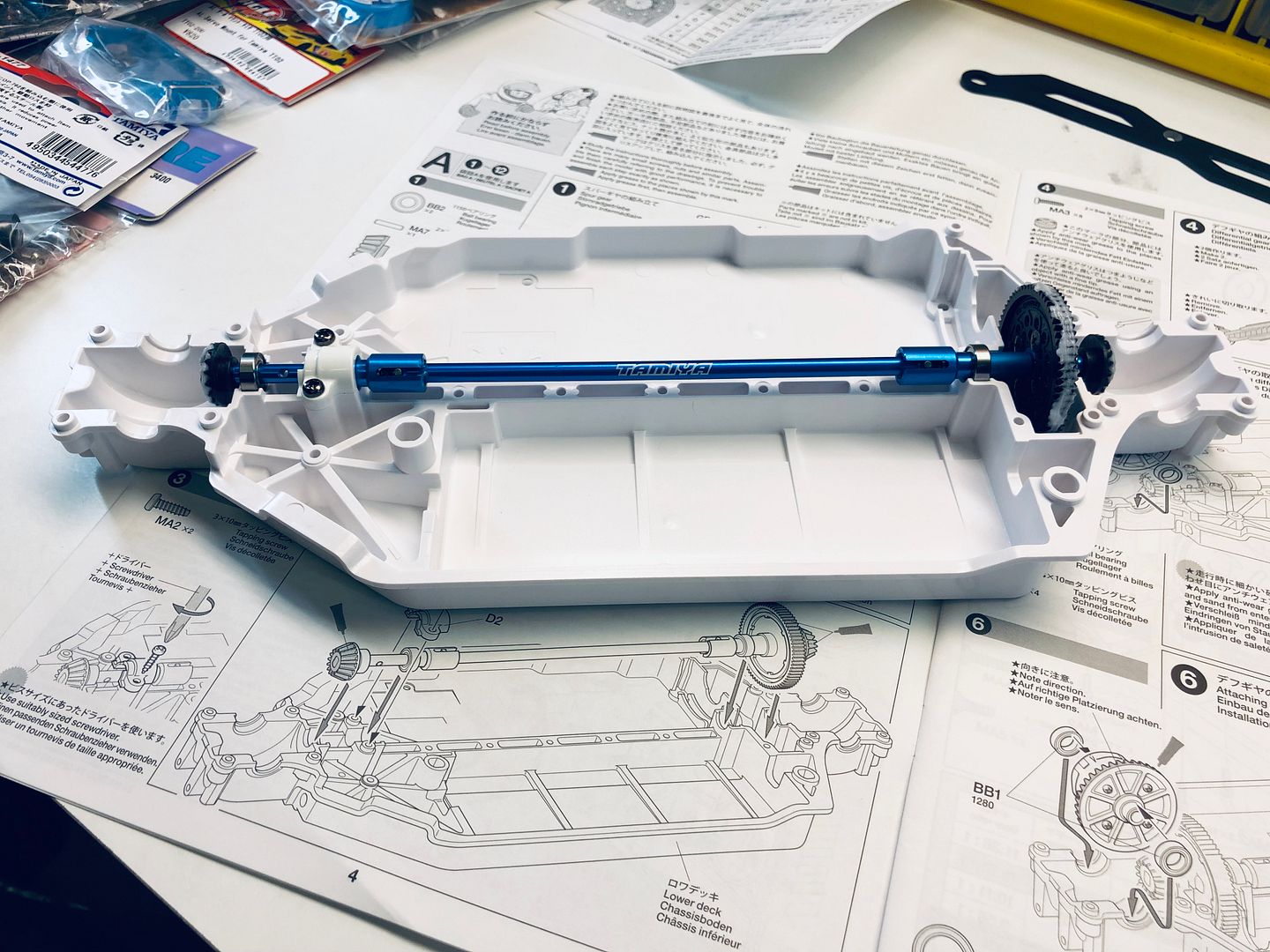 Next up is the hop-up oil filled differential. This is the first time I have oil filled differentials, they feel very smooth.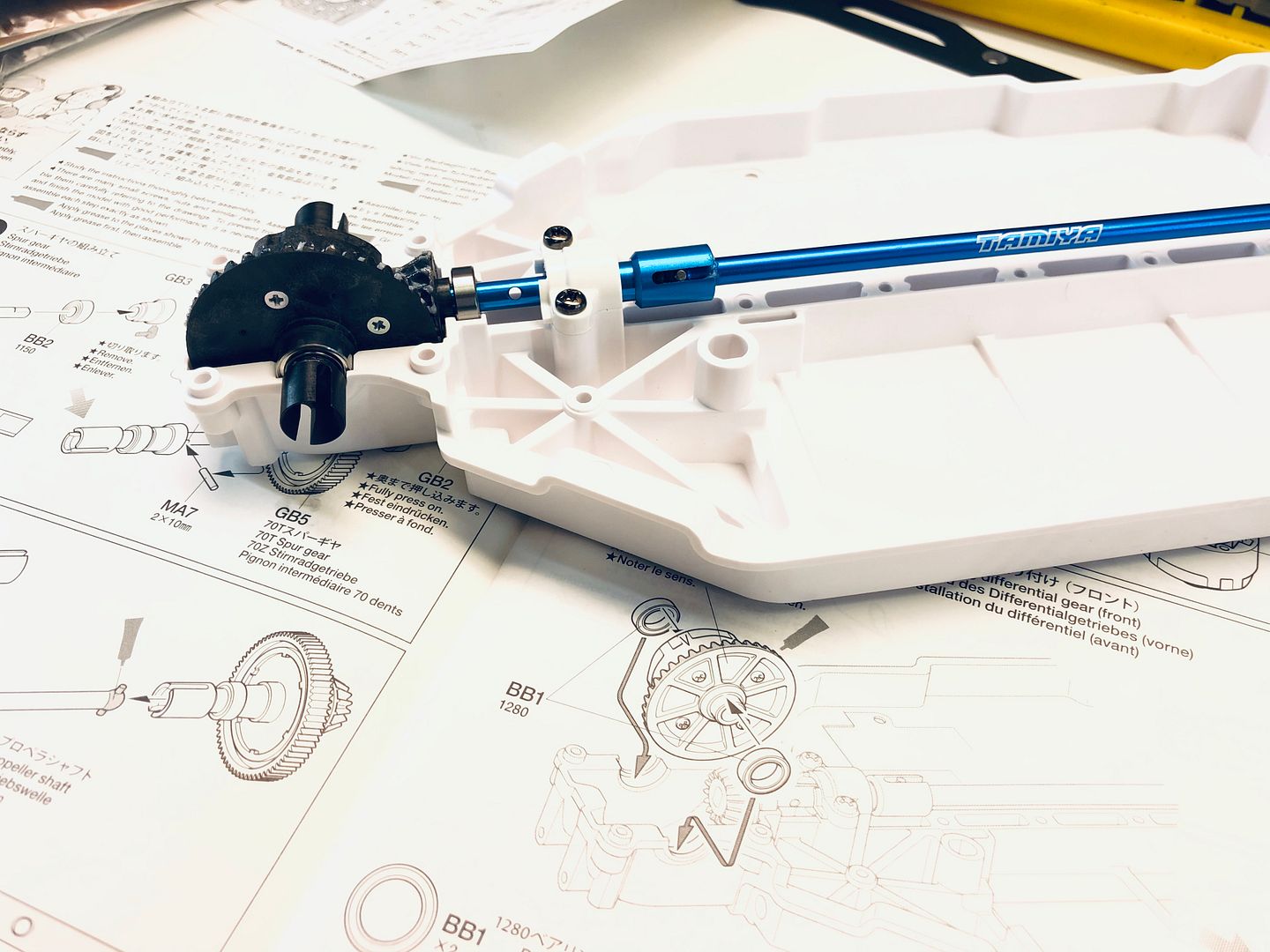 This next step I was aware that would be a challenge since I want to build a white chassis, since fellow Tamiyaclub member Alexkyriak's already done this. The top covers for the differential housing is different, so I do need to use the black version of them. The difference is that on the buggy version there are 3 holes to mount the damper towers on, but only two on the white version (on-road). I was thinking that I could just drill the third whole and use a nut, but seeing how thin the plastic is that is not an option. So I went ahead and did the same thing as Alexkyriak's and just painted the top covers.
Used a primer first, vil give it some coats of regular white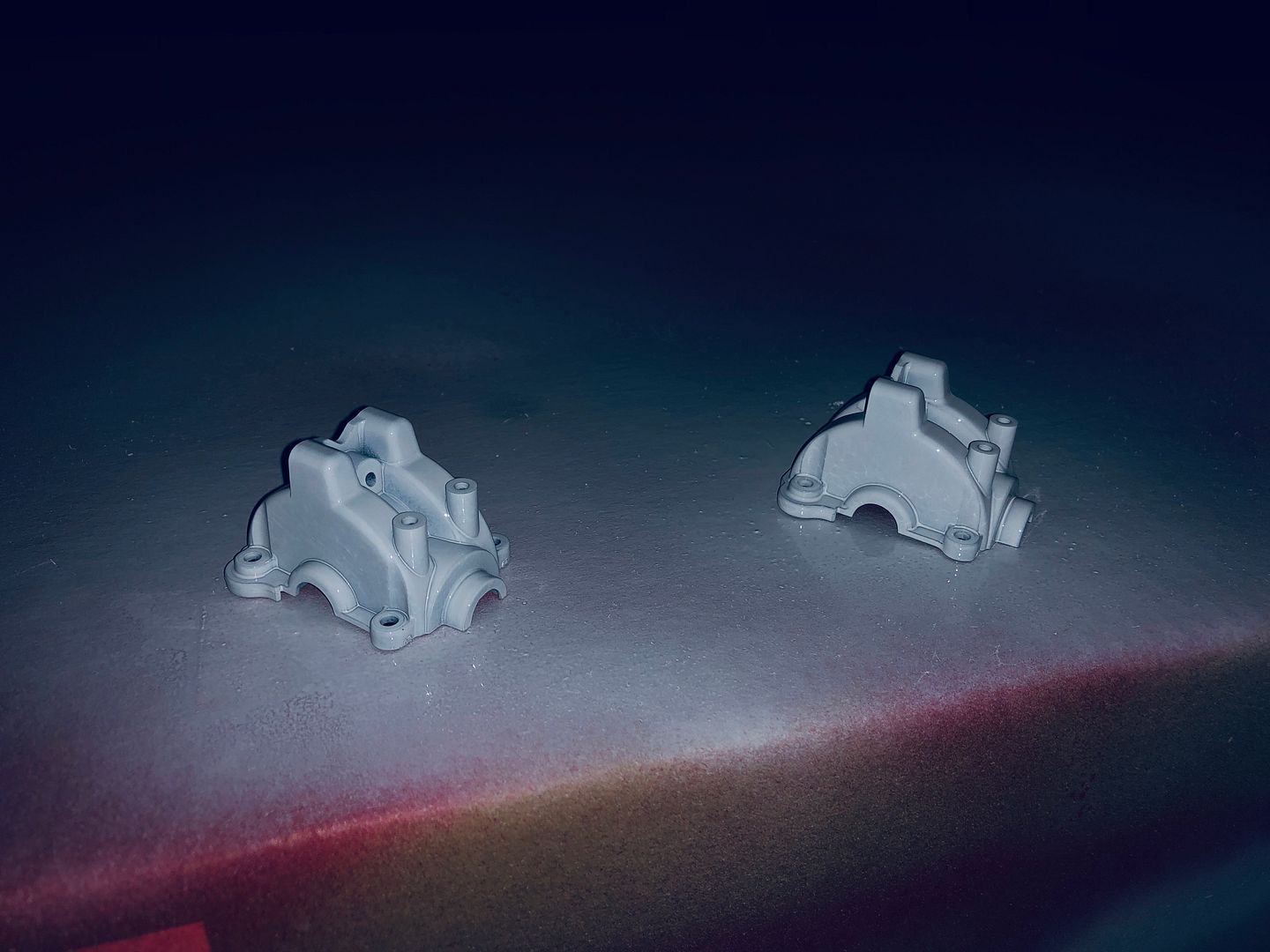 Now it's just to wait for these to be done, before I continue my build.
---

Ok, where to start, let's just talk about the many differances between TT-02B and the TT-02… Actually let's not, I'll show you in the pictures below. I was hoping to get a white chassis except from the suspension arms, but there are several other parts that are not equal so I ended up with having to use some of the black parts. That said it might be that I'm missing a parts tree that I'm not aware of.
Here is the result of the two top covers I painted
Oh yeah, yesterday I totally forgot that I had bought titanium bolts to use on this car, luckily it was it was only two of the bolts form yesterday that needed to be replaced.
So went ahead mounting the top covers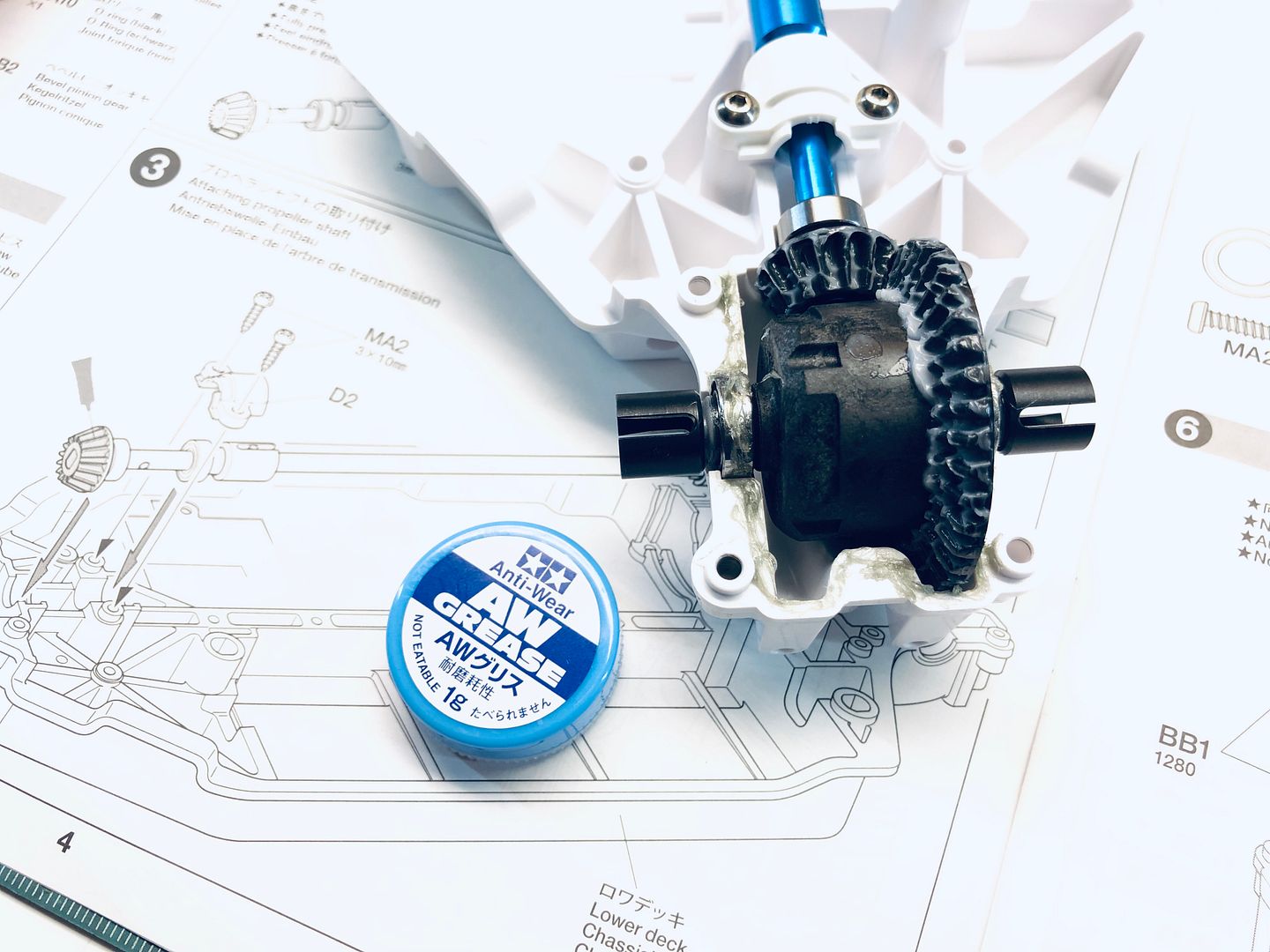 Oops forgot to take a picture while mounting em, but you will see em mounted on some later pictures.
On to the motor. I was wondering if I should skip this step since I haven't got the motor esc combo i ordered yet. But since it's such a small job to swap it later on i decided to go ahead.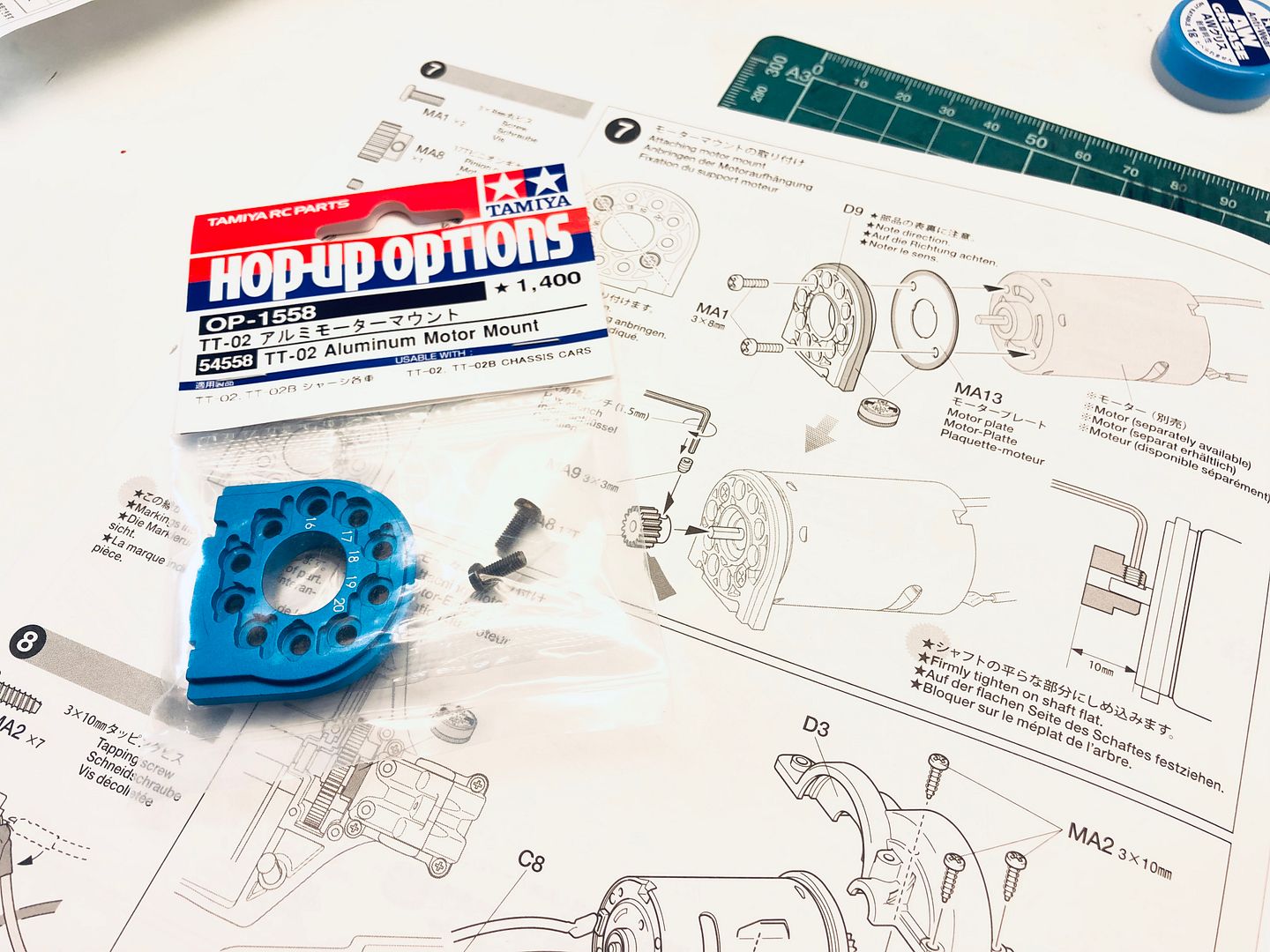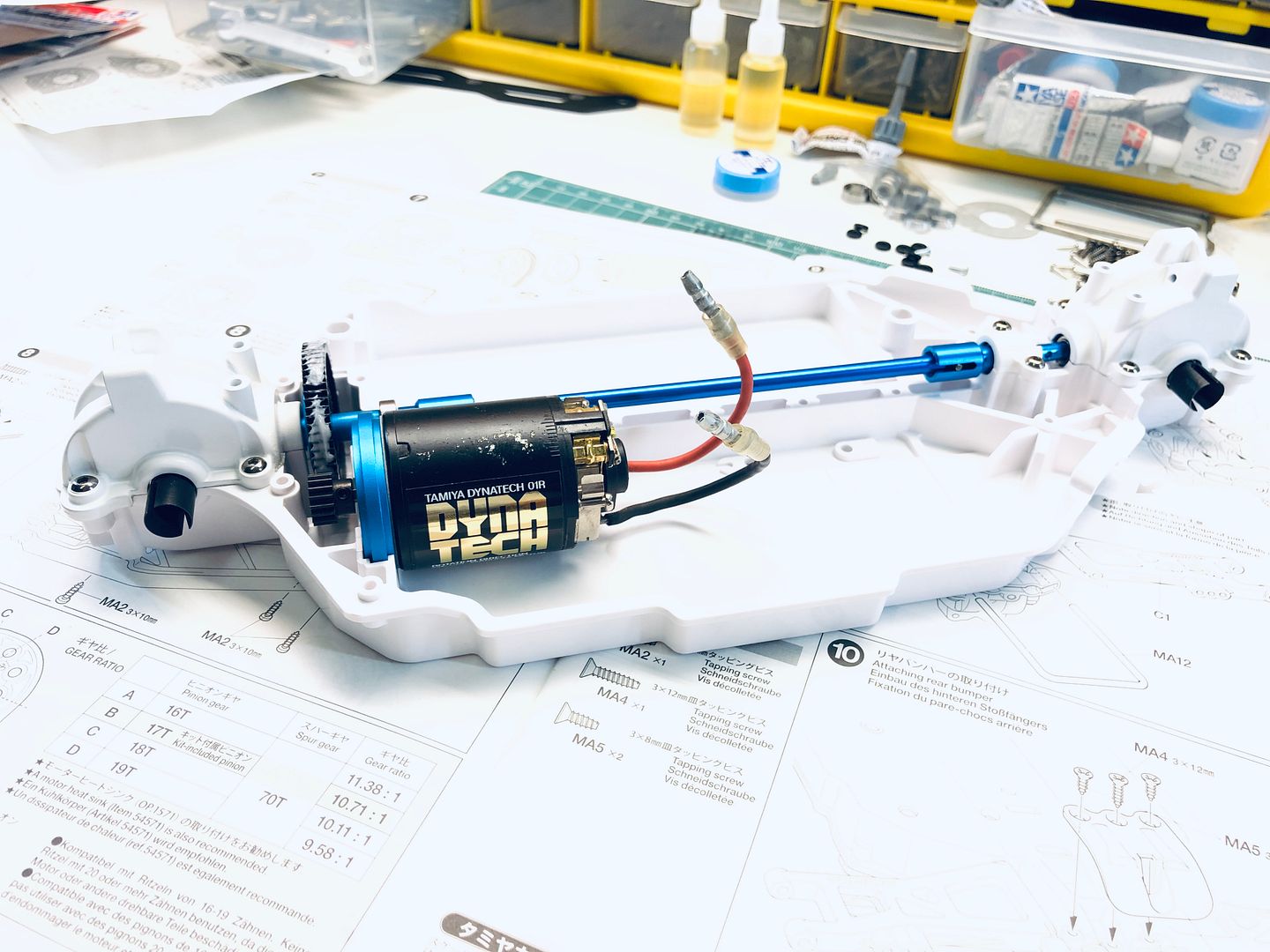 Now over to the part, to be more precise the black parts.. I knew that the suspension arms would be black, but I honestly thought that the parts for mounting it onto the chassis were in white, but nope.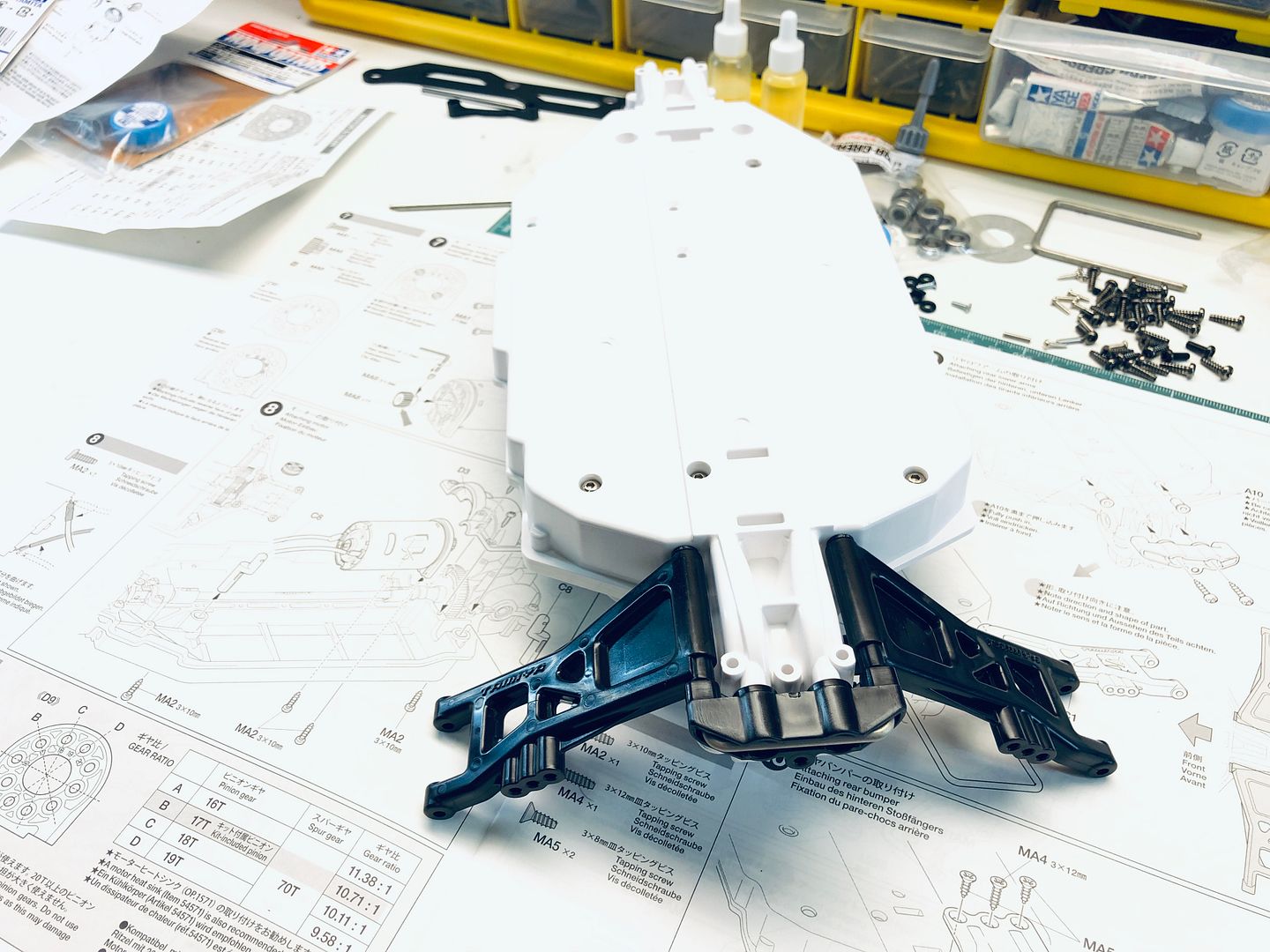 Rear one's done next the front one's and yet another Hop-up to use
So this is how far I got now. What you think, is it ok to have these parts in black? One thing I'm not gonna do and that is to paint these parts, because this might be a runner and when the parts get scratched it doesn't look pretty if the have been painted. Remember the steering knuckles and rear knuckles will be in white.
---

I got the motor and esc I plan to use I hope it's gonna be ok in this car. So now I need to remove the Dynatech and install the new one.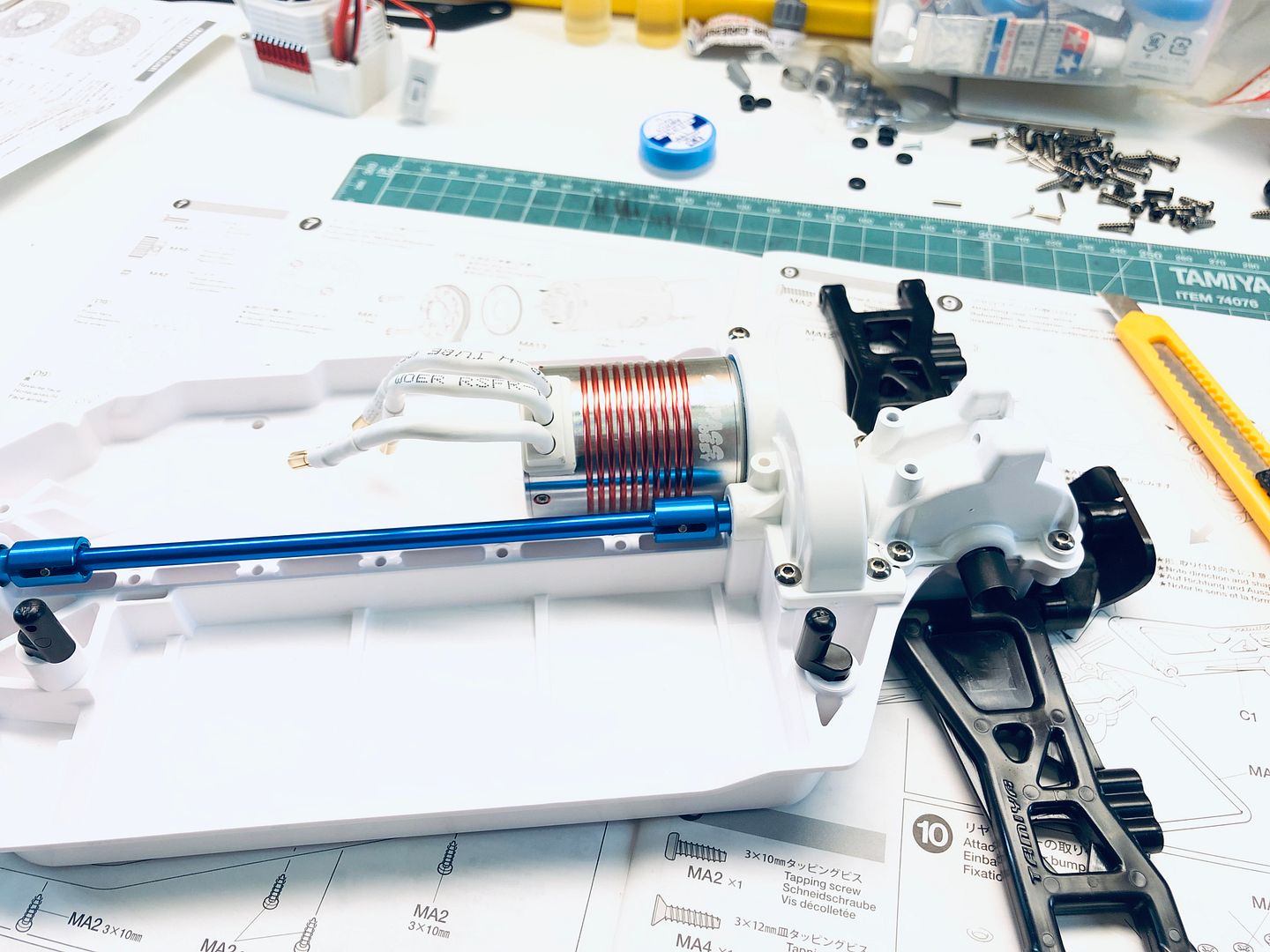 Then over to the front damper tower. I have bought the CF one just because I do like CF very much. I also swapped the ball studs for some titanium ones I had, since I'm trying to use titanium where ever I can.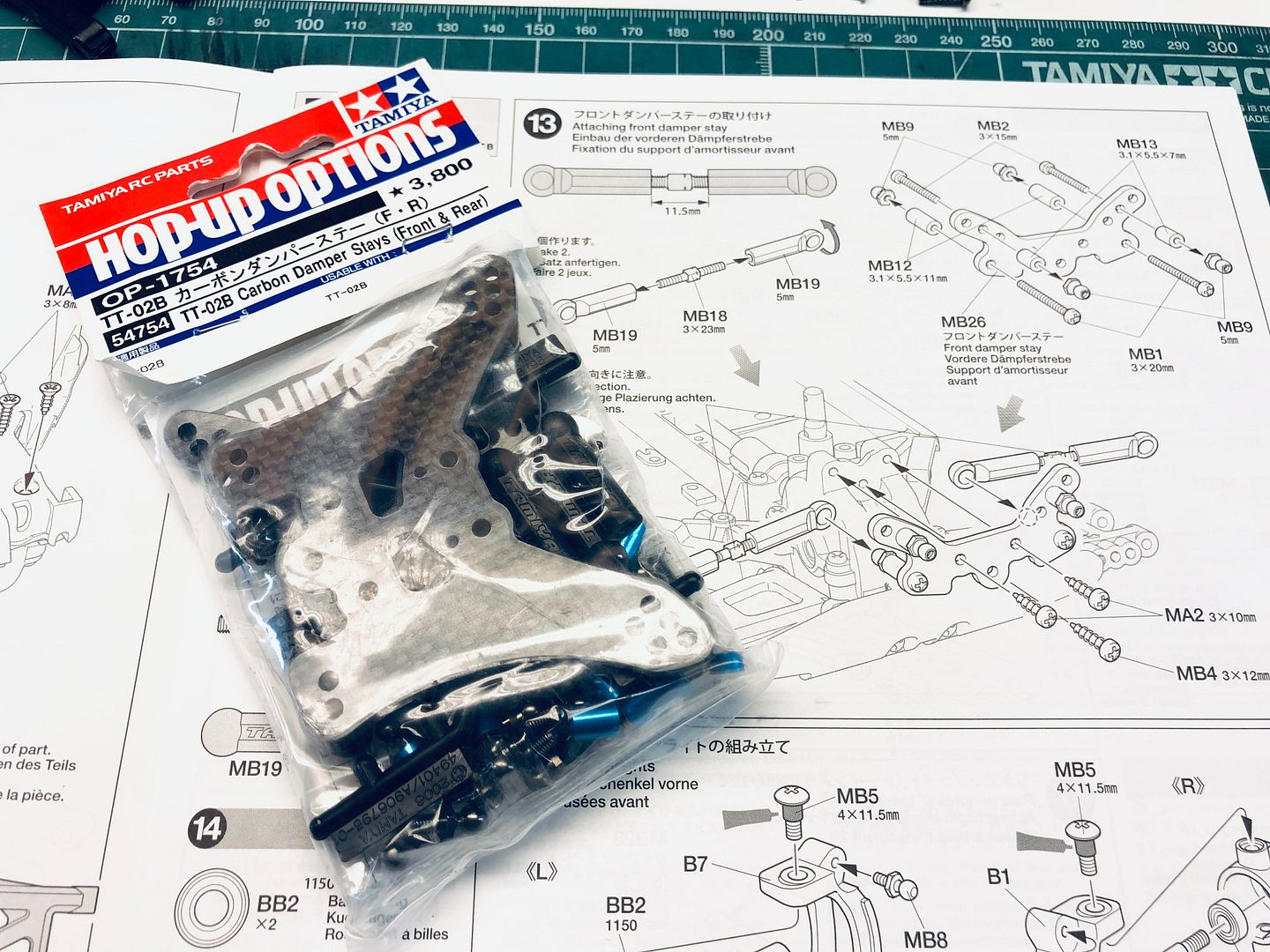 These rods I didn't find any replacement ones in titanium that I had, so I went ahead and mounted them. A bit later I realised that the kit came with the alu blue ones so I replaced them, as you might see in some later pictures.
I also added protective foam on the stud to protect it from too much dust and sand.
I then went on with the suspension. I hadn't bought any special King pins, but to my luck I found a set of Aluminum one's from my my DF-02 build.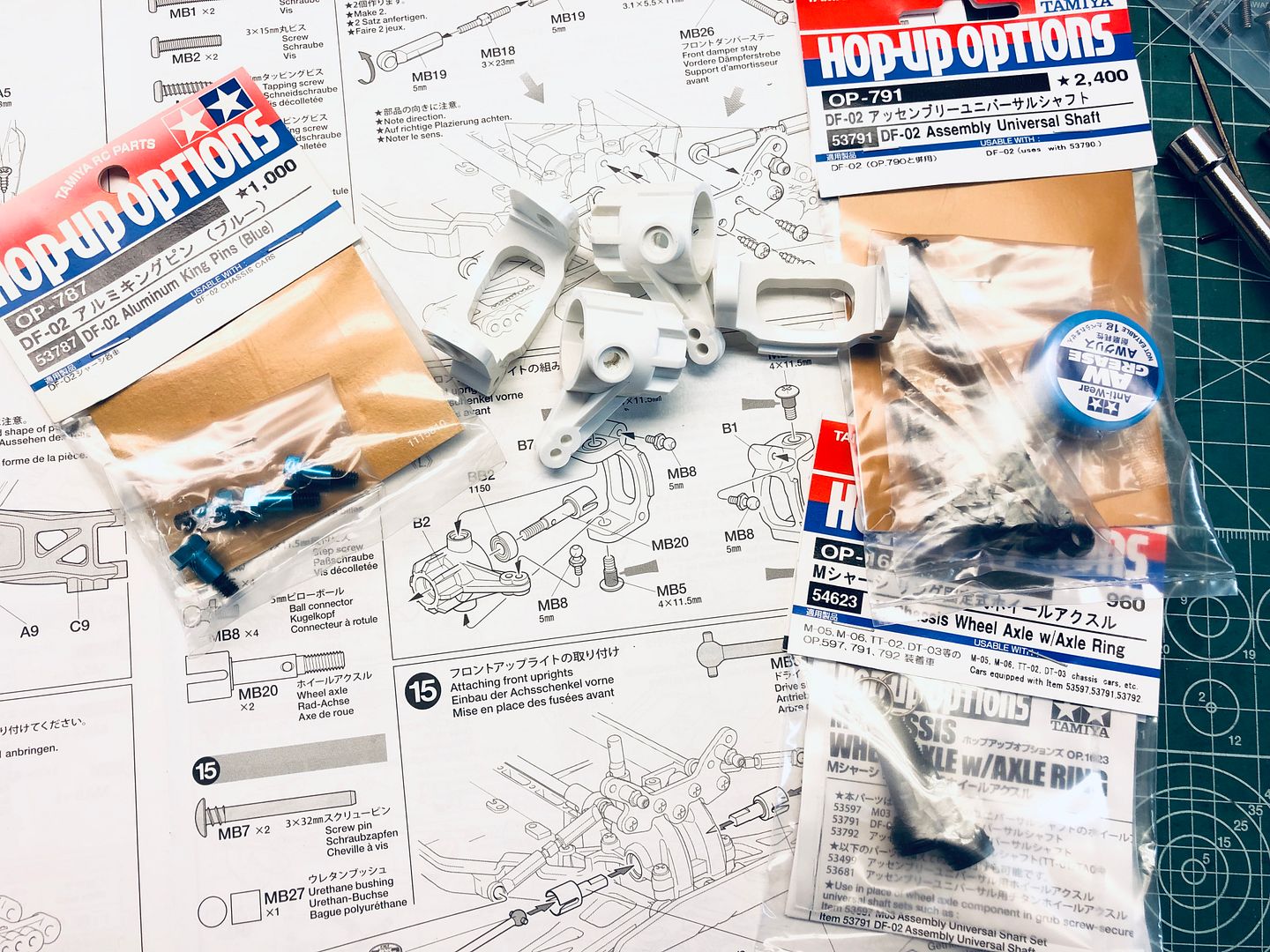 After a tip from fellow TC member RB4276, I did get the M-chassis wheel axel w/axel ring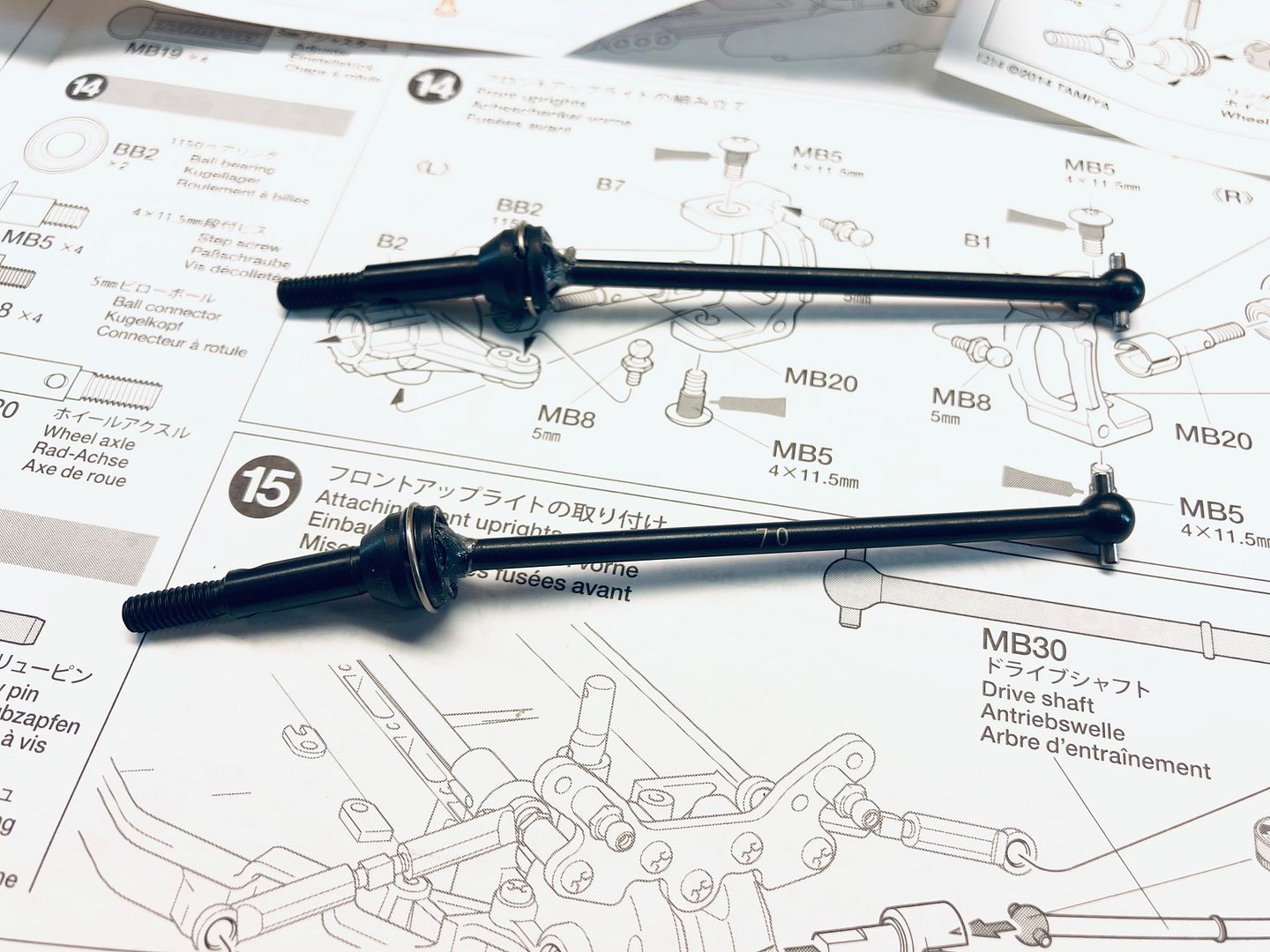 When mounting the steering knuckles to the suspension arm the kit comes with the traditional screw for this. I don't understand why it not comes with the steelrod with C-clips. I wanted to mount them using that but I couldn't find any in my parts. So if anyone know of some that would fit this car please let me know, I think they need to be about 34-35mm.
The extra Gearbox joints I bought I hadn't really needed to buy since I got the old filled differentials.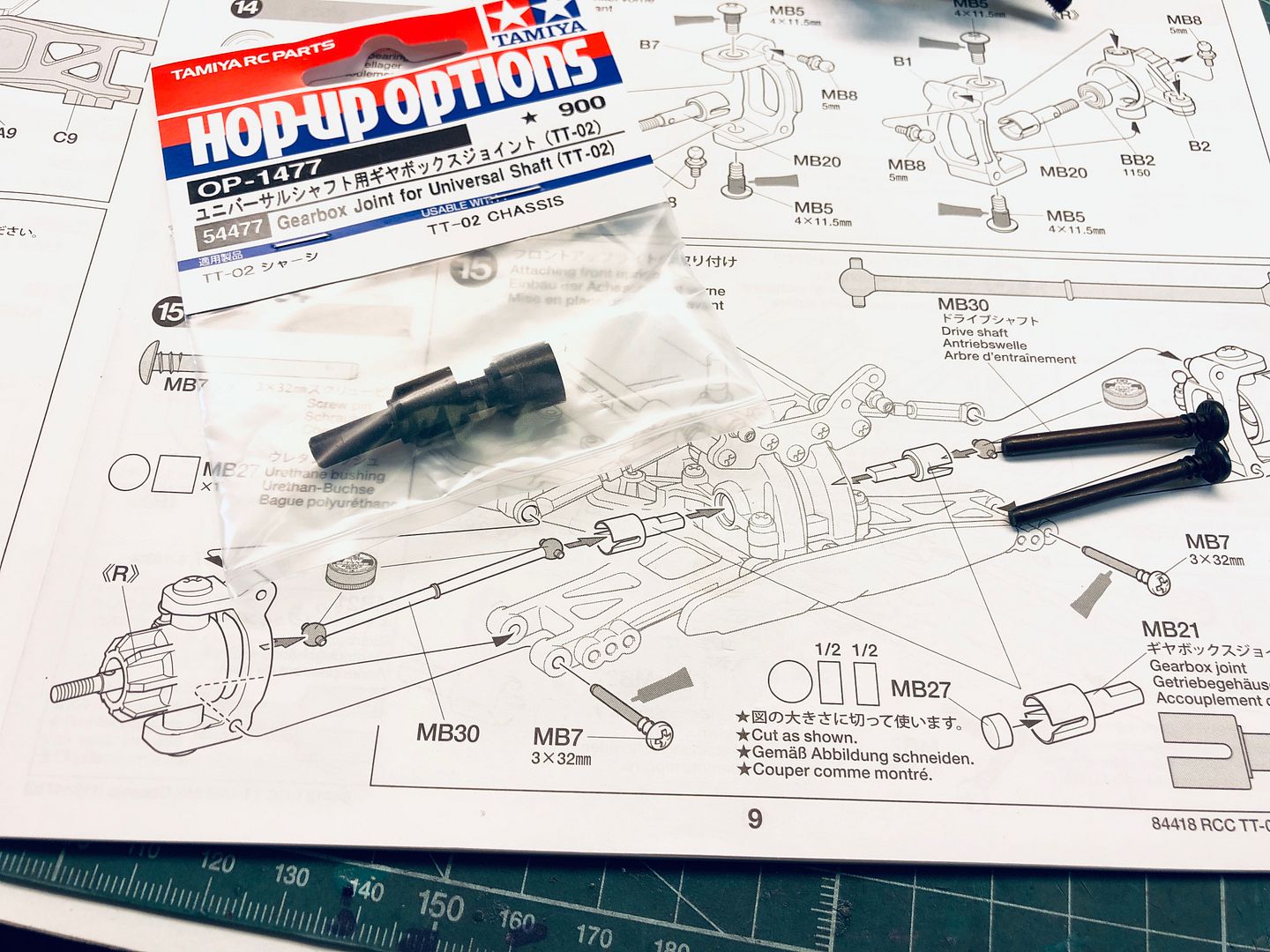 All mounted onto the chassis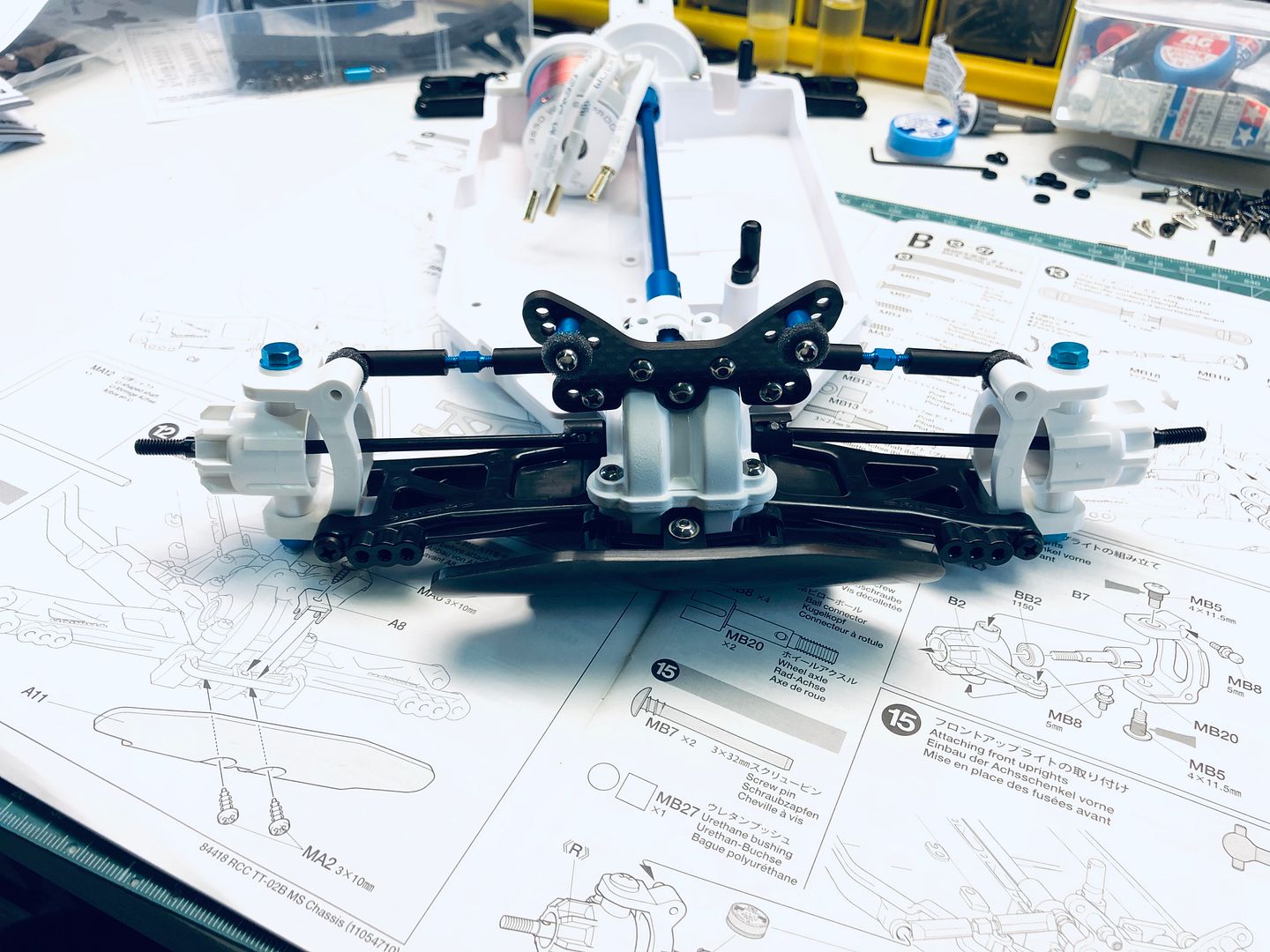 I think this is turing out real nice. By painting the gearbox top it kind of breaks up the domination of black in both ends of the chassis.
---

Working on the rear suspension. used regular screws on this and ball connector nut, but changed the two bottom one's for titanium one's. the top ones 3x20mm I need to order together with some more ball connector nuts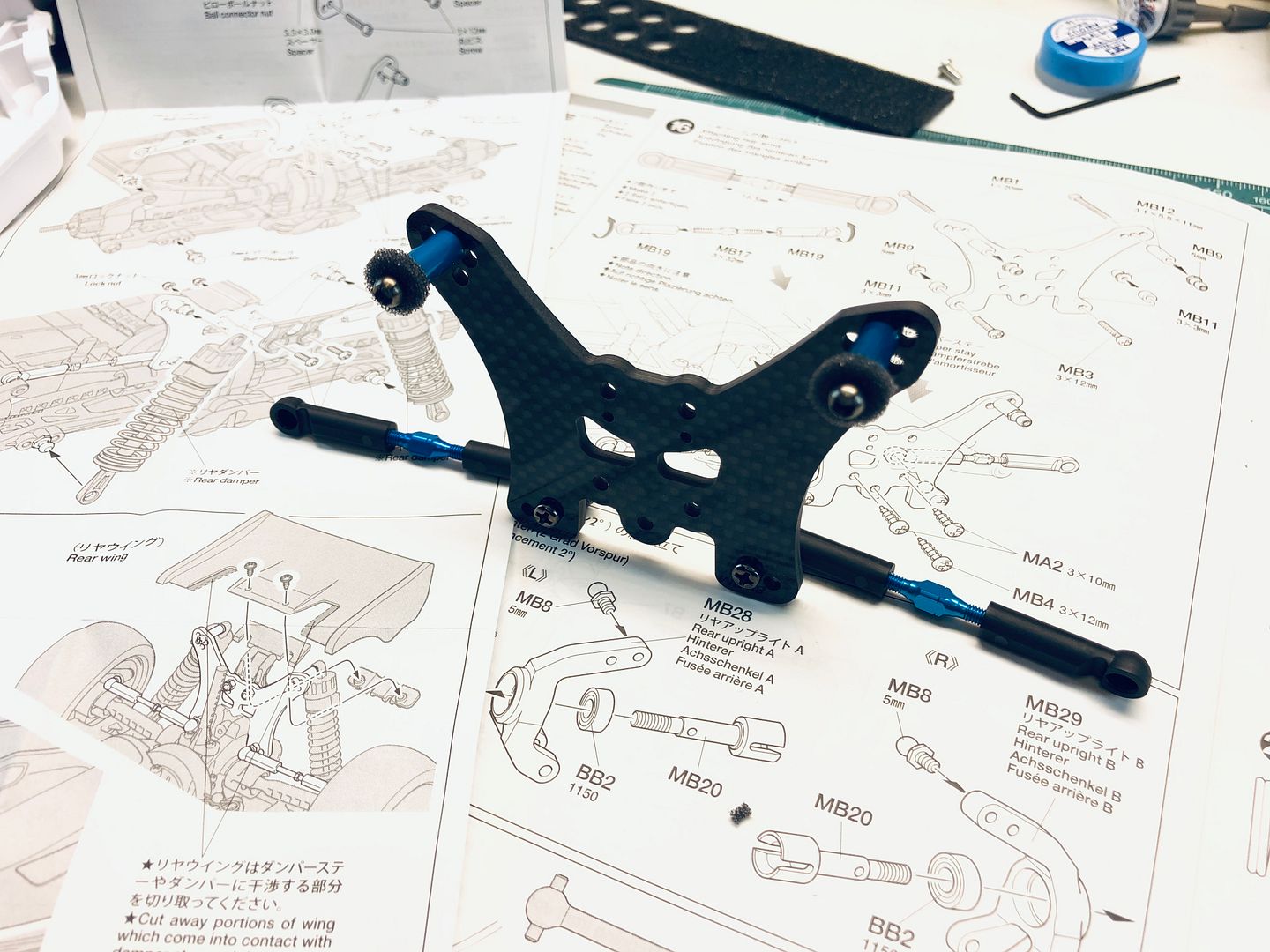 Ok for the rear knuckles I must say that I'm a bit unsure about which one's to use. I wanted to use the white one's to stay within the white theme for the car, but this being an MS car I also think i must be true to that also, so for now I will use the blue alu one's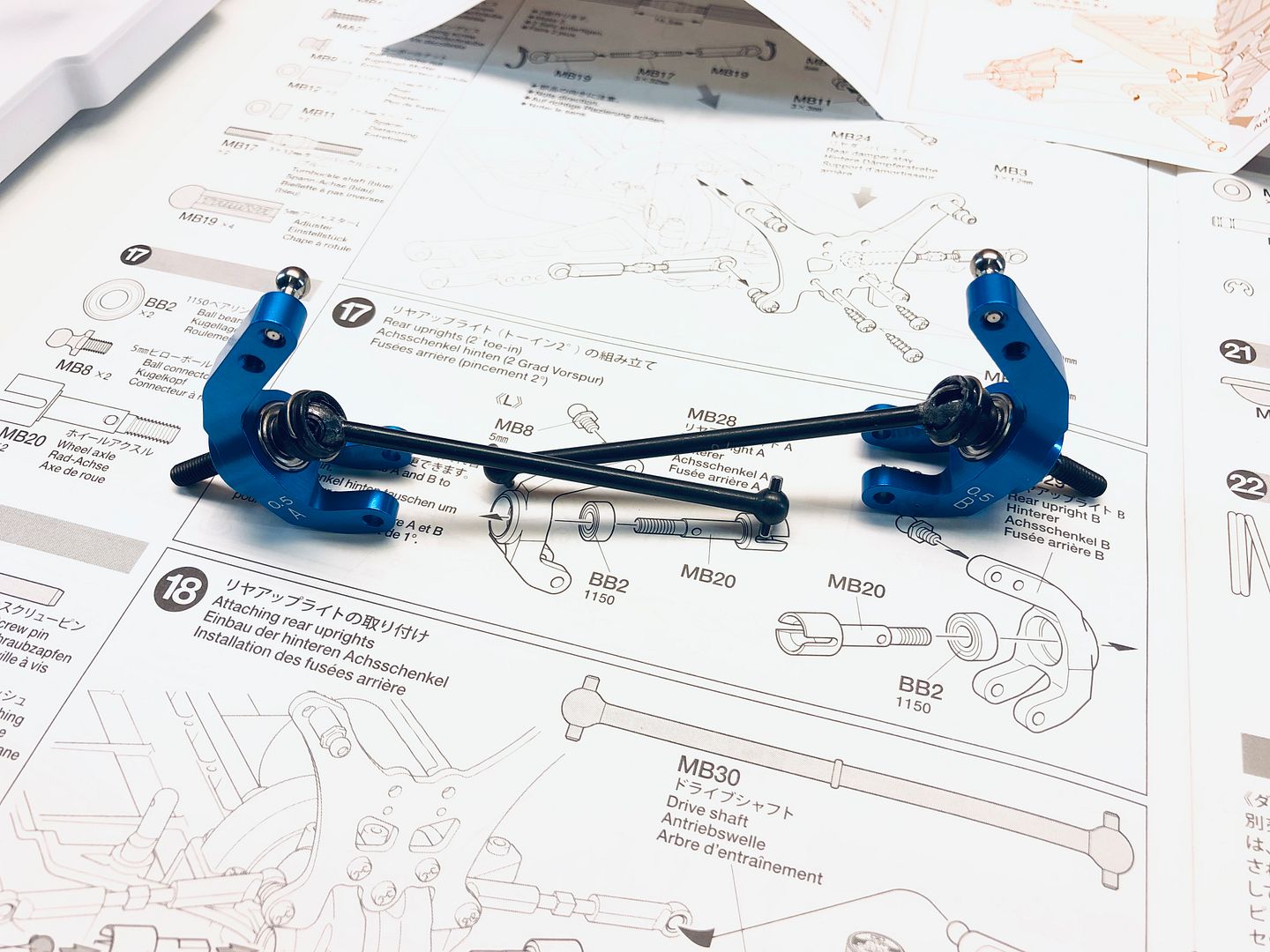 Instead of using the white cva shocks i thought i go for the df-03 hop-up shocks.
I must admit that building dampers are one of the least fun things to do. That said these dampers feels very good and high quality.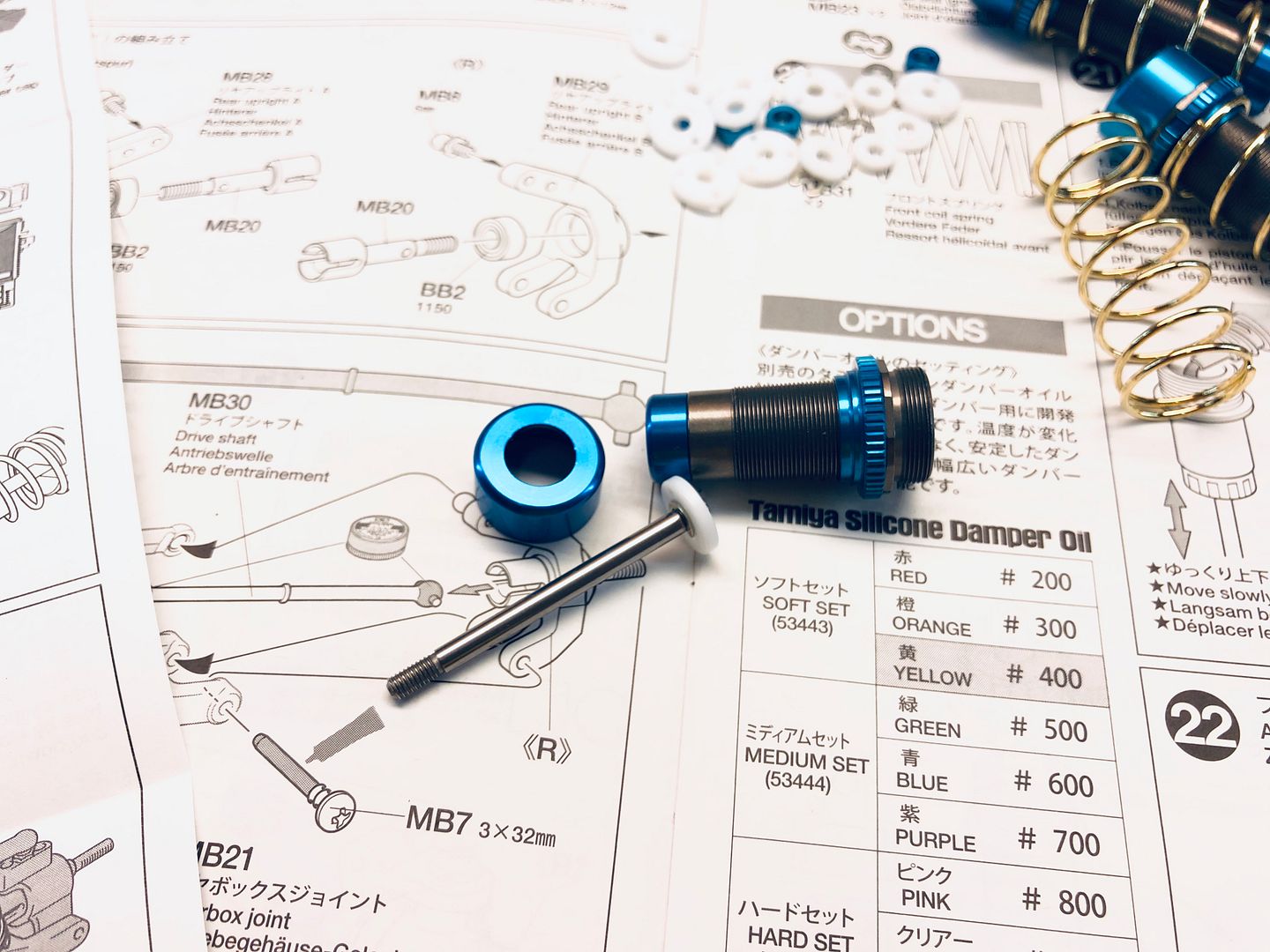 On the box they suggest some option springs for these, i would have thought that there would be some white springs in the option but it wasn't. Anyway i have ordered a set to have in case i want to do some adjustments.
Dampers mounted, really starting to look like a car now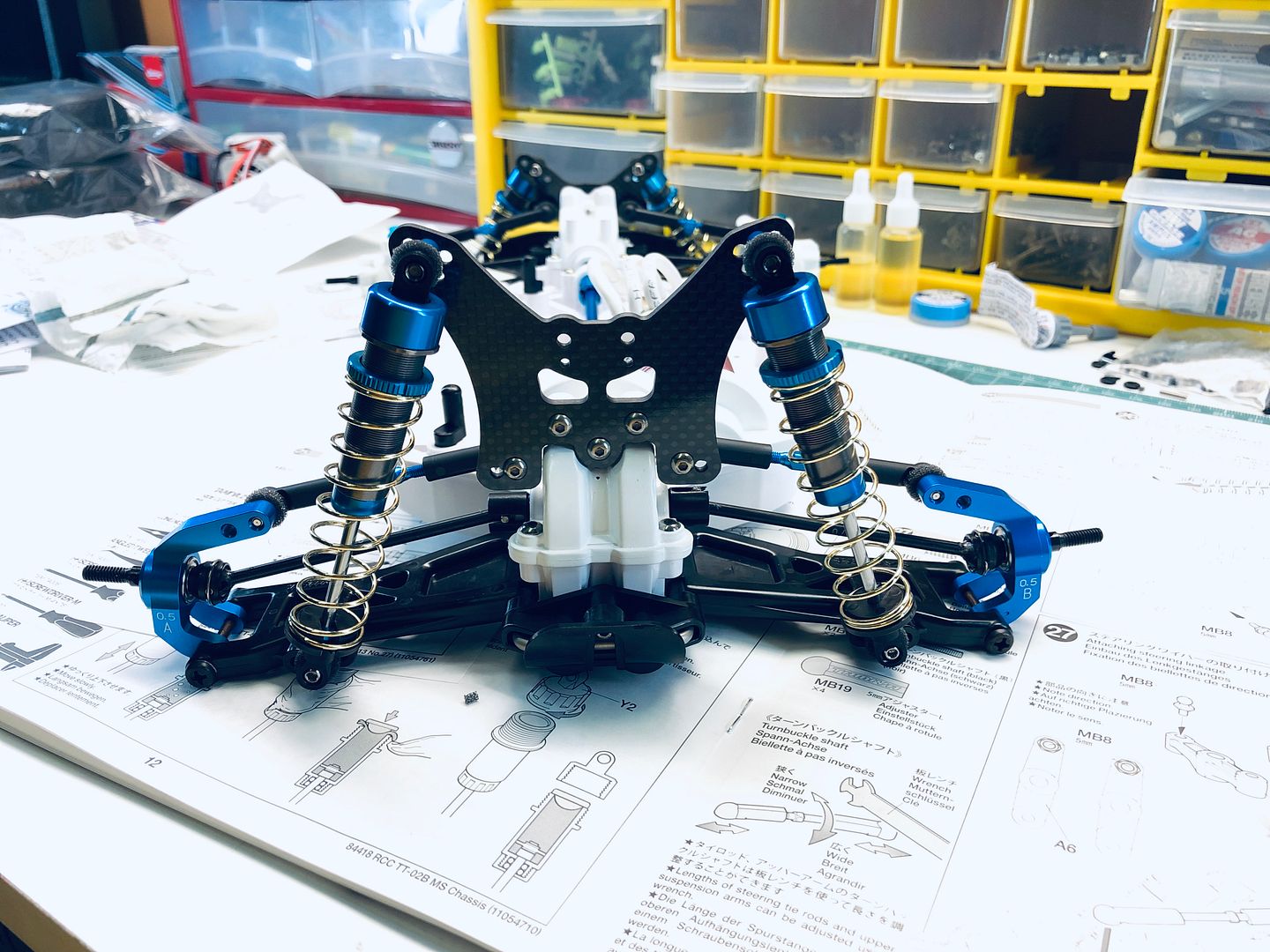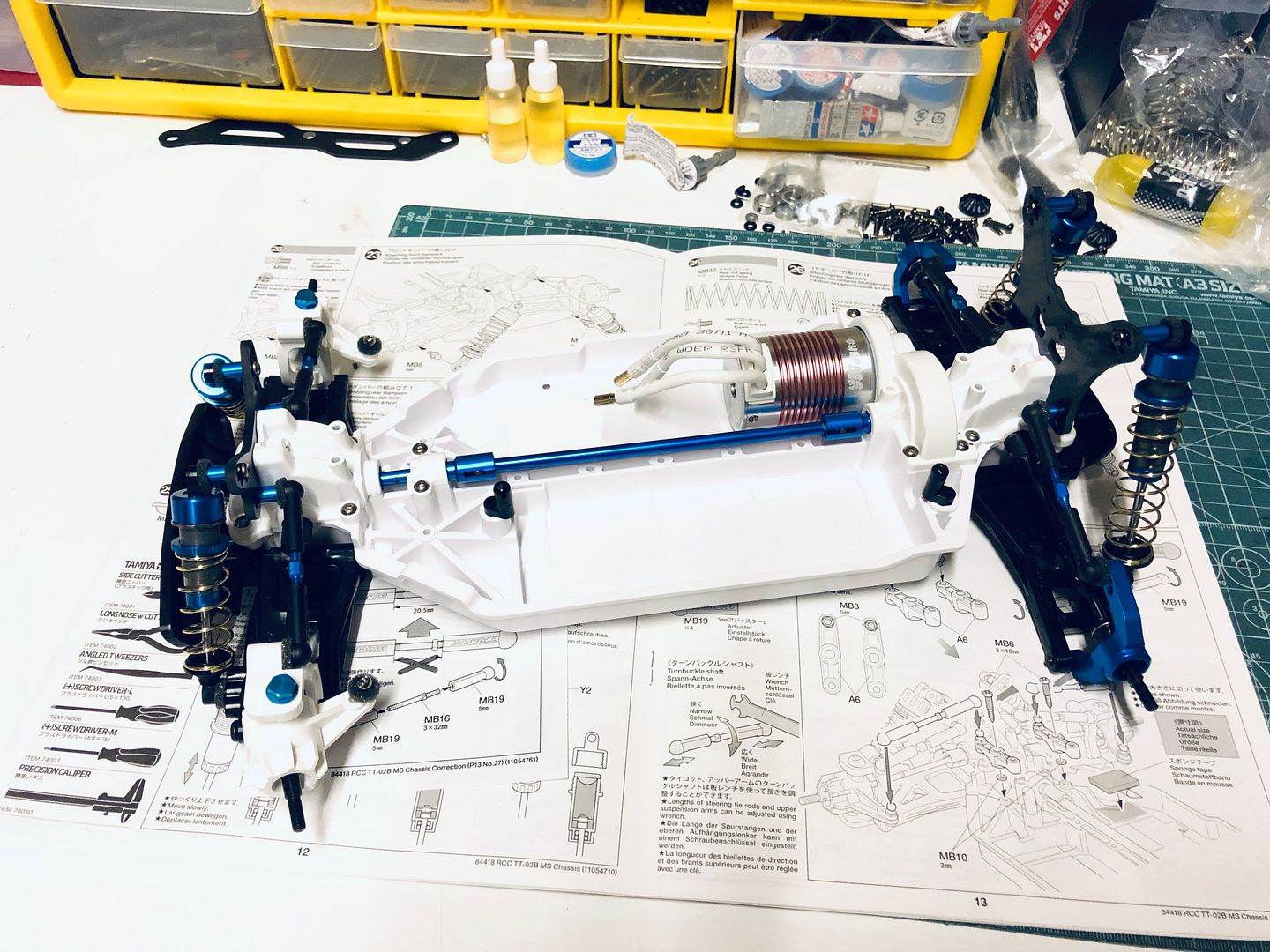 To get the alloy steering i bought this complete kit after reading online that it was recommended most value for money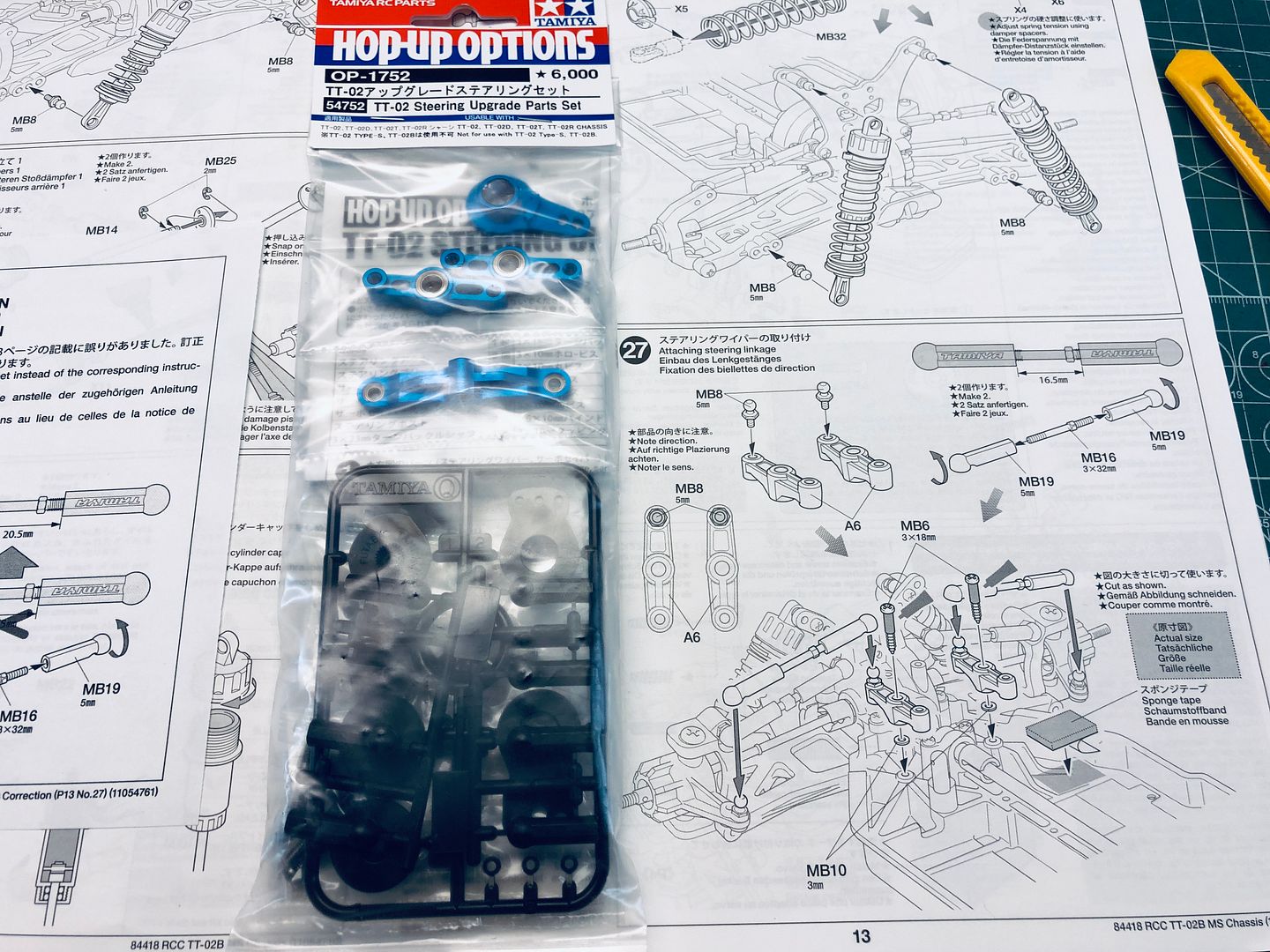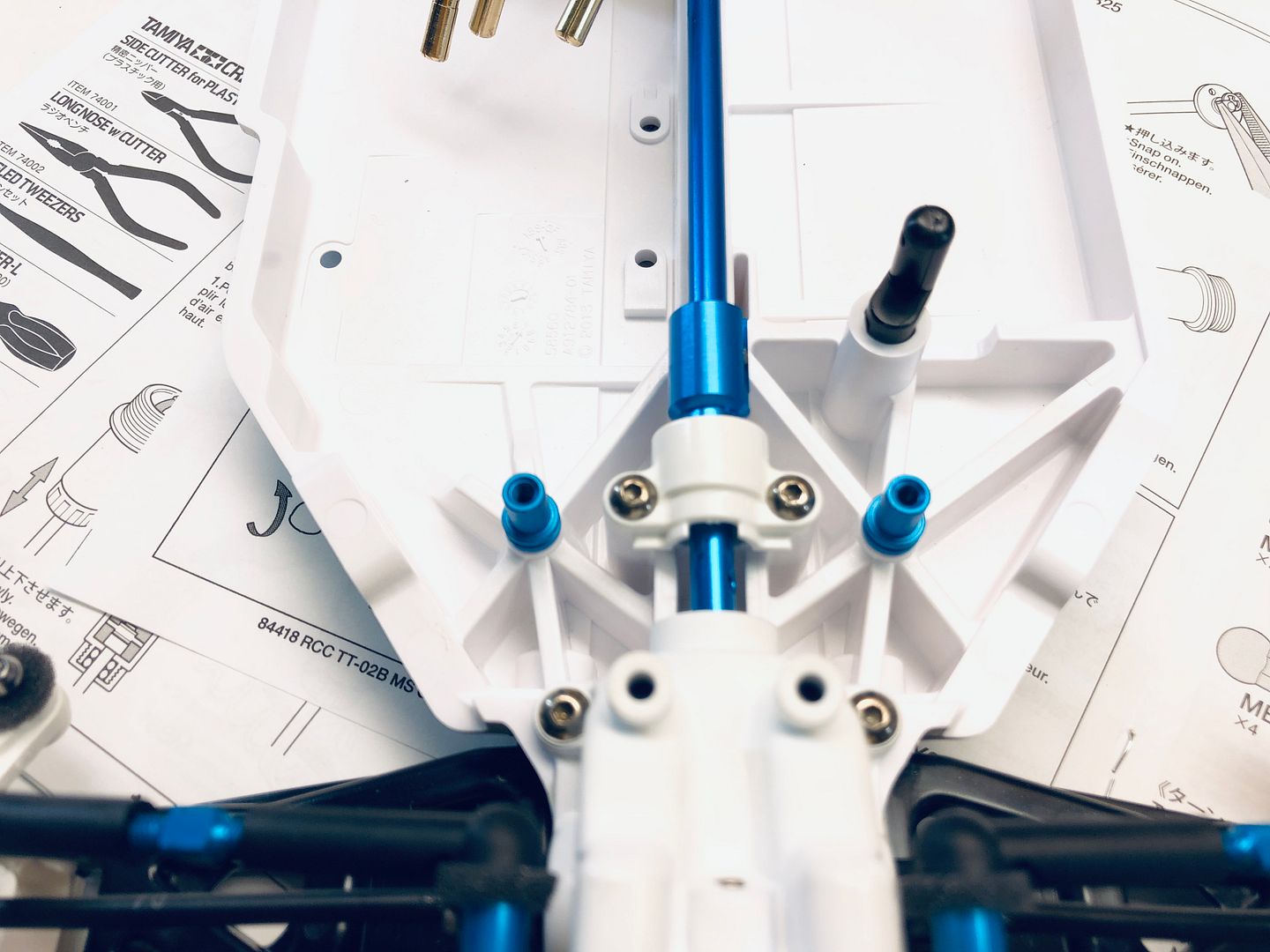 The kit didn't come with any blue rods for the steering arms, but i found some in my parts box. The thing is that these are about 10mm longer than the one's in the kit so i will have to cut the adjusters a bit in order to come within the correct lenght.
It didn't turn out to bad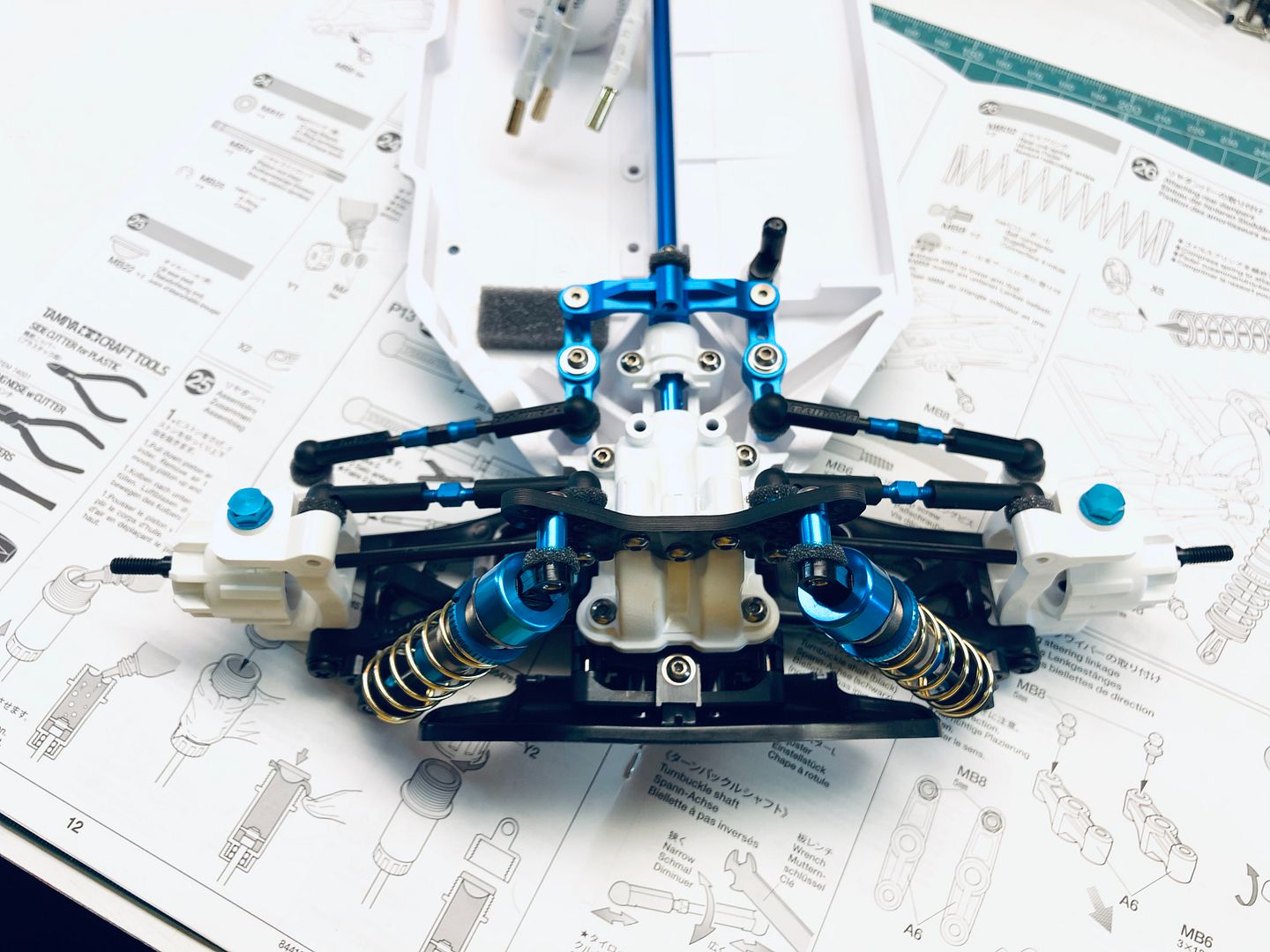 I will be getting a low profile servo, but until i get it i found this one in my electronics box, pretty sure this one will do ok.
Fitted the high torque servo saver that came with the steering kit and now i should mount the servo onto the chassis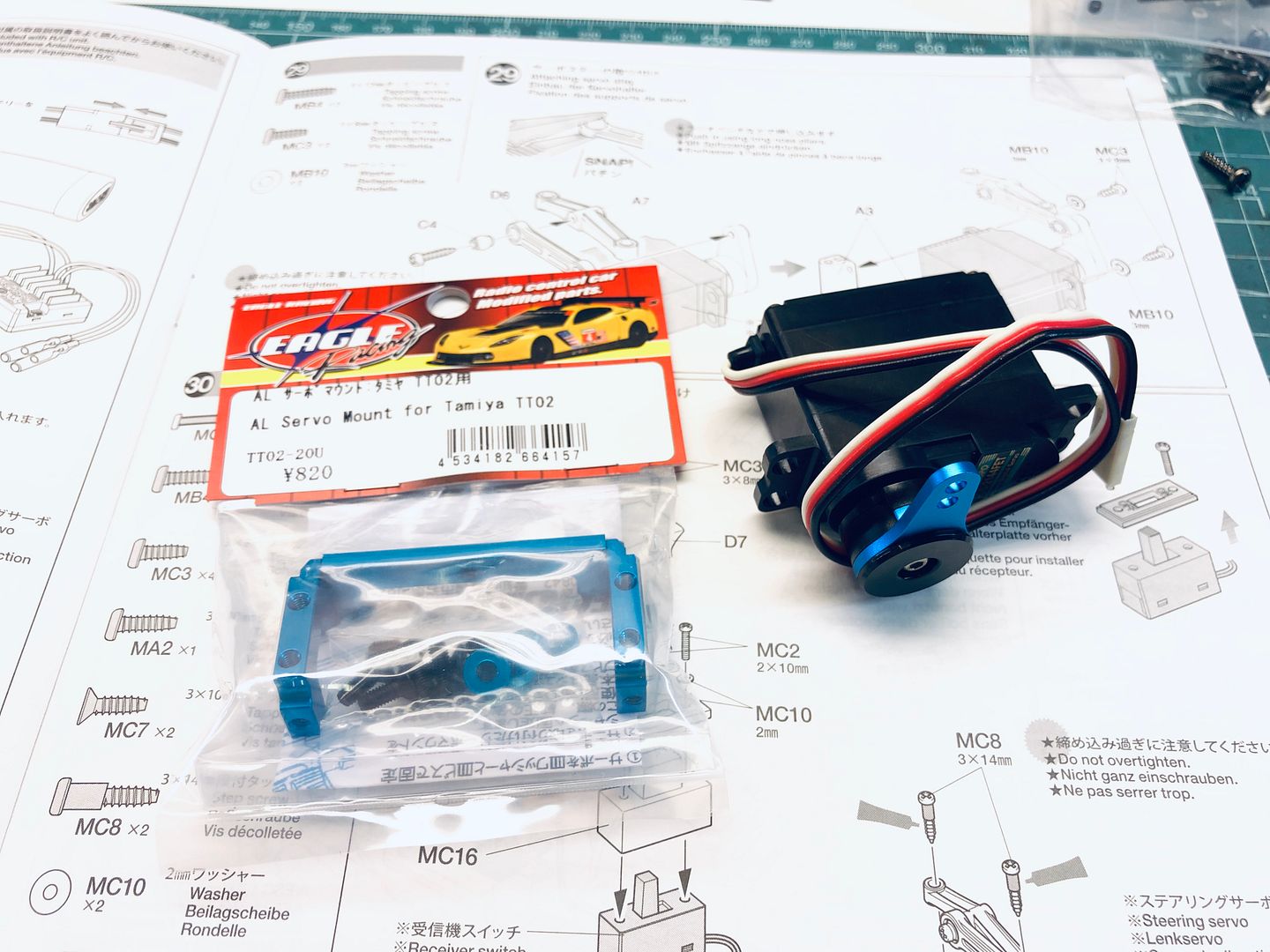 A real thight fit, but that should make it very stable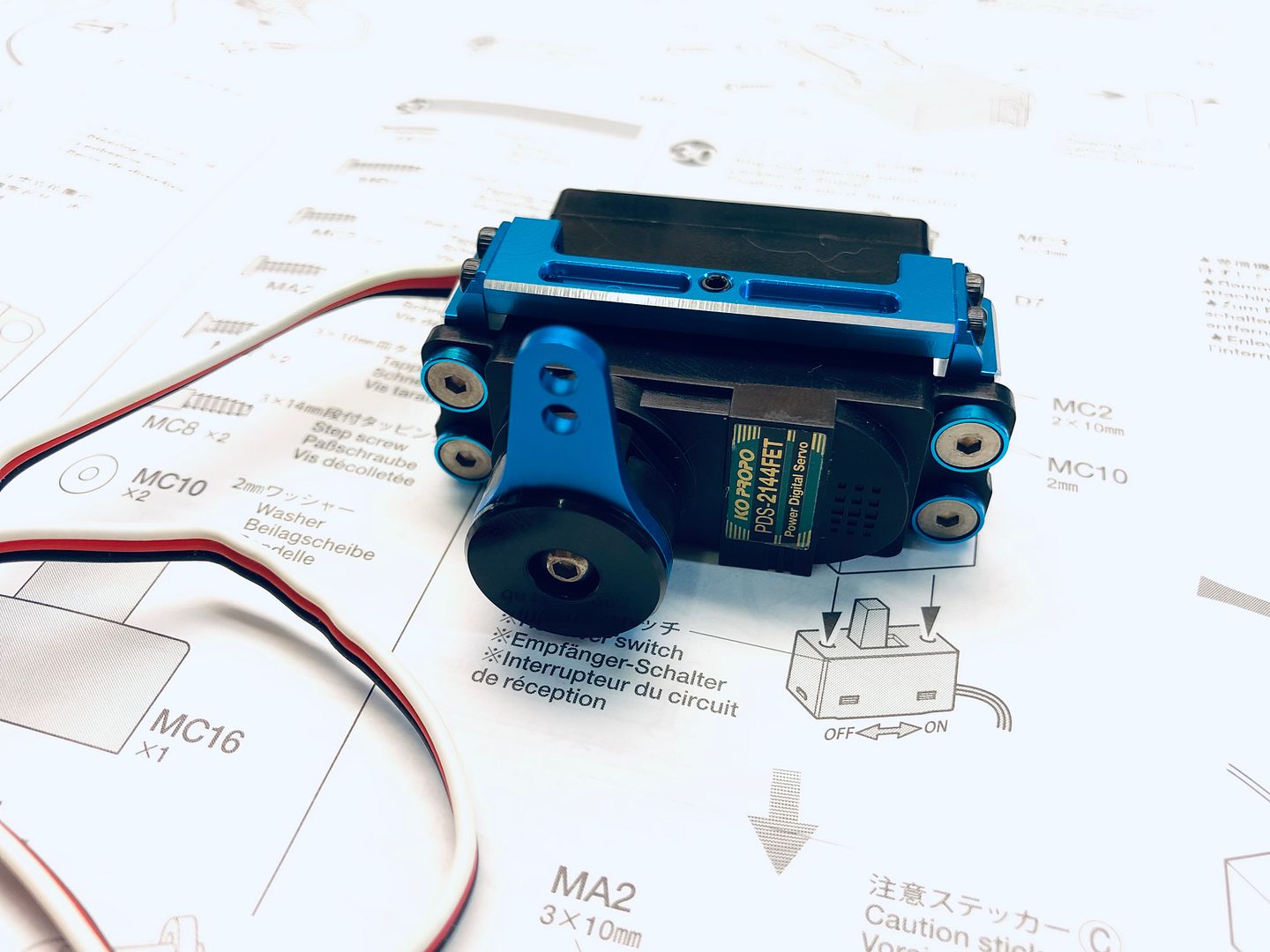 When mounting the protection cover over the motor i had to customize it a little since the motor wireing is where it is on the motor and not on the end. But it didn't turn out to bad.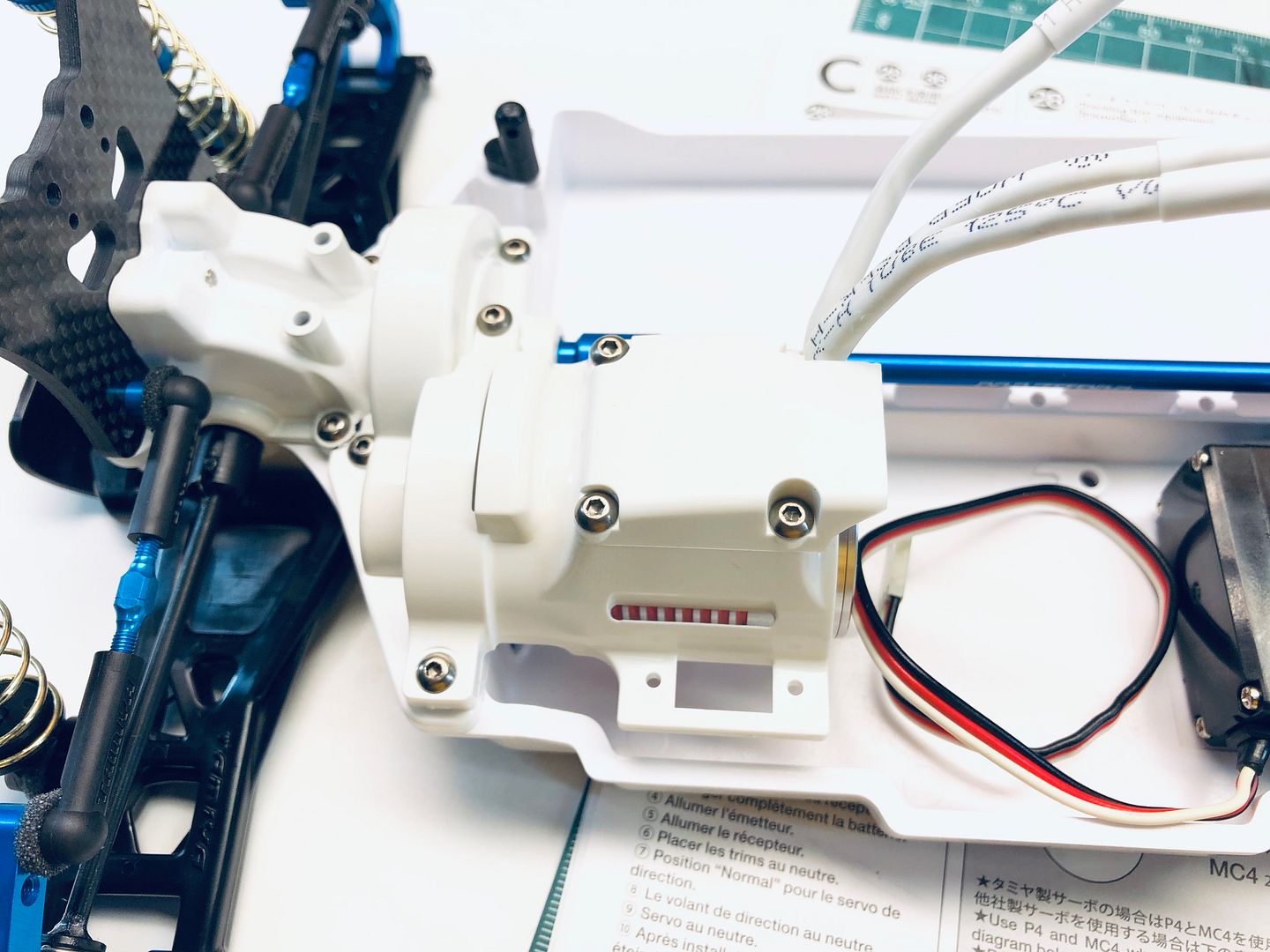 All electronics mounted the esc is a little bit big, but i think it will be ok under the shell anyway.
Next is wheels and tires. I bought the same tires that the dark impact used. For display purpose i should have gotten some tires with spikes as i think that would have been pretty awesome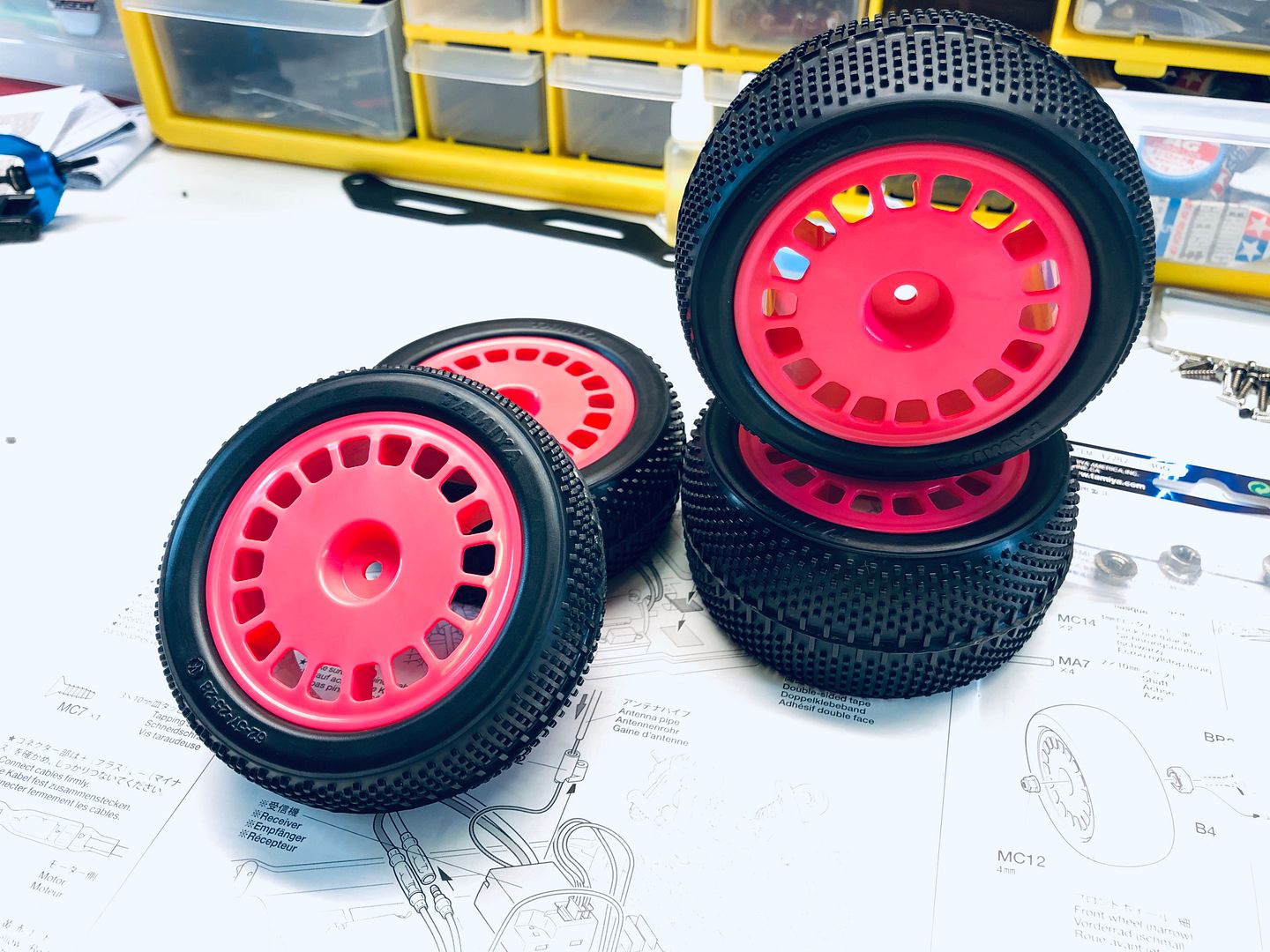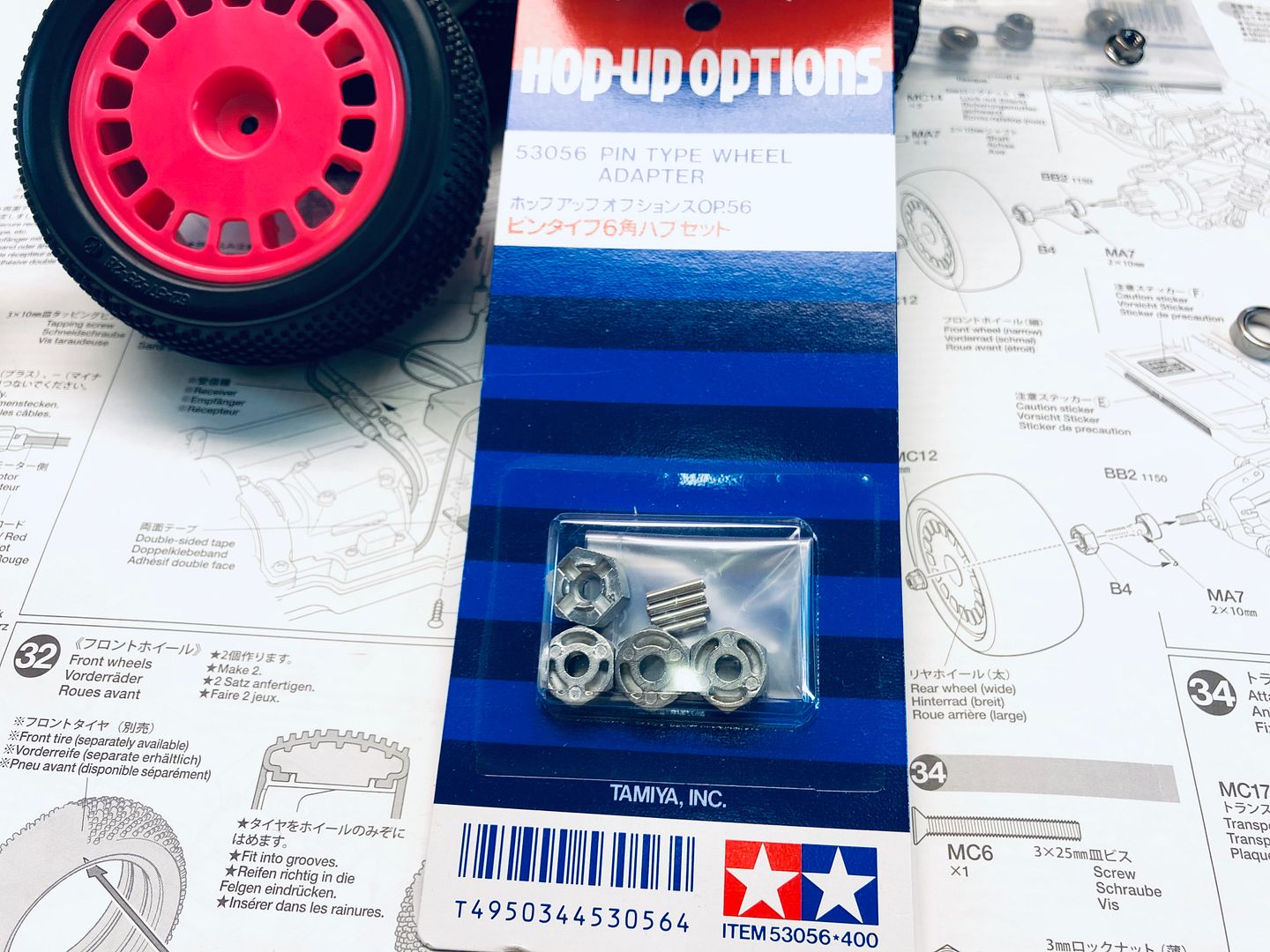 And that's the chassis done (except body posts). I'm really pleased how this turned out, off course some white lower suspension arms would have really set this chassis of. I might go ahead and make some myself if i find time to it. Another thing for consideration is, should i get the blue steering knuckles, since the rear one's are blue, hmmmm.
The car even have a transponder holder, so i guess Tamiya have high hopes for this chassis. But it's great that you don't have to make an extra hole in the body.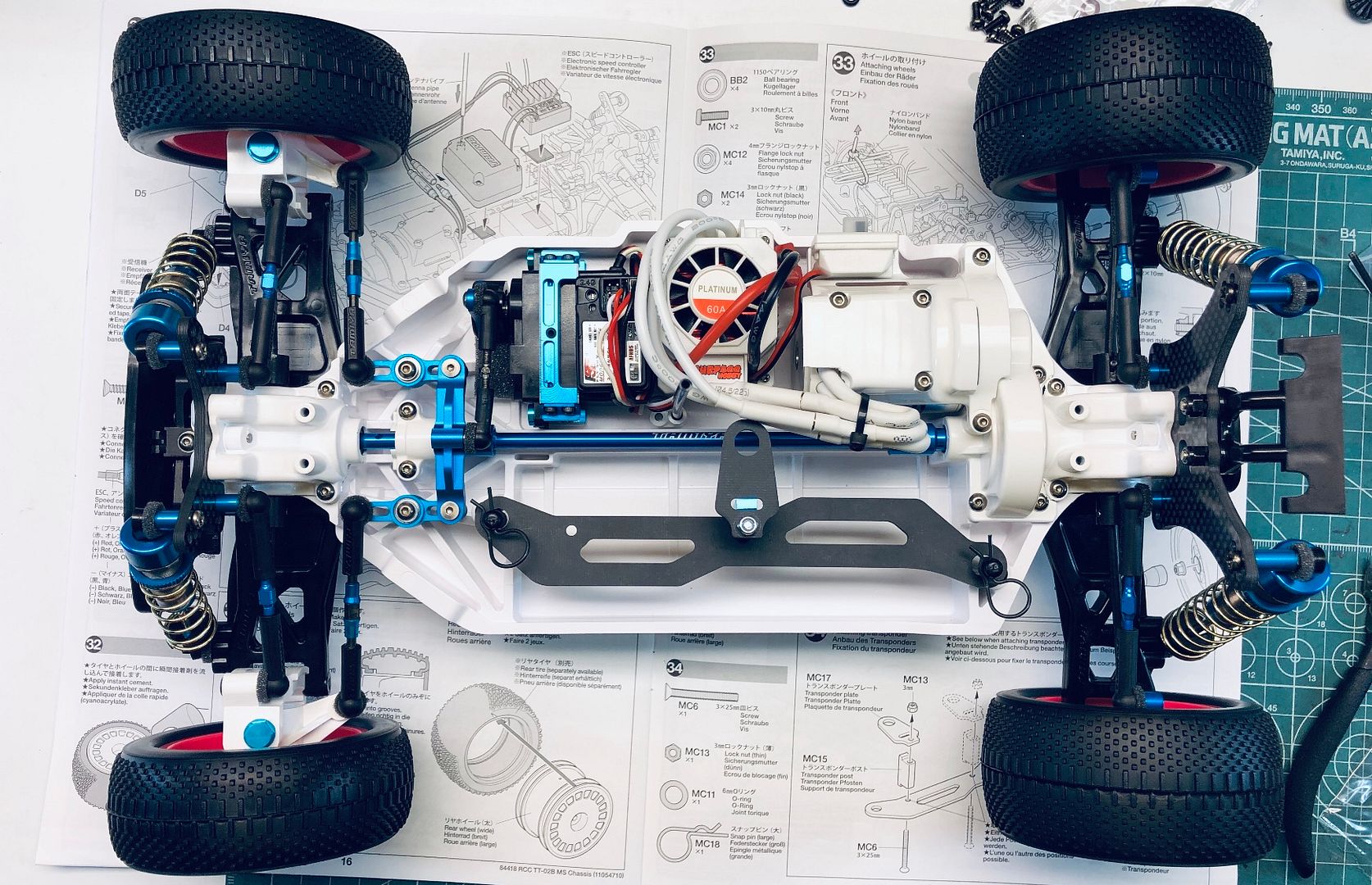 Next to handle is the body to get this build done, and yeah some adjustments to the steering. Hope to get it done soon.