---
Today I tried, yeah i failed, to make the front lower damper mount, like the vintage Egress have.
Since I only got a CF Plate I wont be able to get the bend that the metal part got.
This is my first try, fail 1. The damper came much higher up than the original mount.
Here I have made a new one, fail 2. I had to try it on my vintage Egress to see how it would fit.
Here you can see how high up the damper comes, I will give it one more go and see if i can do better.
I have gotten my new diamond coated saw blades which i read would work better for cutting CF. After trying it to day I'm impressed, now it's much easier to make the CF parts.
---
I continued to make the damper mount today and came up with a solution that works.
First I made a paper mould that I could test
As you can see I will need to make the mount a bit wider were the damper is mounted, so that it will be a bit stronge
Tested on my vintage Egress
It seemed to be ok, so I made another one. For now they are good enough for me, but I will make a set of new ones after i'm finished with the whole build.
After done the mount I couldn't resist making the next parts that I want to have in carbon fiber. So I took the wing side of my vintage Egress for mould.  This time I'm used a 1mm carbon fiber plate.
There were some damage in the carbon fiber that I didn't notice, so I will have to make at least one new wing side.
Mounted on my vintage Egress, I must say that it looks good  
---
Just done a little bit building today
---
After dying the wheels green I thought "is there a neon green dye out there" so after some searching i found a firm that could send some neon green dye to me. I got the package today and I couldn't wait to try it out.
I took some of the gears and the spur-holder, because I have been thinking of dyeing em.
This time I took a chance and used the stove inside the house and not the camping stove in the garage.
A perfect result I must say, just how I wanted it to be
Here is a comparison with the wheels I dyed
Well thats it for now
---
Not done to much, but there is some progress.
I got the titanium nuts that I bought from "Outta Control" I think they will look good on the Egress
 Then I had to check out how the neon green spur-holder will look mounted
Now I think i have dyed all the gears that I was thinking of to dye. To bad it will not show once mounted.
---
 Was home sick today, so got some time to build. I continued building the front and rear gearbox.
Pretty cool, I must say.
 The carbon shaft needed just a little bit customization to fit. This mod is inspired by TC member "animamundi".
---
After an hectic weekend I got some build time today. I worked on the rear suspension. This mod is inspired by Haider / "Tamiya Era's" Egrevante.
First I needed the connection ball bag from the Avante 2011, then I had to have a look in the Avante manual to see how it should be mounted  
Must say that this looks just sooooo good.
---
Spent some more time today building the front suspension. again this is inspired from Haider aka "Tamiya Era".
 I can't stand the new gold uprights, so I decided to paint them gray.
they look so much better now
I guess i was a bit tired at the end, i see now that i have mounted the front body holder the wrong way around 😛
---
This is from TC member 94eg!
I mapped out my Vanquish steering system (same as Egress), and the steering bridges stock position provides quite a bit of ackerman as is.  It's nowhere near as much as a modern buggy, but it's still quite a bit (12 more degrees on the inside wheel).
Cyan = Straight
Magenta = Max Lock

NOTE: Wile you "could" try moving the steering bridge ball joints a little further back, I would warn there is not a lot of room to play here.  According to this CAD model, only 2.5mm rearward before the inside wheels tie-rod pulls the steering arm on the knuckle into perfect alignment.  Once the knuckle and tie-rod line up, you are OUT of steering (you cannot steer past this point).  Additionally, at this point the tie-rod looses any mechanical advantage over the inside wheel which allows the road to wobble it all over the place.  But if you do max it out, look how much more ackerman you have.  It's over double at 31*!!!!
Magenta = Max Lock Stock
Red = Max Lock Modified (inner tie-rod links moved 2.5mm rearward)

Now just find a happy medium that doesn't loose control over the inside wheel.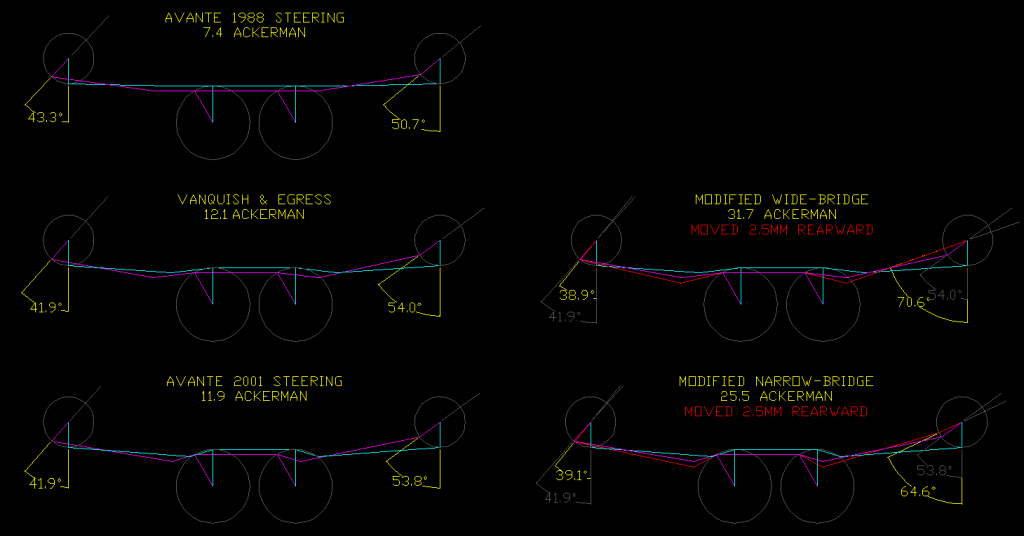 Interesting notes:
 – Avante 1988/2011 has the worst steering system by far.  No wonder it was quickly replaced with a hop-up.
 – Vanquish/Egress & 2001 have almost identical amounts of ackerman.  This leads me to believe the narrow bridge was designed to address bump-steer, not ackerman.
 – 2.5mm Modified Narrow-Bridge may be the way to go if going "custom".  Lots of Ackerman, doesn't run out of steering on the inside wheel, and, and probably still addresses bump-steer.
You move the two holes for the ball studs 2.5mm rearward.  The other two holes for the bell cranks stay in the same place.  I imagine something like this (red) for the modified narrow bridge: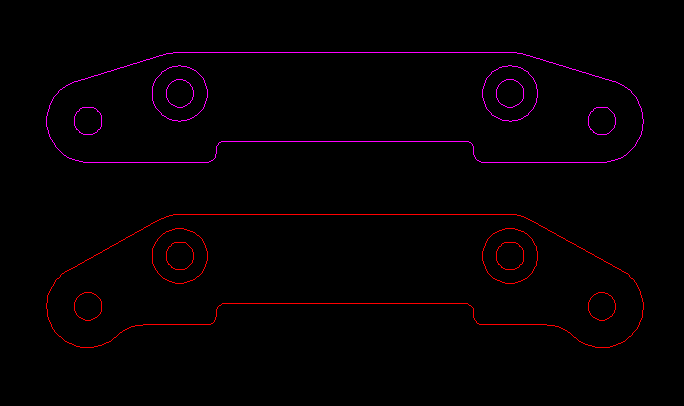 BTW: If you want to use the narrow-bridge option, you will need longer tie-rods.  I'm not sure what length off hand, but I'm sure the 2001 manual will tell you.  Then just search ebay for some turnbuckles.  HPI sells black steel ones for cheap in all different lengths.