So after seeing all the builds going on now related to the DF-01 Chassis I thought just as well that I should finally build me a DF-01 runner. I could have made Terra Conqueror, but the Top Force body are more my style. I do have a box of parts, and 2 1/2 donor cars, that I meant to use as a runner project.
This is one of my donor cars
The first thing I started with was thinking that I wanted carbon fiber front and rear shock towers so I took my Top Force from the shelf and used the shock towers from it as a template.
Then I drew the shock towers onto the carbon fiber
After doing this, I suddenly remembered that I do have a Top Force Evolution and that one has other towers, so..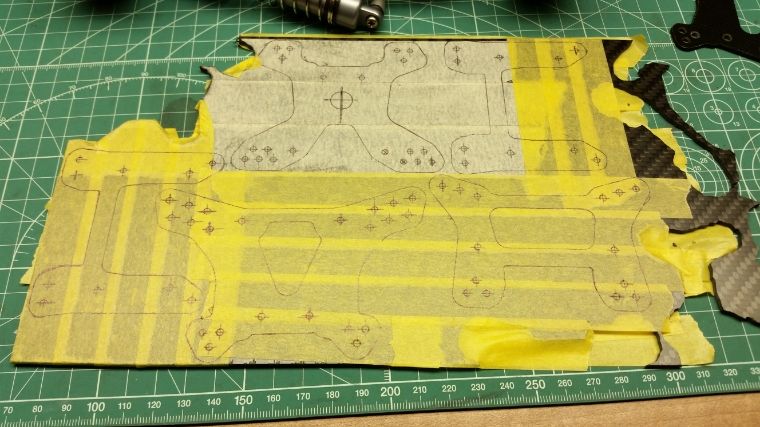 After some cutting with my Dremel saw and some sanding with my Dremel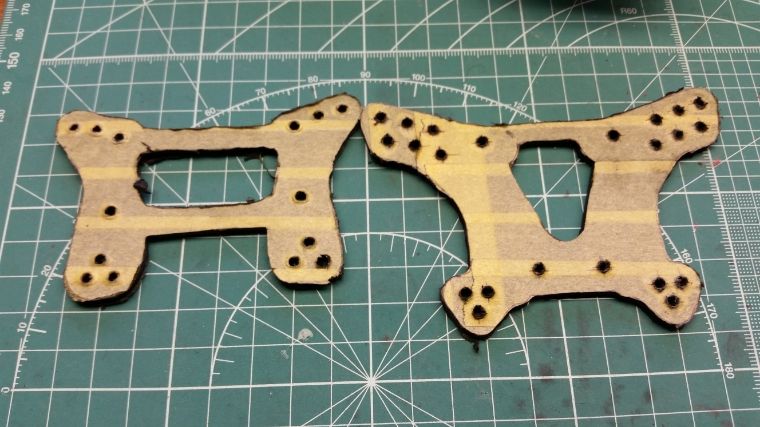 Then some more fine adjustments (I did do even more adjustments after this picture)
I wanted to remove the plastic for holding the speed servo and MSC and replace it with a carbon fiber upper deck.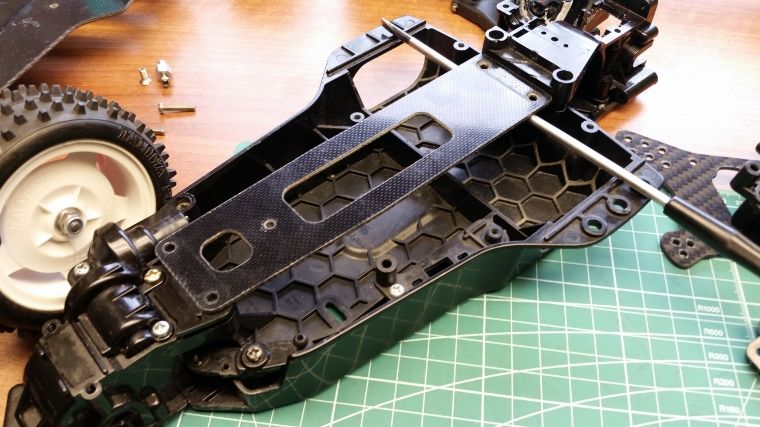 When I built my hop-up Terra Conqueror I did buy 3 tree's of these, just knowing that I would get use for em some day.
This time i used the upper deck from the Top Force because I didn't want to risk scratching or something like that on the Evolution upper deck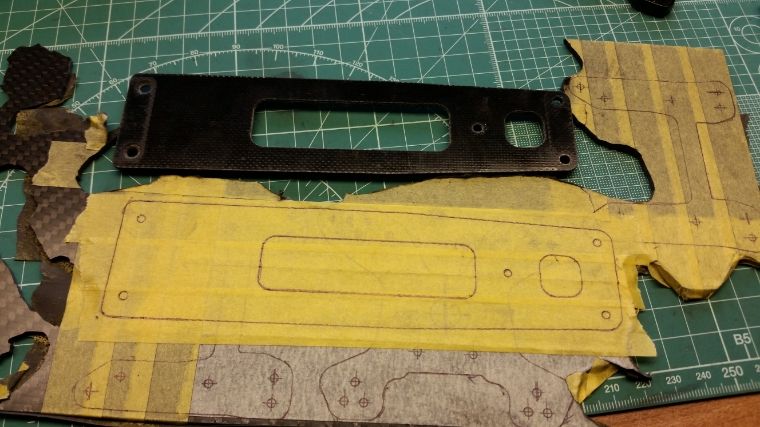 In order to be able to mount it, i decided to cut the standard upper deck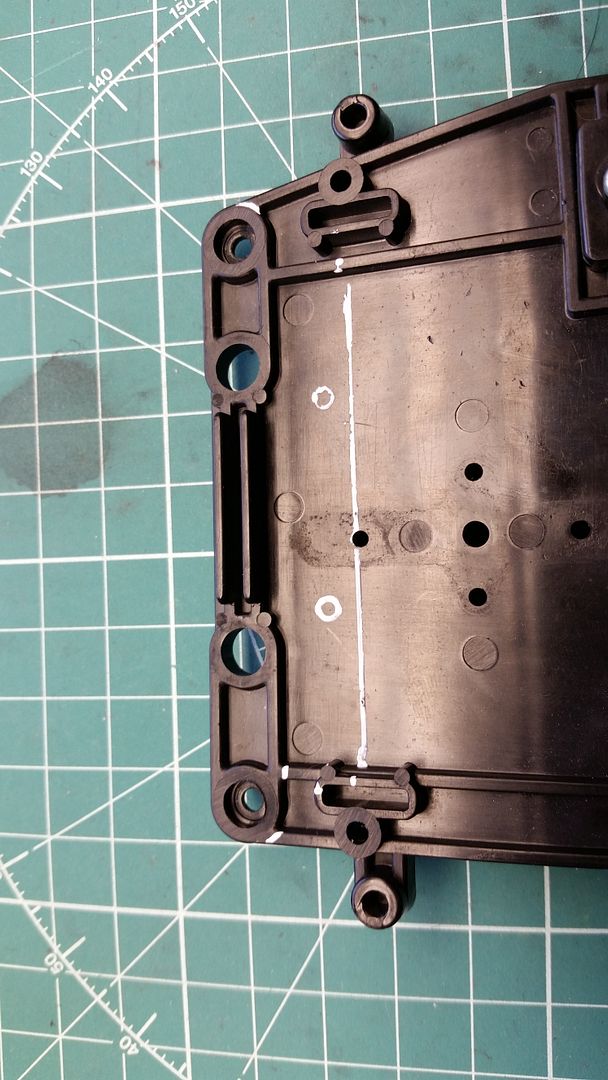 It will look like this when mounted, I also made a carbon fiber part to fit in the standard upper deck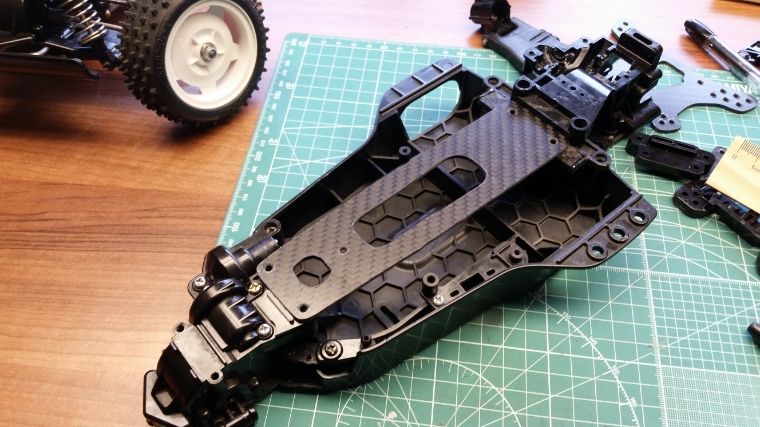 Then I just had to test mount the shock towers
Then I couldn't resist testing the body also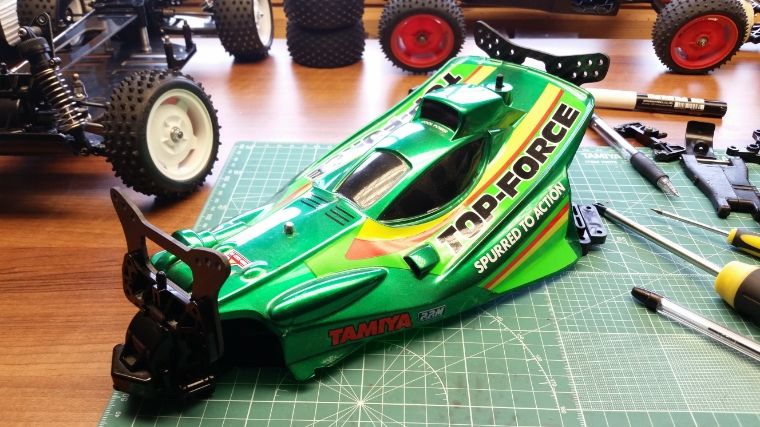 I forgot to mention that, I'm still not sure if I will be using these gear box's or not, will need to see status on them first. I might use the red one's if they are ok.
---
02.10.14
So i got some time today to continue on my Top Force runner, most of the work went into the front suspension.
I bought this Terra Conqueror from fellow TC member Klausen, just becuase of the wheels i will use on my shelf queen Terra Conqueror. There is allot of nice parts on this chassis, so i decided to use this one as a starter point for my project.
I was thinking a bit about cutting in the chassis to fit the original part to mount the upper deck onto, but after closer inspection it shows that it will be a bit wobbling, since the diameter on the poles are a bit less then in the mount
The red gear box on the Terra was no good, so that one I can't use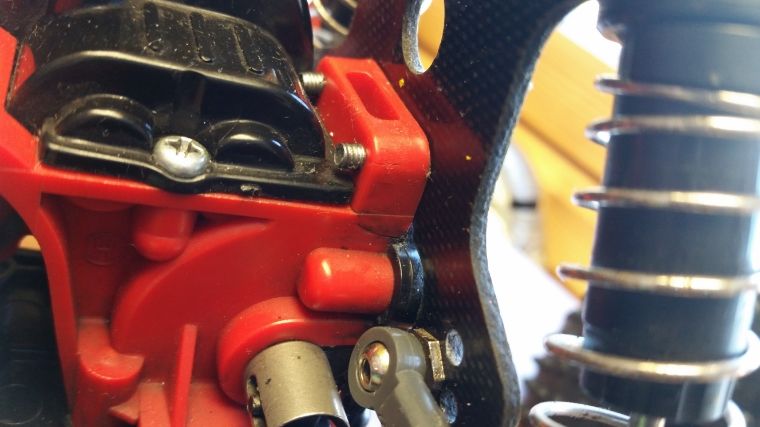 I then had a look on the other donor car and it didn't look to good that one either since previous owner had done some cutting. That said it do still feel strong, so I will mount a engine cooler to cover up some of the cutting.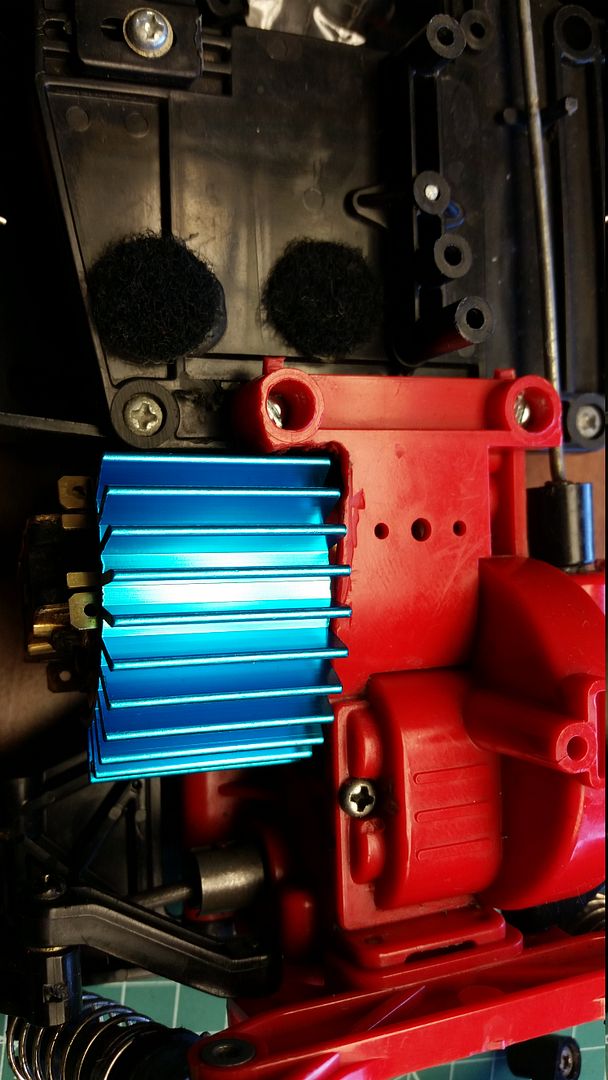 Started mounting the shock tower
Realized that the carbon fiber i have used for making the shock tower is a bit thicker than original, so i did have to do a little cutting into the gear box.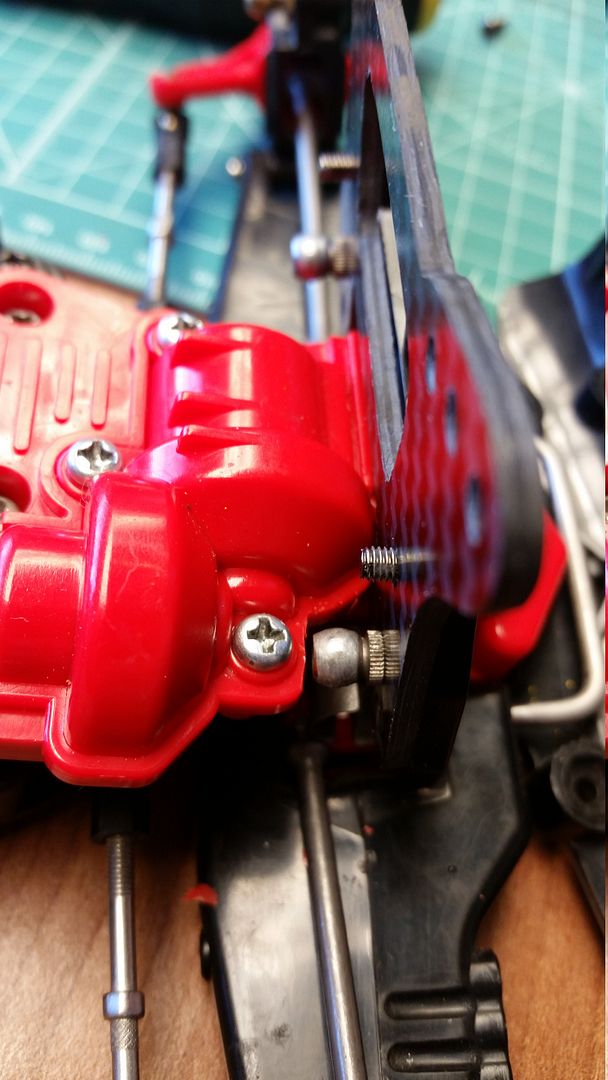 Found a bag with red adjusters i have saved until the correct time to use em, and now is that time 🙂
Took the uprights from one of the donor cars, and fitted em with ball bearing
This is how the front look like now
Did fit the servo also with high speed servo saver, but this made me have to mount the servo a little bit longer back, but i think that will not be any trouble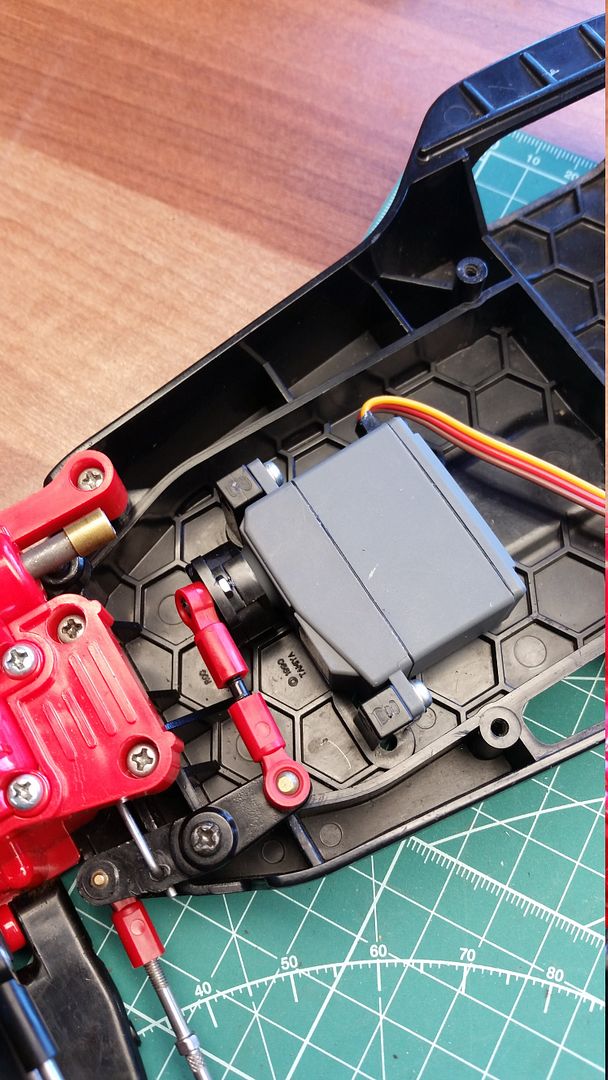 That's it for today!
---
03.10.14
 Today I managed to get a rolling chassis, did some work with the rear suspension and the gearbox.
The gears form the Terra Conqueror was allot of sand in, so i decided to use the gears from the TA-02 car.
What is this white grease that have been used inside this gearbox?
All Cleaned up and re-greased
Used the tips from Kontemax how to reinforce the top cover of the gearbox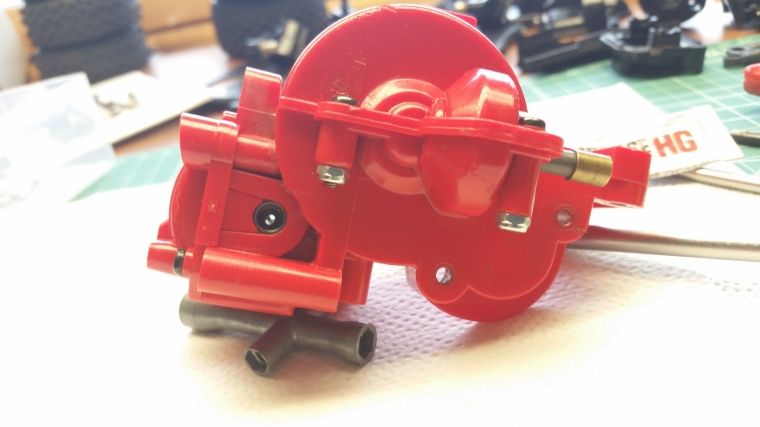 A pleasant surprise from the TA-02 donor, a alu motor mount
Realizing that I had done a little mistake when I made the rear shock tower I had to make a solution to mount the reinforcement the tower
I then made the mount for the adjuster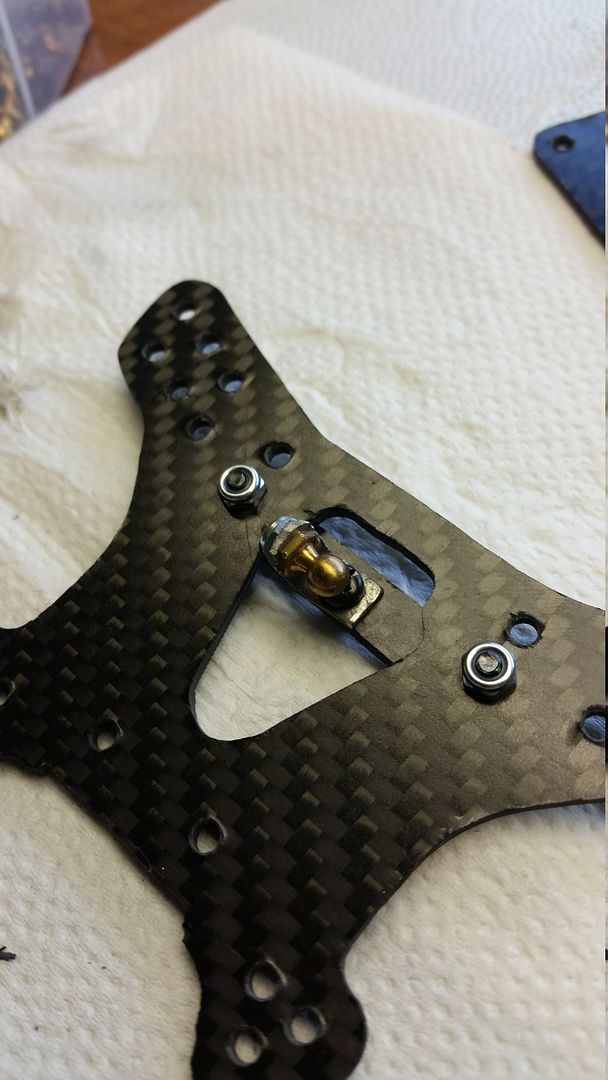 When I was mounting the rear shock tower i noticed a crack in one of the mounts
I'm going to use the gearbox until it breaks and change it then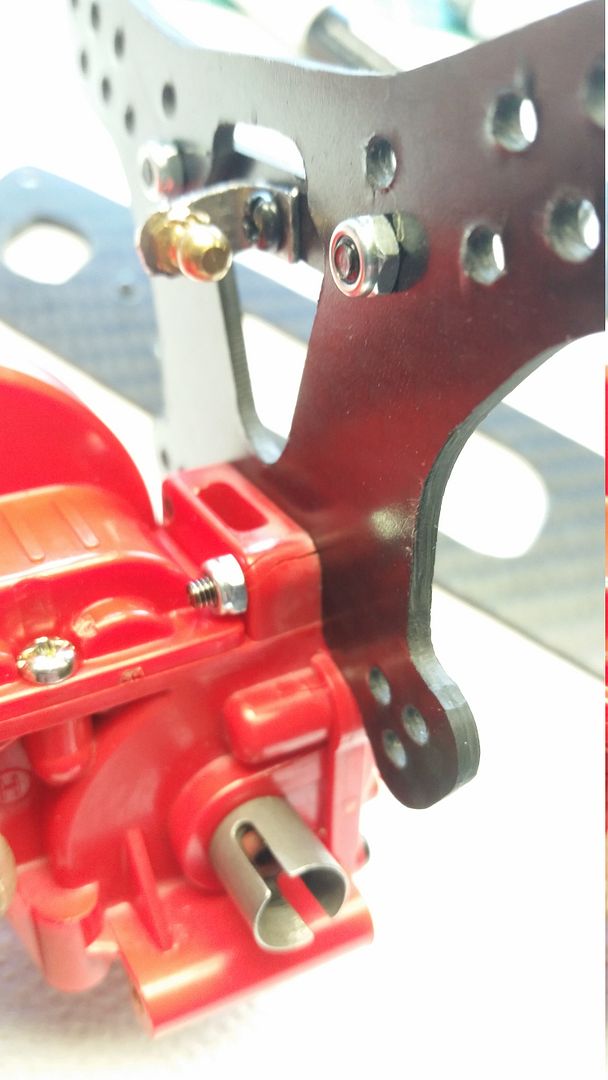 With the reinforcement mounted
 overview picture
Since i don't want to mount the on off switch in the original place I made a CF plate to close the hole
Finished mounting the rear suspension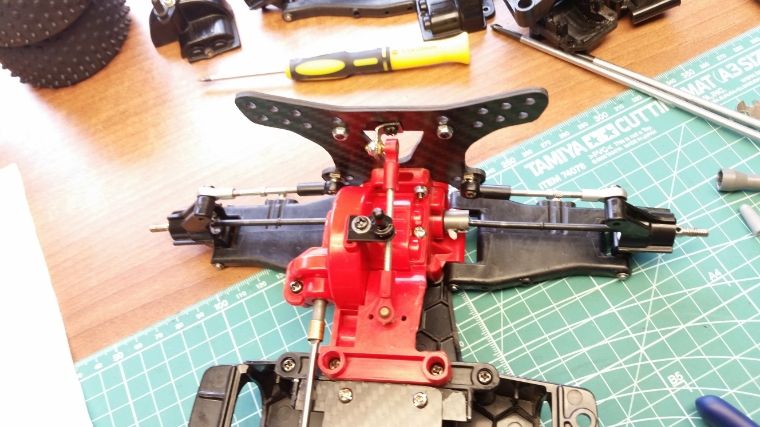 I borrowed the dampers of one of mine TRF 501X, and then I have myself a rolling chassis
One last picture, with the body on
 the plan now is to make stablizator both front and rear, if I got the parts I need for doing so. If I can think of anything else cool, i might try to incorporate that into the car.
---
04.10.14
I was not happy with the dark green wheels, so i decided to do some cooking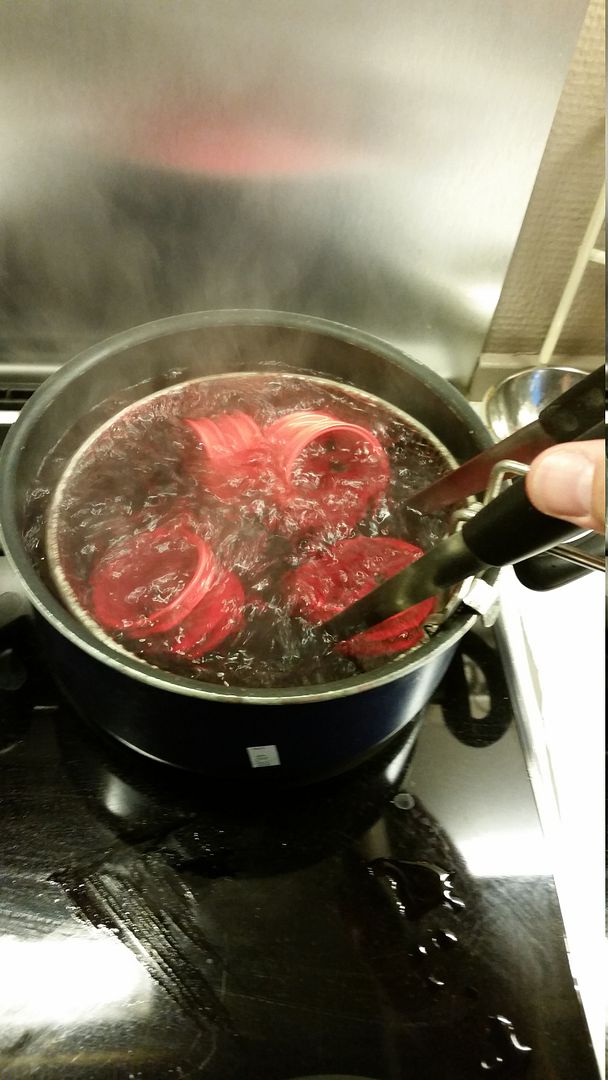 I think the result turned out great
The problem now is that I can't use the box art body, I don't think the green and red looks good toghether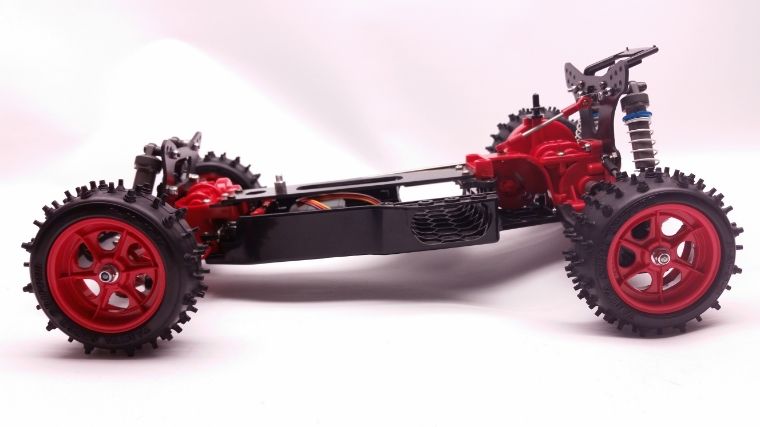 I do have some motor alternatives, not sure what to pick, since it will be a runner, any thoughts?
---
07.10.2014
Been working on the body for some days now
I decided to use the paint schema that Kammatec made for his Black and Pink Top Force
must have a driver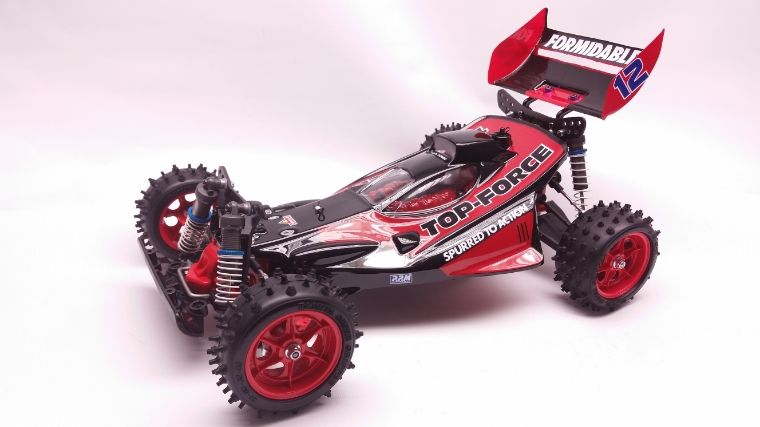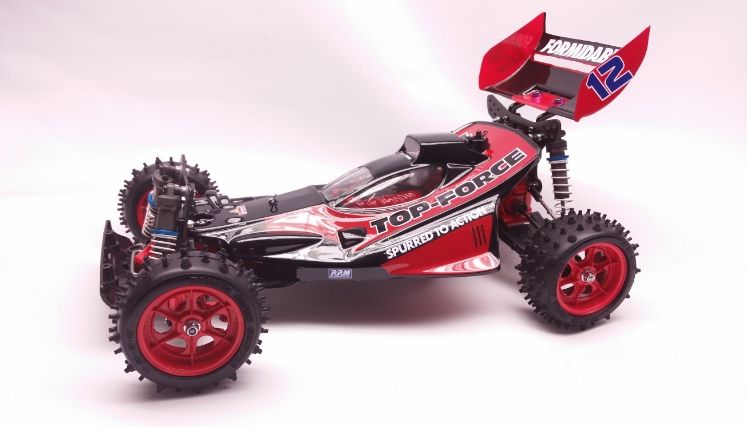 Must say that I'm quite pleased with the result
---
11.10.14
So today I worked on making a front stabilizator, I think I lost kontemax's challenge for now, but this easy solution seems to work ok. I managed to make it ok during my third attempt
The first try, I must say was the one looking coolest, but i should have thought about getting it to work and not the cool factor
The second try I forgot about the dampers, and it was getting in the way of them working ok
So after a bit more bending of the stabilizator i got it to work
Family picture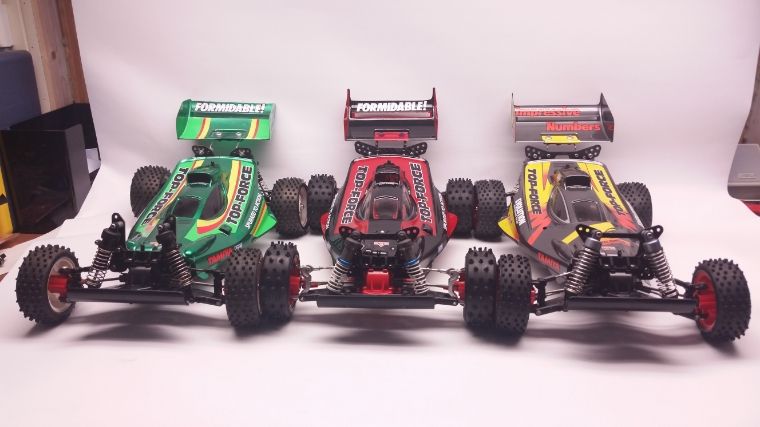 ---
12.10.14
Ok, so I'm not going to lay this thread down to rest yet, I will give it another try in getting me a Top Force runner.
I was planning to sell my Blazing Star, but after some consideration I'm going to make it a decent runner. This will be a low budget car, so I will try to use mostly parts I have already, except a new TBG Top Force body, and some new carbon fiber I have ordered.  So here is the car I got to work with.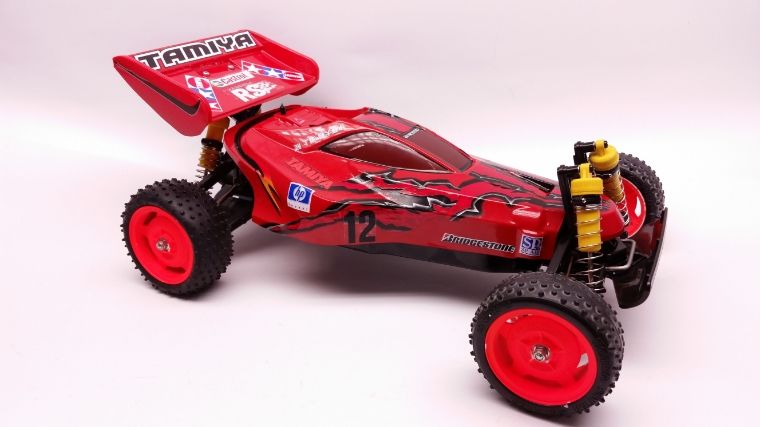 Fingers crossed that this one will make it to the dirt
---
13.10.14
Done some work today on the Blazing Star on the road to convert it to a Top Force. Have changed to ball bearings, and done some of the reinforcing tricks as I did with the previous car.
I have ordered black uprights, since the red one's just don't look correct.
New gears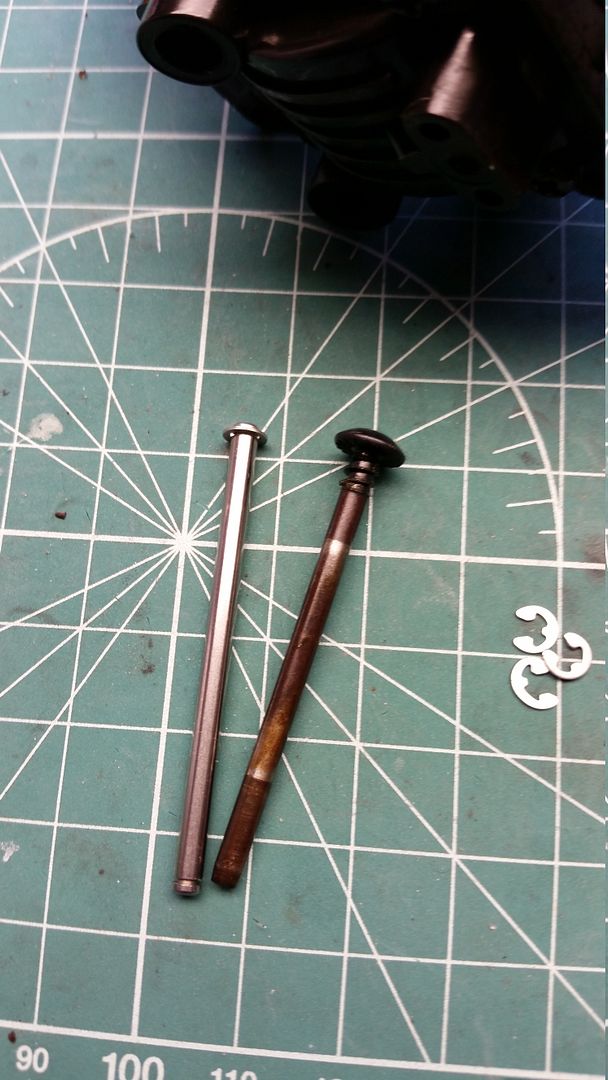 Used the old Top Force damper tower
This is as far as I got today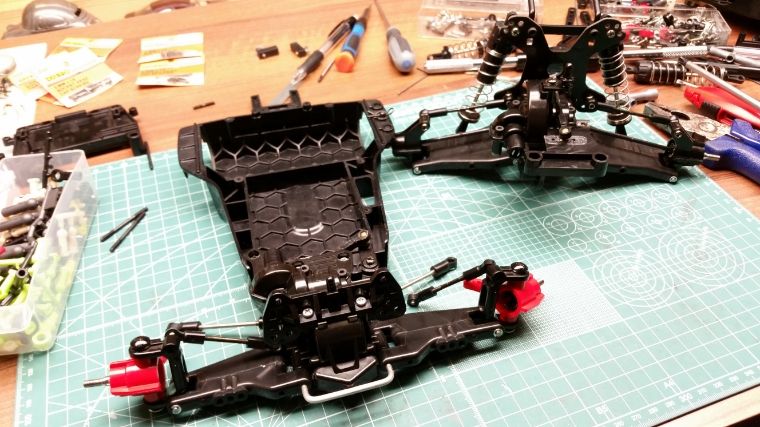 Starting to run out of regular screws, so I had to look through my parts box and found some old screws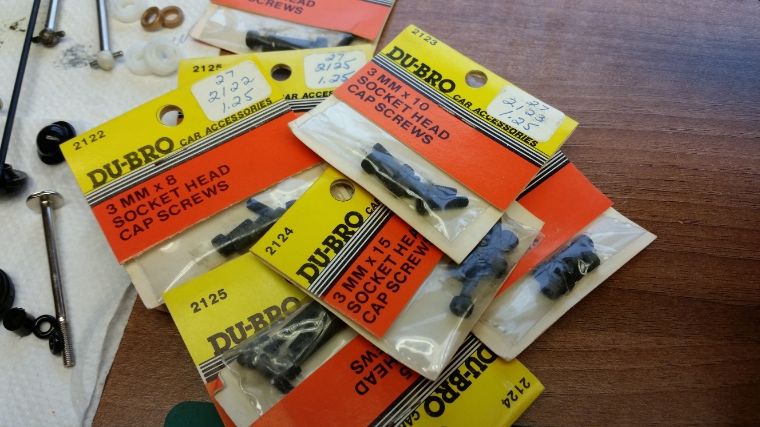 ---
15.10.14
A little more progress on this project. I'm waiting for more carbon fiber, hope it will arrive soon.
---
Work has been quite slow on my second attempt to make a runner Top Force, partly because I'm waiting for parts and because there is a real life out there also 😛
Here is what I'm been up to
I bought some alu parts to make my own front damper tower bracket/mount
I started prototyping, but this one Is no good so I will have to make a new one that is even wider
I got the new Egress drive shaft, to fit instead of the standard one
New black uprights mounted
I got the TBG body so I masked it up and painted it.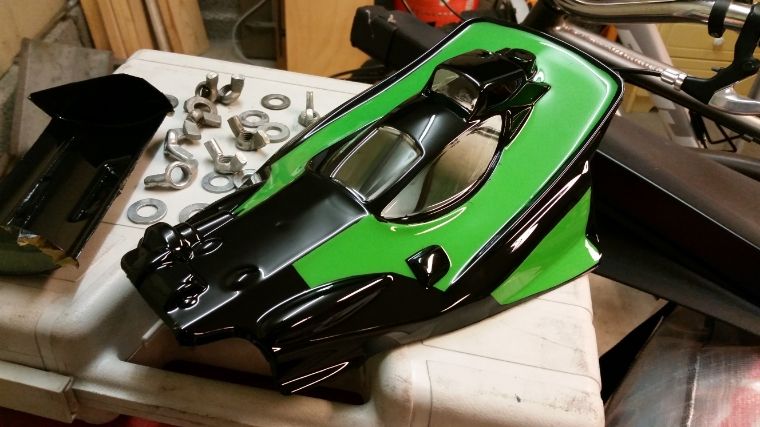 Had to test it on the chassis, I must say at this point i was not particular happy with the green color choice
But after the decals were applied it's a different story for me, I do like it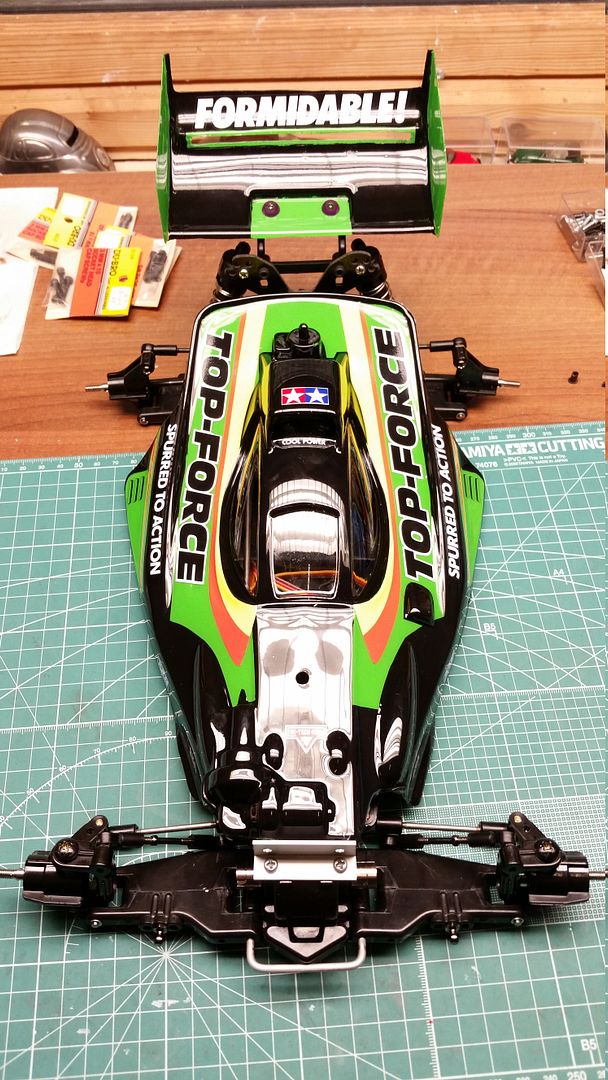 That's how far I have gotten now, I hope I get my Carbon Fiber sheet soon, so I can make the last parts I need to get this car running.