So again i bought another Beetle. This time i thought i try to make it look like mine 1:1 beetle.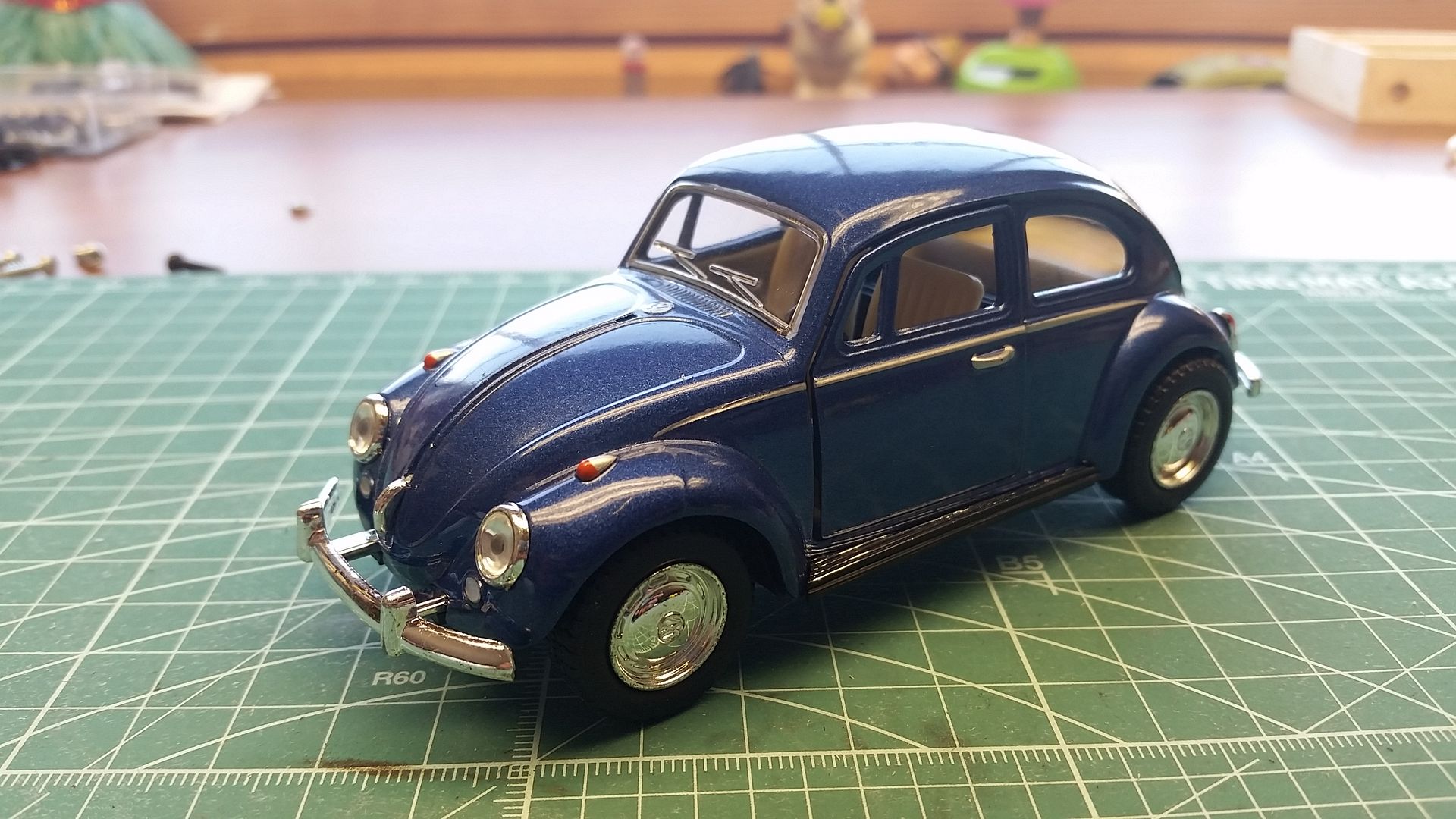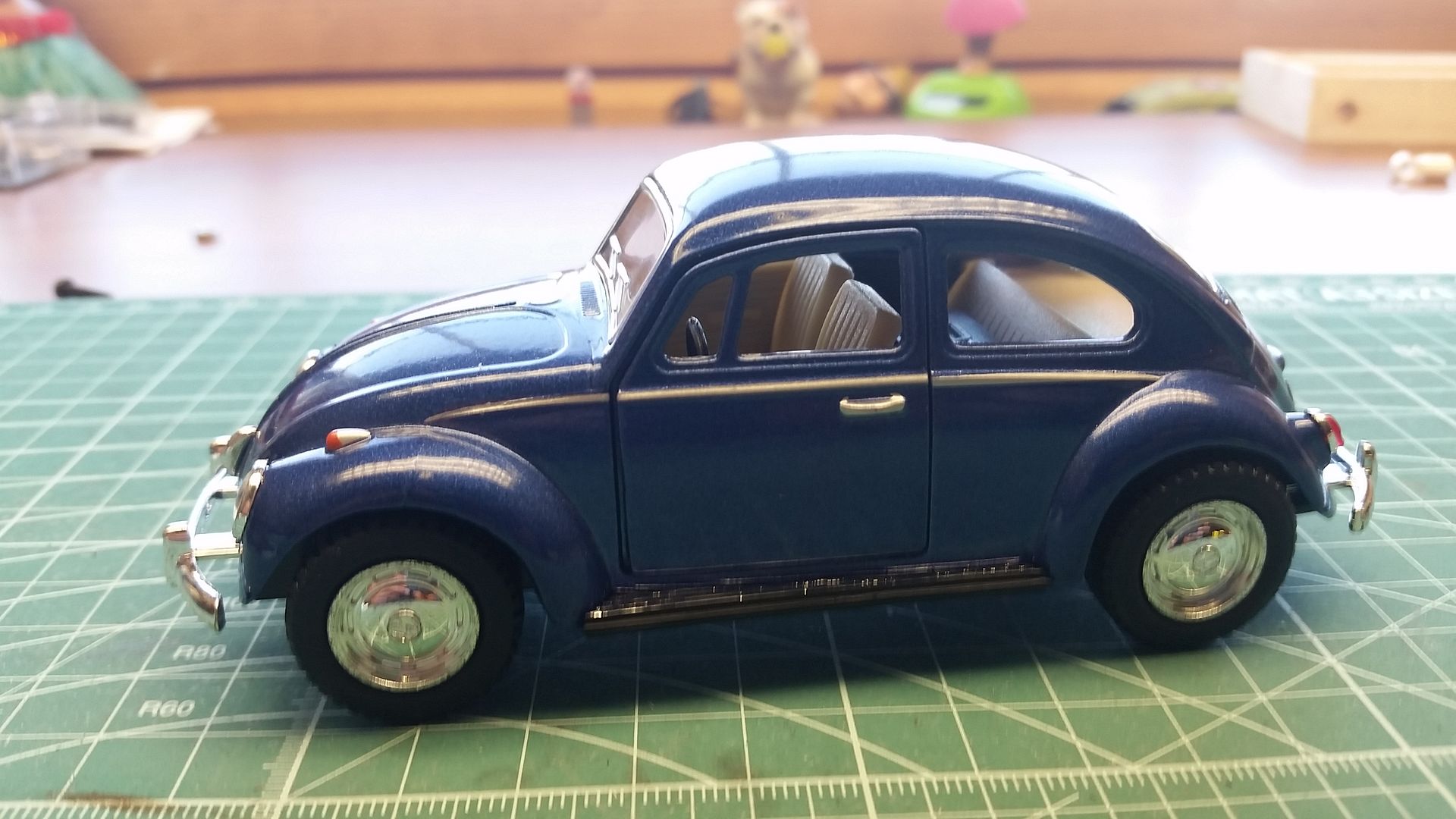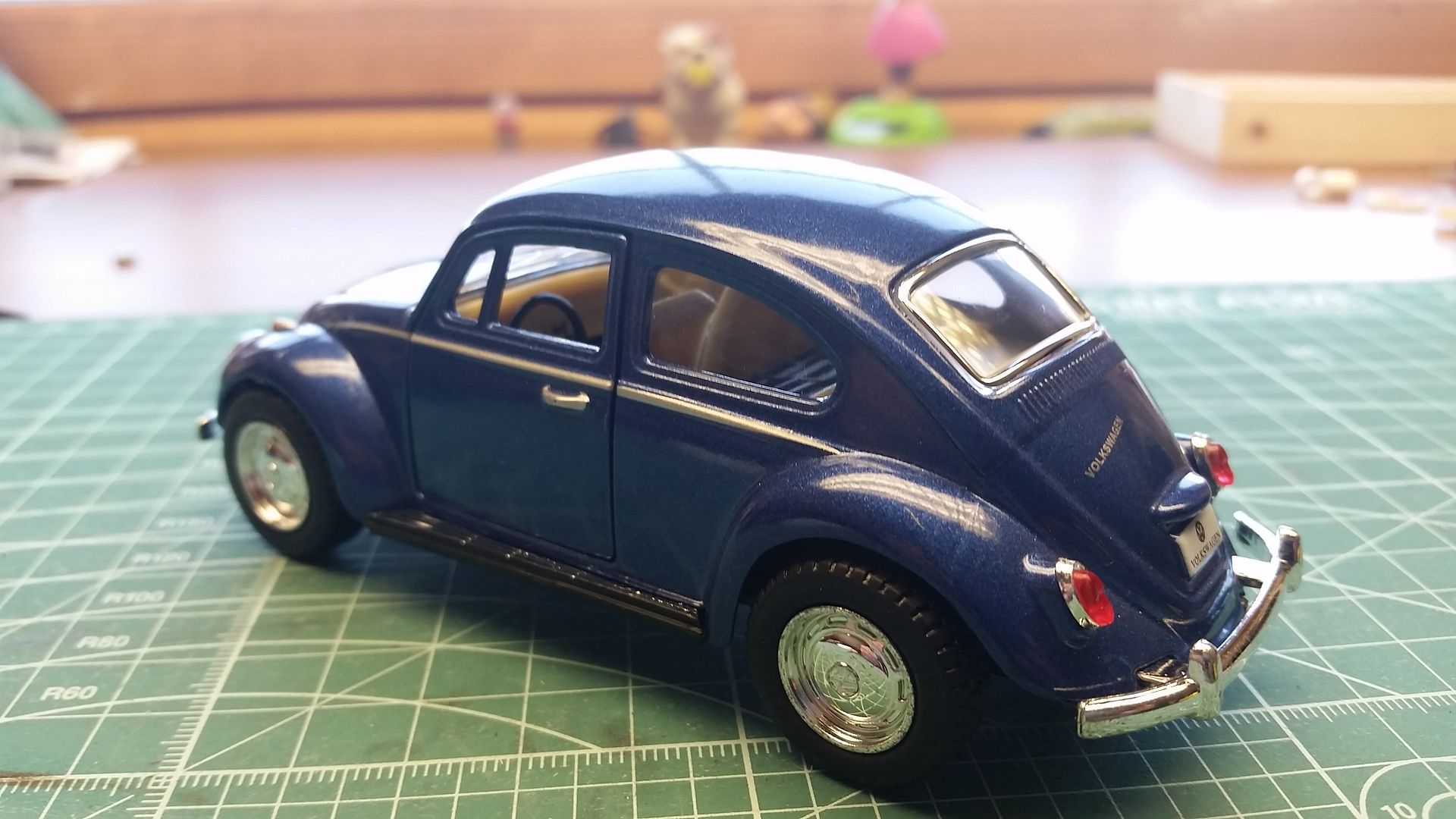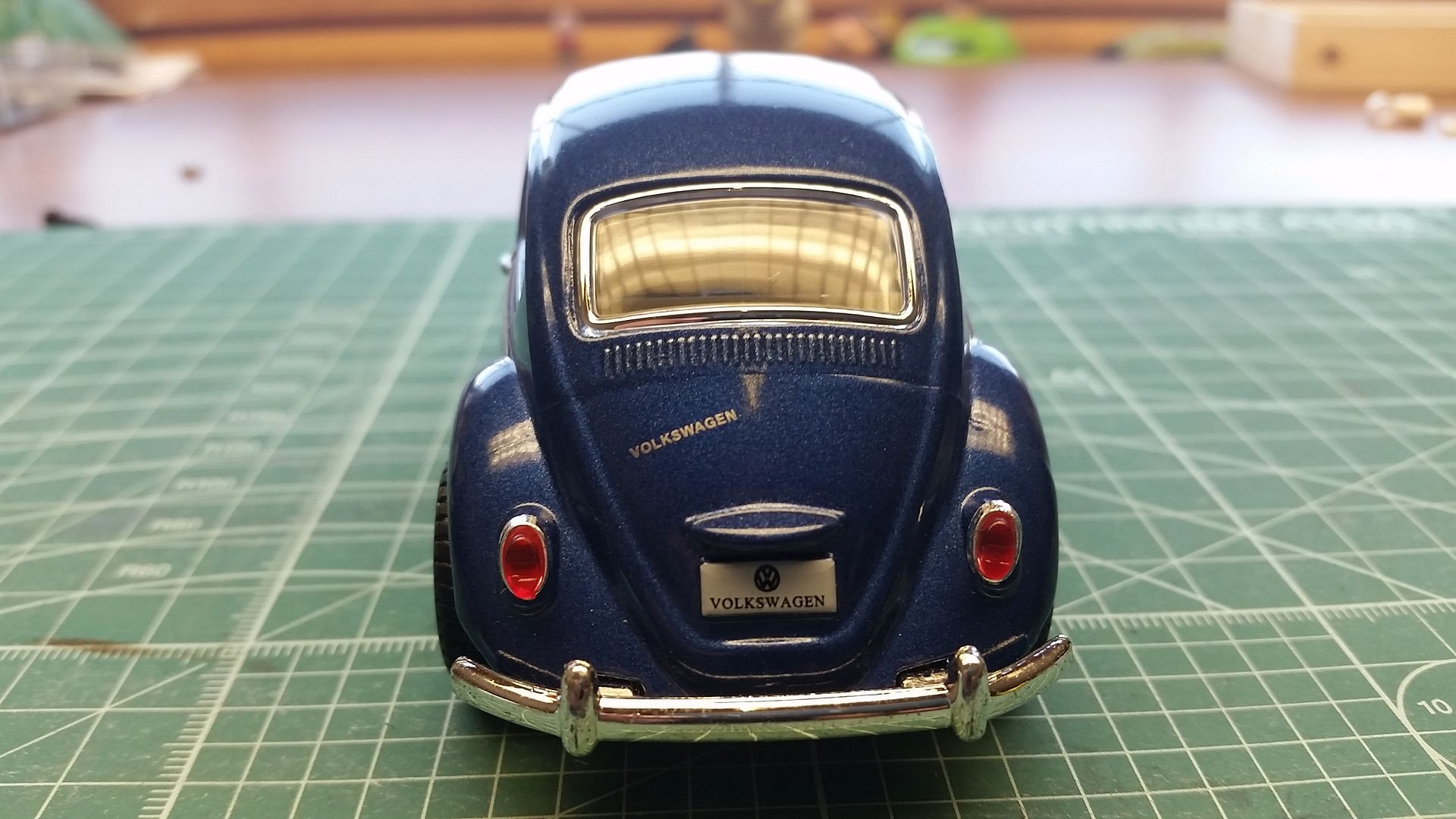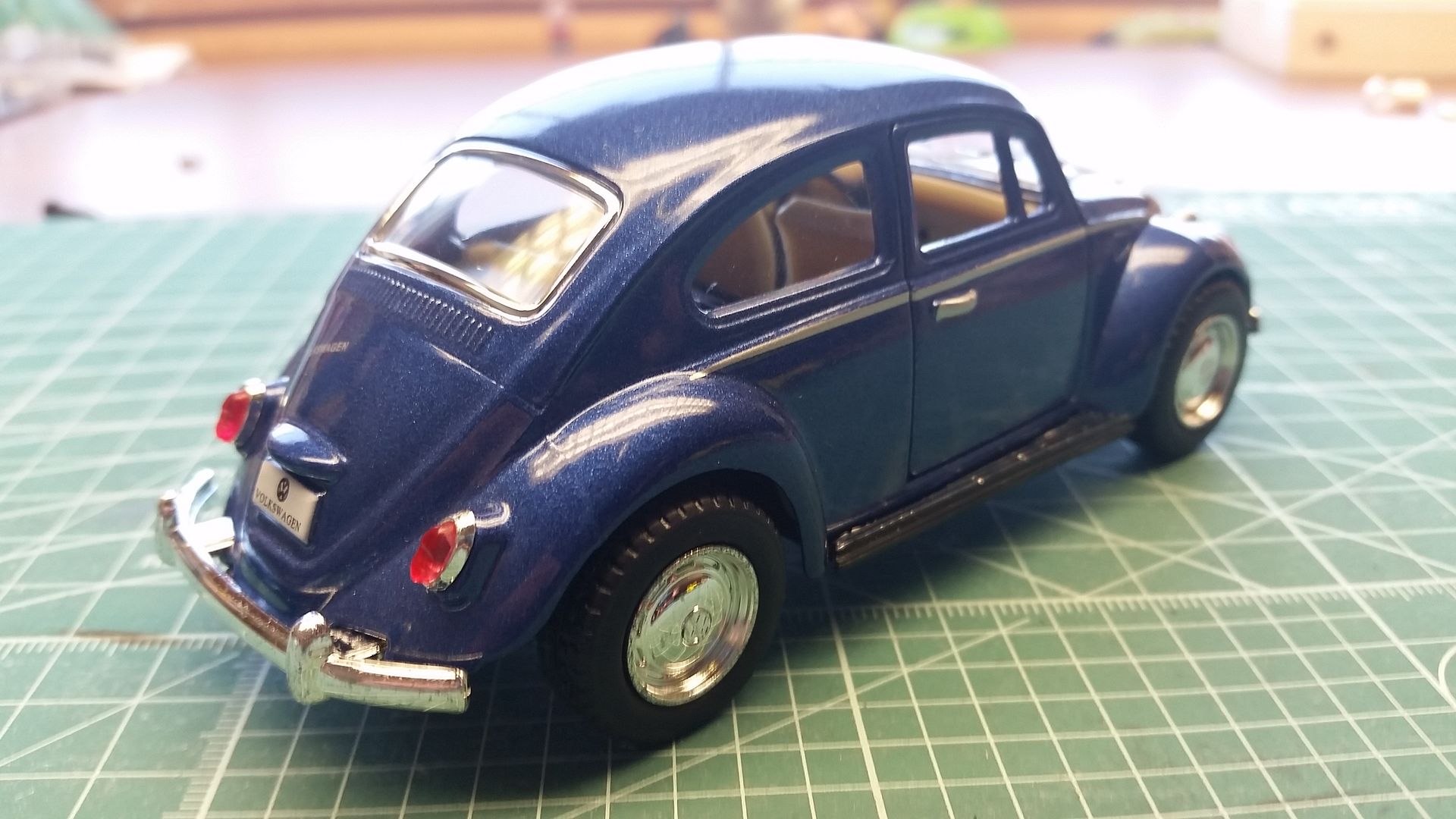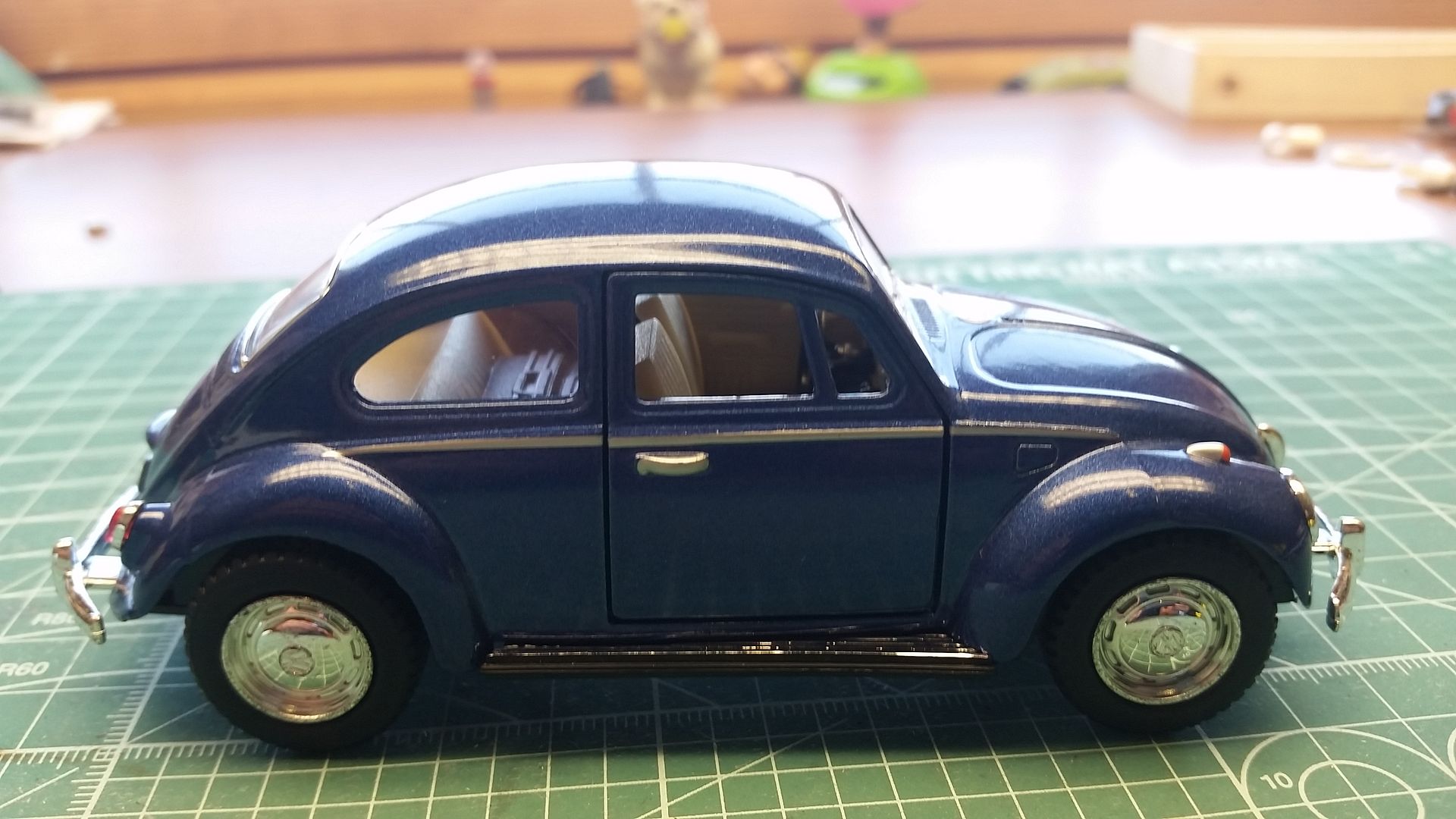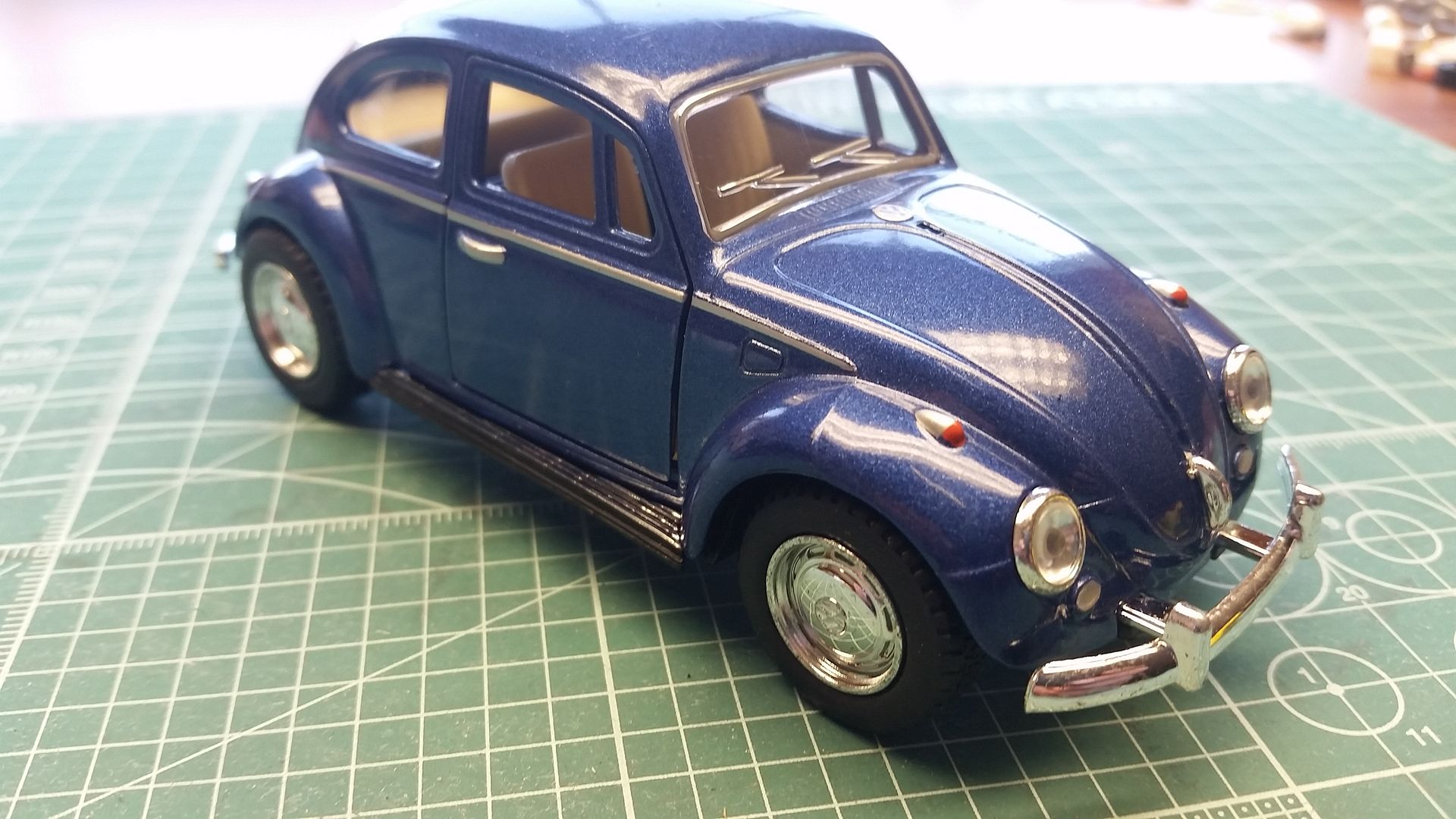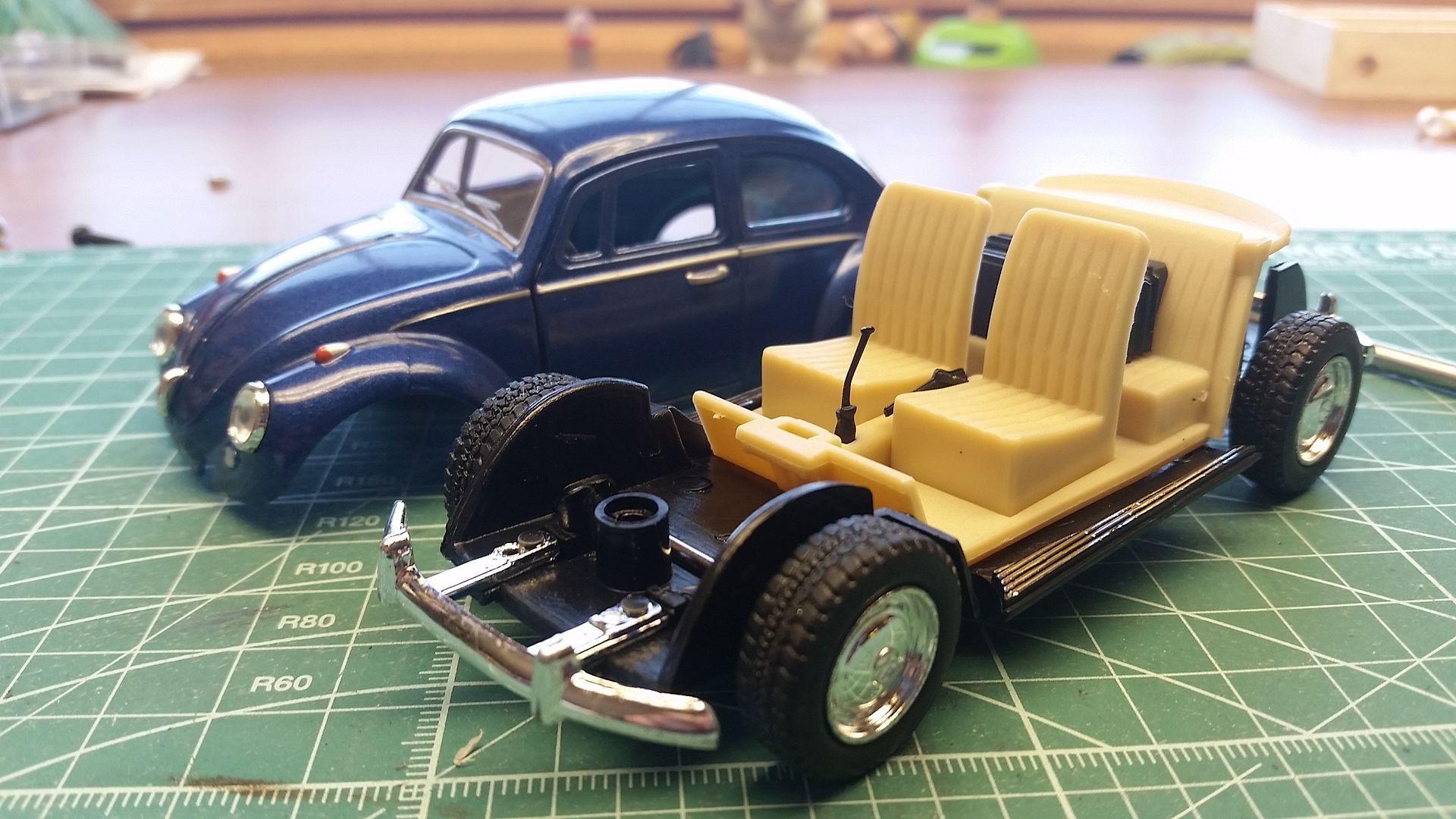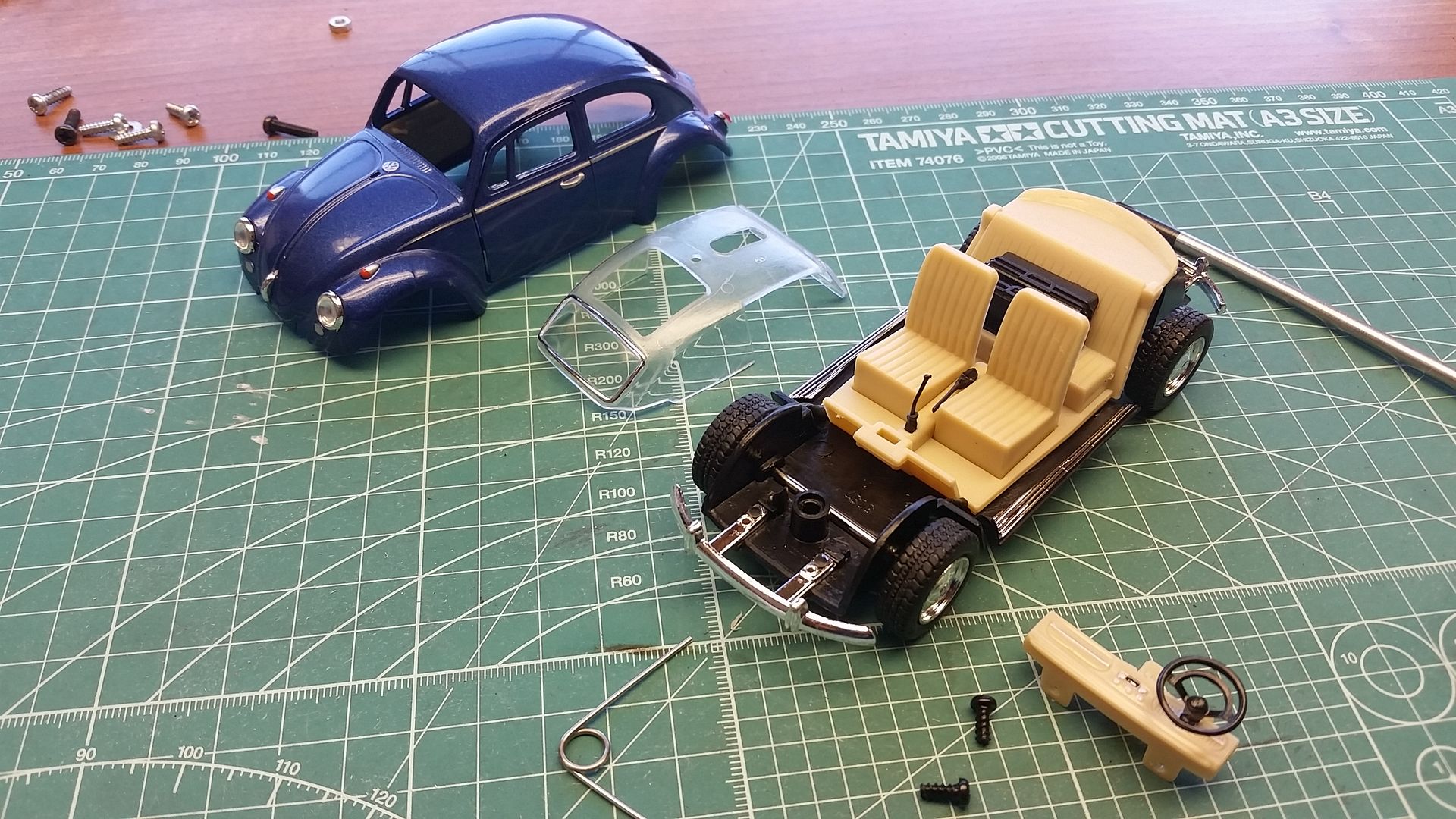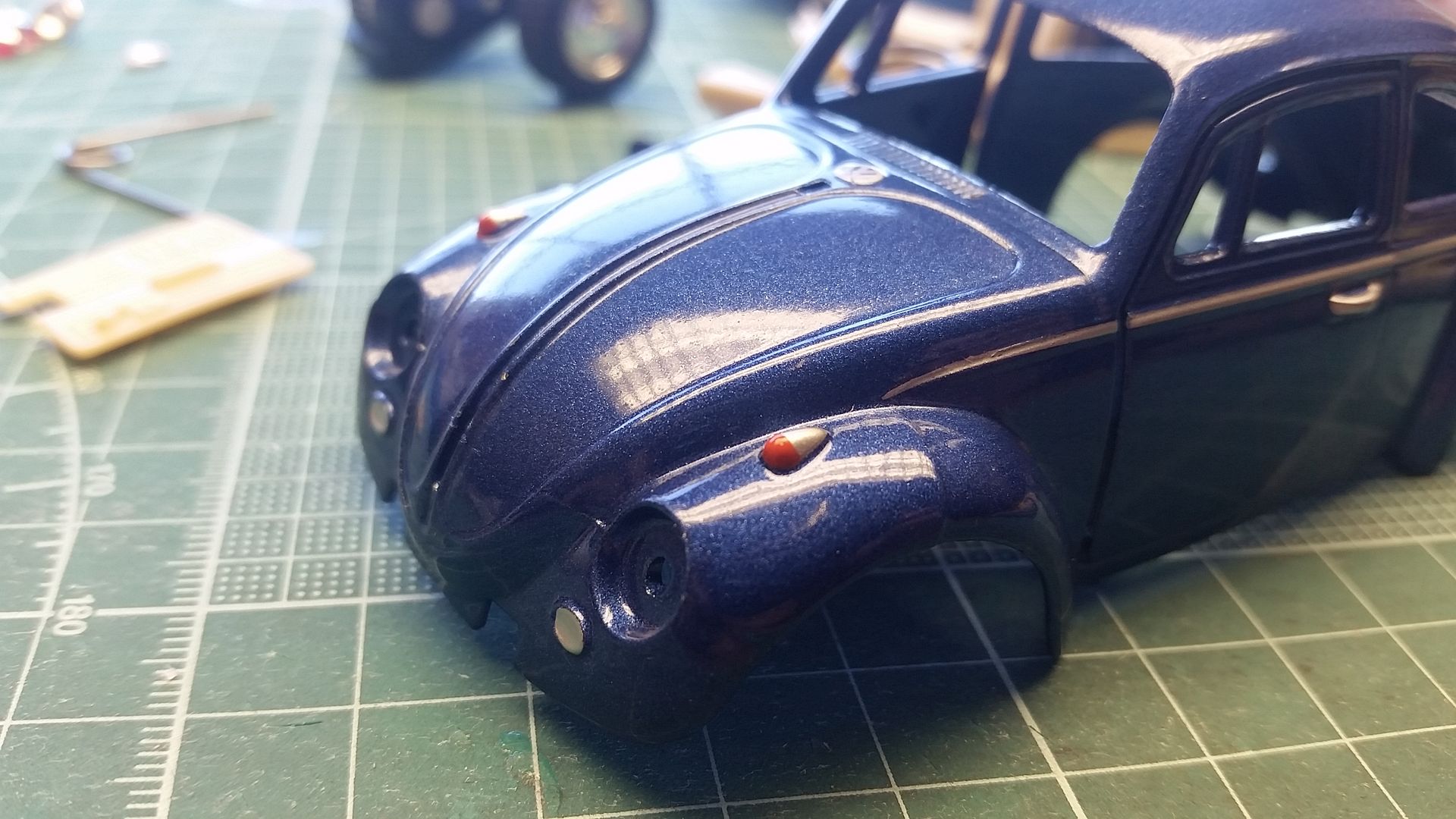 Removed the indicators from the fenders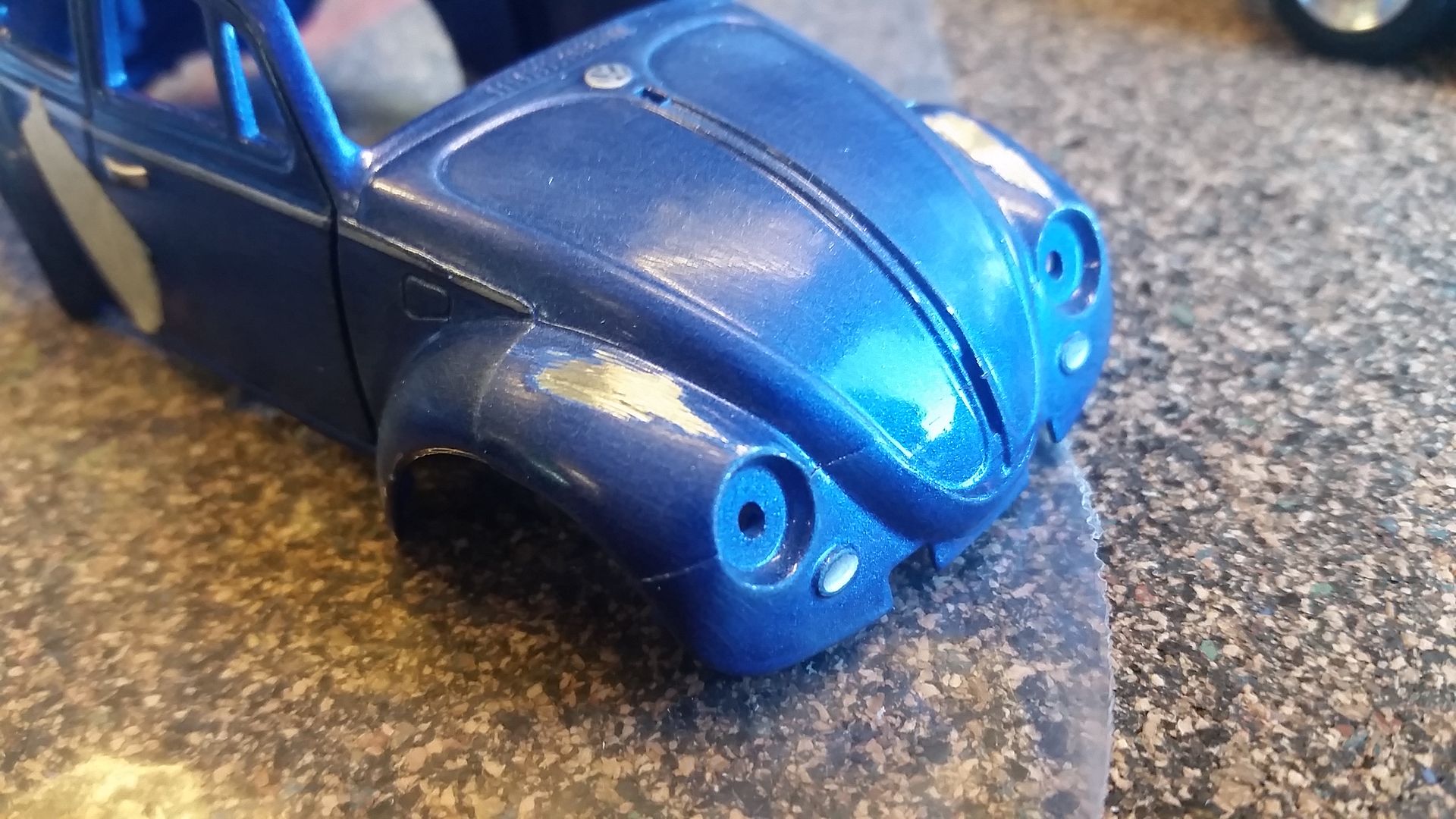 removed air vents from front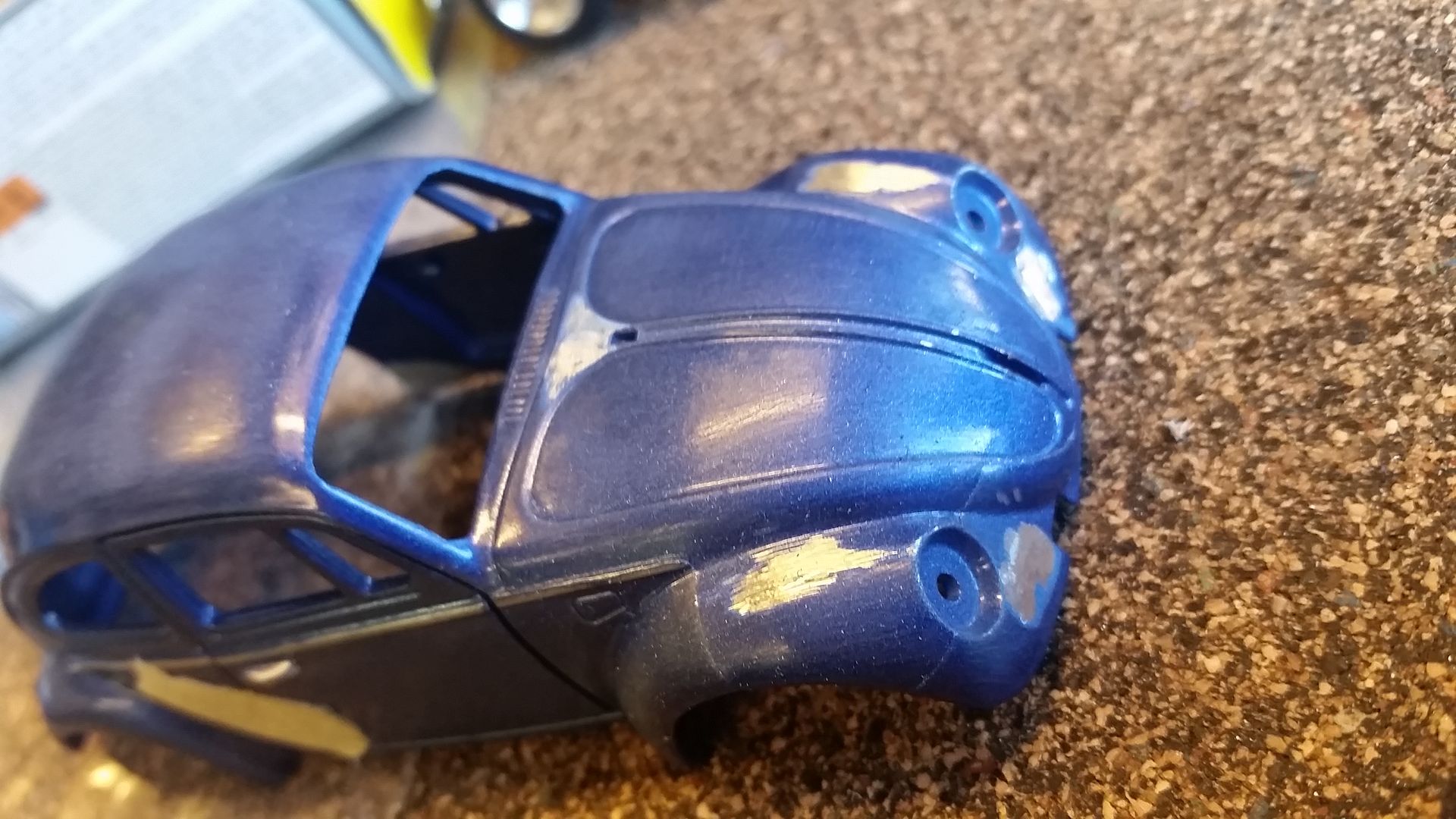 Modified the bumpers.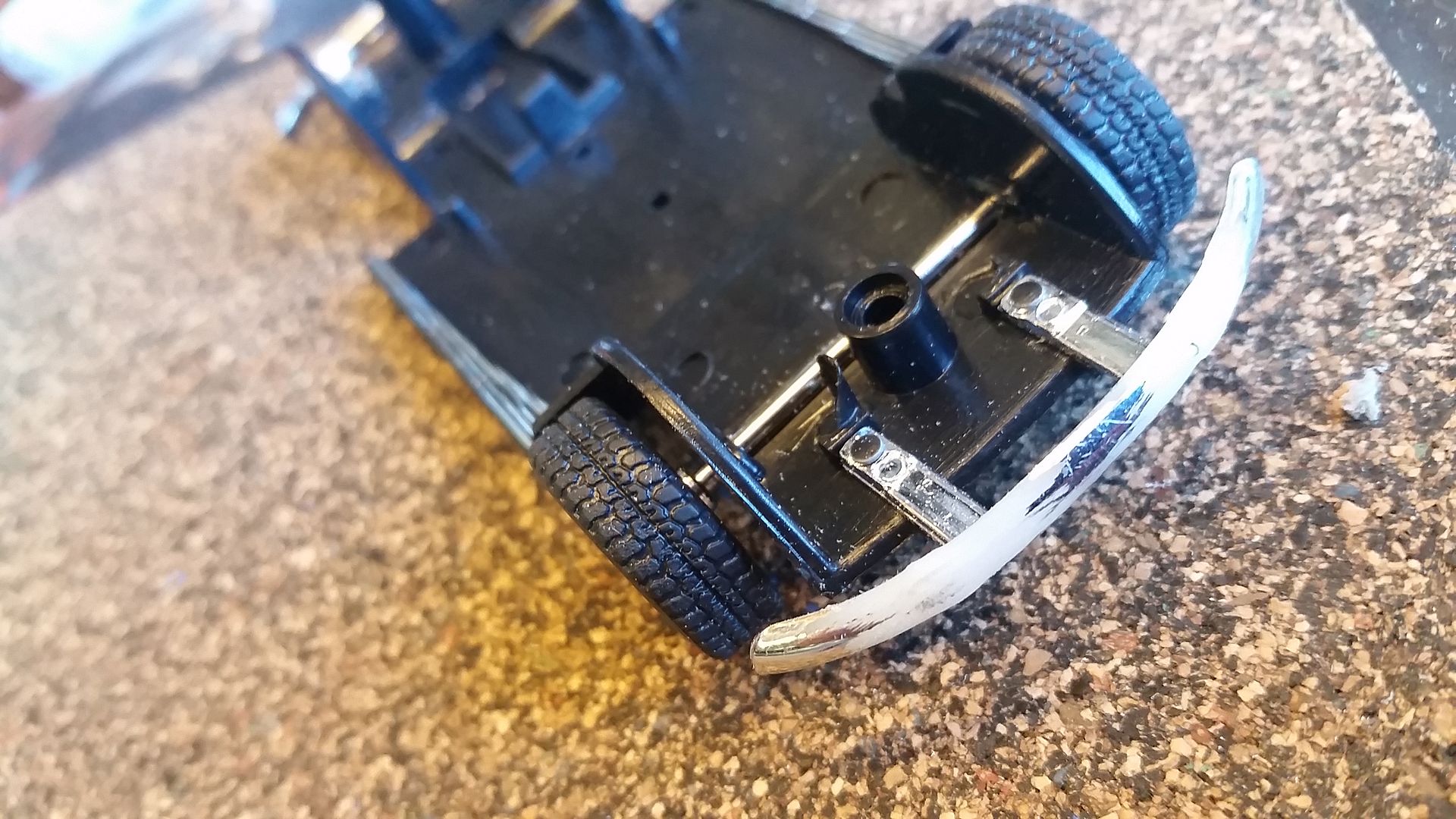 Filler to get a smoother surface and removing bonnet chrome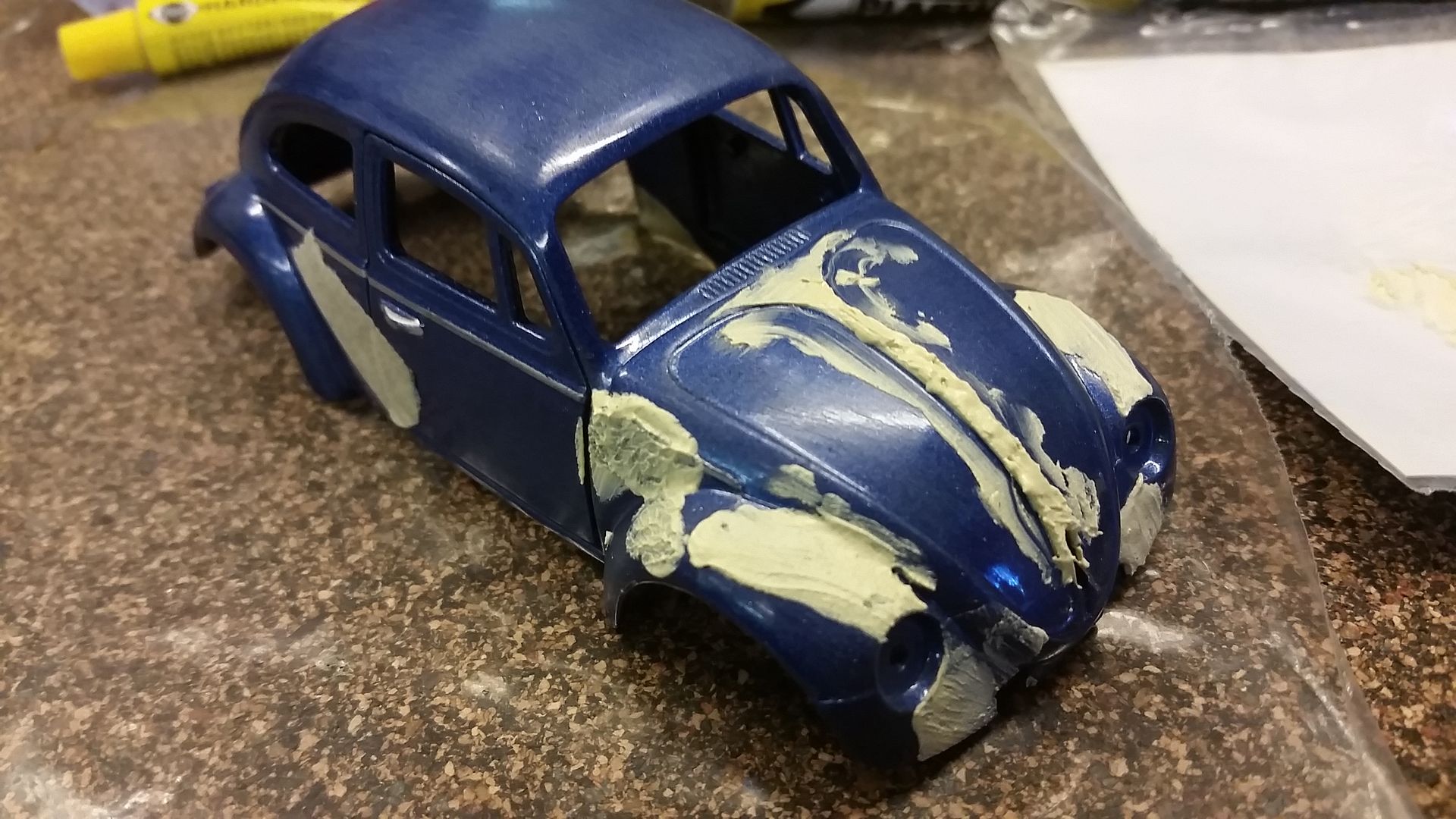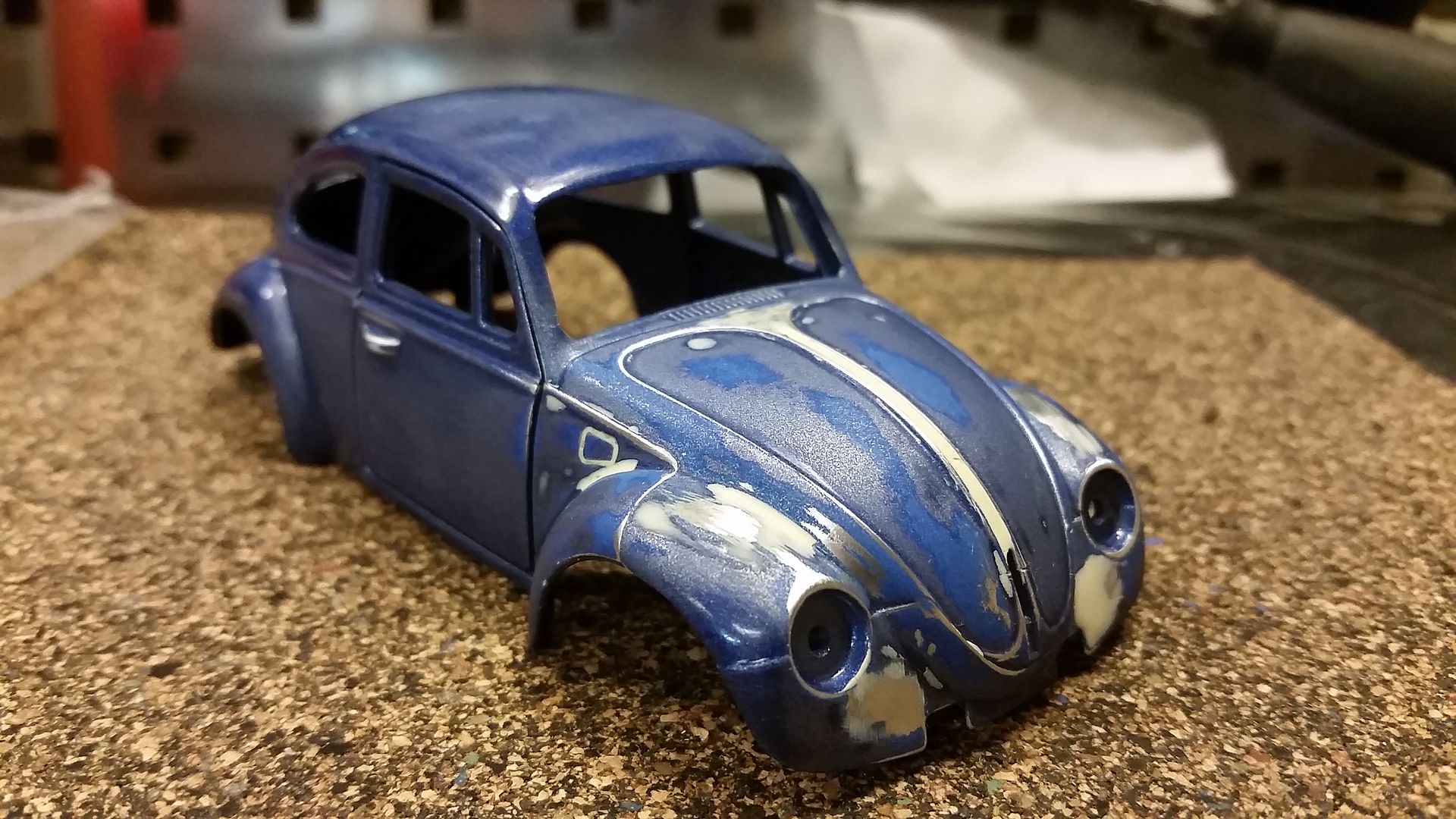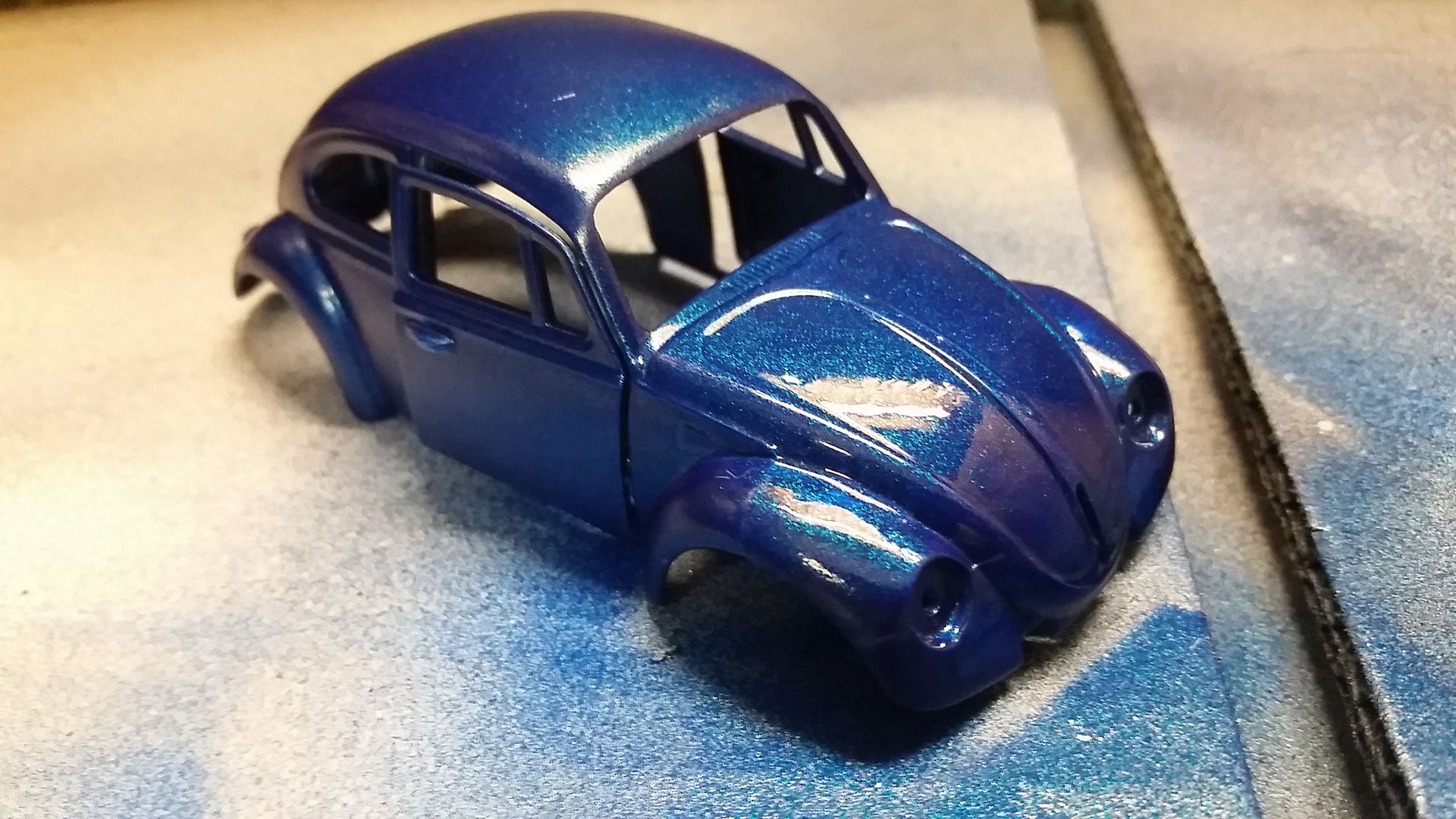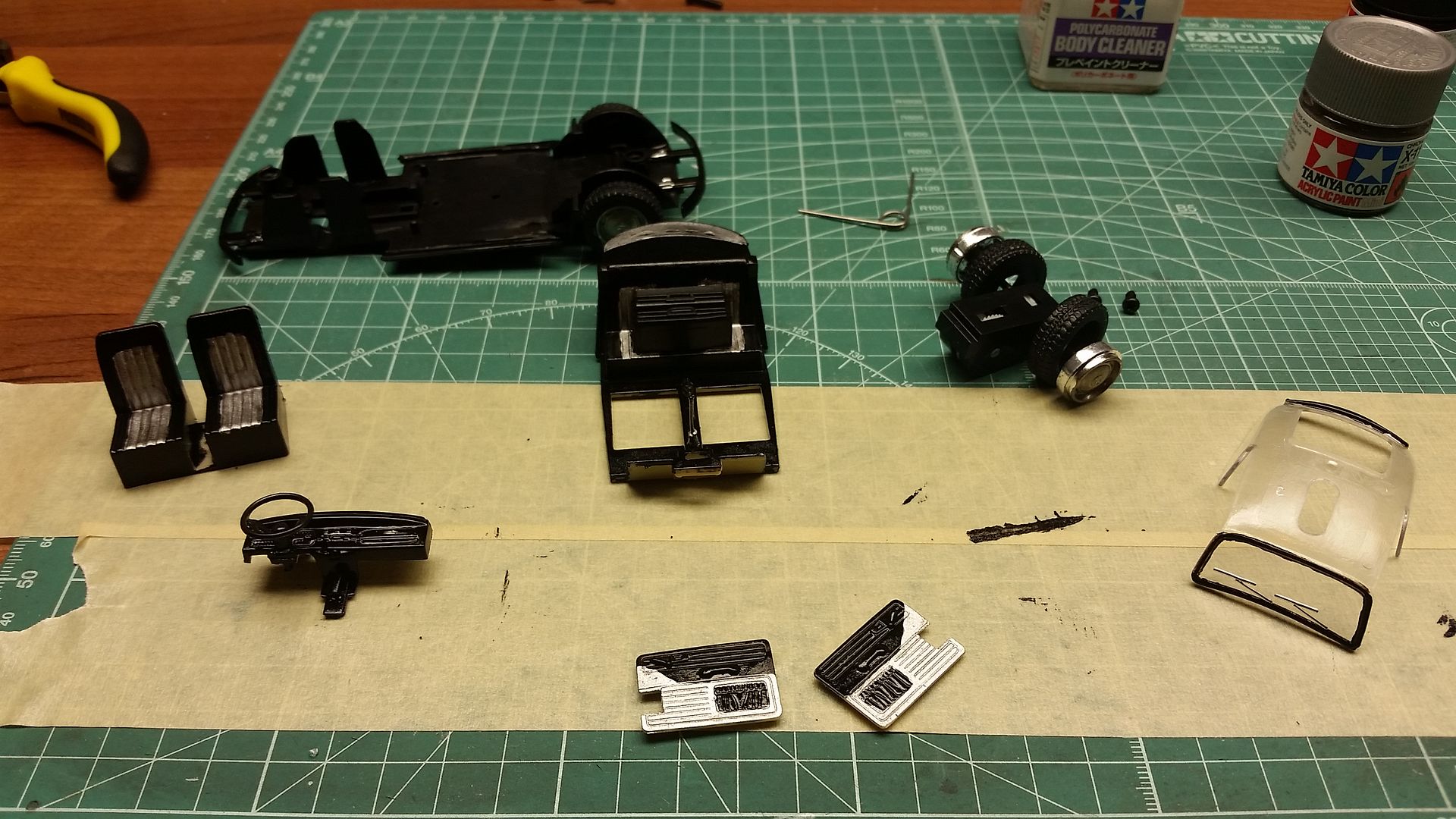 Finished painted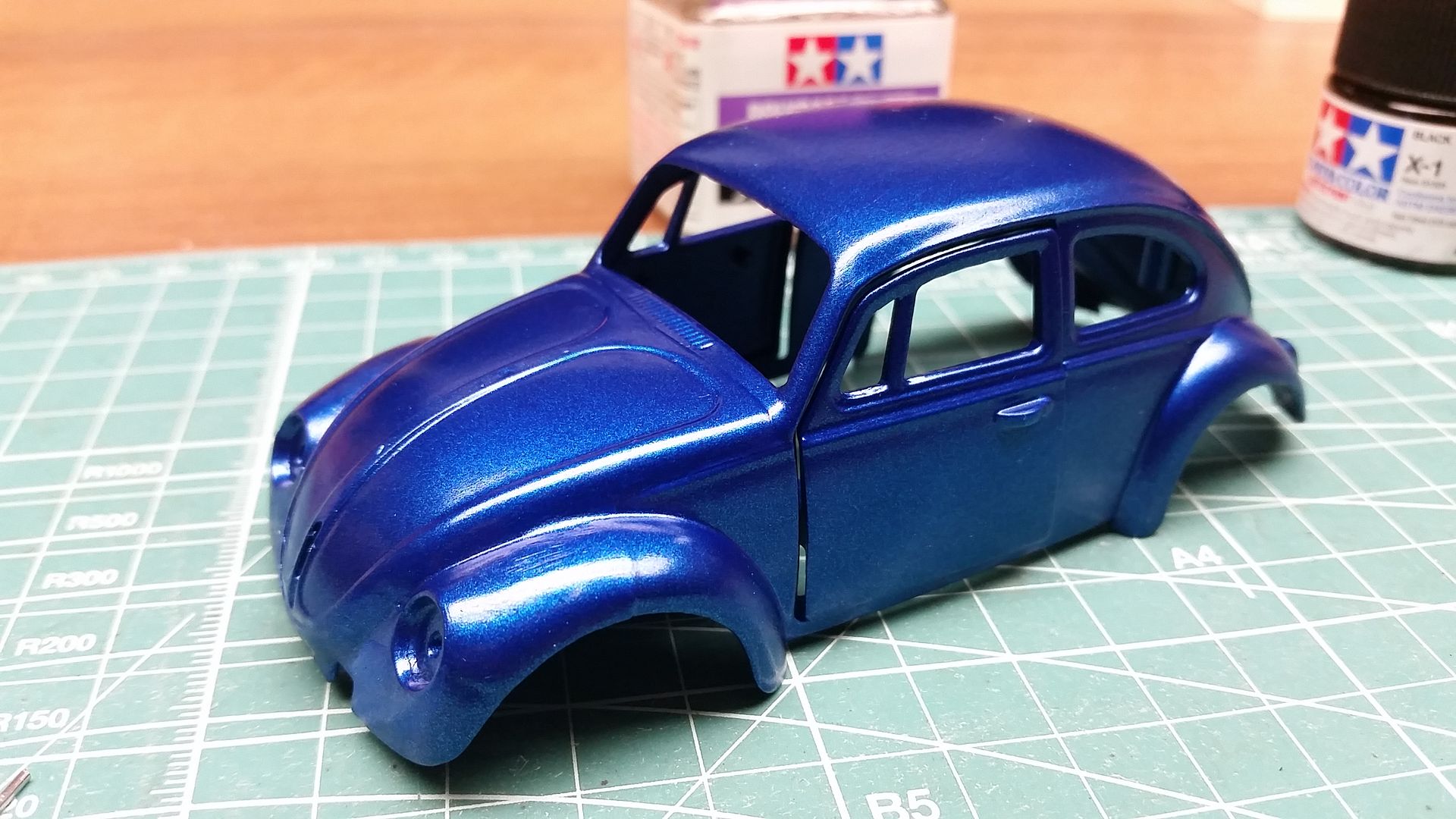 mounted. So it didn't turn out to be much like my 1:1 car, but it resembles some of the details.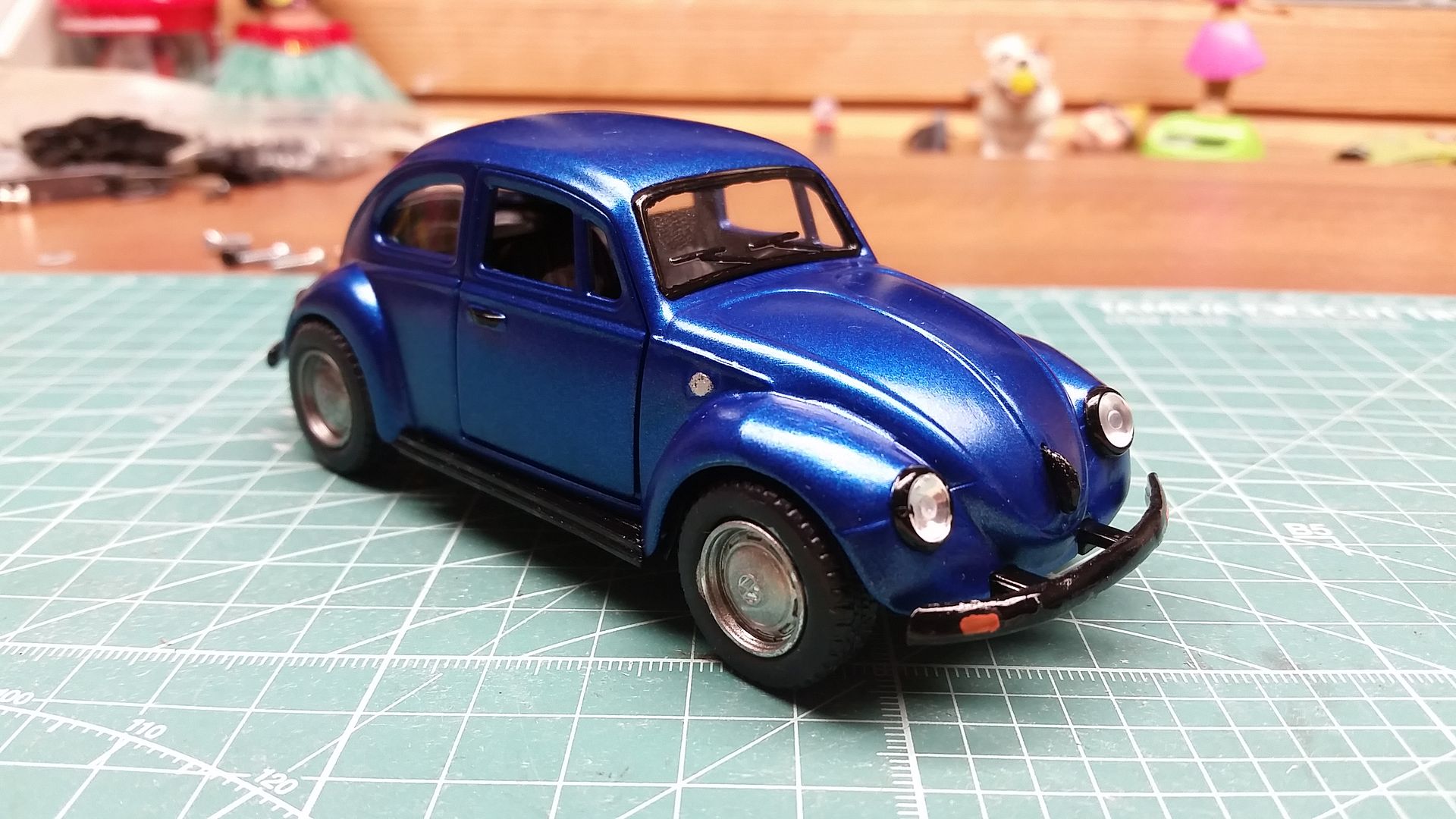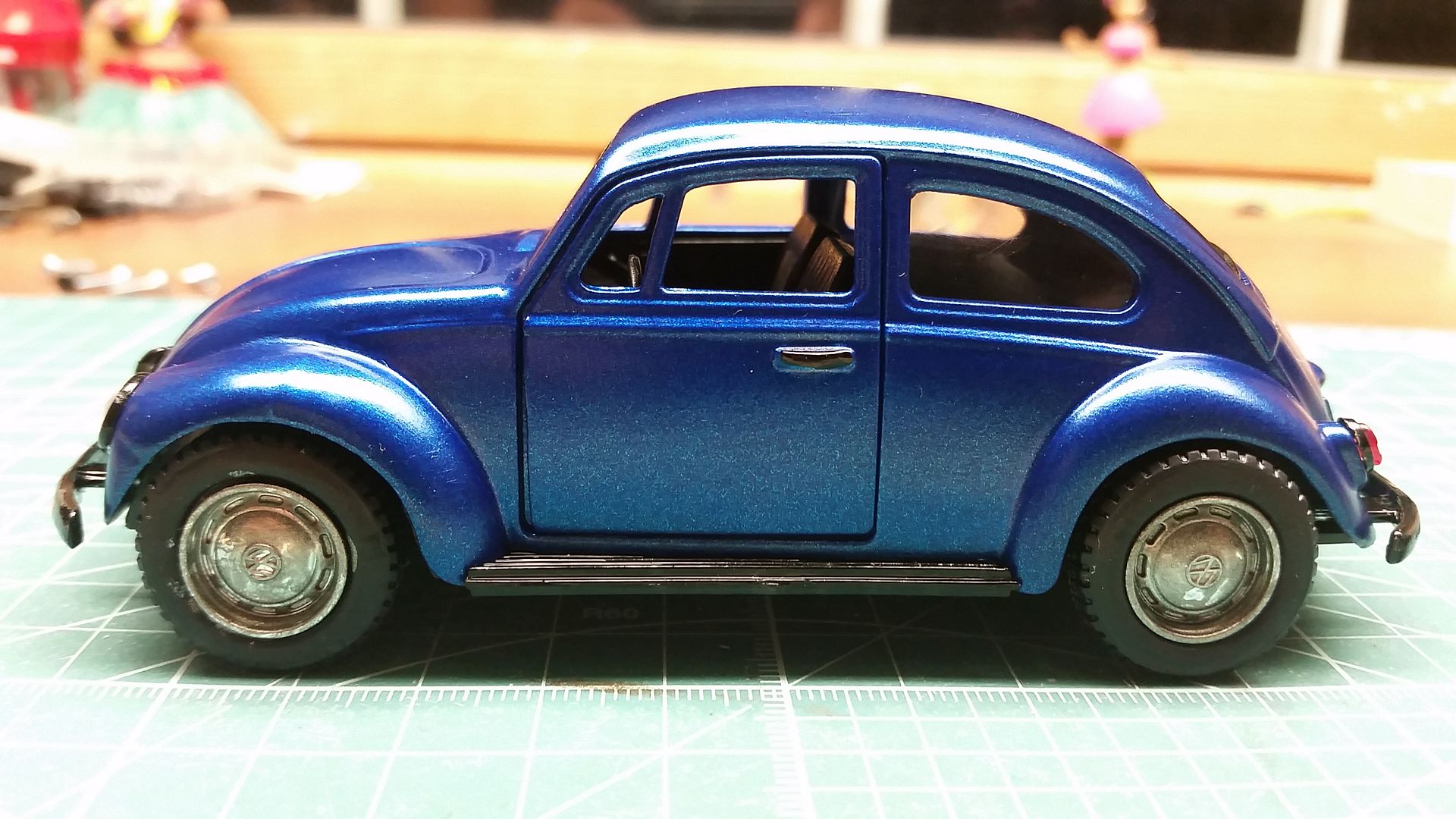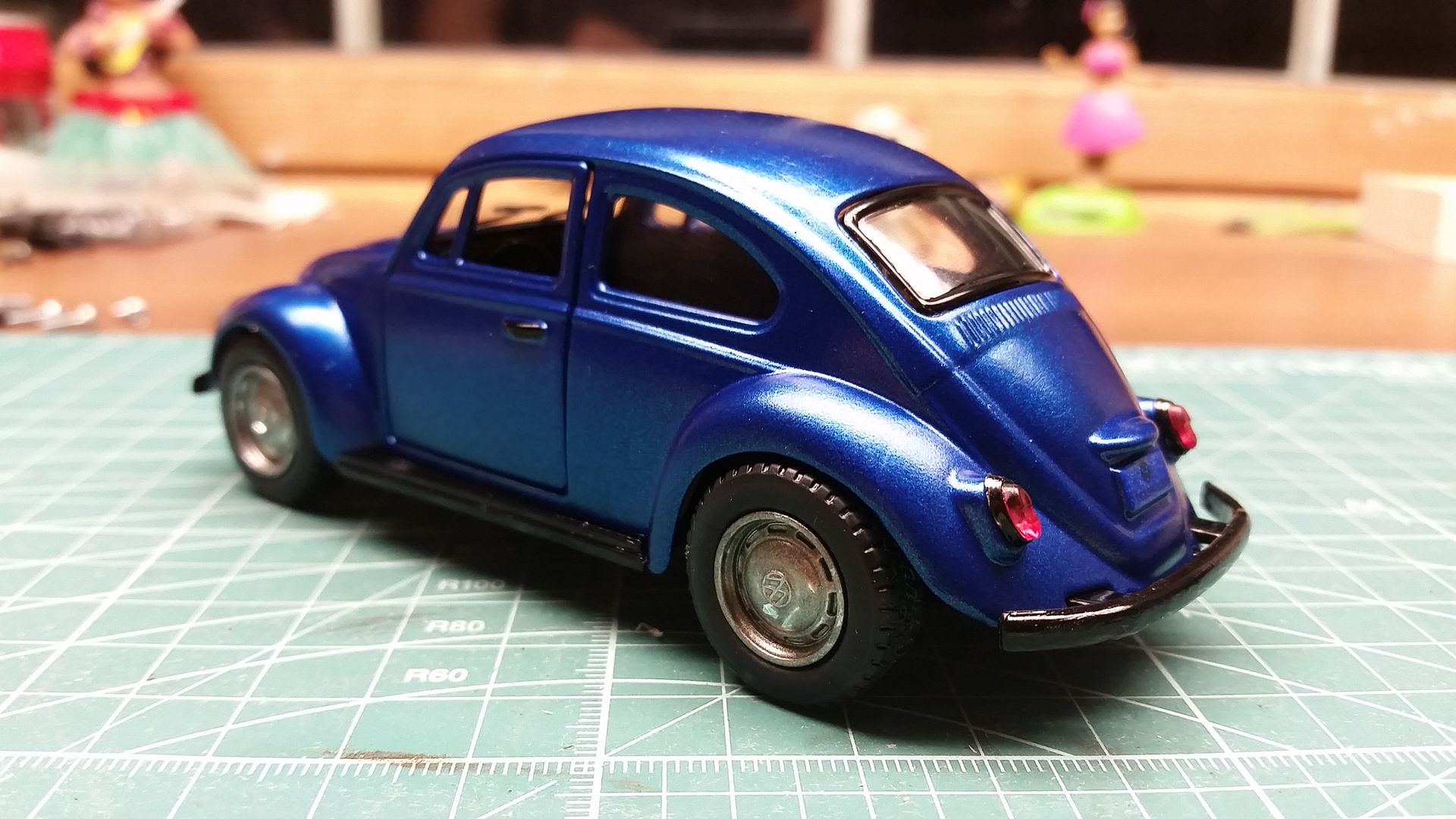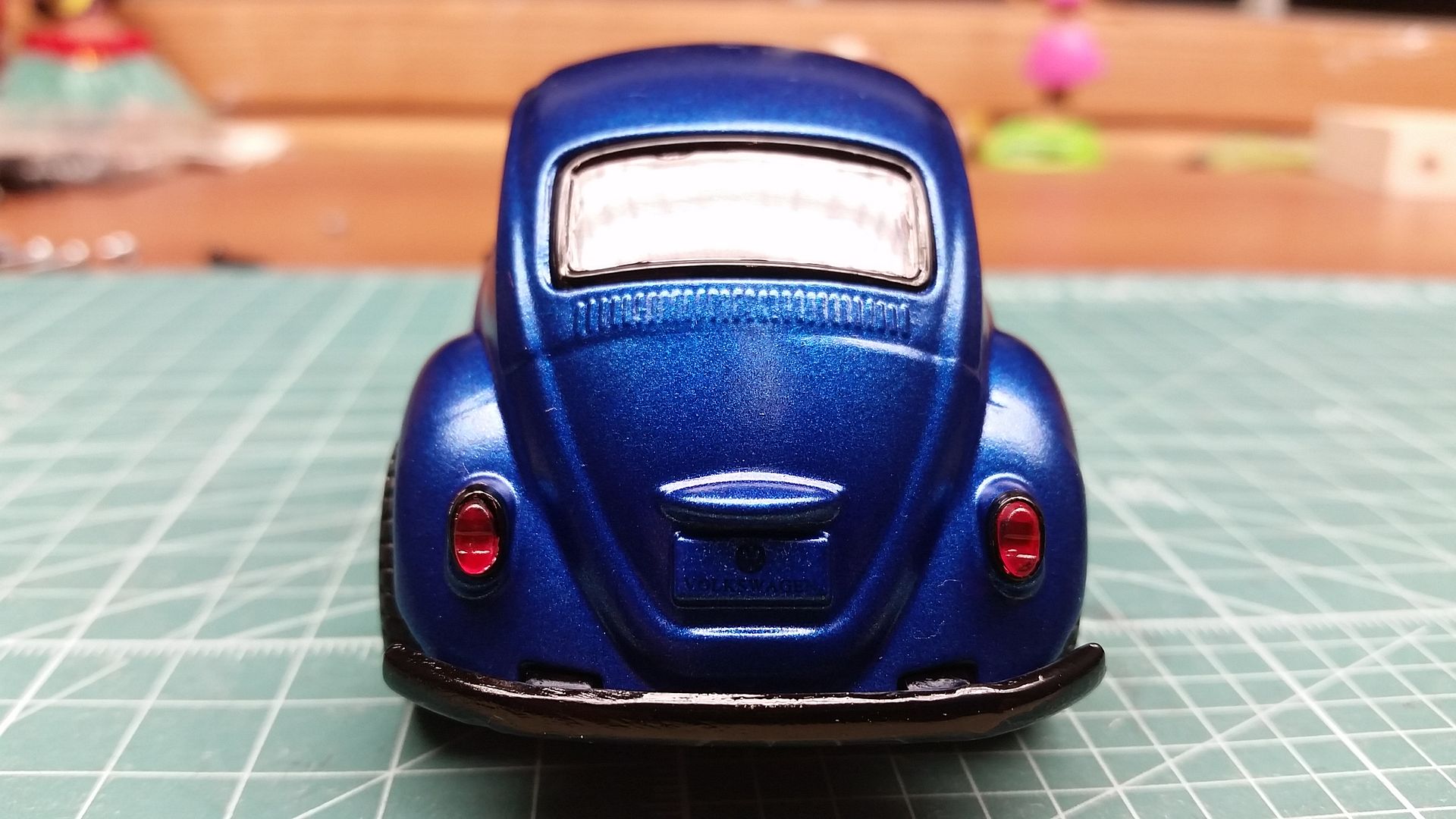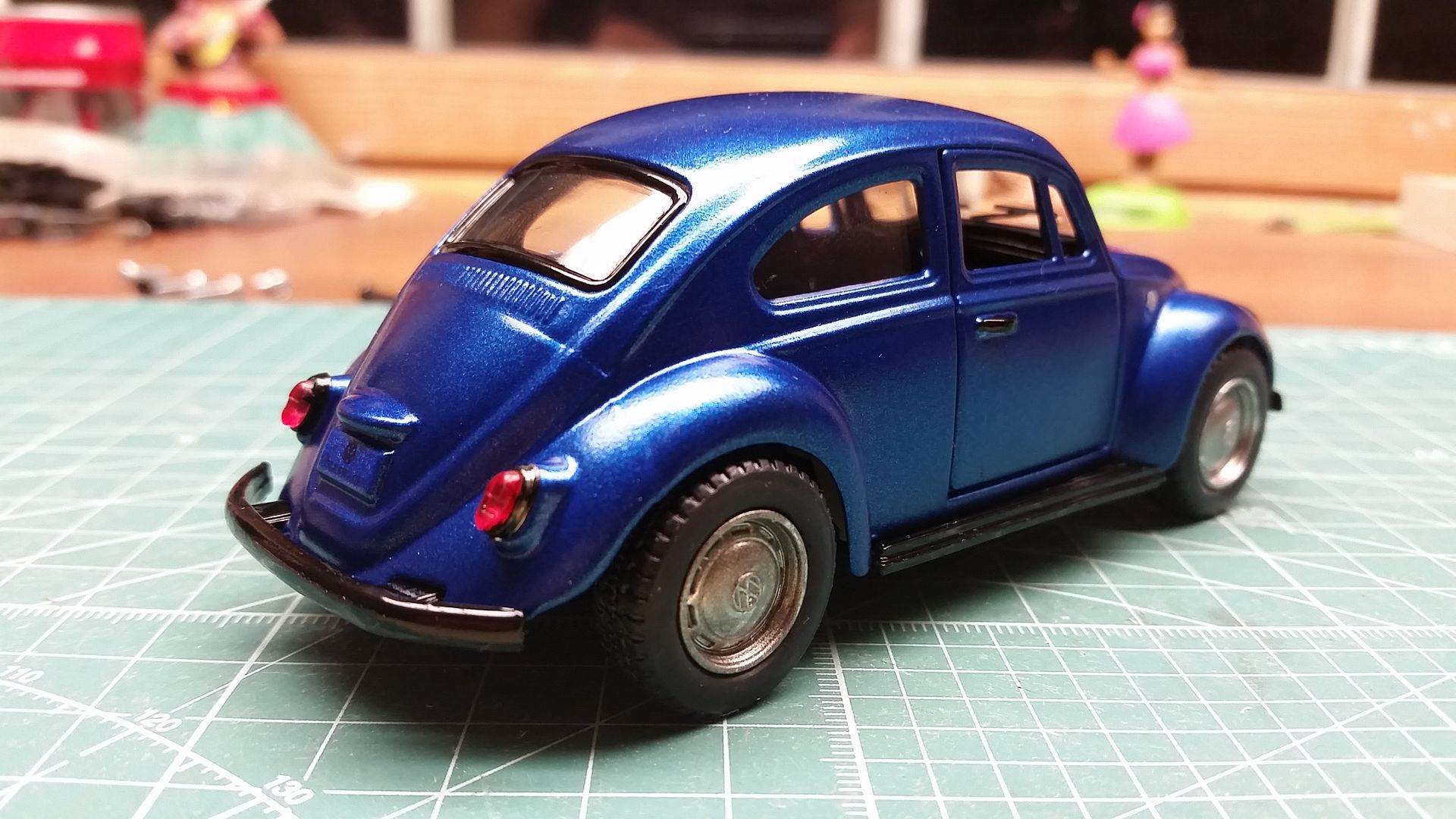 At the garage. First thing that happen when it pulled up at the garage, the Police stopped it for a technical control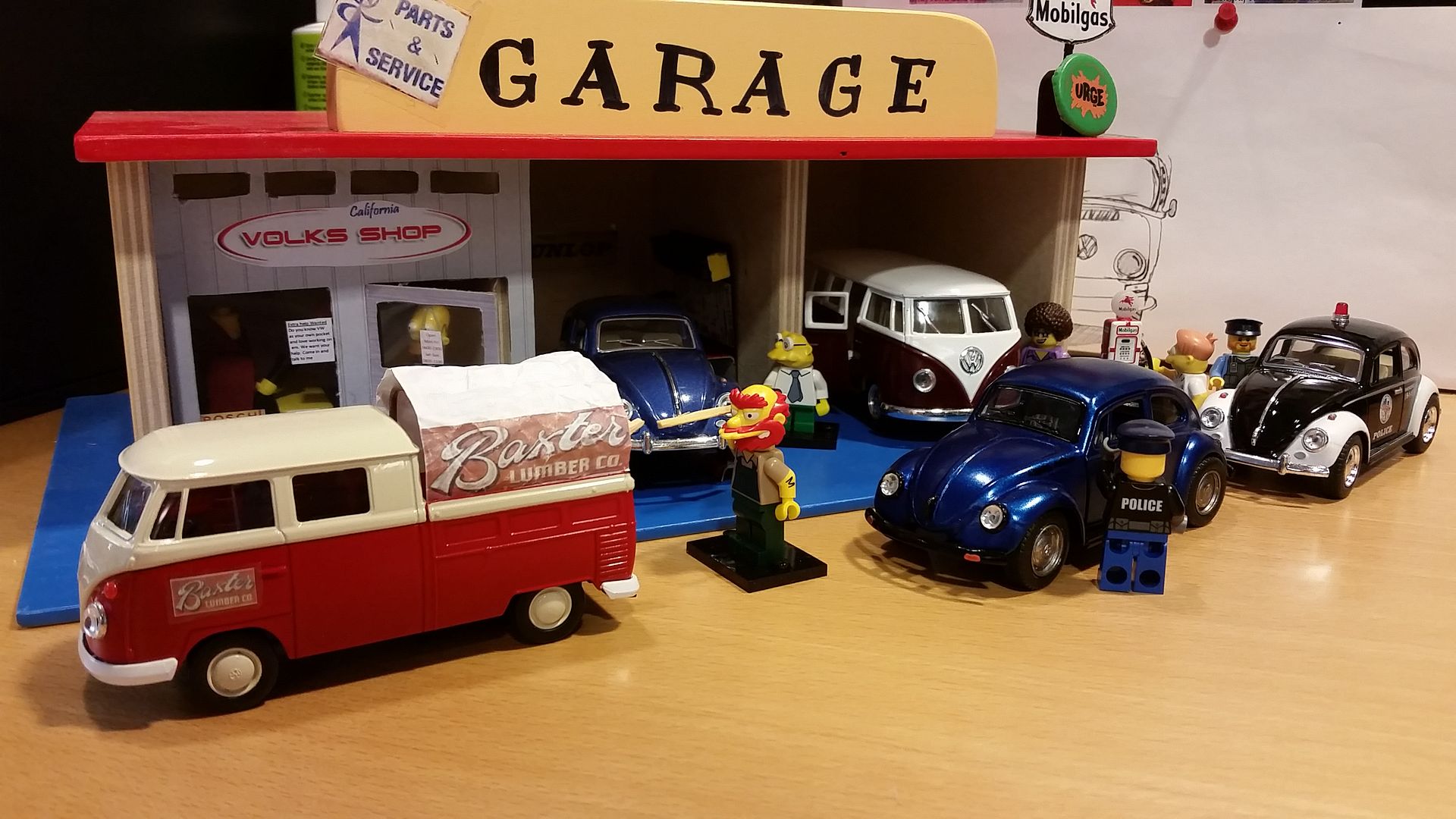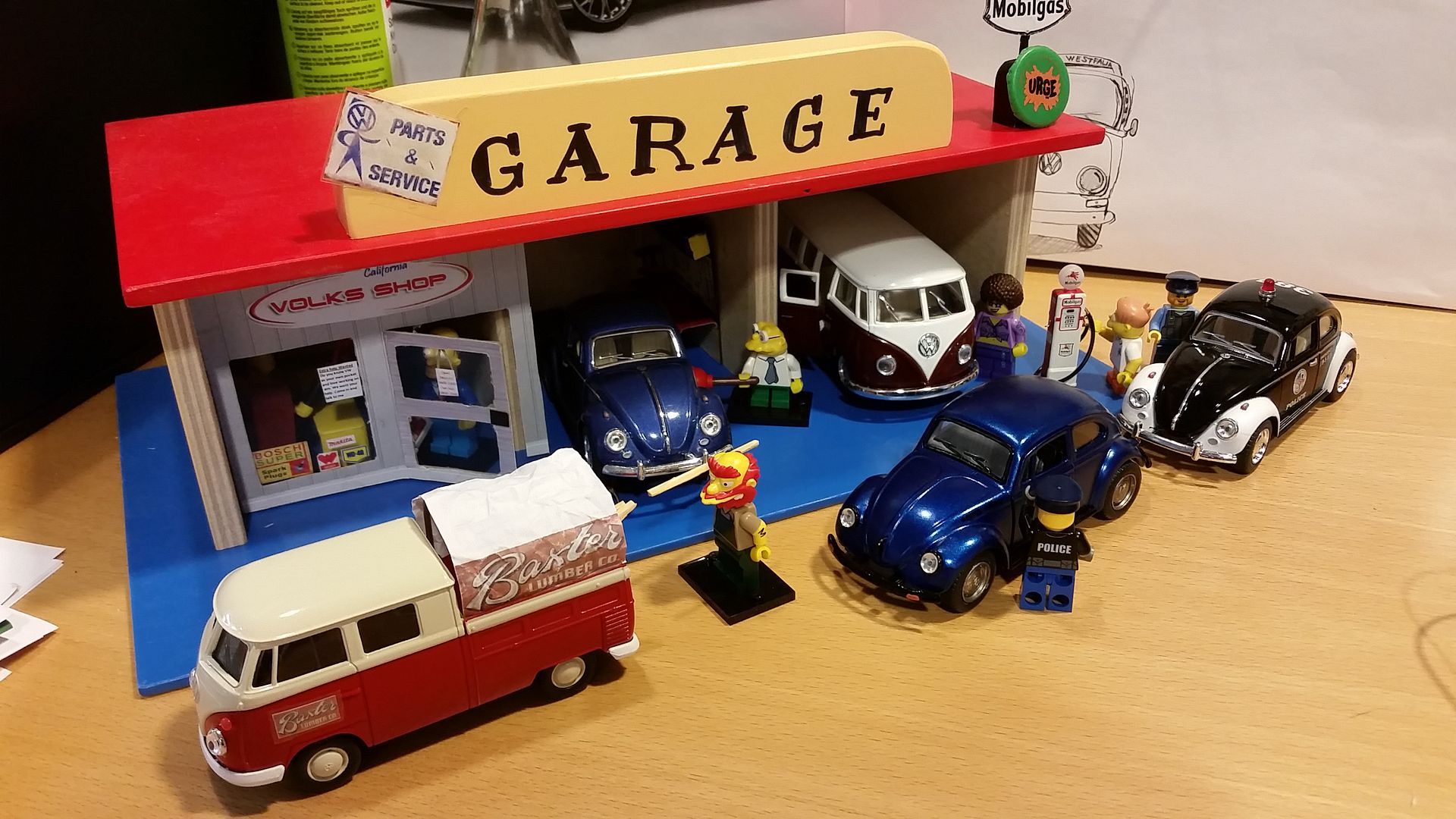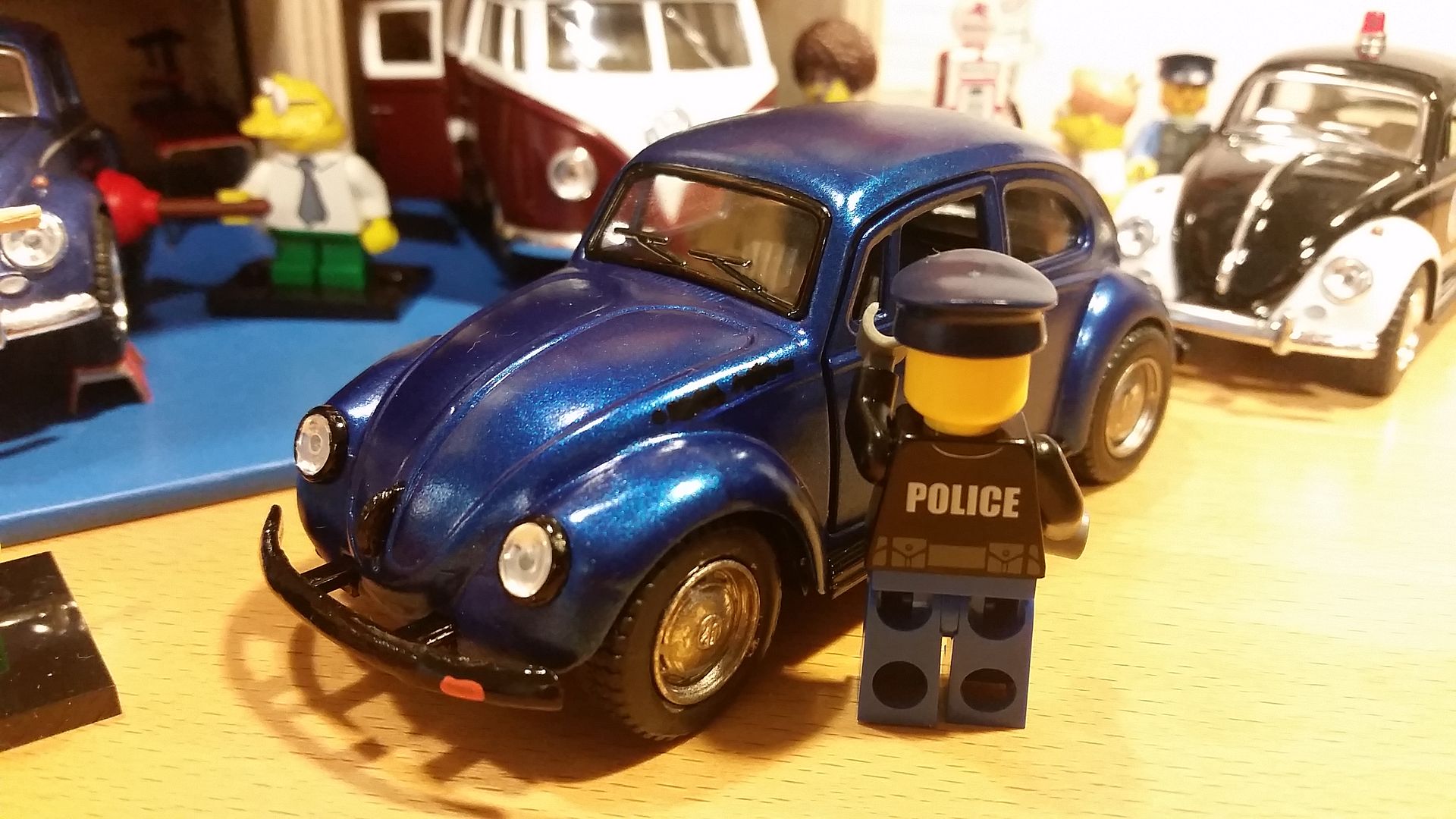 ---
Busy monday at the garage, the dragster beetle have arrived, Evil Kenivel delivered it himself. We will start the motor overhauling right away, since also our new mechanic have started today, he brings a much needed tuned engine skills to the garage.  The blue 67 beetle we have finished and father and son have come to collect it. The owner and pal to Disco Dave have come over to have a look on the work we are doing on his bus.  The owner of "Onkel Oskar" El Gringo is exasperated with the police that have stopped him, as he was speeding and are a suspect in a moonshine case.  Owner of Baxter Lumber showed up to help making the new store shelf's, that is much needed.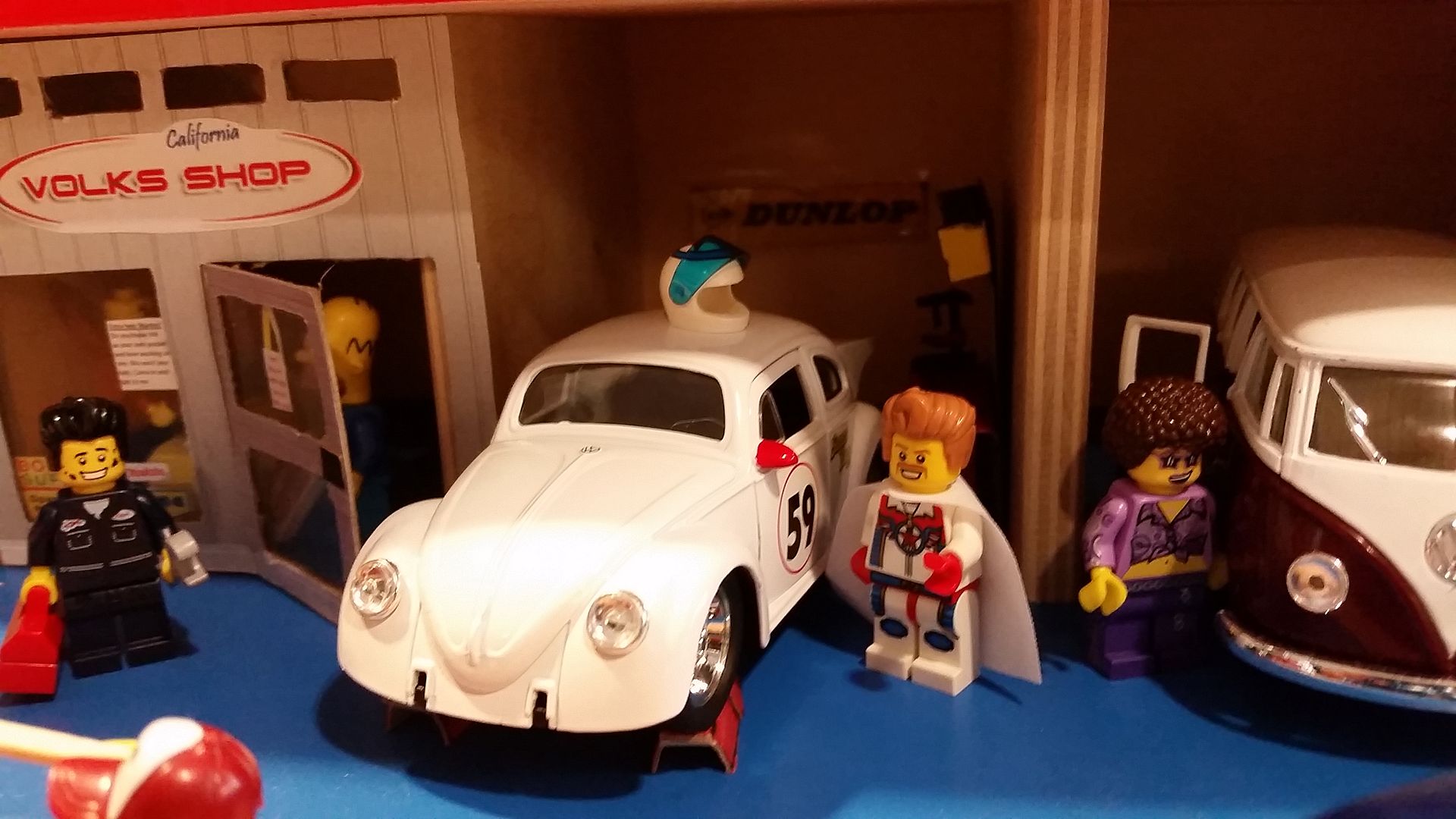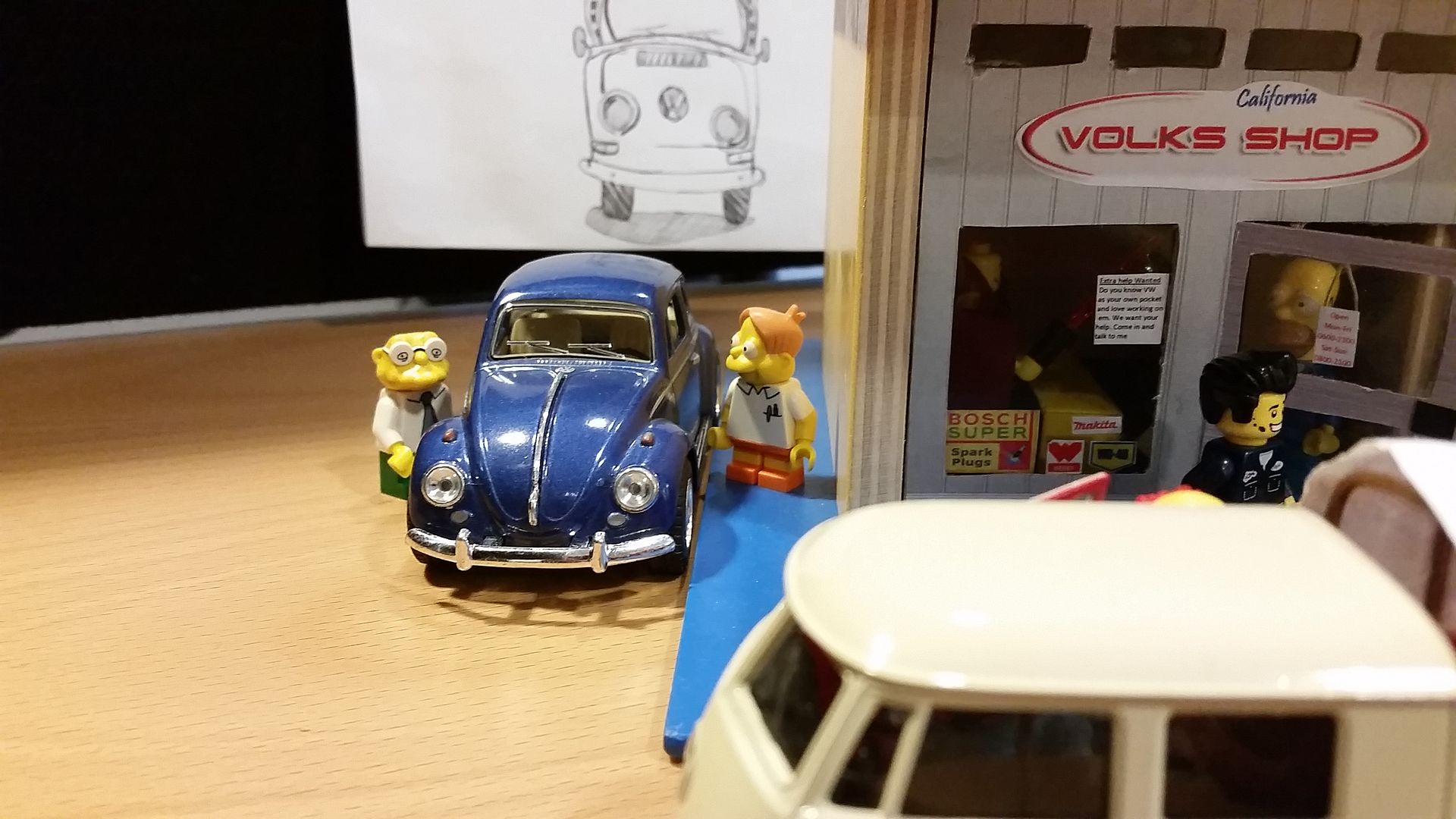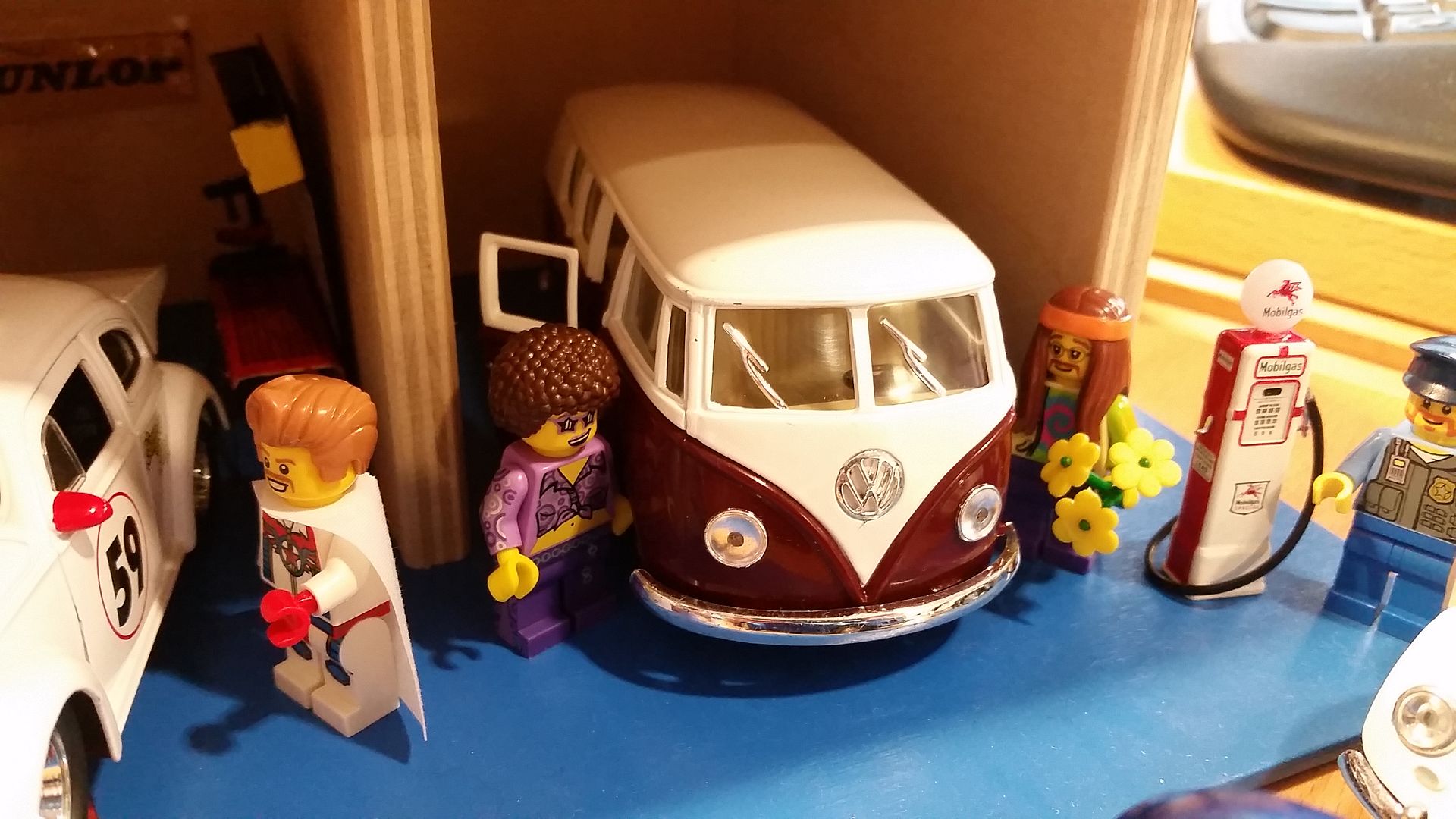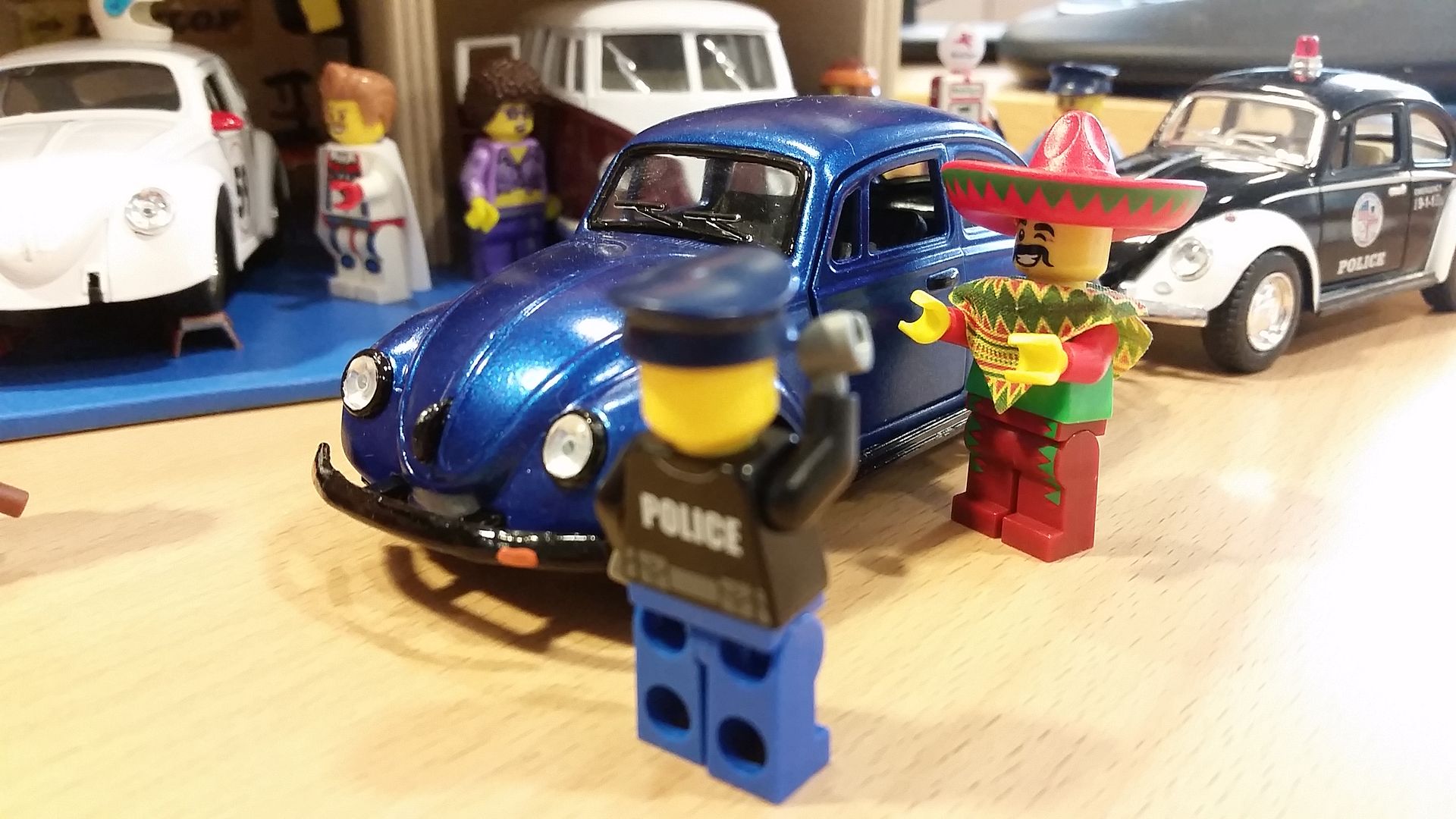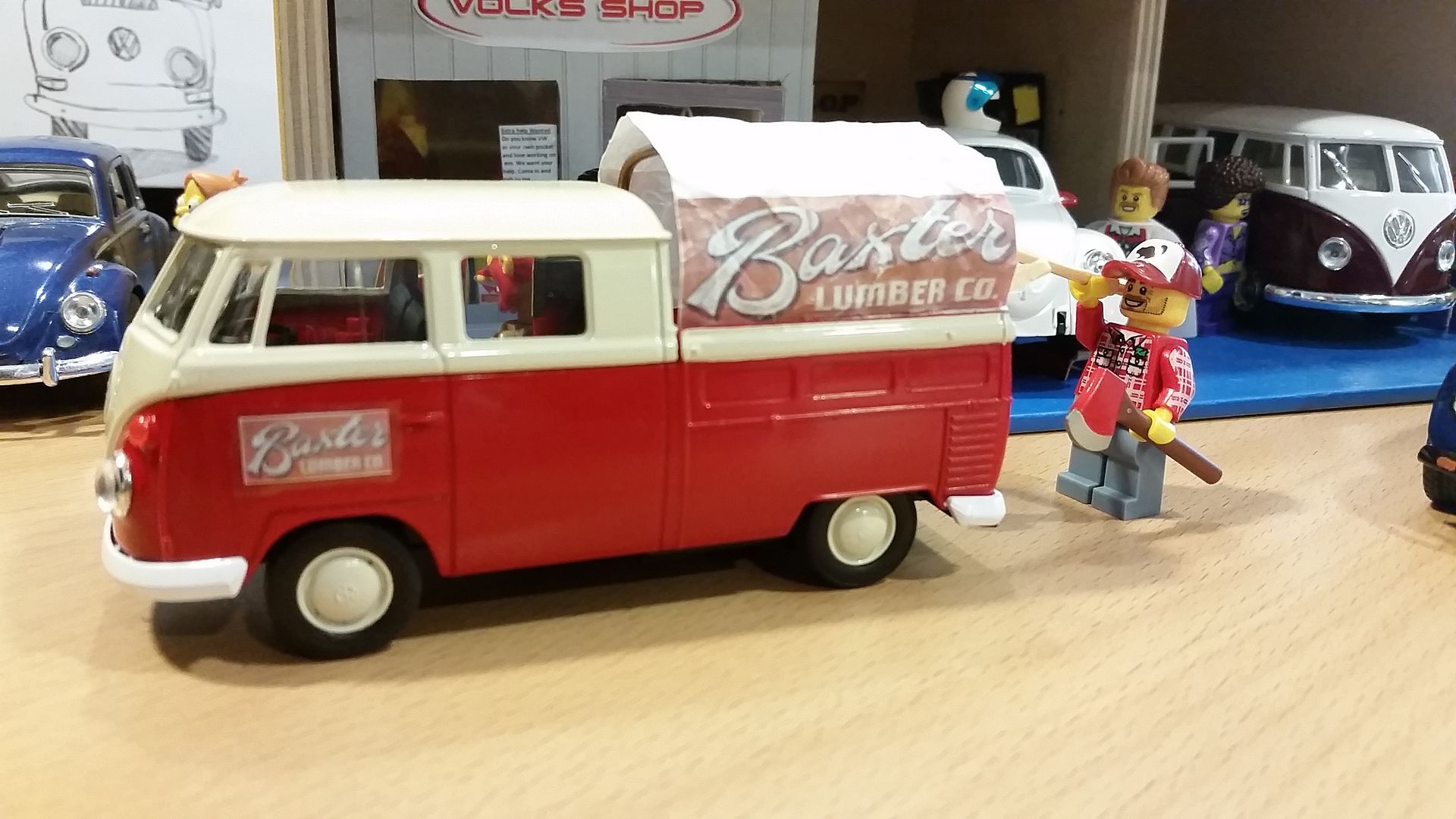 Due to our ever increasing success, we see the  necessity to expand our garage. Since we have good knowledge to Baxter Lumber and are very satisfied with the work they do, we asked them to build the ramp up to our roof, where we will get more parking spaces for customer cars.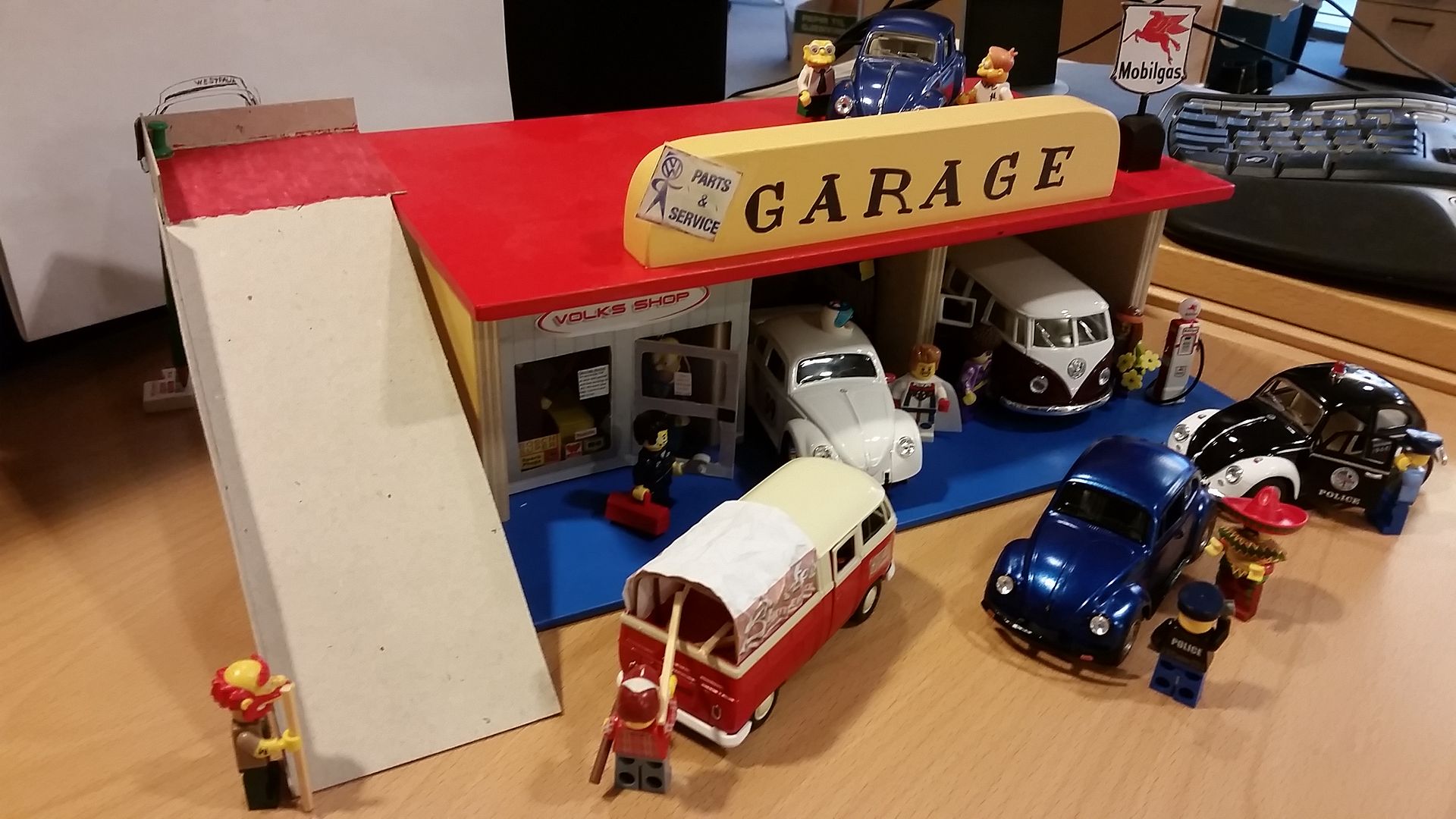 From the work with the ramp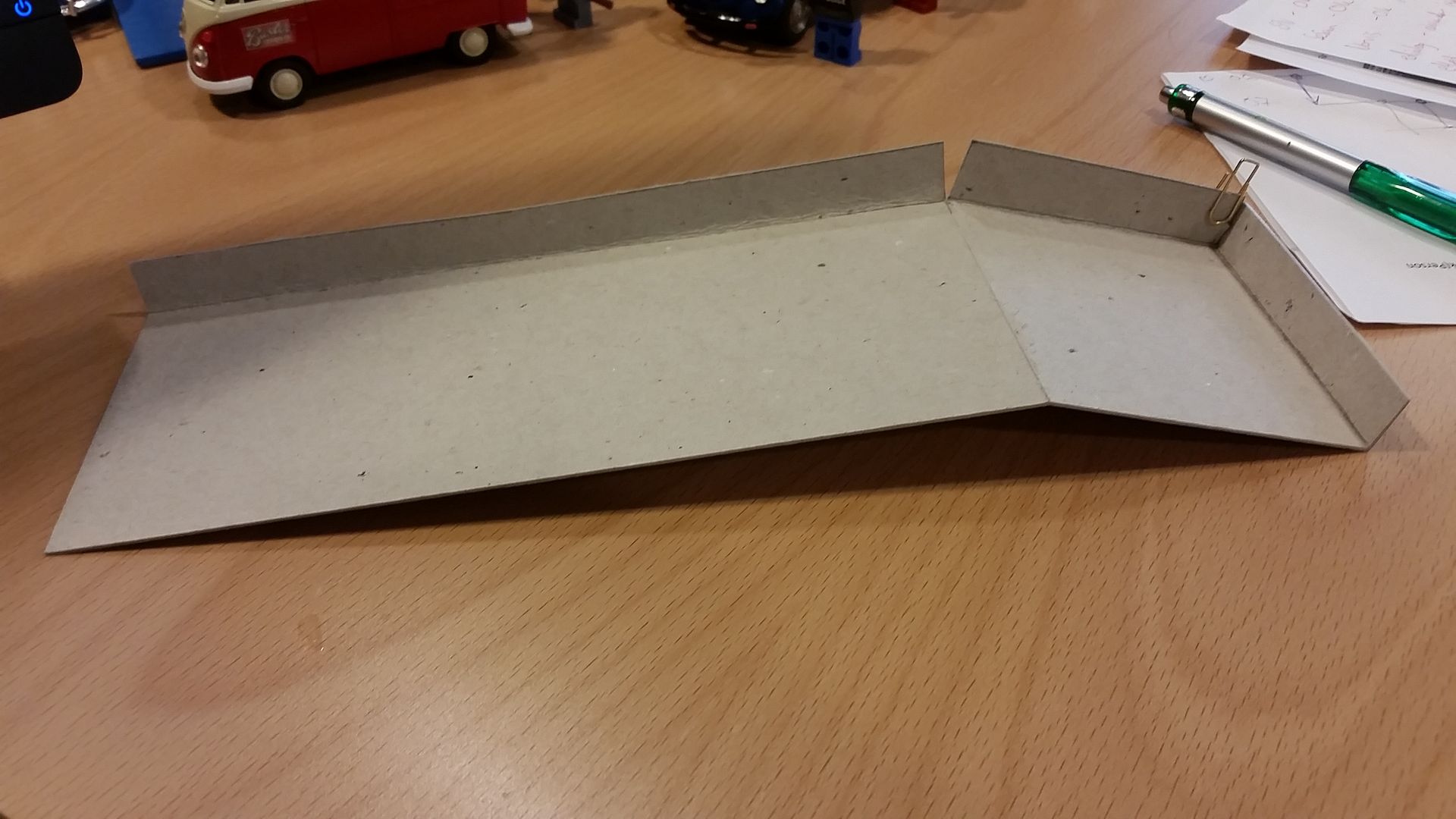 Yet another Friday with allot of stuff going on at the garage. It's a noise like I never heard before outside after the cops decided to arrest El Gringo, I tried to get away in his car but the cops managed to stop him.  The discussion for the engine overhaulin on the Evil Kenivel Drag beetle, at this point there will be mounted a bigger turbo x 2, to reach the goal 7.9sec.  Old Granpa has finally accepted the work with did on his car, so he is heading home. Braxter Lumber are still continuing the work on the ramp to the roof.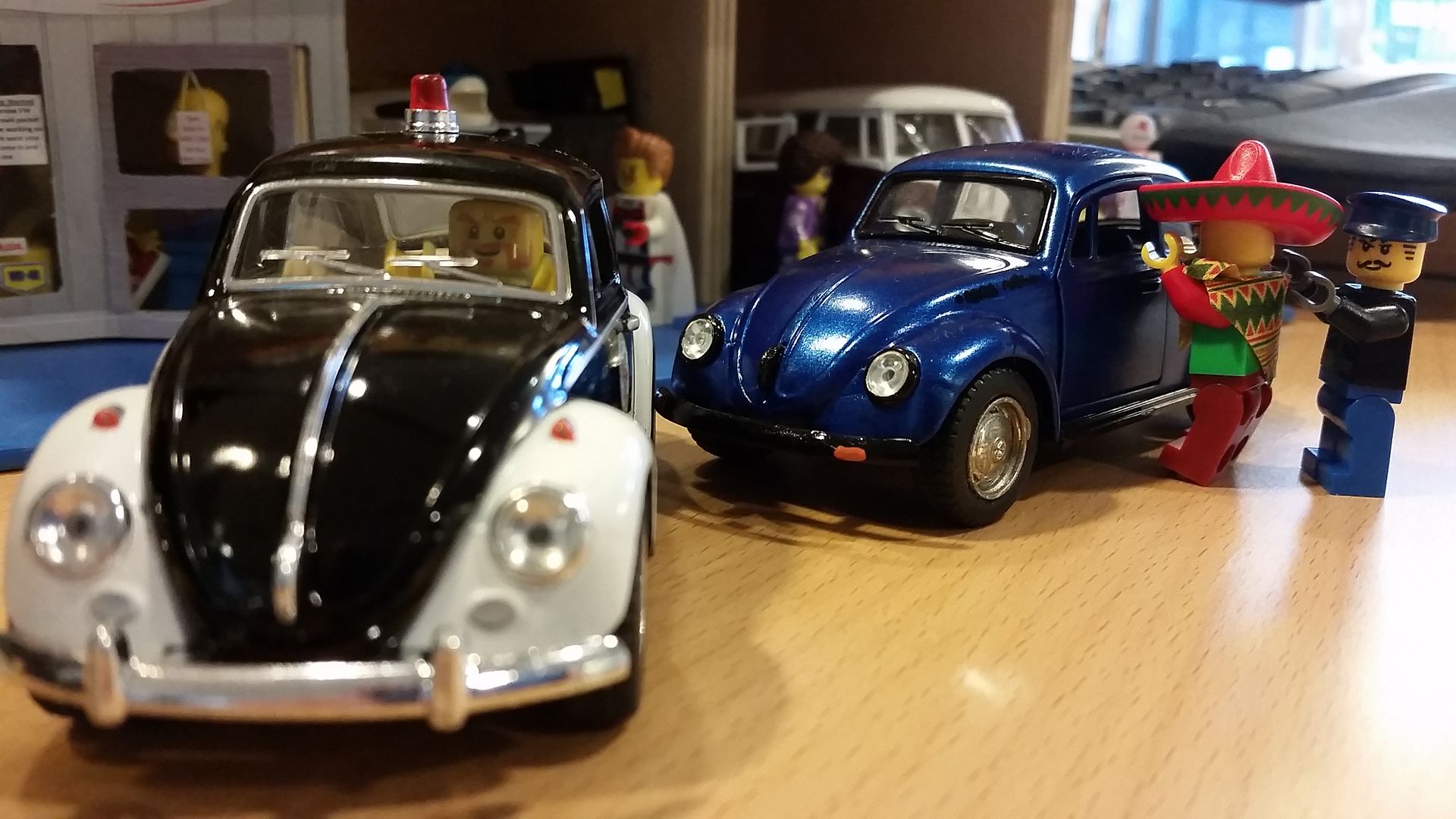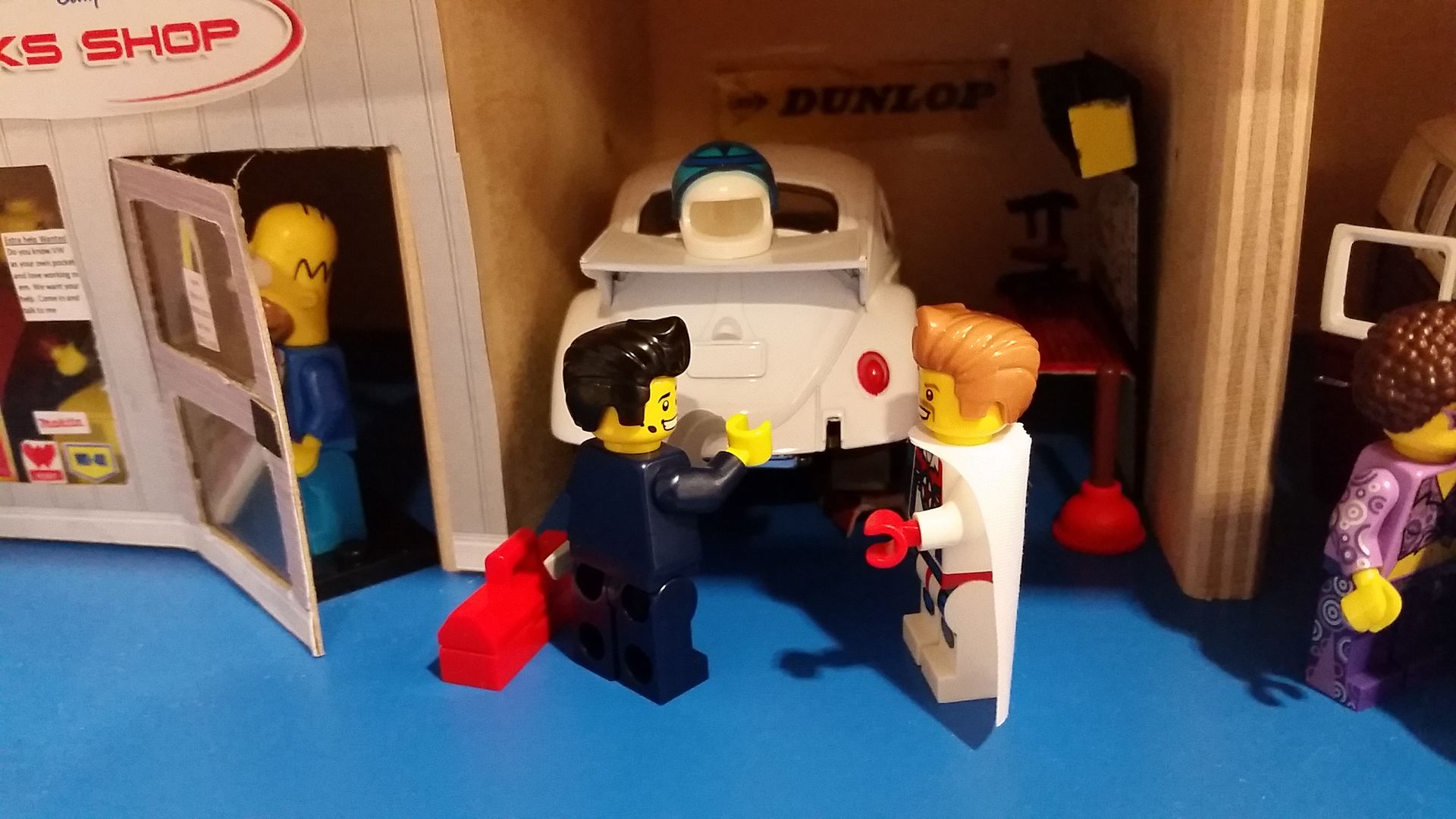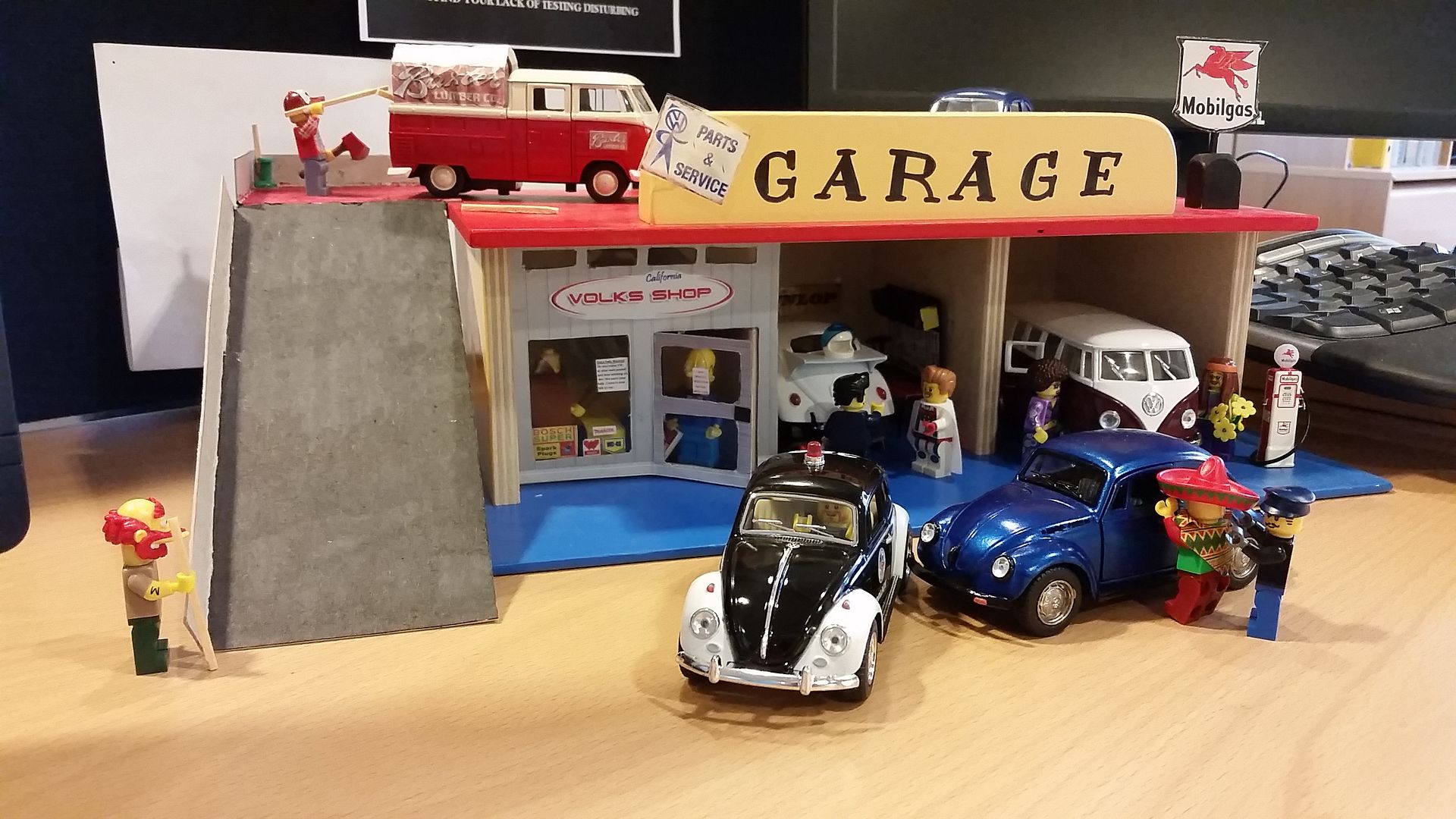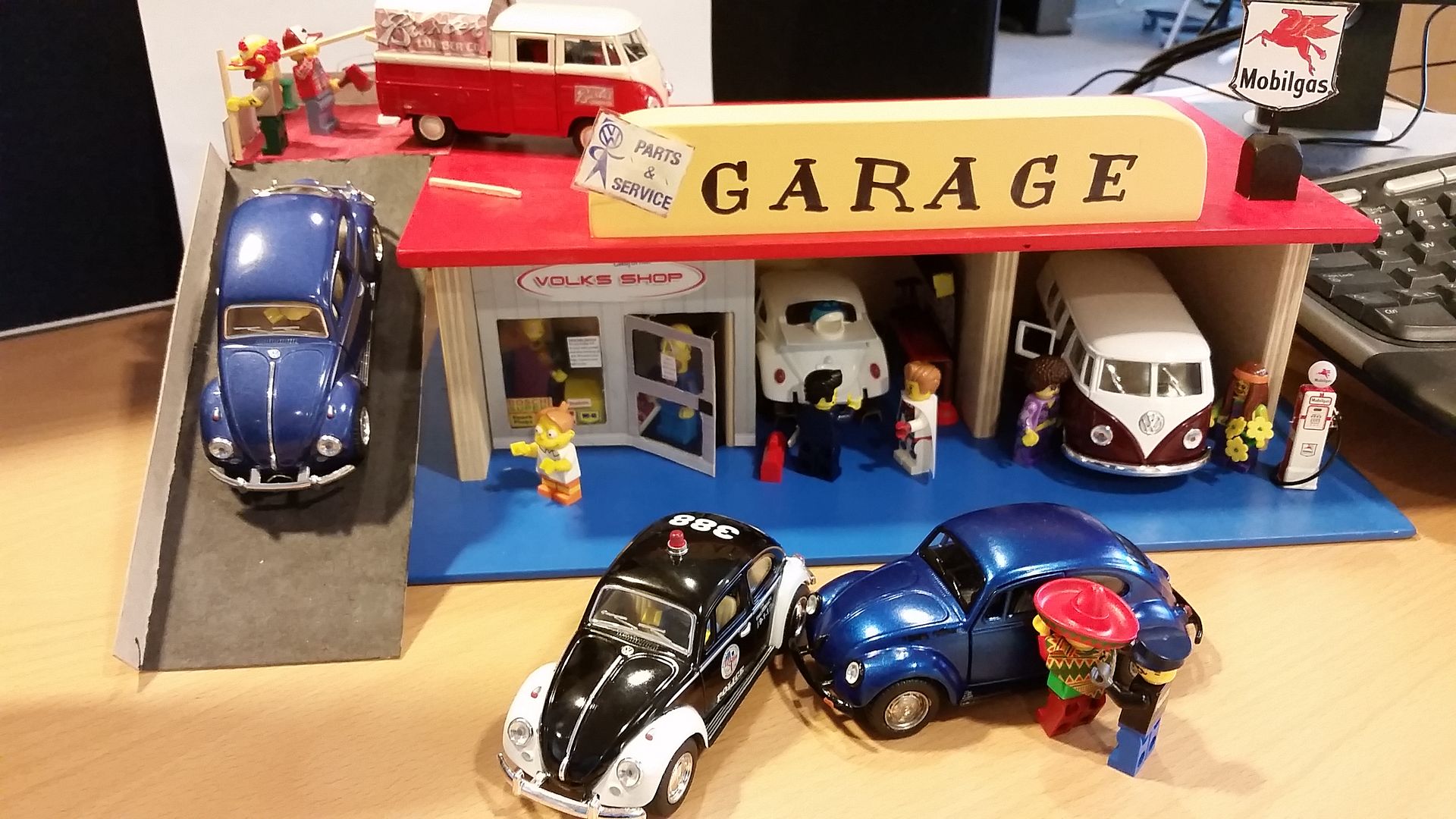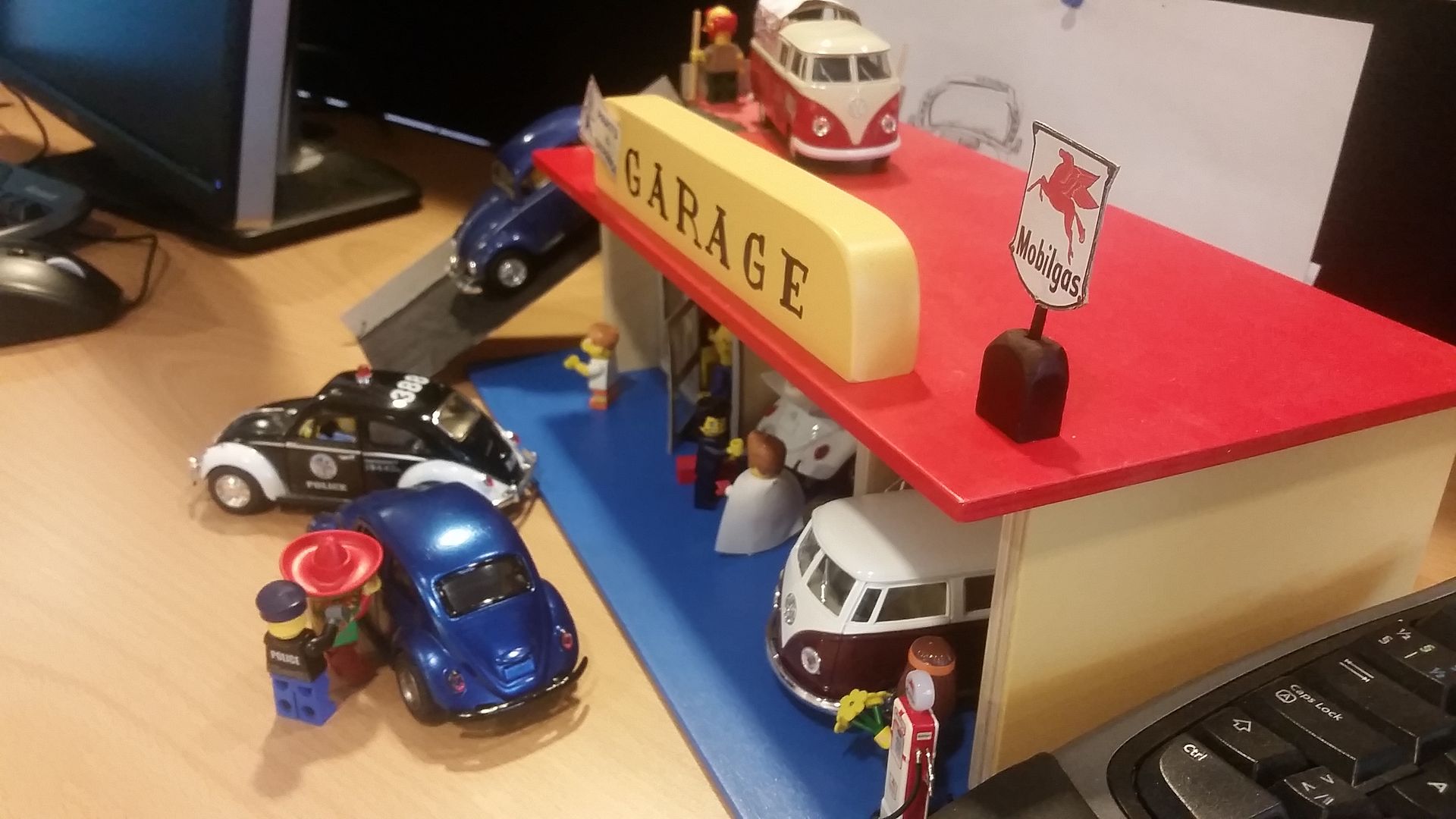 Friday, my favorite day of the week.
Allot of stuff have been going on, Homer finally managed to find a gift to his wife, Marge, a brand new fan belt. The Splitty is done and have been replaced with the police car, that need a dent fixed since El Gringo rammed the police car. The motor overhauling of the Evil Kenivel beetle has come to a stop , because the police car got highest priority. Young Barnie got to meet mr Kenivel himself, and is trilled to finally meet his big hero. The police confiscated El Gringos beetle and placed it on out roof until they decide what to do with it. Baxter Lumber, still working on the ramp, I wonder if they will ever finish? That's it from me, have a nice weekend you all.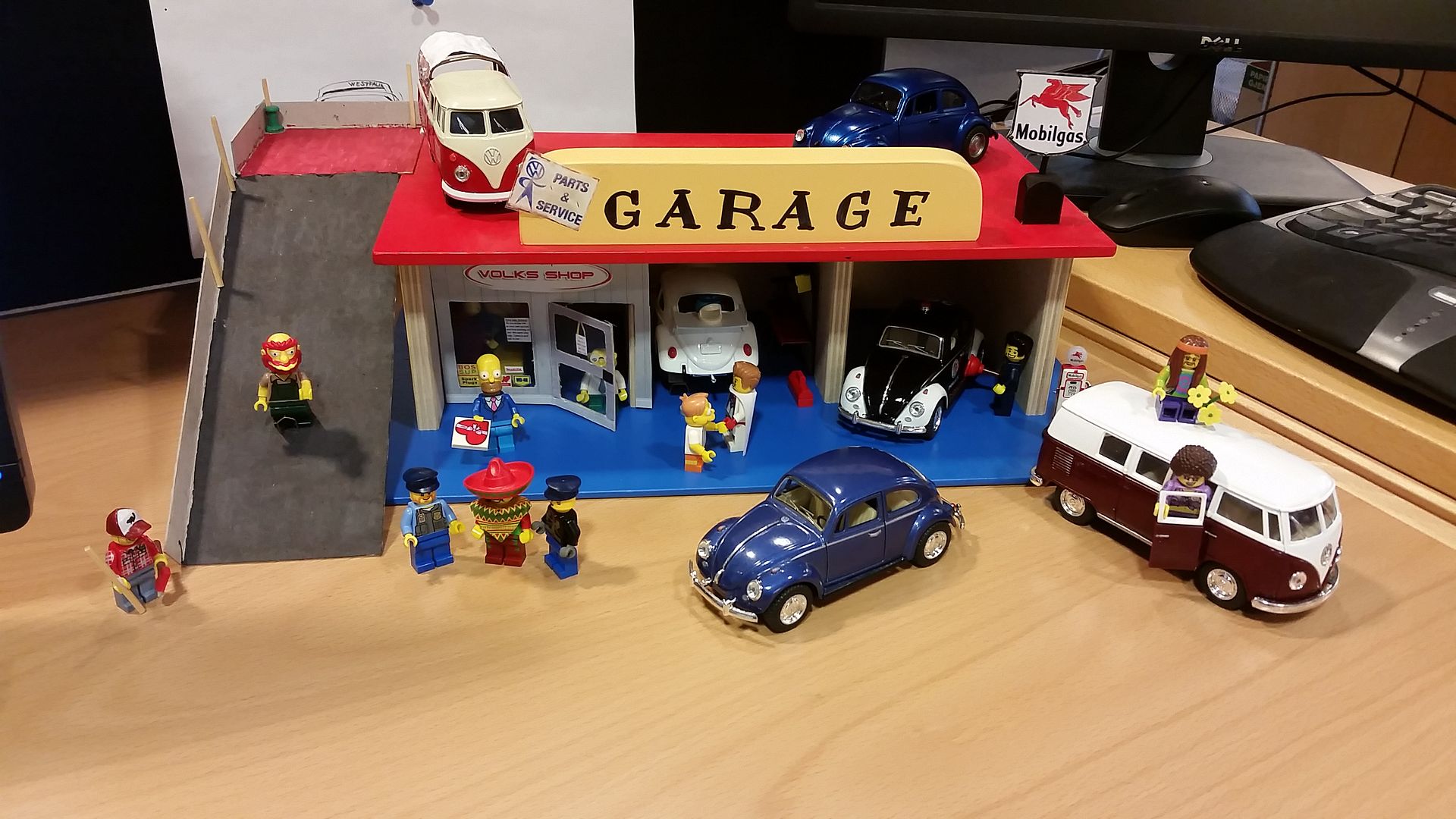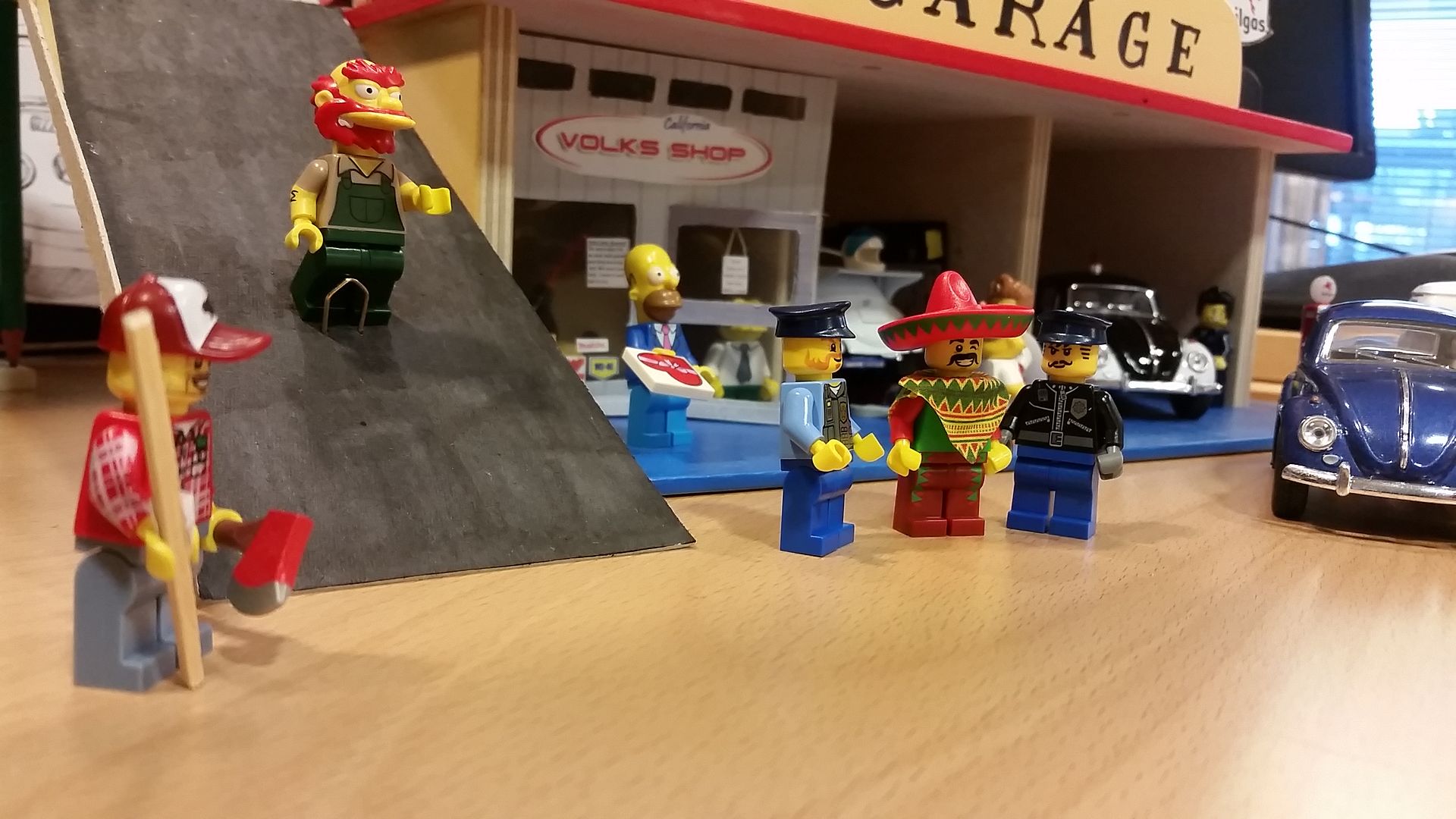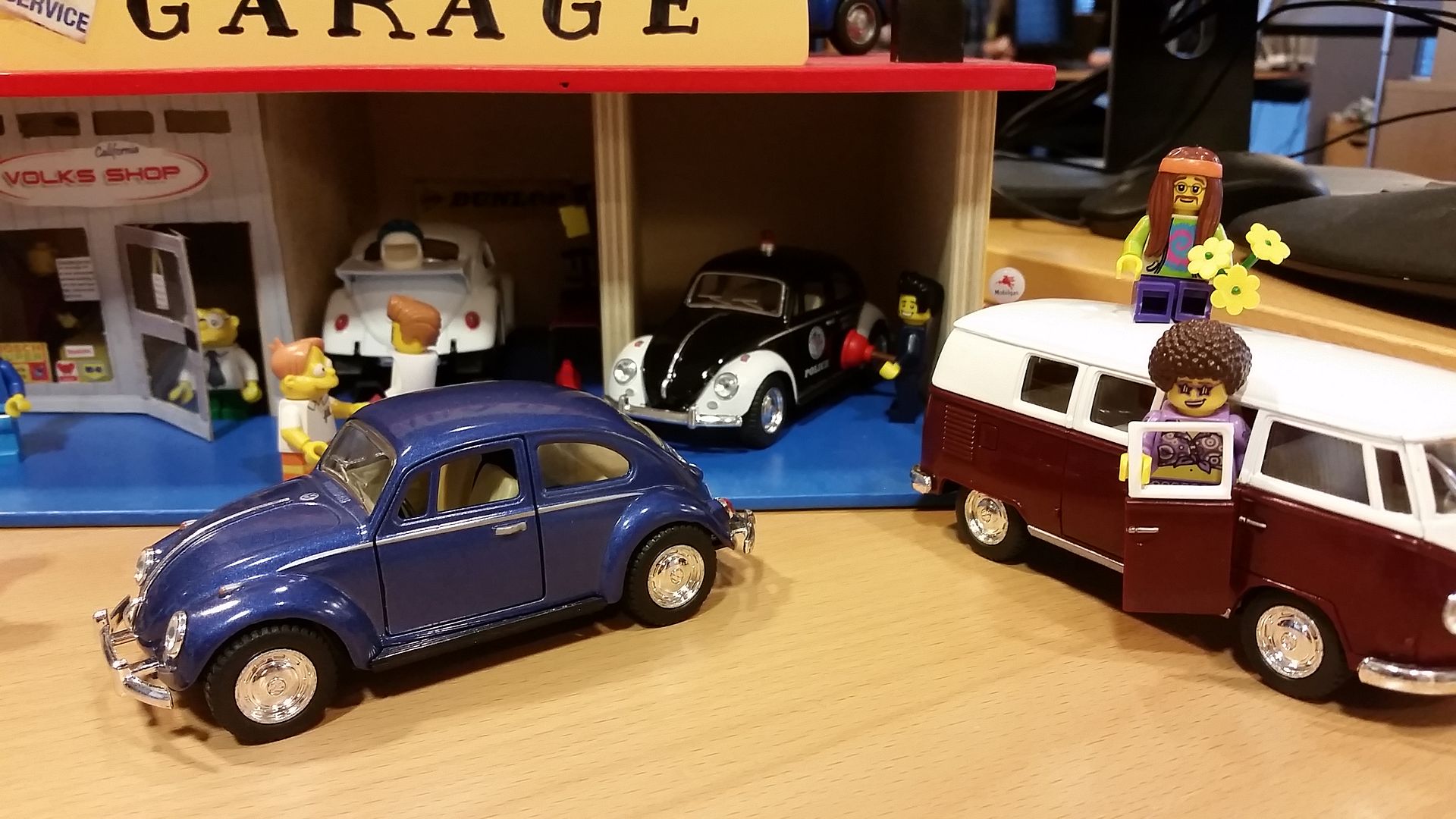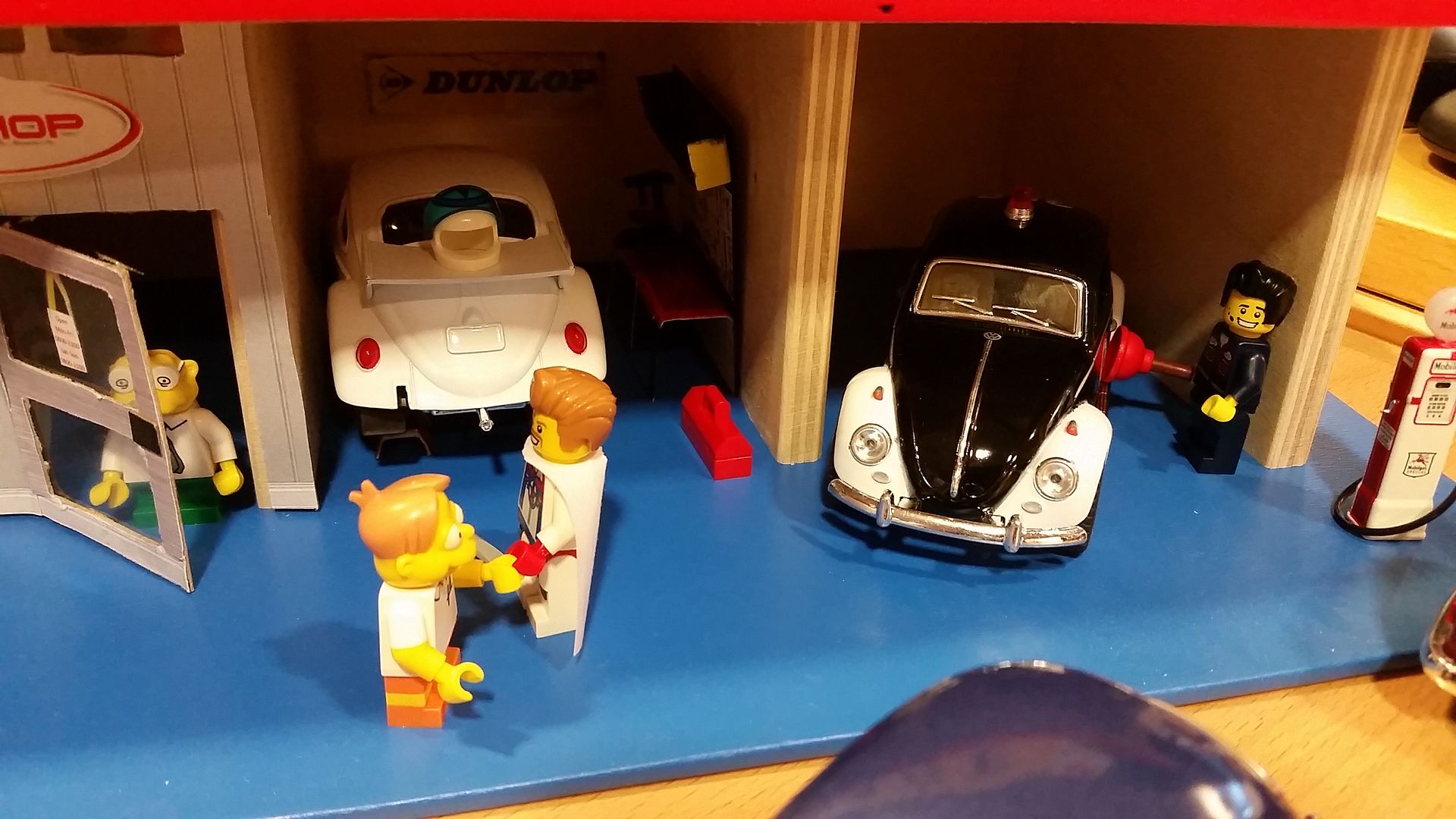 ---
Decided to help El Gringo and make a strap on his gigantic hat so he could have it hanging round his neck.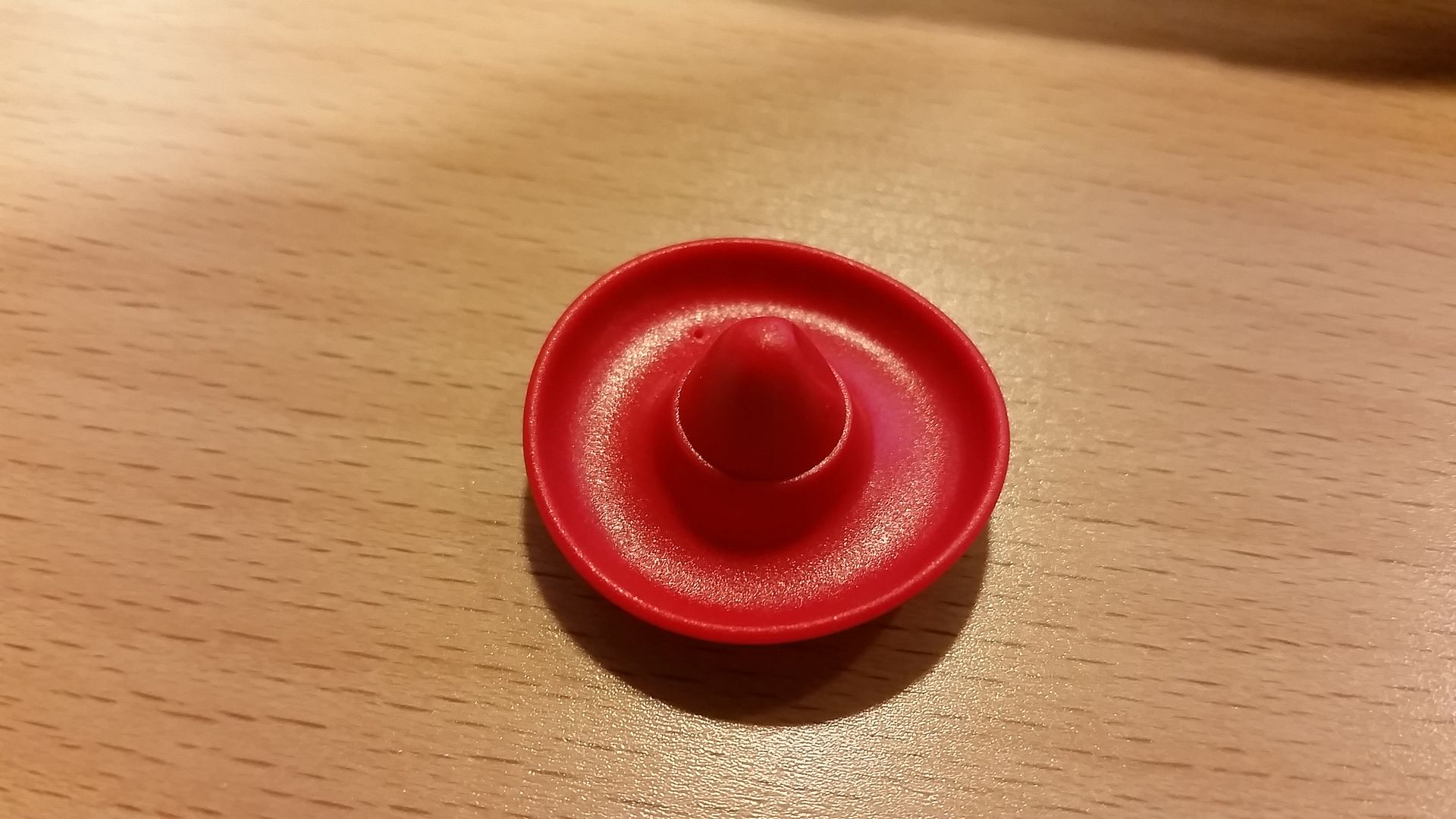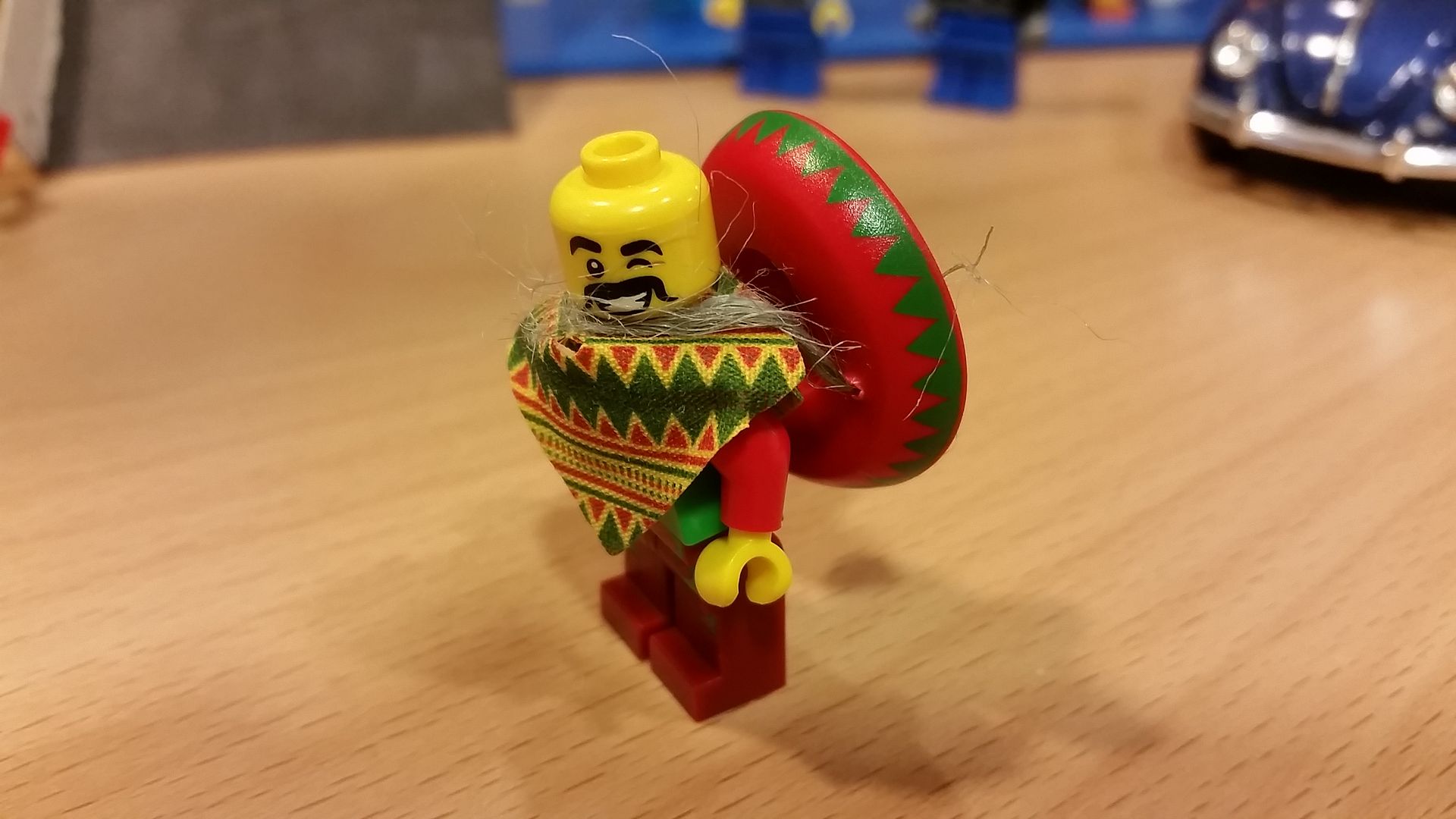 That is one happy badass
---
Things seem to calm down at the work shop now, and we have a steady customer group. That said today one arm John dropped by with his T1 monster beetle which is in fact road worth, it's actually MOT approved. He's rolling on 24″ wheels and 49″ tires.  He told me that his engine have been modified to about 200 HP, something i would guess he needs to rotate such wheels and tires. Evil Kenivel decided to wash his car and polish his car while we are working on it. Disco Dan is singing out loud on the roof, and a small crowd have gathered to listen. Braxter Lumbers are cleaning up after the work they have done.  I'm considering to expand the roof to get some more parking spaces that also can be used for storage or DIY wrokshops.  If so I will get Braxter Lumbers to do the work to build it.